Creative And Trendy Nail Designs For Every Occasion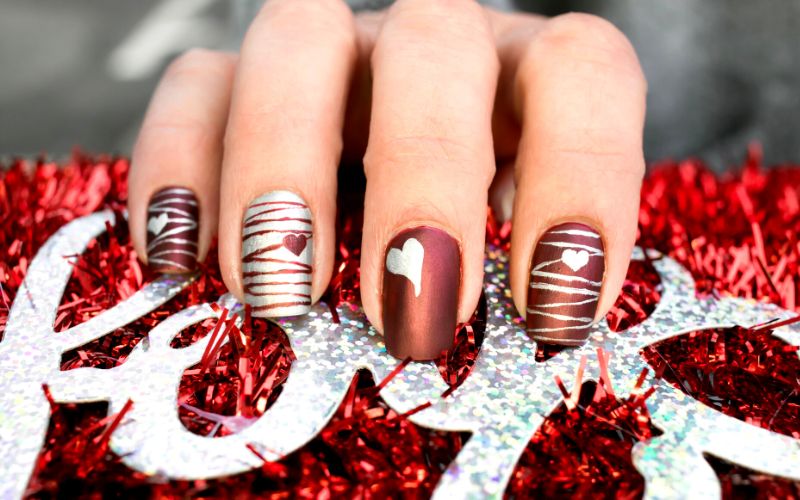 Gone are the days when a simple coat of nail polish was considered sufficient. Today, people are exploring new and innovative techniques to create stunning and unique nail designs. Nail art has become a popular trend in recent years, with people using their nails as a canvas to express their creativity and individuality.
The scopes are endless, from glitter and metallic accents to ombre and gradient effects. Nail art is not just limited to your fingertips: you can create eye-catching designs on your toes for a complete and polished look.
Whether you are a nail work pro or just starting out, the creative and trendy nail designs for every occasion are waiting for you to explore. So, go ahead, try something new, and let your nails do the talking!
Table Of Contents
Are you a person who loves adventurous things? Then, these nail designs are for you.
Animal Print
Animal print is a nail trend that never goes out of style. You can bring that wild touch to your nails with animal print nail designs. From classic butterfly to bold zebra, there is a print for every taste and occasion.
Leopard Print
One of the most popular animal print designs is the classic leopard print. This print has been a staple for decades. Whether you opt for a subtle accent nail or go all out with a full set of leopard nails, this print is perfect for a night out or a special occasion.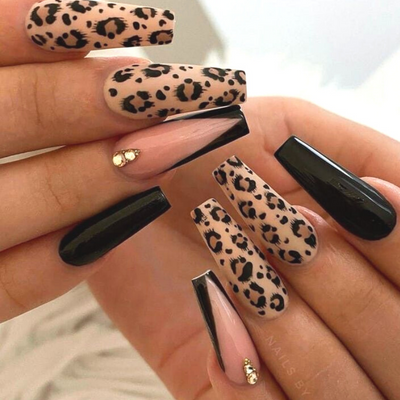 Zebra Print
Zebra print is another popular animal print that adds a wild and bold touch to your nails. Unlike leopard print, zebra print features crisp black and white stripes, making it a statement piece that is sure to turn heads.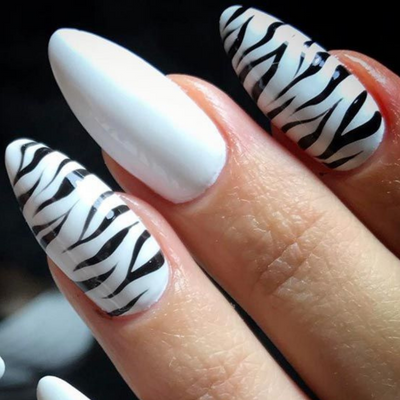 Cheetah Print
Cheetah print is a variation of leopard print that is known for its unique spots and natural beauty. It is perfect for people who want to express their strange side.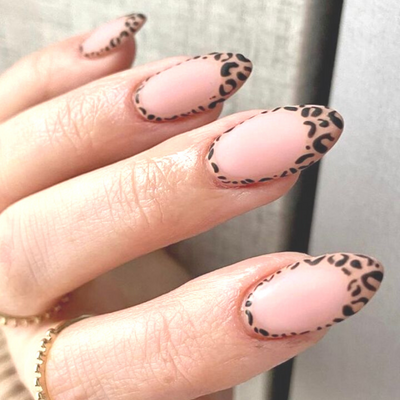 Tiger Print
This is a bold and daring animal print that features unique stripes.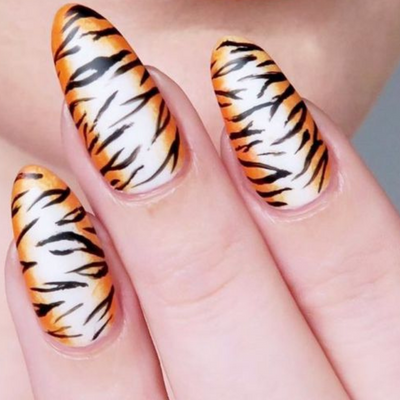 Butterfly Nails
Bring a touch of nature to your nails with stunning butterfly nail art. Whether you prefer a single butterfly accent nail or a full set of butterfly-adorned nails, this design is a beautiful and feminine way to express your personal style.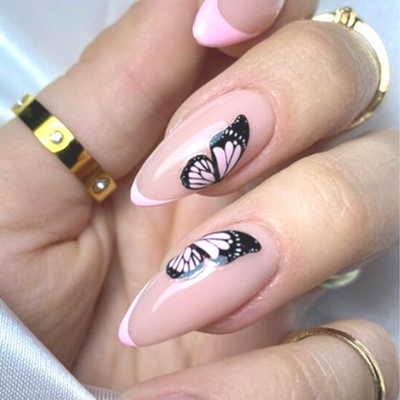 One of the best things about animal print nail designs is that they are easy to create at home. All you need is good quality nail polish and a steady hand.
Love triangles, lines, squares, and circles? Try these different geometric nail designs.
Geometric Nail Designs
This is a fresh and trendy way to spice up your nails. This popular nail art trend is perfect for people who want to add a touch of modernity to their natural nails.
Geometric designs are versatile, stylish, and easily adaptable to any personal taste. Whether you prefer simple and clean lines, bold and bright patterns, or intricate and complex designs, there is a geometric nail art style for everyone. From triangle accents to diamond shapes, hexagons, and more, the possibilities are endless with this trend.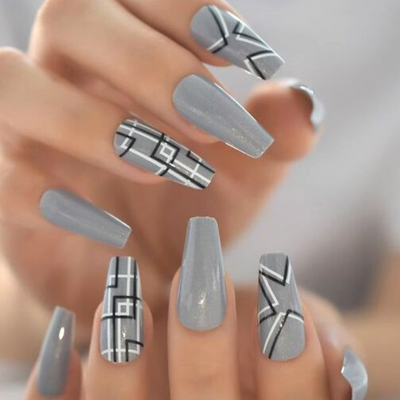 If you have oval nails, round nails, short nails, or long nails, these designs leave you feeling confident and stylish.
Festive Nail Designs
Are you surfing the web for the best way to add some holiday mood to your look? Look no further; the perfect choice is festive nail designs! Whether you are celebrating Christmas, Hanukkah, New Year's Eve, or any other special occasion, festive nail art is the perfect way to add some fun and creativity to your nails.
Here are some stunning collections for specific festivals and occasions.
Christmas Nail Designs
From classic red and green patterns to more modern and creative designs, there is a Christmas nail design for everyone.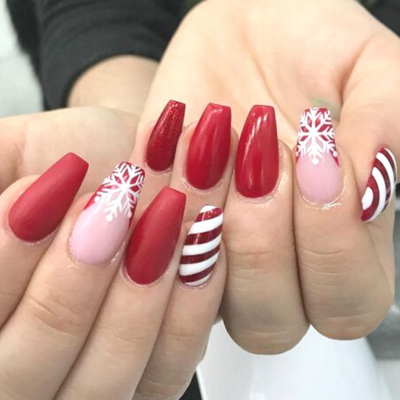 Halloween Nails
Halloween nails are a fun way to add a spooky touch to your costume and make-up look. From simple black bats to intricate spider webs and Jack-O'-Lanterns, there are many options. When choosing Halloween nail art, opt for designs that are easily recognizable, such as pumpkins, skeletons, and ghosts.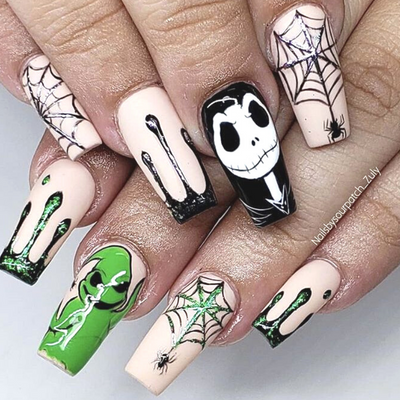 Valentine's Day Nail Designs
From hearts to cupids, there are many designs that can show off your love and affection on this romantic holiday. To get started, choose a base color that compliments your skin tone and outfit, such as red, pink, or white. You can then add intricate designs, such as hearts and flowers, or keep it simple with a glossy coat or a sprinkle of glitter.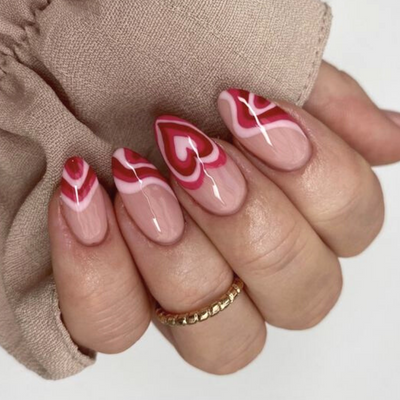 Show love on this special day with cute, flirty, and simple Valentine's Day nail designs.
Easter Nail Designs
Easter is a time for renewal. From pastel polka dots to intricate floral patterns, there are many ways to embrace the Easter spirit at your fingertips. Add some Easter-themed accents, such as bunnies, eggs, or flowers, to the nails for a complete look.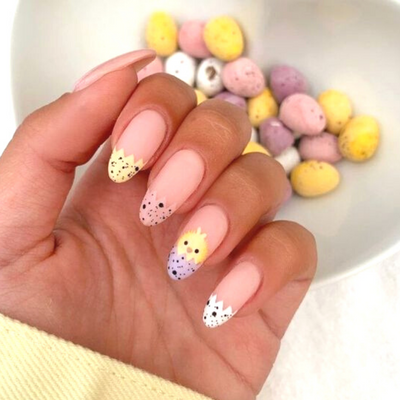 Celebrate the arrival of spring with a set of adorable and playful Easter nail designs!
New Year Nail Designs
Enter the new year in style with glamorous and sparkly new year nail designs. Use sparkle with glitter or metallic accents, or consider incorporating new year-themed elements, such as fireworks, champagne glasses, or numbers.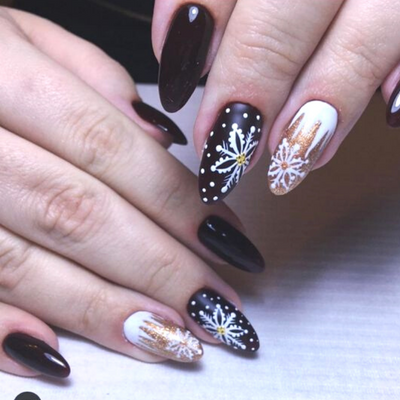 Wedding Nail Designs
Wedding nails are an important finishing touch for any bride. There are many wedding nail designs available to make your bridal look stunning on your wedding day.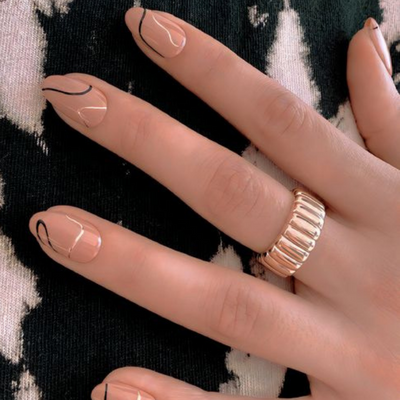 Choose colors like white, ivory, or a light pastel hue, and add some embellishments, such as crystals, pearls, or lace patterns. Consider adding some sparkle with glitter or a metallic finish for a more dramatic look.
St. Patrick's Nails
Celebrate St. Patrick's Day in style with a set of simple St. Patrick's Day nails. Whether you prefer a classic green and white color scheme or something more playful and creative, there are many ways to show your Irish spirit on your fingertips.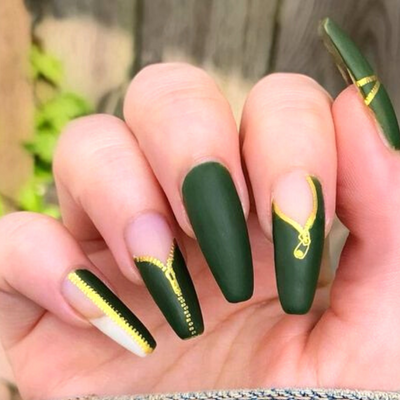 Choose colors like shamrock green or kelly green, and add some white accents, such as stripes or polka dots.
Independence Day Nails
Celebrate this patriotic holiday in style with striking and simple 4th of July nails. Opt for a classic color scheme of red, white, and blue, and choose a design that is easy to recreate, such as stripes or polka dots. You can also add some stars to the mix for an extra patriotic touch.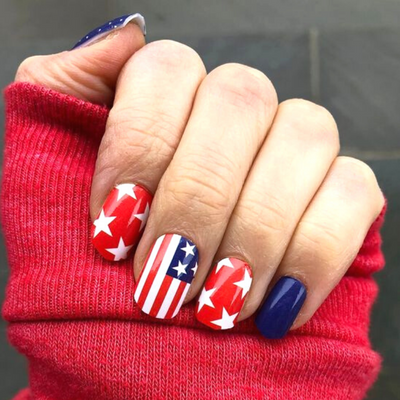 Birthday Nail Ideas
Make your birthday celebration even more special with fun and festive birthday nail designs. Here, choose a color that reflects your personal style and taste, such as your favorite hue or a vibrant and cheerful shade. You can also add some birthday-themed elements, such as balloons, presents, or cake.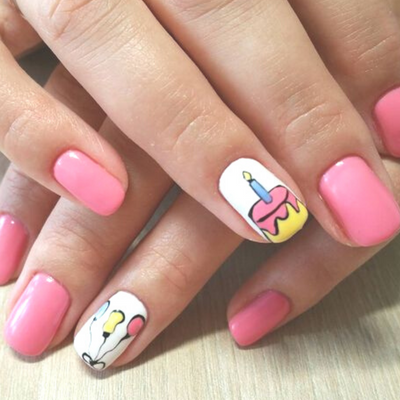 Do you love simple and minimum nail work? Then, go for minimalist nail designs.
Minimalist Nail Designs
Minimalist nail designs are perfect for anyone who wants to make a statement without going overboard. This nail art is all about simplicity and clean lines. Whether you are going to a fancy event or just want to add a classy feel to your everyday look, minimalist nail designs are a great option.
Minimalist nail designs have been around for a long time, but they have recently gained popularity as a result of the increasing interest in minimalism in fashion, beauty, and lifestyle.
Minimalism is a style that emphasizes simplicity and elegance, and minimalist nail designs are a reflection of this aesthetic.
Popular Minimalist Nail Design Ideas
Here are some popular minimalist nail design ideas to try:
Do you want to make your festive season creative and memorable? Try different seasonal nail ideas.
Seasonal Nails Designs
From pastel hues in the spring to rich, warm colors in the fall, there are a variety of seasonal nail designs to choose from.
Spring Nail Design Ideas
Spring is all about renewal and growth and the perfect time to try out pastel hues on your nails. Light pink, pale blue, and soft lavender are just a few of the many pastel shades to choose from. Consider adding delicate floral accents or using watercolor techniques for a fresh and playful look.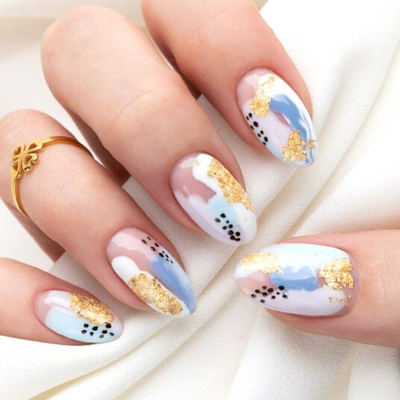 Summer Nail Design Ideas
Summer is the perfect time for bright and bold nail designs. From bright neon hues to tropical prints, there are many ways to express your summer style on your nails. Consider using a bold color as the background for your design, and add fun accents like fruit slices or palm trees for a playful look.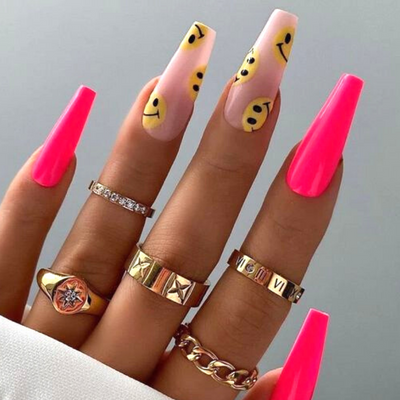 Fall Nail Design Ideas
Fall is all about warm and rich colors, making it the perfect time to try out darker hues on your nails. From deep reds and oranges to browns and golds, there are many shades to choose from that reflect the autumn season. Consider adding leaf accents or using a gradient design for a chic and sophisticated look.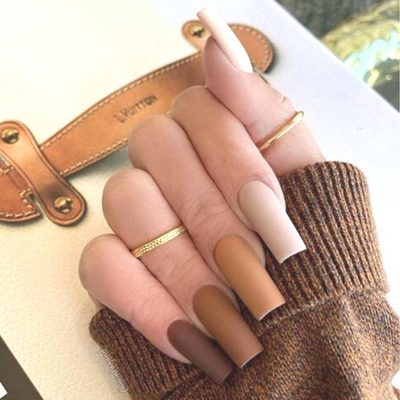 Winter Nail Design Ideas
Winter is a time for cozy and festive nail designs. From sparkling glitter to bold reds and greens, there are many ways to embrace the holiday season on your nails. Consider adding a touch of glitter to your design or using winter-themed accents like snowflakes or holly leaves.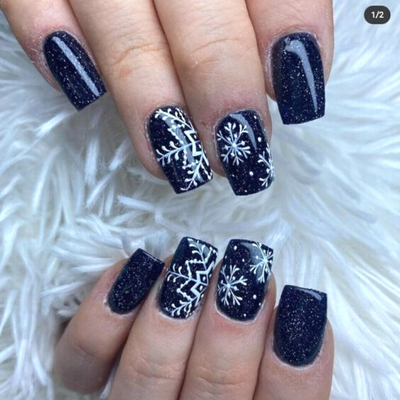 Do you want to be traditional, classy, and glamorous at the same time? Check these nail ideas.
Classy Glamorous Nail Designs
Classy and glamorous nail designs are a must-have for any fashion-forward woman!
One of the most popular and timeless options for a classy and glamorous nail design is a simple French manicure. You can add some extra glamor by incorporating glitter, rhinestones, or other decorative elements into your design.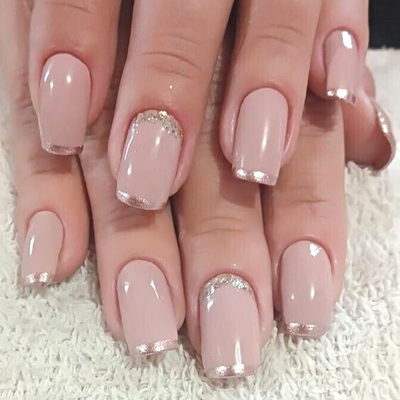 Another option is to opt for an all-over glitter design. You can choose to use just one color of glitter, or you can mix and match to create a unique, multi-colored look.
Metallic nail designs are also a popular choice for a classy and glamorous look. Whether you choose a simple gold or silver manicure or go for a more intricate design using multiple metallic shades, these designs offer a touch of glamor.
For an elegant look, try incorporating floral designs into your nail art. You can use a variety of techniques, including stamping, freehand painting, or decals, to create delicate and intricate floral patterns on your nails. You have options like sunflower, rose, daisy, etc.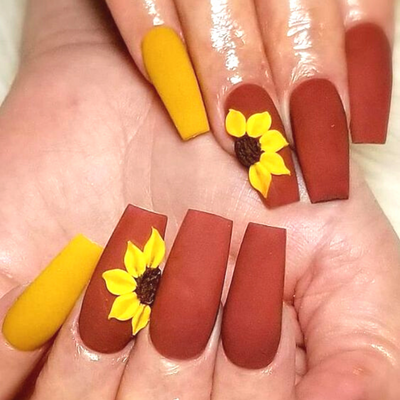 If you have almond-shaped nails, try trendy almond nail designs with the right colors, finishes, and embellishments.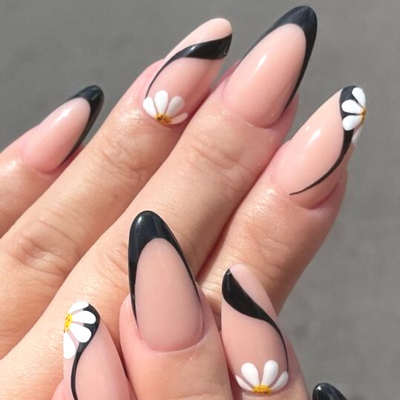 For a simple and more natural look, try different clear nail ideas with transparent or sheer nail polishes. The versatility of clear nail designs allows you to incorporate other elements, such as glitter, rhinestones, or stripes, to enhance the overall look of your nails.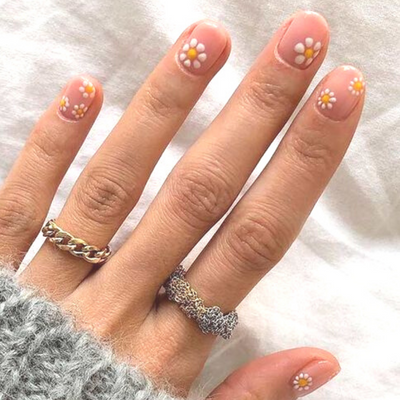 If you want natural-looking enhancements or colorful designs, acrylic nails offer a wide range of possibilities. Acrylic nails are durable and long lasting, making them a practical choice for those who want a polished and glamorous look that lasts.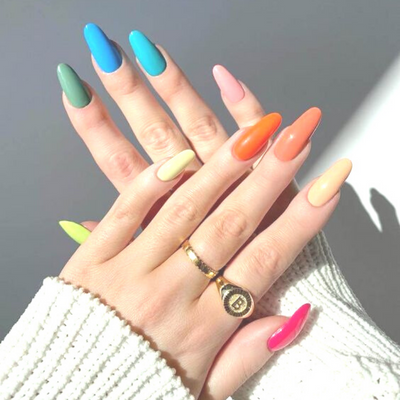 Try dip nails that are created using a special powder and base coat system. These nails are durable and long-lasting.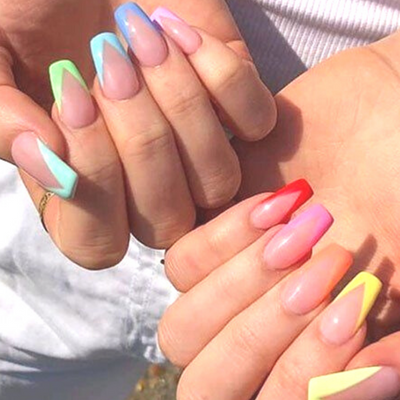 The sharp and pointed shape makes stiletto nails appear more unique. You can try different stiletto nail ideas by incorporating a range of colors and artworks.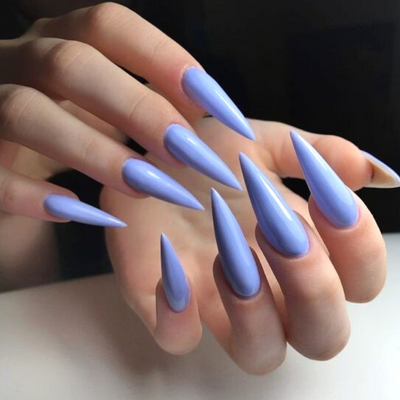 Marble nails are known for their unique and intricate patterns that are created by swirling different colors. The pattern of marble nails can be tailored to your personal taste, making them a highly customizable option.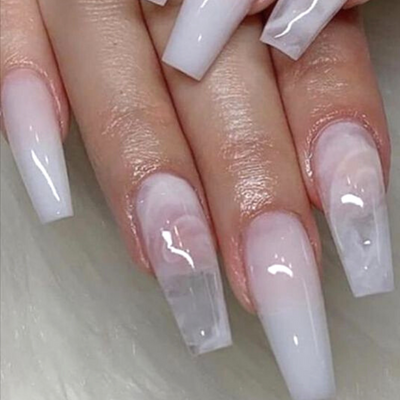 Another glamorous one is flame nails. Choosing bold, daring, and bright color combinations are unique and not commonly seen to make them stand exceptional in the crowd.
Incorporate your favorite Disney characters and themes into your nail design to show your creativity to this world. Opt for classic Disney characters like Mickey mouse or more contemporary and trendy designs.
If you have short nails, don't worry. You can also make it look classy and glamorous with the right design. Choose the colors and embellishments that represent your personality and nails well.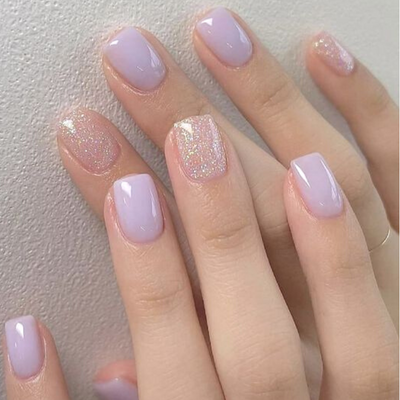 Are you a coffin nail lover and finding a way to make it classy too? Then you can try animal prints, French manicures, or use pastel colors. These methods can add a classy touch to your trendy and stylish coffin nails.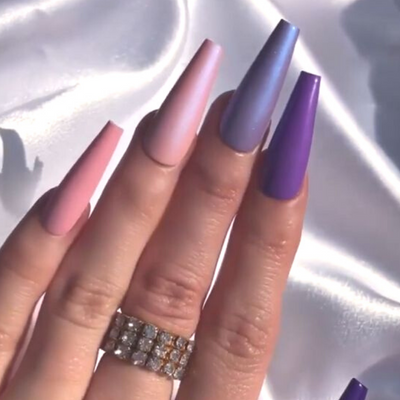 Are you a person who loves to decorate your toenails? Then, here are the options for you.
Simple Toenail Designs
Add a touch of personality to your pedicure with simple toenail designs. Whether you are at the beach or just lounging at home, a fun and simple toenail design is a great way to show off your sense of style.
Try designs like polka dots, stripes, floral, ombre, glitter, French tip, heart, marble, animal print, or geometric patterns.
Do you want to make your nails beautiful from your comfort? Then, there are some easy DIY nail designs.
Easy DIY Nail Designs
Make your holiday fun and cost-effective with easy DIY nail designs. With just a few simple tools, you can create a variety of stylish and unique nail looks from the comfort of your own home. All you need is a steady hand and a bit of creativity.
Here are some easy DIY nail designs you can try:
Remember, the key to these designs is to have fun and be creative.
Be Prepared To Celebrate Each Day
Experiment with different colors, patterns, and techniques to play the nail game more intelligently. With the right tools and some creativity, you can turn your nails into a work of art. So go ahead, step out of your comfort zone, and try something new, because the possibilities are endless.
FAQs
Q: Are there any nail designs that are suitable for both casual and formal occasions?
A: Yes, there are several nail designs suitable for both casual and formal occasions. Neutral shades such as nude, beige, and neutral tones, French manicures, minimalist designs, and negative space nails are some examples.
Q: Can I use artificial nails to recreate special occasion nail designs?
A: Yes, you can use artificial nails to recreate special occasion nail designs. Artificial nails, such as press-on nails or acrylics, can provide a longer-lasting and more durable base for intricate nail designs. It is best to seek professional help for the application process to ensure the best results.
References