The Hands-Down Best Nude Nails For 2023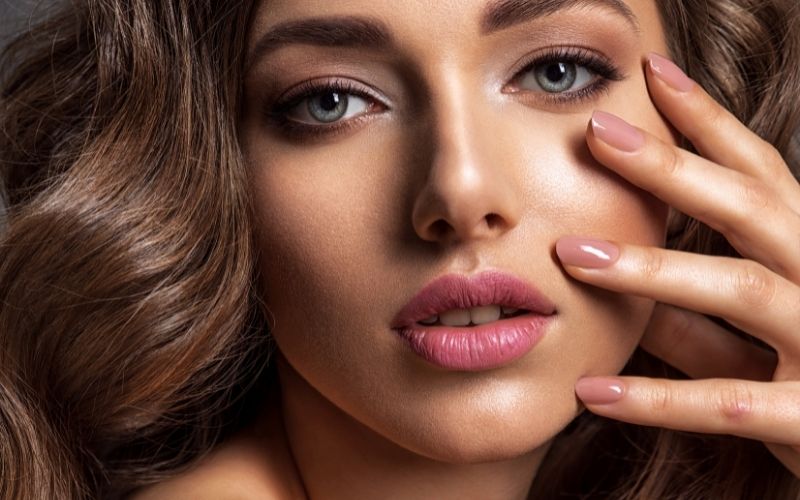 Nude nails are a classic, timeless manicure.
Whether you choose long or short acrylic nails, you can never go wrong with a color that makes your skin tone pop.
After all, getting your nails done is one of our tips on how to look prettier.
There are plenty of cute short nails here, though!
Maybe you like to be more professional for the office and need to have a mani that's more toned-down than a neon acrylic set.
But if you're looking for something more long lasting, you'll want to look at solar nails first.
Regardless of your reasons, everybody needs a little nude nail design inspiration now and then, so keep reading to find our top nail designs!
Also check out our ultimate guide to fall nails and short nail designs!
30 Nude Nail Design Ideas
Lets get right into this lil' gem of a list:
Upgraded Nude Nails With Swirls
These adorable long coffin nails are perfect for any occasion — especially as spring nails.
You could even pair these with butterfly nails too.
The swirls add a level of depth and color that is often not achieved with other nude nail looks and help spice up an otherwise plain manicure.
This look would also work with baby blue nails or hot pink nails!
Swirl Of Color
This dreamy design has been THE nail trend of 2021.
There's zero chance you can miss out on these nail colors.
You could try using a matte top coat to mattify this manicure, or do all nude nails except for the ring finger.
The orange swirl look would go perfectly with our list of orange nails or white short nails!
American Baby Boomer Nails (Ombre Nail Designs)
The baby boomer nail look has been popular for decades.
The ombre between the nude color to the dusty white is absolutely beautiful!
These are some pretty nails for day nails.
Do yourself a huge service and try these out!
Also check out our list on flame nails!
Body Positive Brown Nude Nails
Body positivity has been one of the most important trends in recent years.
This unique nail design features a lady posing in different positions and is reminiscent of Michaelangelo sculptures.
Fancy Beauty French Tips Nude Nails Design
This French manicure may be simple, but it is in no way boring.
The v-shape of the white accentuates a coffin or square and features a neutral shade for the base.
These are some perfect French tips.
Classic Pink Nude Nails
This nude nail color is perfect for everyday wear!
The medium coffin nail length has been very popular recently, but this look would be great for the almond nail shape as well.
Make sure to use one of the best pink nail polishes for best results.
Almond Nude Nails With Nail Art
Support small business and go have this almond nails beautiful nails design done at the salon!
People are sure to turn their heads, as this is surely one of the best acrylic nail designs for us.
The skin tone base color is neutral, but the nail striping tape adds some "oomph" and a little fun.
Dark Brown Long Nails
This nail look can be completed with dip powder or acrylic powder.
These long nail designs would be perfect for stiletto nails, too! It's simple, elegant, and the length can be customized to your liking.
Matte Finish Nude Nails
These are some perfect nails for everyday wear!
You can use these in the office for a professional look.
The brown/grey color is stunning matte and the milky white and gold are a perfect pop to this mani.
You can achieve this look with some gel polish over false nail tips or acrylic powder.
Matte nail designs never go out of style!
Pink Rhinestone
Love pink nudes and square nails?
Just take a look at this acrylic nail idea!
Instead of a plain-Jane look, add some sparkle to your nails with a tiny rhinestone here and there.
You could even paint gel polish onto your natural nails for this look… you won't have to soak your fingers in acetone for ages to remove any acrylics!
Nude Holographic Claws
These spicy stiletto claws have their tips dipped in a bottle of holographic chrome powder to add some shine without bringing too much attention to your nails.
This look would also be super cute in a coffin shape!
Definitely one of the best acrylic nails.
White Glitter Ombre
These white nails are so gorgeous!
If you aren't a fan of all the glitter, you could even use this design as an accent nail on your ring finger. Definitely a set of elegant nails!
This glittery nail is great for NYE or christmas time!
If you don't like glitter, this color can also work perfectly with marble designs.
Monocolor Mani
This manicure will only take you minutes to complete!
This is a perfect set to get mani pedicures done with a friend if you don't like to sit in the salon chair for very long.
Modern Nail Art Design
This adorable manicure is the perfect short square length for the busy girl.
Imagine if these were matte nails? So cute!
You can experiment this look with different geometric patterns, too.
Nude Grey Ombre
These short nails would be simple for your nail technician to complete.
Your fingernails will be ready for anything with this length and will prevent you from causing damage to your surroundings… sometimes, those long nails are dangerous!
Tip: These also go great with purple nails!
Long Claw With A Flair
Add a pop of personality to your claws with some butterfly action!
This nude nail design can be done on long or short nails and is the perfect addition to any of your outfits.
Featuring a matte finish, your nail tech will need a steady hand and a detail brush to pull this look off.
Matte nail designs never go out of style.
Flower Almond Nails
This adorable flower design can be done with some gel over standard almond acrylics; look at that dimension!
The pink nail really stands out under the flower design.
Nude Star Acrylic Nail Designs
These shiny nails have tons of allure and are perfect for date night under the stars.
This cute style has an ultra chic look and is perfect for any party or event!
Neutral gel nails always win!
Nude Stiletto Claws (Beige Nude Nails)
This "your skin but better" natural nail look is cute for anybody.
This is *easily* one of the best nude nail colors.
A little nails glue on the bottom of the nail and some classy nails can go a long way!
Medium Coffin Dip Powder Nail
These nails were created with dip powder and feature a glitter accent nail.
The various shades of color create a vibe that you just don't get with monocolor manicures!
You could even pull this rainbow mountains look off with white coffin nail designs.
Medium Square Glitter Foil
This nail design is so cute! The little foil nail art looks great on the nail plate foundation.
P.S… look at those cuticles! Absolute goals. You could try a glittery accent, too!
These glittery shine, cute press on designs work perfectly with nude false nails.
Pop Of Gold Pink Nude Nails
Save your natural cuticle with these short square nails that can be completed on your natural nails.
The good news is, you just have to simply file down to shape! Such cute nails with a pop of color.
You could even do your toenails to match.
Bright Cute Acrylic Nails
Use a bright nude nail polish for these gorgeous nails.
These neutral gel nails are a winner.
Cloudy Simple Nails
These natural nude nails feature some cloudy accents. Such cute acrylic nails on the nail plate!
Natural gel nails for cloud nails are the way to go.
Brown Cow Print
This nail design will make you want to go to the nail salon ASAP. Use different nail polish for the spots!
You could even use a trendy press or quality brown coffin press for these nails.
Golf Nails Glitter Acrylics
Bored of the same-old same-old?
Try these glitter nail acrylics with glue over the nail plate in a skin tone nail polish.
Your fingernails are glam for dayz!
These are perfect for a special occasion…you'll be sure to receive plenty of compliments!
Milky White
This design just gives a healthy nails vibe.
These coffin nails give you that claw feeling without being too over-the-top.
Adorable white coffin nails.
Pink Acrylic Nails
This pinkish color is the perfect nail design for coffin nails.
Be sure that your cuticle is pushed back!
These are some amazing nails.
Minimalist Short Nails
Did you know that having short nails reduces the risk for injury?
These unique nails feature a square nail design with a shiny finish on each little finger.
One of the best acrylic nails designs!
Brown Long Acrylic Nails
These acrylics combine both gloss and matte, giving you tons of choices of outfits and jewelry.
This example uses different colors from the brown color palette; beautiful yet simple acrylic nails.
Long Nails Designs
These chic nails scream, "Bratz doll!" Ladies are sure to love these fake nails wherever you go.
These beige nude nails appear beautiful on light or darker skin tones.
Try in a mocha color or cool stiletto nail designs for a variation.
Long Nude Nails
These don't feature any nail polish design, but they are stylish nails for sure!
Sometimes, simplicity is the way to go. Complete with a clear top coat for best results… no nail stickers required!
These are easily some of the best acrylic nails.
Some Of Our Favorite Nude Nails
Nude nails are perfect for literally any occasion and can be as loud or toned down as you want them to be!
For us, these are our personal top 5 best nude nail designs there are:
Swirls: Swirls are definitely at the top because they are trending right now! This look is so beautiful and can be accompanied by so many different colors and patterns.
Plain Nudes: Plain nude nails never go out of style. You can make this look as light or dark as you want and it'll look fantastic either way!
Long Nails: Long nails are a great way to show off your glam, of course.
Ombre Design: Ombre makes everything better. The fusion of colors creates a beautiful nail art that people can't help but notice!
Coffin Nudes: Coffin nail are on the come up again — and for good reason. These nails have a unique shape that just so happen to pair perfectly with the nude colors! Try these out and you will not be disappointed.
Exclusive Tips For Maintaining Your Nude Nails
Keep them clean: Wash your hands regularly and use gentle soap to avoid damaging the nails.
Hydrate: Use natural or cuticle oil to keep your cuticles hydrated and moisturized.
Protect: Wear gloves when doing household chores or applying harsh chemicals to avoid damage to your nails.
Avoid biting: Biting your nails can weaken the nail plate and make it more prone to breakage and transfer of infection.
Trim and file regularly: Regularly trim and file your nails to avoid any breakage and keep them looking neat.
Use a strengthening treatment: Use a strengthening treatment such as a ridge-filling base coat to prevent peeling and promote healthy nail growth with strengthening oils.
Limit exposure to water: Excessive exposure to water can dry out your nails, so better wear gloves when washing dishes or other water-related activities.
Eat a healthy diet: Consume a well-balanced diet with essential nutrients such as vitamins A, C, and E to promote strong and healthy nails.
Avoid excessive use of nail polish remover: Nail polish remover can dry out your nails. Use it sparingly and choose a non-acetone option whenever possible.
Regular manicure: Get a manicure regularly to keep your nails neat and well-groomed.
Flaunt Your Nude Nails
Apart from the above nude nail design ideas, you may also experiment with these super simple ideas and try unusual designs on your nails.
Play with different shades: Experiment with nude shades to bump on the perfect one for your skin tone.
Add a touch of sparkle: Add some sparkle to your nude nails by incorporating rhinestones, glitter, or other embellishments.
Mix and match: Pair your nude nails with bold and bright outfits to show off a stunning contrast.
Go for a matte finish: A matte finish can give your nude nails a chic and sophisticated look.
Experiment with different shapes: Try out different nail shapes, such as square, almond, or stiletto, to add some interest to your nude nails.
Try nail art: Incorporate some subtle nail art, such as polka dots, stripes, or floral designs, to enhance the look of your nude nails.
Keep them well-groomed: Regularly trim and file your nails to keep them clean, neat, and well-groomed.
Take care of your cuticles: Regularly moisturize them and push them back to create a neat and tidy appearance.
Apply a high-shine topcoat: A high-shine topcoat can give your nude nails a glossy and eye-catching look.
Final Thoughts
These are the top nude nail designs of 2021 for us and you definitely need to try one, or two, or all of them!
Whether you go for glitter nails, day nails, or French nails, you can't go wrong with any!
These different nail designs offer different shades of nail color while all being nude nails ideas.
You can find US nail products from businesses such as OPI or Etsy if you plan to do them yourself, or you can always visit your local nail technician!
For similar ideas, click here.
FAQs