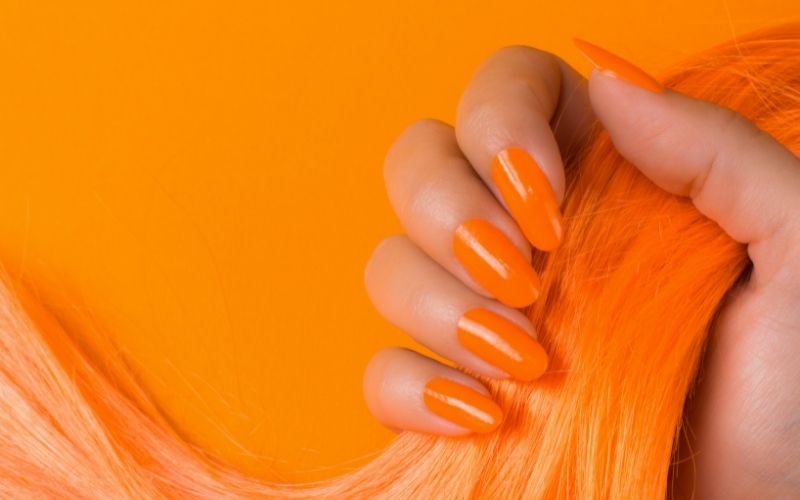 Orange is the perfect color for fall; warmth, happiness, and autumn are all radiated from the color orange, so why not paint your nails orange with some pretty nail designs?
Wondering Why Orange!
Orange is one of the colors that has been making waves recently. Often overlooked in favor of pinks and reds, Orange can add warmth and vibrance to your look.
Orange is a vivacious and warm color that is frequently linked to vigor, enthusiasm, and excitement. It combines the powerful hues of red and yellow – both are strong colors on their own. Yellow is connected to happiness and optimism, whereas red is linked to passion and vigor. The result of combining these two hues is Orange, which denotes warmth, passion, and enthusiasm.
Orange also symbolizes creativity and self-expression. Being able to add a burst of color to any project makes it a popular choice in art and design. Orange can be used in nail art to produce colorful, bold designs that demonstrate creativity and individuality.
Similar to orange nails, coffin nails and nude nails are other nails that will never go out of style.
Whether you go for short acrylic nails, cute short nails, or longer ones, a good manicure is always a must!
Let's get into the top 30 orange nail designs:
Burnt Orange Shimmer
These acrylic nails feature a gorgeous shimmery orange shade, perfect for the fall season.
Who doesn't like a little sparkle with their fall nails?
Orange Ombre
These orange nails feature a powerful ombre from a nude pink to a striking neon orange.
We love this idea!
We have a similar one with hot pink nails and spring nails, too.
Matte Orange
This almond nails simple manicure radiates beauty and are perfect for any occasion.
You can't go wrong with a simple monotone mani!
This look also works as short nail designs and white short nails.
Smoky Orange
We love cool nail designs, and this might be the coolest.
Add a flame nails design to this look.
This orange nail design uses different shades of nail polish to create a gorgeous smoky effect.
Add a butterfly rhinestone to these to create cool butterfly nails.
Oranges
What better way to incorporate the color orange into your manicure than with actual fruit oranges?
You'll get tons of compliments on this set.
You can also replace the white nail with baby blue nails to mimic the sky.
Bright Color
This stunning color of neon orange is simple, but anything but boring. Great for a special occasion and perfect with any nail shape!
Almond Swirls
This unique nail design is an excellent bold look.
This vibrant orange inspiration adds a dash of spice to your life.
Mono Orange
Instead of the same-old same-old, try using a different color of gel polish on each of your nails for some gorgeous orange nails!
A simple beginner-friendly ombre without any special tools.
Burnt Orange Nails
Pumpkin spice, and everything nice!
These nails are a great opportunity to show off your fall spirit for the best season of the year.
Orange With Black Polish
Orange and black go together like cheese and wine.
Need a new favorite mani?
This beautiful orange nail design incorporates different techniques for some beautiful nail art.
You could even do a reverse design with black nails on the bottom.
Coral Nails
Coral and orange are very similar colors, so if you like oranges, you'll probably like corals, too.
Flower Matte Nails
Short nail designs are hard to come by, but this nail art is such a cool design!
The little flowers make us very happy.
Polka Dots
All you need for this awesome design is a dotting tool and a little white polish over your orange.
This look will only take a minute!
Glitter Burnt Orange
This gorgeous unique manicure features some metallic lines and glittery polish to accent the beautiful burnt orange/brown matte finish shades.
This is surely one of the best orange nail designs.
Stunning Pearls
Add a few pearl rhinestones to your ombre effect nails for a beautiful, unique manicure.
See-Through Flowers
The clear nail trend has been around for years, so why not spice it up with some cute little orange and white flowers and polka dots?
Orange French Tips
This adorable orange nail idea adds a pop of color to the traditional French tip nails.
Your nail artist will be able to complete this mani in no time!
Autumn Leaves
Celebrate the changing seasons with these leaf nail stickers; your manicures will never be dull again.
Coral Nail Designs
Combine gitter with coral nail polish for a beautiful nail art design.
Minimalism
This nail design is simple, modern, and will leave you unable to stop looking at your hands.
Find a great set on Etsy, or go to the salon ASAP!
True Fall
Nothing screams "fall" like some leaf nail art.
You'll need a very delicate hand for this look, so you might want a professional nail artist to complete it.
Short Coffin Swirls
The swirl nail trend has been all over TikTok and Instagram; harness those cool-girl vibes with this groovin' design!
Leopard Print
Animal prints have been making their way back to high fashion.
Just dip a detailing brush in black nail polish and neon orange polish to complete this super cute nail art.
You could also reverse this style and use a black nail for a cool new vibe.
Plaid
Upgrade your nail art gallery with this beautiful orange nail design.
With a cute glitter accent nail and some preppy plaid designs, you'll channel your inner "Mean Girl."
Orange Flames
Feelin' fiery?
Try out this hot girl acrylic nail set with a simple flame design over a nude base.
Head over to Etsy to purchase these fire press-ons!
Disney-Inspired
Kid at heart?
These adorable Mickey Mouse ear nails are sure to make your heart leap with joy!
The three shades of orange and the little stars really make us happy.
Cool Girl Frenches
Take your French tips to the next level with these smiley face/yin-yang/cow-print nails; all the hottest trends of 2021 into one acrylic nail set!
Spooky Szn
October and Halloween might be over, but these adorable nails are perfect for any Halloween lover, year-round!
Combine kawaii with Halloween, and you get this manicure.
Silver Band
Tired of the same matte nails?
Try out this cool-looking silver band look with some nude polish, orange polish, and some silver striping tape.
All-In-One
This ultra-long set takes inspiration from snake print, swirls, fish scales, and and designer brands to make one super cool orangish coral acrylic set.
Achieving Irresistible Orange Nails Designs
Creating nail designs with shades of Orange and achieving the perfect look is simpler than it may seem. A bit of creativity and the right pack of tools can take your nails from drab to fab in no time. Just follow these tips and get started on your journey to stunning orange nails.
First things first, selecting the perfect shade of Orange is key. With so many hues to choose from, it's essential to find one that complements your unique skin tone and personal style. Whether you're fair-skinned and prefer lighter shades or have a darker complexion and crave a richer color, the right shade can make all the difference.
Experimenting with different nail shapes can also add a burst of excitement to your design. Try various nail shapes – from the elegant almond shape to the daring stiletto – to discover the perfect complement for your chosen design.
If freehand nail art isn't your forte, don't worry! Nail stencils can be a lifesaver. With a vast array of patterns and shapes available, you can quickly and easily achieve a professional-looking design that will leave your friends green with envy.
Last but not least, why not add a touch of sparkle to your orange masterpiece? Whether you opt for glitter polish or foil accents, a little bit of bling can elevate your look and make it truly unforgettable.
So, snap your supplies and let your creativity run wild! With these tips, you're sure to have the perfect orange manicure in no time!
Overall
These orange nails are sure to get compliments from both men and women!
So, do yourself a service and try a few of these acrylic nail designs.
You can always modify these orange nail ideas to your liking!
FAQs
References