The Absolute Best 25 Almond Nails Designs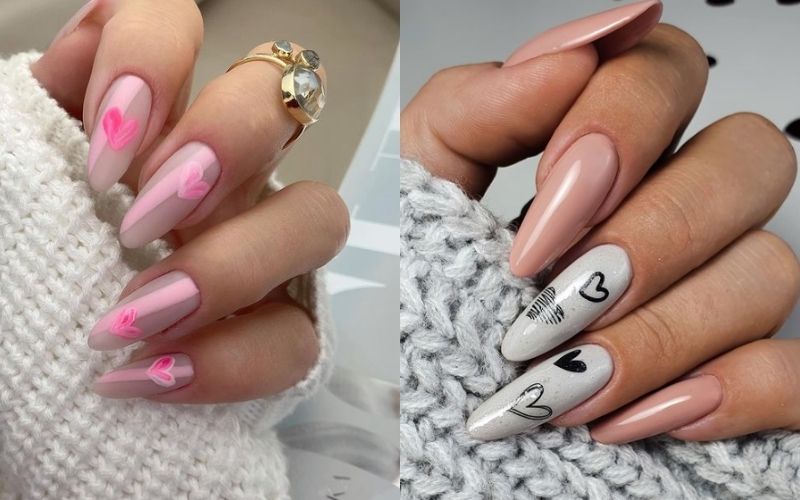 Nail art has blossomed into a beloved means of self-expression, providing an avenue for individuals to flaunt their unique creativity and personal style.
Among the diverse nail shapes available, almond-shaped nails have captured hearts worldwide with their graceful and distinctly feminine allure. Though commonly celebrated for their association with elaborate designs and vivacious hues, there exists a whole realm of uncharted possibilities waiting to be discovered within the realm of almond nail art.
But wait, do you know what an almond nail is? Let's dig into it.
Table of Contents
What Are Almond Nails?
Almond nails refer to a nail shape that resembles the shape of an almond. This elegant style is characterized by a slim and elongated oval shape that gently tapers to a rounded point.
Almond nails have gained immense popularity among fashion enthusiasts and celebrities alike due to their feminine and sophisticated appeal.
Why Choose Almond Nails?
Because of their
1. Flattering shape for all finger types
One of the key reasons to choose almond nails is their ability to flatter all finger types. Whether you have short fingers or long, slender ones, almond nails can enhance the beauty of your hands and create an illusion of elongation.
2. Versatility in design options
Almond-shaped nails open up a world of creative options when it comes to design. There's a little something for everyone, whether you prefer a simple and understated look or crave bold and detailed patterns.
The distinctive almond shape of these nails serves as a blank canvas, inviting boundless creativity to play with a diverse palette of colors, textures, and decorative elements.
3. Enhancing the overall look
Almond nails possess a truly mesmerizing power that can completely revolutionize your entire look. As you adorn your hands with these exquisite nails, a remarkable sense of grace and refinement instantly envelops you, elevating your appearance to new heights.
These nail beauties serve as the ultimate accessory, effortlessly harmonizing with any outfit or occasion, bestowing upon you an aura of sheer sophistication.
Whether you find yourself immersed in the grandeur of a formal affair or simply yearn to enhance your everyday fashion, rest assured that almond nails will unreservedly command attention and leave an indelible mark.
Prepare to be captivated by their enchanting allure!
Current Trends In Almond Nail Designs
The world of almond nail designs is constantly evolving, with new trends emerging each season. Let's explore some of the latest trends that are captivating nail enthusiasts around the globe.
1. Natural and Minimalistic Designs
Simple and understated designs are having a moment in the nail industry. Opt for nude shades, soft pastels, or a classic French manicure to achieve a natural and sophisticated look. Minimalistic designs with clean lines and negative space are also gaining popularity.
2. Floral and Botanical Motifs
Bring the beauty of nature to your fingertips with floral and botanical-inspired designs. Delicate flowers, leaves, and vines can add a touch of femininity and grace to your almond nails.
Opt for intricate hand-painted designs or explore the world of nail decals and stickers for a quick and easy floral makeover.
3. Metallic and Chrome Finishes
For a glamorous and futuristic look, embrace metallic and chrome finishes. These high-shine polishes in silver, gold, or iridescent shades will instantly turn your almond nails into statement pieces.
Let your creativity soar as you play around with exquisite foil accents, mesmerizing chrome powder, or enchanting holographic finishes, all aimed at achieving a truly dazzling effect.
4. Ombre and Gradient Effects
Immerse yourself in the captivating world of ombre and gradient effects, where you can effortlessly create a mesmerizing transition of colors.
Blend two or more shades harmoniously, allowing them to gracefully merge into a soft and gradient appearance.
From delicately subtle color progressions to strikingly vibrant combinations, the potential for artistic expression knows no bounds.
5. Geometric and Abstract Patterns
For those who revel in the allure of modernity and embrace edgy nail designs, unleash your imagination with captivating geometric lines, audacious shapes, and captivating abstract motifs. These designs offer a contemporary and daring touch, destined to turn heads and leave a lasting impression.
Embark on an artistic journey of self-expression and embrace the endless possibilities that await you.
Embrace These Trendy Almond Nail Designs and Stand Out
Glitter Elegant Nail Design
Everybody needs a touch of sparkle in their lives.
These short acrylic nails feature adorable holographic glitter.
This almond nail manicure uses an eye-catching glittery polish that will go with all of your outfits.
V French Tips Best Acrylic Nails
These nude nails are perfect for the working woman.
They're minimalistic, simple, and elegant… plus, not too long to interfere with your life!
You won't want to stop looking at your classy nails.
Now these are some cute short nails.
Natural Ombre Almond Nails
Want chic nails but not a big fan of colorful patterns?
We get it!
This nail idea enhances your natural beauty with a few beads of acrylic.
These classy almond nails might be your new favorite mani.
This look can work as white short nails too!
Black Almond Set
Coffin nails aren't your style?
Black nails are sure to be!
This stiletto-inspired matte nails feature a gorgeous gold leaf accent over gel polish.
We love this black and gold combo!
Daisies
This summertime set looks great with almond shape nails.
Using clear nail tipes and the best hues of gel polish, you can find this press-on set on the Etsy app or at your local nail salon.
These could work as fall nails.
Starry Stiletto Nails
While this isn't an almond shape, the tip of the nail can be easily filed down to create an oval nail or almond shape.
These stylish nails have a stunning glitter ombre with some adorable nail art.
Add some crystals to upgrade your new manicure even more!
Spring Floral Design
Let's be real, it is too cold outside.
Bring that warmth in with this artsy spring nails design!
We love the minimal use of color in these long almond nails.
Add in some butterflies for a beautiful butterfly nails design!
You can DIY nail art with a small detail brush for this simple nail design.
Black Dots
Use some acrylic nail tips for some at-home press-on nails utilize a nail clipper to help shape and lengthen your nails. The color of the season… black! Black is perfect for every season.
White Swirls
Add a little spice to your nude nails with some white nail polish.
You can file the length down for short almond if longer nails bother you.
This set is definitely some of the best acrylic nails on this list.
What do almond shaped nails say about you? That you're classy, elegant, and love a natural nail but aren't afraid to try something new.
Pink Short Almond Shape Nails
These pink nails are one of the top colors of this year.
It's pink enough to see, but nude enough to look natural.
You could make these as hot pink nails, too.
This pink almond nails manicure look has tons of glamour without all the work!
Can you do almond shape on short nails?
Absolutely!
Long Almond Glitter
If you are a fan of elegant manicures, you'll fall in love with these long almond nails.
This design uses a bit of glitter to accent the length and gorgeous nude color.
Perfect Glitter Ombre
Add a glittery varnish or a glitter gel to the top of your nails to create different types of accents to a boring set, or go all out on this art like the photo.
It's your choice!
Minimalist Coffin Almond
Love both coffin and almond shapes?
This set is just in between both to get the best of both worlds.
Add a pop of color to your look with some trendy almond nail designs like this one!
Accessorize with a jewelry ring or a half moon accent ring finger nail.
Trendy Graphic Nails
This manicure has tons of acrylic nail designs to mix and match to your liking.
Pick one pattern, copy the photo, or have an accent and do the rest of your nails as one design.
Gel nails are very versatile, so you totally can customize your vibe.
Holographic Nails
This standard nail look uses holographic chrome powder to add some shimmer rainbow without a ton of work.
If you're in search of a nail design, search no further!
These are some of the best almond nails you can get.
Tropical Nails
Plants look great as home decor, but they also look gorgeous as nail art!
These cute acrylic nails have a geometric pattern, perfect for a party, plus adorable leaves.
Those details!
You can home DIY this style with a small detail brush and a very steady hand.
Use full cover nails for a removable and reusable manicure.
Oval Sky Acrylic Nail
Almond and oval are often used interchangeably.
These almond acrylic nails have adorable skies painted on the tops.
Try using some clear nail tips to make yourself some press-ons.
Nail You don't need fancy technologies to DIY yourself a great set!
Marble Effect Oval Acrylics
Marble nails have taken over the internet for years.
These short almond nails can be attached with glue or built straight onto your natural nail with acrylic.
Be sure to go to a nail art salon that knows how to perfect the hazy, smoky, marble nail art.
Metallic Nails Acrylic Nail
False nail tips can give you a lot of freedom to express yourself.
While it might be hard to home DIY this design, chrome powder can give you the iridescent style you desire.
Why do people have almond shaped nails?
Because they're easy to work with!
Coffin nails are often too boxy and square-like, while stilettos are sharp and can hurt somebody. Almond nails are the perfect in between.
Queen Oval Set
This gorgeous mani reminds us of royalty.
That stunning glitter and the half moon accent just make this entire set pop.
Start with a nude base, add some ombre glitter, stick on those nail decals, and finish with your favorite top coat.
Don't forget to accessorize with some rings.
Blue Acrylic Nail
If you like pointy nails, this set is for you.
And if you're into baby blue nails too.
These chic nails are classic, and that baby blue color goes with almost every outfit.
Wag your fingernail in style! You can also try this manicure in the squoval or oval shape.
Mocha Gorgeous Nails
Something that will never go out of style is the opaque mocha color.
These classy nails upgrade any business casual fit and style great as the almond nail.
You could also find some press-ons and use nail glue if you don't have a gel nail kit.
The best nail salons will paint your nails in no time if you don't want to do it yourself.
Navy Blue Chic Nails
Take a pit-stop at the salon for these stunning classy nails.
Use swipe gestures with a sparkly navy blue gel polish for an at-home gel manicure.
Acrylic fake nails are a great option if you can't grow your natural nails.
Don't forget to use a cuticle stick to push those cuticles back!
This color would make a great pedicure, too. Perfect for beginners.
French Tip Cherries
The everlasting French nail manicure can be upgraded with some cute cherries and a smile line of blue.
You could even add some rhinestones to the pinky fingernail as an accent.
All In All
Welp, that's our entire list of almond nail designs!
You should definitely seek out some of these designs and try them for yourself! Whether you get a nail technician to help you pull off the look, or you do it yourself, we're sure it'll come out looking amazing!
These nails can be used all year round and you can change up the designs for the seasons and holidays too.
However, remember to provide your nails with proper care, as this will not only enhance the longevity of your nail art but also promote overall nail health.
Now, which one is your favorite?
FAQs
References