Shine Bright: Glitter Nail Design Inspiration
Tired of the same old dull and boring nail designs? It is time to shake things up and infuse some sparkle into your life with glitter nail designs! Don't reserve them just for the festive season; these stunning nails can be worn year-round, bringing happy vibes to any occasion.
So, what are you waiting for? Scroll, screenshot, and take these glamorous and dazzling designs' copy to your next nail appointment, and get ready to shine like a star both in person and on your Instagram feed.
Table Of Contents
10 Dazzling Glitter Nail Designs For Every Occasion
Get ready to glorify your nail game with these sensational and eye-catching manicures that will make you the center point of attention wherever you go. With innovative choices like glittery stripes and dots, cosmic features like moons and stars, and floral patterns, you can personalize your look and showcase your exceptional style.
1. Emerald Enchantment
An emerald green glittery nail is a sensational nail design that blends the richness of green with the sparkle of glitter. The deep green shade grabs the essence of nature and pairs correctly with the shimmering glitter to develop a look that is both bold and glamorous. It is ideal for any occasion, from a night out to a special event.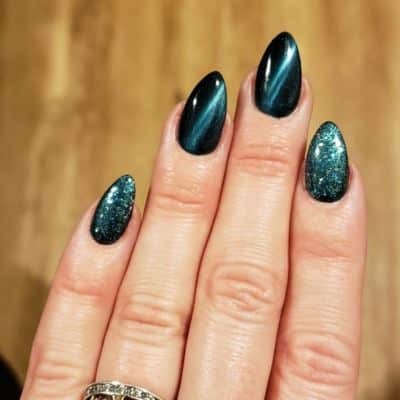 2. Cotton Candy Crush
This hot pink nail design with glitter is perfect for those who adore pink and crave a little whimsy in their manicure. The pink foundation, punctuated with speckles of rainbow glitter, infuses a playful and lovely cotton candy aesthetic bound to turn heads. Upgrade the look with glitter stripes or dots to showcase your creative flair.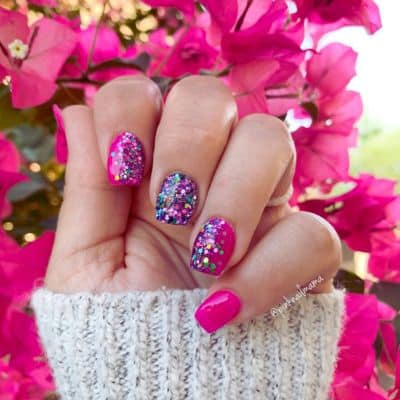 3. Midnight Stardust
Take your nail game to celestial heights with this starry design featuring a sleek black base and sparkling silver glitter stars. The sky is the limit with customization options, including varying star sizes or adding other cosmic elements, such as moons or constellations. Get creative and make a stellar statement with this black and silver glitter nail design.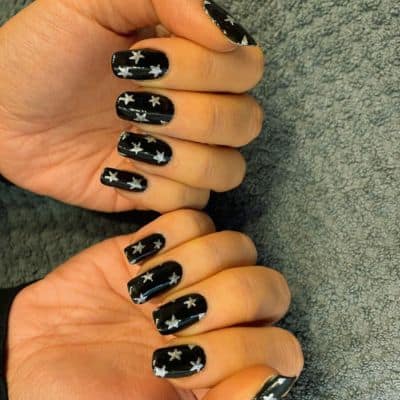 4. Frosty Snowflakes
Get into the winter spirit with this enchanting silver and white glitter nail design, ideal for the festive season or whenever you desire a wintry charm. Play around with various snowflake patterns or inject a pop of color with stunning blue or pink accents. Whether hitting the slopes or cuddling up by the fire, this manicure will elevate your look with a magical touch.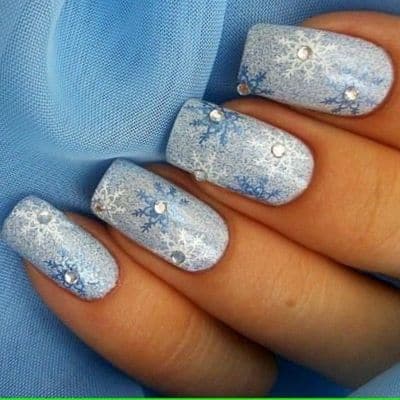 5. Midnight Galaxy
Channel the mysteries of the cosmos with this stunning black and blue glitter gradient nail design. The gradient effect creates a striking and dynamic look. Adding shades of blue, shimmering stars, or moons will give your manicure a distinctive twist.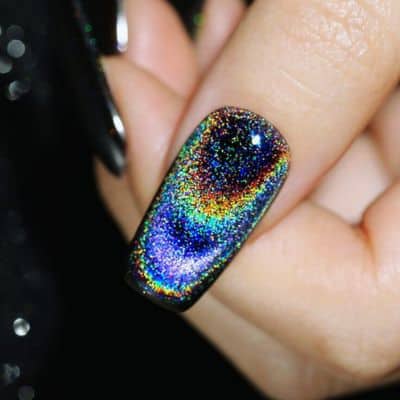 Whether you are a stargazer or love bold, eye-catching nail art, this design will transport you to another galaxy.
6. Pink Perfection
Infuse feminine magnetism into your nails with this adorable pink glitter design with delightful floral patterns. Embrace your originality by experimenting with various flower types and shades to achieve a look that is uniquely you.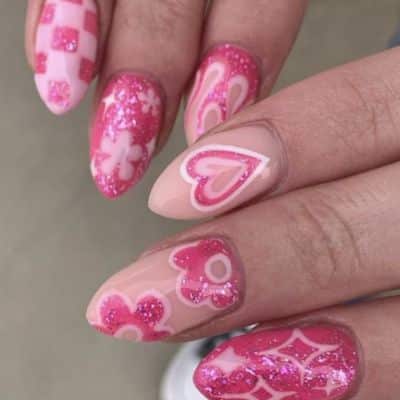 Whether planning for a springtime marriage or want to add a fancy touch to your everyday routine, this design is the ideal choice.
7. Catch The Rainbow
Try this striking rainbow glitter nail art to make a bold statement with a futuristic twist. You can build a diligent and visually stunning effect with various shapes and sizes of glitter elements. Whether you want to break the mold or showcase your impressive style, this nail art is a perfect way to do it.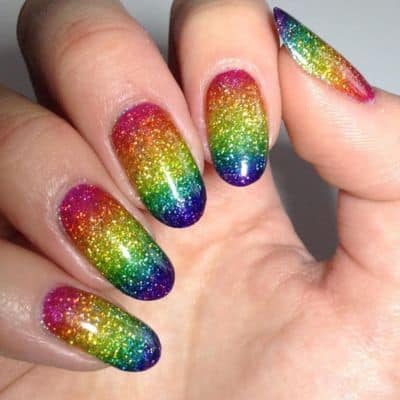 8. Glittering Gems
Get ready to glow like a gem with these gorgeous multi-colored glitter accent nails, perfect for a jewel-inspired look. Test with various gemstone shapes and colors to attain a genuinely one-of-a-kind and mesmerizing effect.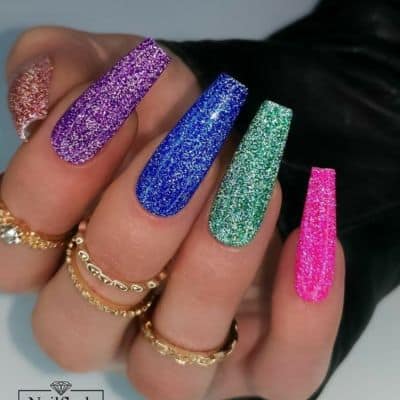 Whether you want to add twinkle factors to your evening attire or showcase your inner glam, this nail design is a beautiful way to do it. So go forward and let your nails be the ultimate showstopper.
9. Mermaid Scales
Dive into the mesmerizing world of mermaids with this stunning teal and purple glitter ombre nail design, perfect for those who love all things oceanic. Embrace your creativity by trying out different shades of teal and purple to achieve a dreamy and enchanting effect.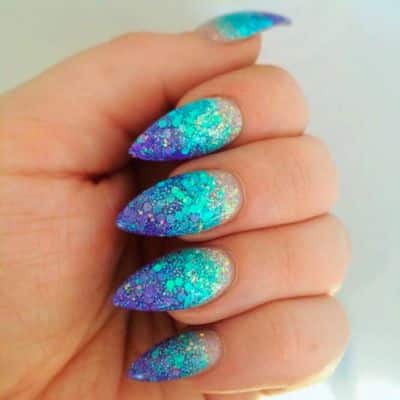 You can add shell or starfish accents to your nails for an extra touch of marine magic. Whether you are planning for a beach visit or want to channel your inner sea siren, this nail design will make waves.
10. Gold Glitter Leaf Accent Nails
Elevate your natural beauty with these gorgeous gold glitter leaf accent nails, perfect for a subtle, understated, stunning look. The delicate glitter adds just the right amount of shine, while the leaf design is a nod to nature and all its breathtaking beauty.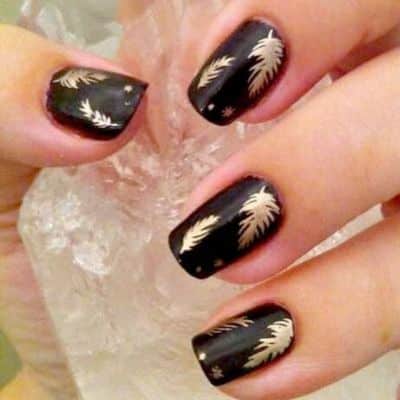 Play around with different leaf shapes and colors to create a customized look that is uniquely you. Whether you are a nature enthusiast or love this design's elegance, these nails will make you feel like a golden goddess.
Must-Try Nail Designs By Celebrity Nail Artists
Your nails deserve to be adorned by the best! Check these must-try nail designs by celebrity nail artists guaranteed to elevate your style game. These designs will leave you feeling glamorous and ready to take on any occasion.
Glossed And Glammed
For the 2023 Oscars, Tom Bachik left his creative mark on Michelle Williams' nails with a mesmerizing silver lining manicure that caught everyone's eye.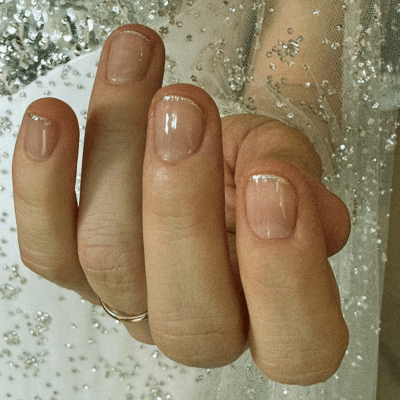 Glitter Spring Nails
Elle Gerstein's glamorous glitter nail design can help you dazzle your spring days in NY city. Take this design as an inspiration, add some glittery and glossy details to your fingertips, and let your nails radiate like the city's colorful lamps.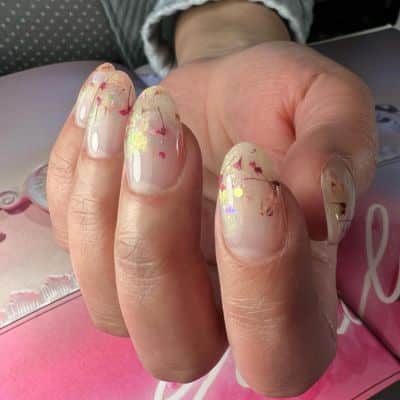 Recreate Lily Allen's Style
Indulge in the glamor of Naomi Yasuda's black and silver glittery nail design, explicitly designed for Lily Allen. Upgrade your fashion statement with this incredible nail design which is an excellent choice for any event.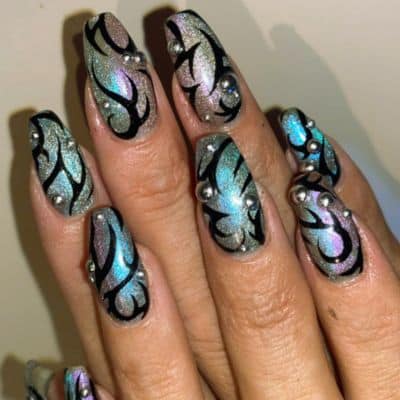 Glam Up Your Nails
With these stunning glitter nail designs, you will be ready to shine bright like a star, no matter the occasion. From celestial midnight stardust to whimsical cotton candy crush, these designs will surely add sparkle to your life.
So why settle for a monotonous manicure when you can elevate your look with these dazzling designs? Book your next nail appointment with these glamming nail designs, and get ready to glow like the gem you are!
FAQs
Q: What is glitter nail design?
A: Glitter nail design is a type of nail art that uses glitter as a decorative element. It involves applying glitter to the nails in various ways, such as by painting it on, dusting it on, or using glitter nail polish.
Q: How much does glitter nail design cost?
A: The cost of glitter nail design can vary depending on where you go and what you want to be done. On an average basis, you can expect to spend $20 to $50 for a professional glitter nail design. If you are doing it at home, the cost will depend on the price of the supplies you need.
Image Sources
https://www.instagram.com/p/CptV39avoKc/?utm_source=ig_web_copy_link
https://www.instagram.com/p/CqtTr0zOexD/?utm_source=ig_web_copy_link
https://www.instagram.com/p/Co9-YZauX1U/?utm_source=ig_web_copy_link
References