25 Butterfly Nails Designs You Need To Try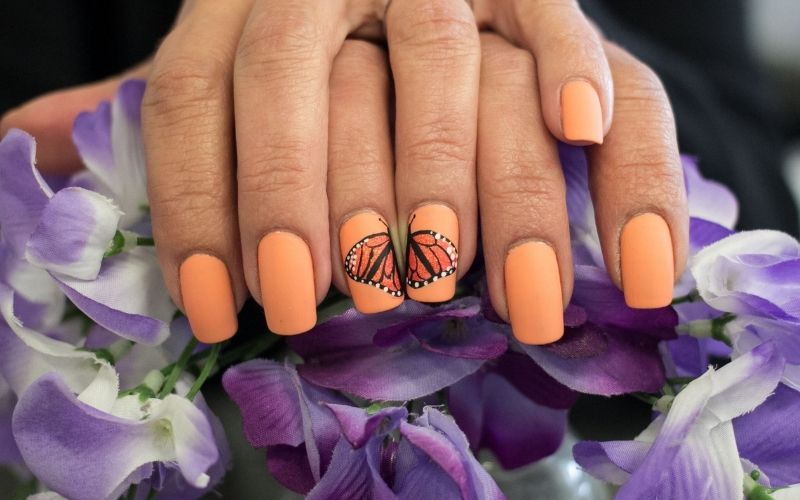 If you're tired of the same nail designs, look no further — here, you'll find inspiration to get you out of your cocoon.
Elevate your nail art game with these beautiful butterfly nails designs.
We noticed butterflies have made a big comeback recently — and we couldn't be happier.
These butterfly designs are easily some of the best spring nails designs.
The butterfly is often associated with transformation and rebirth, making it the ideal insect to adorn your short acrylic nails.
You'll be surprised by all the stunning ways to showcase your butterfly nail decals.
To us, beautiful nail art is whatever makes you happy, so break free from your cocoon and explore your creativity.
What are butterfly nails?
Butterfly nails are a trend that's here to stay.
You may have noticed these from Tiktok or Instagram.
These are acrylic nails that have butterfly designs either glued on or drawn on.
There are so many different ways you can express butterfly nails with different types of butterflies and a wide variety of base nail types such as short nail designs, white short nails, or almond nails.
These are especially popular in the spring or summer time!
They could even work as fall nails.
Let's not wait any longer…here are the top 25 butterfly nail designs in the world.

25 Best butterfly nail ideas
These are our favorite butterfly nail designs around.

1. Blue Butterfly Nails
While blue nail art designs are nothing revolutionary, that doesn't mean they aren't stunning.
Baby blue nails will pair perfectly with butterflies for a combination that will have the masses fluttering to you for details.
You could also use nude nails as the base if you aren't into blue nails.
This design features small butterfly stickers on acrylic nails, which you can purchase on Amazon or Etsy, against a baby blue nail polish shade for a darling look.
You should definitely wear baby blue nails with these.

2. Pink Butterfly Accent Nails
If you're looking for feminine nail art, we have the answer to your prayers.
This design is flirty and fun, making it a must-try.
Using a bright pink shade, paint four fingers.
These would work perfectly as some hot pink nails or flame nails.
Take a clear nail polish to paint the remaining finger and finish the look with a set of butterfly stickers to the accent nail.

3. Butterfly purple ombre nails
Butterfly nails plus ombre?
Yeah, it doesn't get much better than that.
This nail design is trendy with an unexpected twist.
We recommend adding your butterflies to two nails to allow them to shine while the rest of your nails feature the eye-catching ombre design.

4. Colorful Butterfly Nails
Embrace the beauty of different types of butterflies with this stunning nail idea for coffin nails.
Use a matte nude base so as not to distract from the swarm of butterflies on your hands.
You can use a multitude of colors on each butterfly or just use a solid color for each one.
This look will absolutely turn heads and put you on to a whole new level when it comes to nail designs.

5. Clouds and Butterfly Nails
Of all the acrylic nail designs, this one is at the top.
Featuring a set of blue coffin nails, this dreamy nail design is undoubtedly Instagram-worthy.
Apply a light blue base with nail lacquer to your nails, then dab white dots with a dotting tool to create clouds.
Finally, use nail stickers to mimic butterflies fluttering in the sky.

6. Purple Nails With Black Butterflies
Butterflies don't always have to mean bright colors — darker shades provide a chic look.
Use a deep purple shade for your base and apply black butterfly decals to create an edgy product.
If you want, you can also make the base shade a light ombre vibe so that it's darker near the base and lighter towards the tip!
This will make the butterfly designs pop better and will also add a really cool feel to the overall look.

7. Butterfly wing nails
This is one of the best cute short nails for all those wanting to perfect their nail art skills.
Choose a few of your favorite shades and patterns and get creative!
Instead of featuring a whole butterfly, this design focuses only on the wing.
We guarantee this mani will attract attention, like moths to a flame.

8. Light pink pretty nails butterfly nails
Break out your pastel pink nail polish and get to painting.
The delicate butterflies will perfectly match the feminine pink shade.
Believe it or not, long nails are not required to achieve a breathtaking manicure.
Your short nails will also work perfectly for this design; the versatility of this idea allows you to apply it to any nail length.

9. Butterfly nails with rhinestones
This butterfly design allows you to go crazy with nail art decorations, nail stamps, and accessories.
After selecting your preferred nail shades and butterfly stickers, use glue to apply rhinestones for a fun, fluttery mani.
There are lots of butterfly rhinestones on Etsy, amazon, and other outlets.
Just be sure to use safe products to avoid any chipping or damage when you remove the rhinestones.

10. Holographic butterfly nails
If you want to add shine to your acrylic nails, try a holographic nail lacquer and press your butterfly stickers over top and watch your nails dazzle in the sunlight.
If you lack the security to DIY this design, have your technician perform the magic next time you're at the nail salon.
Using silver butterfly stickers can be a really perfect combo with the holographic look.
Another idea you can try is using rainbow reflector butterfly stickers to make this look super shiny and futuristic!

11. Glitter nails butterfly nails
What better way to enhance the beauty of butterflies with glitter?
For us, glitter is always on-trend.
Apply a generous coat of glitter nail polish and add your butterfly stickers to achieve this sparkling look.
You can use assorted colors butterfly glitter nail sequins for this look.
The glitter butterfly nail is always a solid choice!

12. Simple butterfly nail design
If you're a busy person with no time to invest in intricate manicures, you can still partake in the fun.
Once you've used a nail file to shape your nail, simply choose your favorite solid color as your base and apply a minimal amount of butterfly stickers for a clean, effortless manicure.
With this design, anyone can be a nail artist.
Going with a nude tone gives this look a very classy feel that can be perfect for any occasion.
These nails have the perfect mix of simplicity and personality!

13. Multicolored butterfly nails
Those of you who love color and are not afraid to show it, this is your time to shine.
Apply a different color shade on false nails or natural nails and select pretty butterflies to produce a rainbow set everyone will envy.
This beautiful nail idea is worth a try 100%.

14. Black butterfly nails
Showcase your dark side and step out of the box with this daring black nails design that strikes a perfect balance between feminine and edgy.
Use a clear base coat and black butterfly decals on coffin nails to create an edgy image.
Or reverse the look with black nail polish and transparent butterflies.
Whichever way you decide to do it, these nails make a true statement anywhere you go!

15. White nails and pink butterflies
This pretty nail design is one of our favorites… you can see why.
White nails against pink butterflies always receive raving reviews, making this manicure a classic in our book.
Perfect for attending an event or conducting business at work.

17. Confetti butterfly nails
This nail design is perfect for celebrating special occasions.
3D nail art flakes for decoration, found on Etsy, will easily complement any colorful butterfly you choose, so don't overthink it!
Try it for yourself or have nail technicians work their magic with a colorful confetti glitter sticker.

18. Sunset butterfly nails
This nail design is reminiscent of sunsets in Brasil, France, or any other beautiful location.
Cure your case of wanderlust and use a thermal color palette, including orange and pink shades, to mimic a sunset effect, then apply transparent butterflies.
We guarantee this one will have you snapping an image of your cute butterfly nails.
This nail design is perfect for really any occasion, especially during the summer or fall seasons.
You will definitely receive plenty of comments from this look!

19. Yellow butterfly nails
Nothing says happiness like yellow and a colorful butterfly.
Use a bright yellow shade and multicolored butterflies that will have your nails radiating like sunshine.
Add nail sequins to enhance the look even more.
If you'd like, you can even use different shades of yellow for both the base nail and the butterfly to make give it lots of yellow vibes!
Whichever way you choose to do it, there's absolutely no going wrong with this look in the spring time.

20. Green butterfly nails
Fancy a calming manicure?
Opt for a sage green color, which promotes peace and tranquility.
White butterfly stickers will pop against the shade, delivering a relaxing product.
These green nails are a force to reckon with!

21. Floral blue butterfly nails
This nail idea pays homage to all you nature lovers.
Combine flora and fauna with white flower patterns and blue butterflies for a design that resembles art.
You can also reverse the look — opt for blue nails and white butterflies and flower petals for a perfect manicure to wed your significant other in a meadow.

22. Clear nails with butterflies
Allow butterflies to steal the show with this design.
Apply a clear base coat and select butterfly decals that range in size, colors, and patterns to make this insect-focused nail design effective.
Clear butterfly nails will never go out of style!
These are perfect for any occasion, really.

23. Butterfly nail tips
The best butterfly nails don't always have to be bold.
If you want to dip your toes in the butterfly nail trend, this design is a great starting point.
Simply swap white tips on french nails for butterfly wings for a twist on your classic French manicure.

24. Lilac butterfly nails
This nail art design is perfect for those of you who love purple.
Apply a layer of lilac polish and experiment with different butterfly stickers to achieve irresitibly cute nails.
If you really want to show your appreciation for the color, opt for purple butterflies.

25. Butterfly toenails
You didn't think we'd limit the butterflies to our fingers, did you?
This nail design features a whole butterfly on the big toe, so you make a statement with every step you take.
You can easily change up the colors and styles on each toe nail too!
Orange nails definitely work well with this look, though.

Overall

Don't wait till the last week of spring to get in on these gorgeous nails.
Try some of these beautiful nail designs to show off your chic new nails!
Making these ideas possible can be possibly with the lowest price and doesn't need to be expensive.
You can easily find luxury press ons from etsy or amazon which are open all week (mon, tues, wed, thu, fri).

You most likely see a dozen butterfly manicures each time you log onto Facebook or Instagram under #butterflynails.
Now, before you create a new account to adjust the algorithm, we invite you to hop on the trend with these beautiful designs.
With butterfly nail art this impressive, you'll be right at the heels of influencers like Kylie Jenner, who has flaunted similar nail designs on her social media.
While these designs may seem more fitting for the spring season, we have compiled a list of butterfly nail art designs that are perfect for any time of year.
So, what are you waiting for? It's time for a change – just be sure to have a variety of butterfly nail stickers on hand.