Shapes & Style: 17 Geometric Nail Designs That Are Always In Trend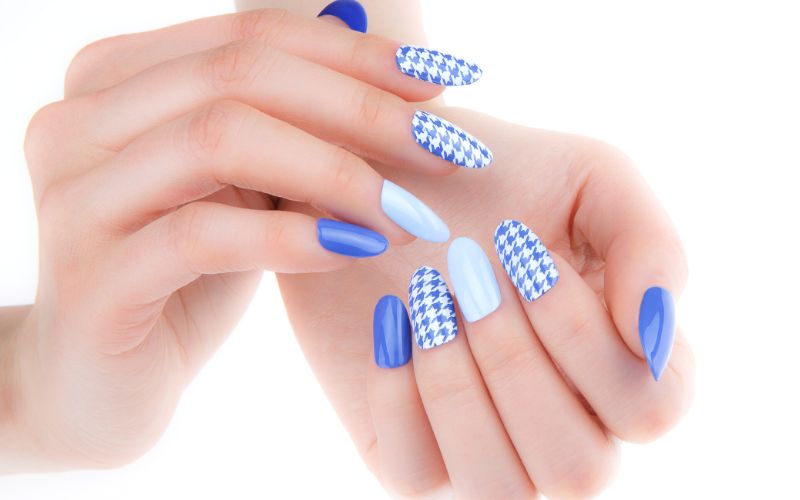 Geometric nail designs are a type of nail art that involves creating patterns and shapes using straight lines, curves, and angles. The designs can range from simple and minimalistic to complex and detailed. Try the best depending on the style you are looking for. They can be created using a variety of techniques, including tape manicures, stamping, and hand painting.
There is a geometric nail design for every skill level, whether you are a seasoned nail technician or just getting started.
Are you ready to switch up your nail game with some shapes and patterns because you're sick of the same old solid-colored manicures? Simply consider geometric nail art. You can get some great ideas for your next nail art look from this guide.
Table Of Contents
Cultural Value Of Geometric Nail Designs
Geometric nail designs have a fascinating cultural history that spans back to the days of ancient civilizations. People in Ancient Egyptian society, especially the wealthy ones, saw the intricate geometric patterns on their nails as a symbol of their wealth and status.
In the same vein, in traditional Chinese culture, intricate nail art was a way for people to showcase their individuality, and to flaunt their wealth and social standing.
Tools And Materials Needed For Creating Geometric Nail Designs
Here is a list of the tools and materials you will need to recreate geometric nail designs:
Tape or stencils
Stamping plates and stamping tool
Nail art brush or dotting tool
Makeup sponge
Acetone or nail polish remover
Cotton swabs
Keep in mind that only high-quality tools will enable you to accomplish better results. Additionally, you can add additional components to your design, such as foil, studs, or rhinestones, to enhance the beauty of your nail art.
Techniques Used For Creating Geometric Nail Design
Here are some simple and effective techniques you can use to create geometric nail designs:
Applying a pre-designed image to your nails by using specialized stamping plates and a stamping tool.
Using sponges to create a gradient effect on your nails.
Applying the tape in the desired pattern, and then painting over it.
Hand-painting your nails is a great way to create customized geometric designs.
Placing the stencil over your nails and painting over it.
Choosing The Right Geometric Nail Design For You
When selecting a geometric nail design for you, you have to consider two things. First, consider the event you are wearing the design for first. Second, think about your personal style and the overall appearance you want to achieve.
Simple Geometric Design For Minimalistic Look
If you love a minimalistic look, you can try simple geometric shapes like triangles, squares, and circles. Go for a single color or two colors that complement each other.
Bold And Daring Geometric Nail Designs
If you need a bold and daring look, look for intricate geometric patterns. It involves interlocking shapes, stripes, and chevrons. Trying different colors may help you create a more unique look.
Creative And Unique Colors and Shapes
Try mixing multiple colors and shapes in your geometric nail design. For making it more attractive, combine colors and shapes that complement each other.
Geometric Nail Design For Special Occasions
Geometric nail designs can also be used for special occasions.
For a festive look, try incorporating glitter or metallic accents. For example, paint your nails in a solid color and then add a glitter accent nail. The result is a look that is perfect for weddings, parties, and other special events.
Geometric Nail Design Ideas
There are countless geometric nail design ideas to choose from, so we have gathered some of our favorites to help you get started.
1. Bold And Simple Triangle Pattern
DIY method:
First, paint your nails with a solid color, like red, orange, blue, or yellow. Then, add triangle accents in a contrasting shade. Use tape or a stencil to create crisp lines and achieve perfect triangle shapes.
DIY Method:
Add some spice to your French tips. Instead of the traditional white tips, try a modern twist by creating a geometric design on your nail tips. Use straight lines and shapes such as triangles, squares, and rectangles for a minimalist look.
3. Simple Stripe Pattern
DIY Method:
Paint your nails with any solid color and add thin stripes in a contrasting shade using a nail art brush or tape.
4. Dot Matrix
DIY Method:
To create this geometric pattern, paint your nails with your favorite color and then add dots in a contrasting shade. The dots should be made with a toothpick.
5. Chevron Pattern
DIY Method:
To create this design, paint two coats of your base color, then use tape or a stencil to create the chevron pattern. You can also add a contrasting color to make the design pop.
6. Cutting-Edge Diamond Pattern
DIY Method:
First, paint your nails with your base color, then create a diamond pattern using tape or stencil. You can also add a glitter topcoat for an extra touch of sparkle.
7. Attractive Hexagons
DIY Method:
Use tape or a stencil to create hexagonal shapes on your nails. You can use multiple colors to create a bold look or stick to just one color for a more understated design.
8. Even Lines
DIY Method:
Create this design by using tape or a stencil. You can use multiple colors to create a unique and eye-catching look.
9. Repeated Rectangle
DIY Method:
You can paint this design or use tape or a stencil to create rectangular shapes on your nails. Create a pattern of rectangles on all your nails, or opt for a single rectangle accent nail.
10. Eye-Catching Abstract Pattern
DIY Method:
To create this design, use a mix of different shapes, lines, and colors. The possibilities are endless with an abstract design, so have fun and let your creativity run wild!
11. Formal Ovals
DIY Method:
Use tape or a stencil to create oval shapes on your nails. You can opt for a single oval accent nail or create a pattern of ovals on all your nails. You can also experiment with different colors and finishes, such as metallic or matte.
12. Intricate Designs On Long Nails
Long nails are a great canvas for creating beautiful and intricate nail designs. To make the most of your long nails, try creating a design that takes advantage of the length.
For example, you can create a long and narrow geometric pattern that runs the length of your nails or opt for a design that features long lines and shapes.
13. Sparkling Triangles
DIY Method:
Create a triangle design using tape or stencils, then fill in the triangles with glitter or metallic polish for a fun and flashy look.
14. Black And White Squares
DIY Method:
Paint each nail with a different bright shade, then add square cut-out accents in white or another neutral color.
15. Day And Night Circles
DIY Method:
Use a dotting tool to create circular accents in different colors or glitter shades, or create a gradient effect by using larger dots at the base of the nail and smaller ones at the tip.
16. Zigzag Zebra
DIY Method:
Use tape or stencils to create zigzag lines in contrasting colors or glitter shades, or freehand the design with a fine brush.
17. Geometric Ombre
DIY Method:
Gradually fade one shade into another, creating a gradient effect, and add geometric cut-out accents in a contrasting color.
Overcoming The Challenges Of Geometric Nail Designs
Geometric nail art can be difficult to create, but with a few simple tips and tricks, anyone can have flawless nails.
Following are some typical problems and solutions:
1. Keeping The Design Symmetrical
Keeping the design symmetrical is one of the biggest difficulties in geometric nail art. To get around this problem, use tape or stencils.
2. Painting Straight Lines And Sharp Edges
It can be challenging to paint your nails with straight edges and sharp lines at times.
When doing so, practice thoroughly or use a steady hand to tie the knot. If you are still having trouble, try making a guide for your lines out of tape or stencils. A fine-tipped brush can also be purchased to assist in drawing precise and clean lines.
3. Choosing Colors That Complement Each Other
Finding complementary colors can be difficult, especially if you don't know what colors work well together.
Consider using a color wheel to find hues that are in opposition to one another to get around this problem.
Showcase Your Thoughts With Geometric Nail Designs
From minimalist and clean lines to bold and colorful designs, these patterns allow individuals to showcase their personality and creativity. Additionally, they can be used to make a statement and draw attention to important cultural issues, such as environmental conservation and gender equality.
So why wait? Give geometric nail design a try and show off your creativity and individuality today!
FAQs
References