Brighten Up Your Nails With These 20 Yellow Nail Designs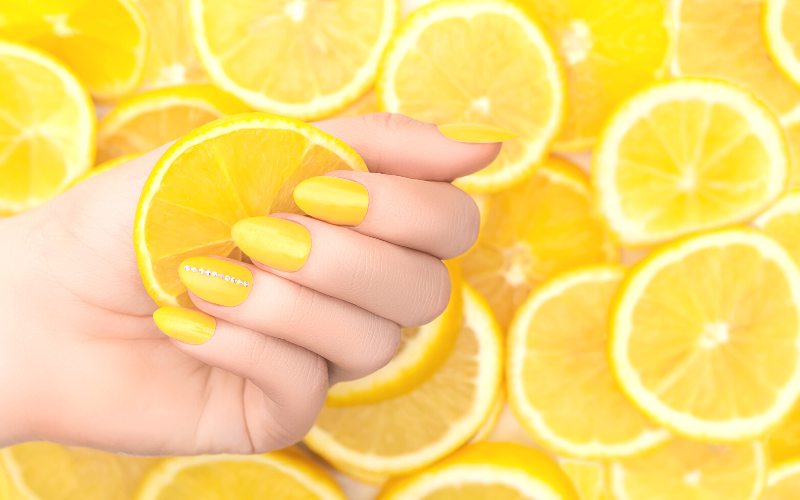 The color "Yellow" is often associated with happiness, optimism, and creativity.
Yellow nail designs have been spotted on the red carpet and in street style, proving that this cheerful hue is a must-have in your nail polish collection.
Yellow is not just a summer shade. In fact, it's a great color for year-round wear. Whether you prefer a bold, bright yellow or a soft, pastel hue, yellow nails add a pop of sunshine to any outfit.
So why not try this trend today and add some rays of hope to your nails?
Table Of Contents
Stunning Yellow Nail Designs
Here are some different and innovative ideas that you can incorporate on your yellow nails.
1. Sunflower Design
Sunflower design nails are a creative and eye-catching way to decorate and beautify one's nails. It conveys a cheerful personality.
2. Lemon Slice Pattern
Lemon slice pattern nails are a unique and playful way to represent your nails. This pattern resembles summer, freshness, and optimism, making it a popular choice for those who want to convey a fun and vibrant personality.
3. Honeycomb-Textured Yellow Nails
Honeycomb textured yellow nails offer a unique and stylish take on traditional yellow nails. It helps you stand out uniquely in the crowd and draw attention.
4. Mustard Color Gradient
Mustard color gradient nails provide a bold and stylish alternative to traditional solid-color nails. The gradient effect with a gradual change in color gives a sense of depth to your nails.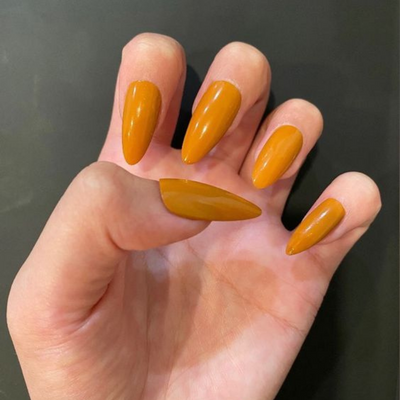 5. Banana Print Nails
Banana print nails are a fun and quirky way to represent your nails.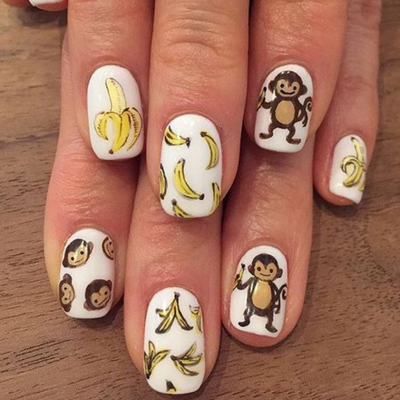 6. Yellow Glitter Accent Nail
Yellow glitter accent adds a touch of sparkle and glamor to traditional nail art.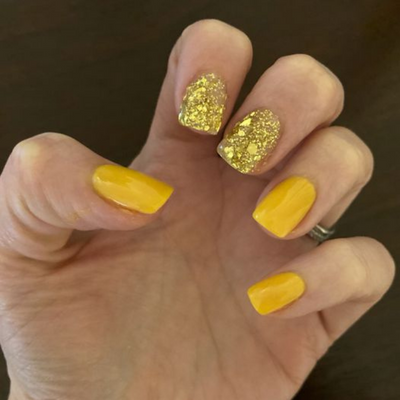 7. White Polka Dots On A Yellow Base
Polka dots are a classic nail design. The Yellow base provides a clean and crisp backdrop for the bright white polka dots, creating a fun and playful look. This type of nail art can be worn on any occasion.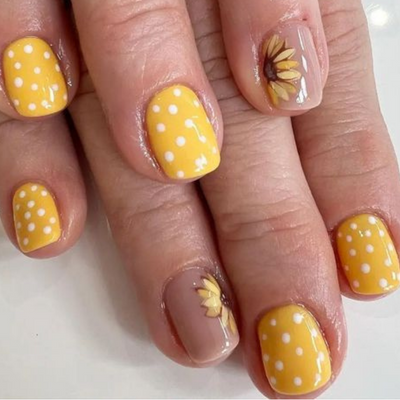 8. Yellow And White Stripes
Yellow and white striped nails offer a classic and stylish touch to traditional stripe look.
9. Yellow And Black Zebra Print Nails
The contrast between yellow and black creates a different texture and unique visual formula for your nails.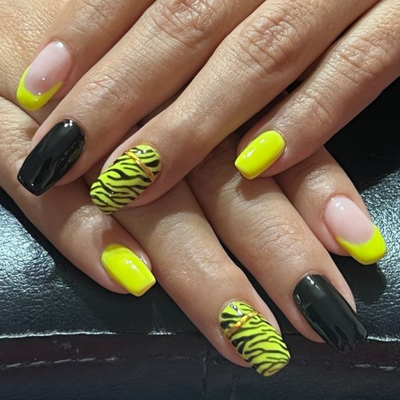 10. Minimal Yellow Triangle Nail Design
The triangle shapes in this nail art add a geometric element to your natural nails.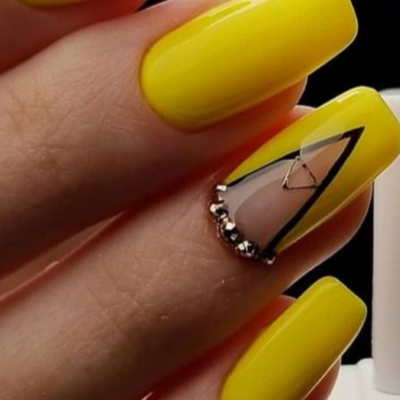 11. Yellow And Green Leaves Pattern Nails
Yellow and green leaf nails offer a fresh and nature-inspired take on traditional nail art. The combination of yellow and green symbolizes growth, renewal, and a connection to nature.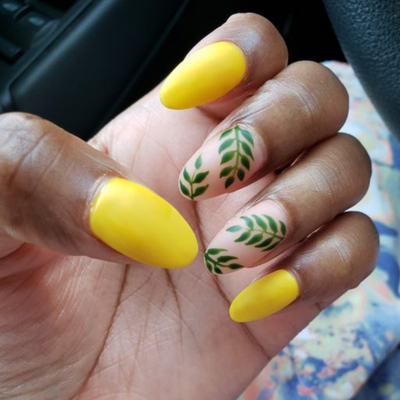 12. Bright Yellow Sunburst Design
Bright yellow sunburst design represents energy, positivity, and a love of all things that are bright and bold.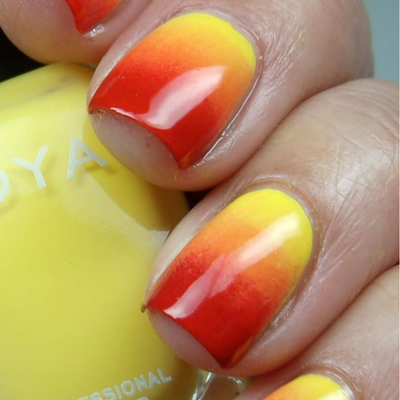 13. Bold Yellow Chevron Pattern
The bold yellow chevron pattern nails combine the styles of both modern and traditional ideas to create unique and eye-catching nail art.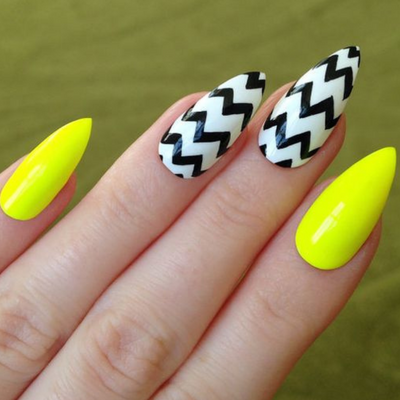 14. Yellow And Blue Ombre With Clouds
Yellow and blue ombre with a cloud design defines your love for the sky and nature. It is a popular choice for those who want to express their imaginative side.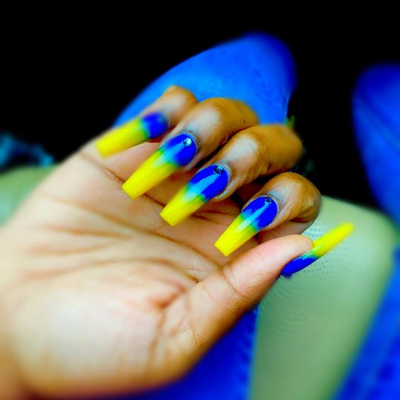 15. Yellow Butterfly Accent Nail
A yellow butterfly accent nail represents transformation and freedom.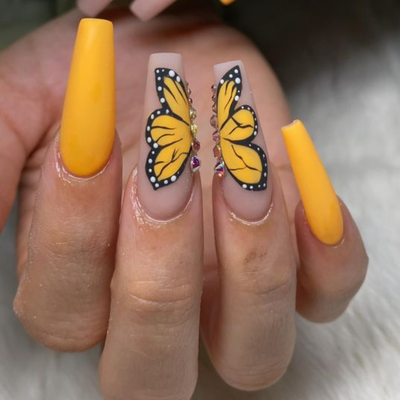 16. Yellow And White Polka Dots With Daisy Accents
Yellow nails with white polka dots and daisy accents add more beauty to your nails by combining traditional dots and flower art. You can express your happiness and innocence with these stylish nails.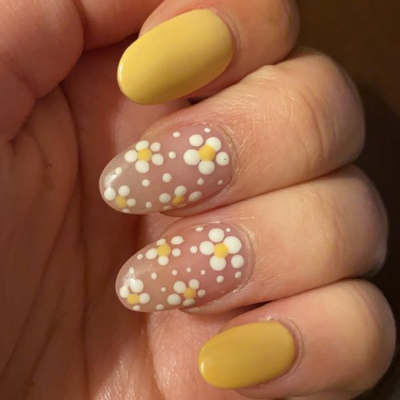 17. Yellow Smiley Face Nails
Yellow smiley face nails are the symbol of positivity and craziness.
18. Haze Stiletto Yellow Nails
Yellow hue provides a modern and edgy look to traditional stiletto nail work. The haze design adds a touch of sophistication and mystery to these nails.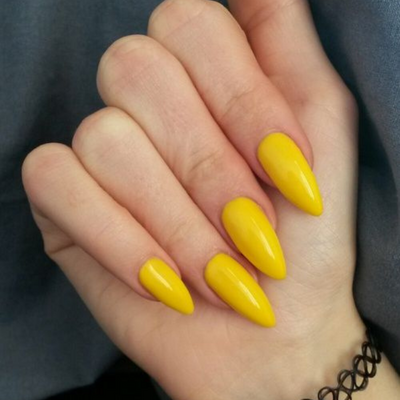 19. Leopard Print Yellow Nails
If you want to express your power, adventurous side, and confidence through your nails, you can try these yellow leopard print nails.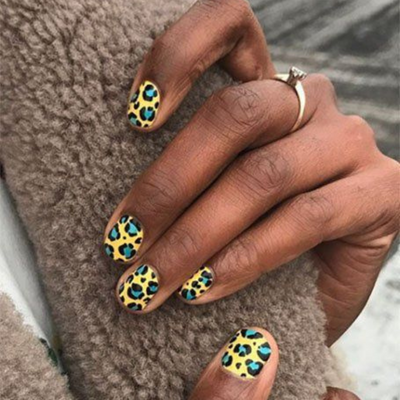 20. Yellow French Tips
In this style, only the tips of the nails are painted yellow, while the rest of the nails are left natural or painted with a clear polish. This style is used as a part of French manicures.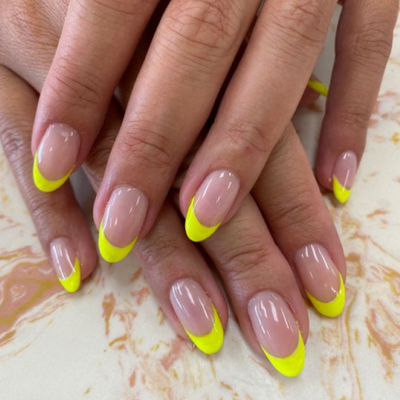 Yellow Nails With Endless Possibilities
Yellow nails pair well with floral prints and pastel shades in the spring, while in the fall, it complements rich earth tones like rust and ochre. In terms of nail art, yellow is a blank canvas, waiting to be transformed into anything you desire. From polka dots and florals to stripes and graphic designs, yellow nails offer endless possibilities for creativity.
FAQs
Q: Is it possible to try yellow nail designs at home?
A: Yes, you can try yellow nail designs at home using yellow nail polish and nail art tools, such as stencils, dotting tools, and striping tape.
Q: Are yellow nail designs suitable for all skin tones?
A: Yes, yellow nail designs are suitable for all skin tones. You can also customize it to match your individual skin tones and preferences.
References