20 of the Hottest Flame Nails Designs You Need to Try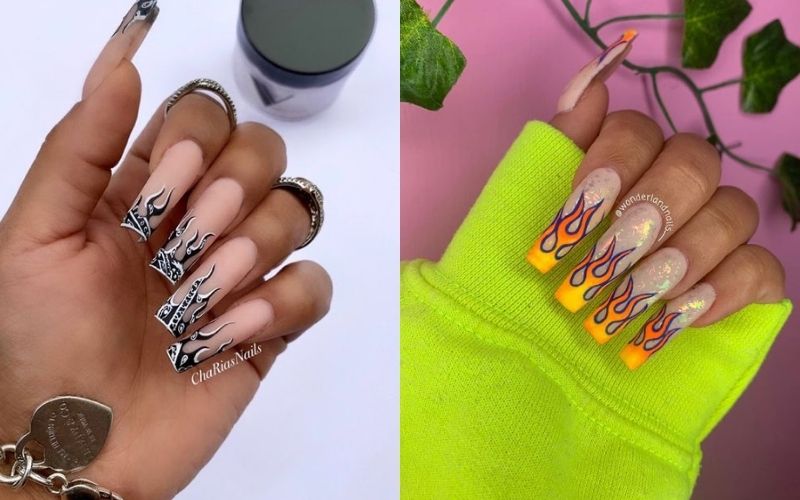 If you're tired of your classic french manicure and are looking to spice things up, you've come to the right place for inspiration.
Flame nails are the hottest trend in the industry.
These nails have been adorned by the likes of many celebrities, including Kylie Jenner, Demi Lovato, and Rita Ora.
These nails can be in the form of coffin nails, short nail designs, short acrylic nails, and more!
The cool nail designs detailed below will help you elevate your nail art game and secure your title as a trailblazing nail trendsetter.
If you're in the mood for a DIY moment, you can find nail flame stickers on Amazon or Etsy, so you have no excuse to try these pretty nail designs out for yourself at home!
Also check out our guide on fall nails and nude nails!

Flame nails ideas

These are easily the 20 hottest flame nails! These can work as spring nails, summer, or year-round!

1. Black flame nails
We're kicking it off strong with this uber-edgy nail idea, which features a light base color and distinctive black flames or grey flames painted overtop.
Black nails never go out of style.
Any subtle base shade will help the black flames pop, so feel free to choose your favorite for your flame mani!

2. Striking orange nails
We love unexpected nail art designs, and this one is no exception.
When you think of fire, bright orange is the color that likely comes to mind.
This orange nails design includes a realistic depiction of flames.
We recommend translucent acrylic nails to allow the fiery orange flames to steal the show on these cute short nails.

3. White flame nails white nail designs
On the hunt for an elegant yet edgy nail design?
Look no further.
This nail idea puts an unexpected twist on white nail polish.
Opt for nude nails and let the stunning UV white flames do the talking.
You can also use nail decals to spice the look up even more or use a matte finish for those cuticles.
This look can also work as white short nails!

​​4. Glitter flame nails
Nothing says fabulous nails like glitter; however, when you add flames, you got yourself a chic set of nails that undoubtedly make a statement.
If you want to tone the look down a bit, have your nail technician alternate designs between each finger.
Go for a solid color on one nail and a glittery flame on the other for a cute glitter nail.

5. Pretty purple flaming nails
If you love a good purple nail design on gorgeous nails, look no further than these almond nails.
This look features a lovely lilac shade on all fingers, apart from your ring finger.
Here, opt for a nude base and use the same purple polish to create the perfect flame, elevating purple nails to a whole other level.

6. Crazy colorful nails
Add even more fun to your flaming nails with color.
This nail idea is not for the faint of heart, so if you love color and want to shout it from the rooftops, this flame nail art is for you.
Boast a different color on each fingernail as a base coat and black nail polish for the flames.
The result is a bold mani that makes a statement.
Also check out these colorful butterfly nails ideas!

7. Neon flaming nails
Speaking of bold… this nail design is bold personified.
Select your favorite neon nail polish as a base coat and either black or white flames.
We guarantee with this set of fabulous nails, you'll be turning heads with every wave.

8. Blue flaming nails
This cool nail design is one of our favorites!
Use a bright baby blue nails shade as your base coat and watch as jetblack flames lick your fingernails, creating a gothic nail art design you can't help but love.

9. Fiery fed flames nails
Okay, nothing says fire like the color flaming red.
This look features a black base nail polish underneath defined red flames.
The product is a spicy mani that burns to the touch.
Feel free to swap the shades as you please, so you never get bored of the same look.
This is a really stylish red nail art design.

10. Silver sparkle
Show your love for all things glitz and glam with this sparkly nail design.
We recommend silver glitter nail polish and orange flames on the tips to give the glitter a much-needed edge.
Now you have an unexpected nail design that dazzles (and burns) in the sunlight.

11. Pink and white flames best acrylic nails
If you're looking to spice up your spring and summer nails, this look is among the most creative nail designs.
Use a beige nail polish as a base and apply white flames on one hand and pink flames on the other for cute acrylic nails you can wear for practically any occasion.

12. Short flame nails
Who said long nails are required for flame nail designs?
We're challenging that misconception with this beautiful nail idea.
Simply apply nude nail polish and either apply flame stickers from Amazon or Etsy or outline white flames for a cute DIY look that looks great on any nail length.

13. Hot rod nails
Throw it back to the classics with this iconic nail design, featuring flames inspired by old-school hot rods.
This nail design idea boasts a glossy black base coat and orange and red flames along the tips of your nails.
Wear this fiery manicure to a drag race or on a night out to spark some steamy conversation.

14. Light yellow flame nails
Despite what you may think, light yellow is not only reserved for dainty floral nails in the spring.
For this look, apply white nail polish as your base coat and a pale yellow shade to outline the flames.
The product is a chic and edgy nail design that is bound to bring a smile to your face.

15. Stiletto flame nails
If any nail shape pairs perfectly with flames, it's the stiletto.
For this nail idea, we have a set of extra-long stiletto acrylic nails.
Since we have more real estate to work with, our flames extend from the bottom half of the nails to the tip for an eye-catching manicure that makes a bold statement.
The extra length also allows you to apply gems with nail glue, elevating the manicure even further.

16. Green and black flame
If you're looking for the perfect Halloween art nails, we have you covered.
For this look, use an acid green shade of nail polish as your base coat and use a liner nail art brush to outline the flames before filling them with black nail polish.
The result is a sleek, poisonous manicure, suitable for a themed party or to elevate your average weekday.
You can even use gradient press ons to achieve a holographic effect.

17. Gothic ethereal nails
This nail idea is one of our favorite acrylic nail designs, as it combines edgy and classy elements for a truly show-stopping set of nails, granting you the best of both worlds.
To achieve this look, apply 2-3 coats of black nail polish.
Next, outline flames in white nail polish and fill them with a pastel pink shade.
If it includes shimmer, even better!

18. Color flame nails
If you love color and can't settle on one, why not combine them?
Select ten of your favorite bright nail polishes and apply one to each of your nails.
Then use the same carefree procedure for the flames and pair whichever colors seem right to you.
Blue and green. Red and orange. Pink and purple.
Go crazy.

19. Heart flame nails
All of you romantics out there, rejoice!
This nail art design features a bubblegum pink base coat punctuated with cute heart nail stickers.
Add flames on your ring fingers for a spicy accent to this lovey-dovey manicure.

20. Minimalist flame nail design
This nail art design is for those who love the minimalist trend.
Use a clear coat for your base and outline your flames with a shimmering gold nail polish.
And that's it! Hollowed-out flames create a subtly glamorous mani that still simmers.
You can also use glue to add rhinestones and spruce up the look.

All in all
These cute nail designs are perfect for any flame loving girl!
You can mix and match the color combo to make the perfect summer nail designs!
Using products such as dip powder, decals, and all sorts of colors when it comes to polish, will give you the best quality nails!
We have lots of flames ideas to pick from so just try one and they'll definitely be some fire nails!