20 Of The Hottest Flame Nails Designs You Need To Try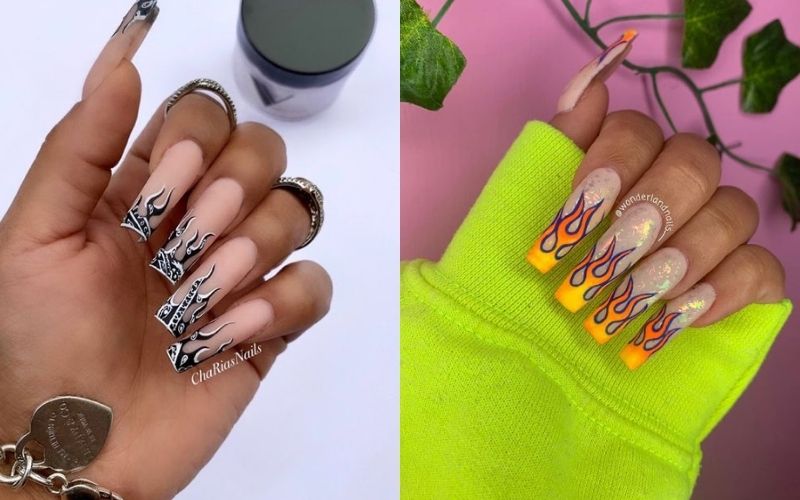 If you're tired of your traditional French manicure and want to add some excitement, you've come to the right place for inspiration.
Flame nails are currently the most popular trend in the industry.
These nails have been adorned by numerous celebrities, including Kylie Jenner, Demi Lovato, and Rita Ora.
You can achieve this look with coffin nails, short nail designs, short acrylic nails, and more!
The following trendy nail designs will help you take your nail art game to the next level and establish yourself as a trendsetting pioneer.
If you feel like doing it yourself, you can find nail flame stickers on Amazon or Etsy, so there's no excuse not to try these lovely nail designs at home!
Also, make sure to check out our guides on fall nails and nude nails!
Table Of Contents
History And Evolution Of Flame Nail Art
Since the dawn of civilization, humans have adorned their bodies with various forms of art and self-expression. Nail art, in particular, has a rich history that spans across different cultures and time periods. The origins of flame nail art can be dated back to ancient Egypt, where both men and women would paint their nails using henna dyes and natural pigments.
Flame nail art has a rich and diverse history that spans decades. It first gained popularity in the 1980s when bold and vibrant designs were all the rage. However, it wasn't until recent years that flame nail art truly evolved into an art form of its own. With the uprise of social media platforms and the influence of celebrity nail artists, this fiery trend quickly spread like wildfire, captivating nail enthusiasts worldwide.
During its evolution, flame nail art has gone through various transformations. Initially, it consisted of simple flame-shaped designs in vibrant hues. However, as nail art techniques advanced and artists pushed the boundaries of creativity, flame nail art became more intricate and complex. Today, you can find a myriad of styles, from gradient flames to 3D embellishments, allowing individuals to create unique designs that reflect their personalities and style.
Tools And Equipment Needed For Flame Nails Designs
You'll need a few essential tools and equipment to embark on your flame nail art journey. Here's a list to get you started:
Nail polish in vibrant colors: Choose shades that resemble the mesmerizing hues of a flame, such as red, orange, yellow, and hints of blue.
Fine nail art brushes: These brushes will help you create precise flame shapes and intricate details.
Dotting tools: Dotting tools are useful for adding texture and dimension to your flame designs.
Base coat and top coat: Applying a base coat will protect your nails, while a top coat will provide a glossy finish and extend the longevity of your nail art.
Nail file and buffer: These tools will ensure your nails are smooth and ready for your flame-inspired masterpiece.
Nail polish remover: In case of any mistakes or when it's time for a new design, nail polish remover will come in handy.
Always use high-quality products to achieve the best results and ensure your flame nail art lasts.
Flame Nails Ideas
Flame nail art is a versatile form of self-expression, offering a myriad of design options to suit every individual's style. These are some hottest flame nail art designs to set your style ablaze!
Black Flame Nails
We're kicking it off strong with this uber-edgy nail idea, which features a light base color and distinctive black flames or grey flames painted overtop.
Black nails never go out of style.
Any subtle base shade will help the black flames pop, so feel free to choose your favorite for your flame mani!
Orange Flame Nails
We love unexpected nail art designs, and this one is no exception.
When you think of fire, bright orange is the color that likely comes to mind.
This orange nails design includes a realistic depiction of flames.
We recommend translucent acrylic nails to allow the fiery orange flames to steal the show on these cute short nails.
White Flame Nail Designs
On the hunt for an elegant yet edgy nail design?
Look no further.
This nail idea puts an unexpected twist on white nail polish.
Opt for nude nails and let the stunning UV white flames do the talking.
You can also use nail decals to spice the look up even more or use a matte finish for those cuticles.
This look can also work as white short nails!
Glitter Flame Nails
Nothing says fabulous nails like glitter; however, when you add flames, you got yourself a chic set of nails that undoubtedly make a statement.
If you want to tone the look down a bit, have your nail technician alternate designs between each finger.
Go for a solid color on one nail and a glittery flame on the other for a cute glitter nail.
Pretty Purple Flaming Nails
If you love a good purple nail design on gorgeous nails, look no further than these almond nails.
This look features a lovely lilac shade on all fingers, apart from your ring finger.
Here, opt for a nude base and use the same purple polish to create the perfect flame, elevating purple nails to a whole other level.
Crazy Colorful Nails
Add even more fun to your flaming nails with color.
This nail idea is not for the faint of heart, so if you love color and want to shout it from the rooftops, this flame nail art is for you.
Boast a different color on each fingernail as a base coat and black nail polish for the flames.
The result is a bold mani that makes a statement.
Also check out these colorful butterfly nails ideas!
Neon Flaming Nails
Speaking of bold… this nail design is bold personified.
Select your favorite neon nail polish as a base coat and either black or white flames.
We guarantee with this set of fabulous nails, you'll be turning heads with every wave.
Blue Flaming Nails
This cool nail design is one of our favorites!
Use a bright baby blue nails shade as your base coat and watch as jetblack flames lick your fingernails, creating a gothic nail art design you can't help but love.
Fiery Red Flames Nails
Okay, nothing says fire like the color flaming red.
This look features a black base nail polish underneath defined red flames.
The product is a spicy mani that burns to the touch.
Feel free to swap the shades as you please, so you never get bored of the same look.
This is a really stylish red nail art design.
Silver Sparkle
Show your love for all things glitz and glam with this sparkly nail design.
We recommend silver glitter nail polish and orange flames on the tips to give the glitter a much-needed edge.
Now you have an unexpected nail design that dazzles (and burns) in the sunlight.
Pink And White Flames Best Acrylic Nails
If you're looking to spice up your spring and summer nails, this look is among the most creative nail designs.
Use a beige nail polish as a base and apply white flames on one hand and pink flames on the other for cute acrylic nails you can wear for practically any occasion.
Short Flame Nails
Who said long nails are required for flame nail designs?
We're challenging that misconception with this beautiful nail idea.
Simply apply nude nail polish and either apply flame stickers from Amazon or Etsy or outline white flames for a cute DIY look that looks great on any nail length.
Hot Rod Nails
Throw it back to the classics with this iconic nail design, featuring flames inspired by old-school hot rods.
This nail design idea boasts a glossy black base coat and orange and red flames along the tips of your nails.
Wear this fiery manicure to a drag race or on a night out to spark some steamy conversation.
Light Yellow Flame Nails
Despite what you may think, light yellow is not only reserved for dainty floral nails in the spring.
For this look, apply white nail polish as your base coat and a pale yellow shade to outline the flames.
The product is a chic and edgy nail design that is bound to bring a smile to your face.
Stiletto Flame Nails
If any nail shape pairs perfectly with flames, it's the stiletto.
For this nail idea, we have a set of extra-long stiletto acrylic nails.
Since we have more real estate to work with, our flames extend from the bottom half of the nails to the tip for an eye-catching manicure that makes a bold statement.
The extra length also allows you to apply gems with nail glue, elevating the manicure even further.
Green And Black Flame
If you're looking for the perfect Halloween art nails, we have you covered.
For this look, use an acid green shade of nail polish as your base coat and use a liner nail art brush to outline the flames before filling them with black nail polish.
The result is a sleek, poisonous manicure, suitable for a themed party or to elevate your average weekday.
You can even use gradient press ons to achieve a holographic effect.
Gothic Ethereal Nails
This nail idea is one of our favorite acrylic nail designs, as it combines edgy and classy elements for a truly show-stopping set of nails, granting you the best of both worlds.
To achieve this look, apply 2-3 coats of black nail polish.
Next, outline flames in white nail polish and fill them with a pastel pink shade.
If it includes shimmer, even better!
Color Flame Nails
If you love color and can't settle on one, why not combine them?
Select ten of your favorite bright nail polishes and apply one to each of your nails.
Then use the same carefree procedure for the flames and pair whichever colors seem right to you.
Blue and green. Red and orange. Pink and purple.
Go crazy.
Heart Flame Nails
All of you romantics out there, rejoice!
This nail art design features a bubblegum pink base coat punctuated with cute heart nail stickers.
Add flames on your ring fingers for a spicy accent to this lovey-dovey manicure.
Minimalist Flame Nail Design
This nail art design is for those who love the minimalist trend.
Use a clear coat for your base and outline your flames with a shimmering gold nail polish.
And that's it! Hollowed-out flames create a subtly glamorous mani that still simmers.
You can also use glue to add rhinestones and spruce up the look.
Tips And Tricks For Perfecting Flame Nails Designs
Creating flawless flame nail art requires practice, patience, and a few handy tips and tricks. To master this fiery technique, consider these suggestions:
Apply a base coat to safeguard your nails and create a smooth canvas for your flame design.
Blend different shades together to mimic the mesmerizing hues of a flickering flame.
Fine nail art brushes will allow you to create intricate flame shapes and intricate details with ease.
Flames are dynamic and unique, so don't be afraid to create different shapes and sizes on each nail for a more natural look.
Use dotting tools or a sponge to create a textured effect, giving your flames a realistic appearance.
Once your flame design is complete, apply a top coat to protect your artwork and make it shine.
By integrating these tips and tricks into your nail art routine, you'll be well on your way to creating stunning flame designs that will leave everyone in awe.
Flame Nail Art Maintenance And Removal
Maintaining your flame nail art is essential for preserving its beauty and ensuring its longevity. A couple of maintenance tips to keep in mind:
Avoid exposing your nails to harsh chemicals: Chemicals found in cleaning products or certain beauty treatments can damage your nail art. Wear gloves when cleaning and handling harsh substances.
Moisturize your nails and cuticles: Regularly apply cuticle oil and hand cream to keep your nails and cuticles hydrated and prevent them from becoming dry and brittle.
Be gentle with your nails: Refrain from using your nails as tools or subjecting them to excessive force, as this can cause your flame design to chip or peel.
Schedule regular touch-ups: Over time, your flame nail art may show signs of wear. Schedule regular touch-ups or consider refreshing your design to keep it looking vibrant and fresh.
When it's time to remove your flame nail art, follow these steps:
Gently file the top layer: Using a nail file, lightly buff the surface of your nails to break the top layer of the nail polish.
Soak nails in nail polish remover: Fill a bowl with nail polish remover and soak your nails for a few minutes to loosen the nail polish.
Use a cotton pad or foil: Wipe away the softened nail polish using a cotton pad soaked in nail polish remover or wrap each nail with a cotton pad soggy in remover and secure with foil.
Clean and moisturize: Once all the nail polish is removed, cleanse your hands with soap and water, then apply moisturizer to nourish your nails and cuticles.
Following these maintenance and removal techniques will help you maintain the beauty of your flame nail art while ensuring the health of your natural nails.
All In All
These cute nail designs are perfect for any flame loving girl!
You can mix and match the color combo to make the perfect summer nail designs!
Using products such as dip powder, decals, and all sorts of colors when it comes to polish, will give you the best quality nails!
We have lots of flames ideas to pick from so just try one and they'll definitely be some fire nails!
FAQs