The 30 Trendiest Cute Short Nails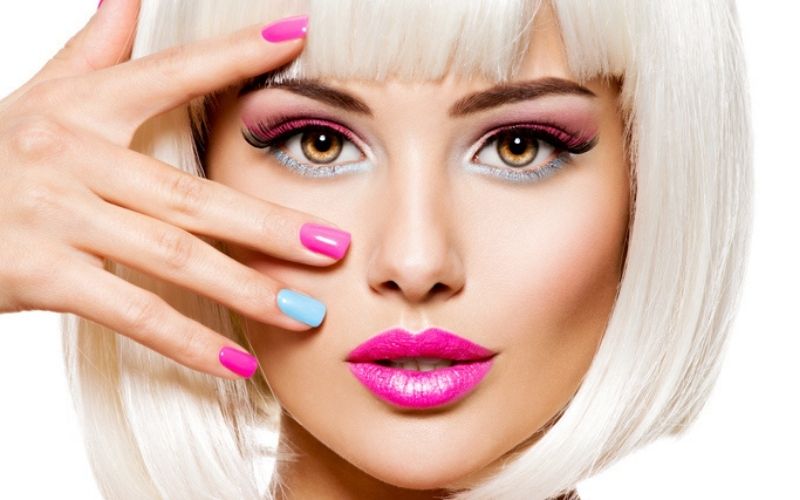 On the hunt for your top source for short nail designs that are perfect for every occasion?
Then you've come to the right place! This is the best guide for cute short nails.
If you're not into long acrylic nails and are searching for short cute nails, we've lined up 30 short acrylic nail ideas to amp up your nail game and keep you on-trend thoughout every season.

Maybe it's the practicality, or just the simplicity, but long nails not the only Influencer-worthy nails.

Short nail designs and almond nails can be just as stunning, and here's how you can achieve them!

We also have a list of simple nude nails and coffin nails that you should definitely check out.
30 Cute Short Nail Designs to Try Today
Check out these beautiful nail art ideas to match your fashion wardrobe!
Cute cuticle designs
If you're looking for a simple white short nails design to change up your nail image, a cute cuticle design could do the trick.
These are perfect as spring nails!
This nail shape is the definition of a cute nail. It's trendy and take a plain nail color and adds some pizazz to it.
Try fund combinations mixing colors and textures like metallic strips, rhinestones, or even delicate accents like pearls on a few of your nails for a casual look.
Colored cuticles acrylic
Instead of adding embellishments to short acrylic, you could go for a no-hassle cuticle look and paint them instead.
The subtle pop of color will add dimension to a plain colored nail and the change up from tips to cuticle will give it its own unique flair.
Considering mixing textures too, adding matte polish with a metallic cuticle or glossy nail polish with glittery cuticles.
Add some flame nails designs for a cool twist.
This next design will blow your mind!
Cloud nails
Short acrylic sets go great with cloud-inspired manicures.
Add some small butterflies to make these butterfly nails!
Try adding cloud inspired swirls to the tips with white nail polish for a subtle look or add a clear sky inspired look to all of your nails.
The baby blue nails and white colors create an instantly soothing and stylish look that you'll want to put on repeat.
These are perfect for the summer season casual look.
Pops of color
After rocking white short nails, you might want to change it up a bit and go with a combination of colours.
Add different colors to different nails or choose one nail to add a punch of simple colour/pastel shade to.
The combination of colors out here are endless, making it your choice which nail design to rock.
Try out neon hues or cherry red for an extra burst or tone it down with a light color.
Or, add some orange nails for the perfect fall nails design.
Blackout (black short acrylic nail ideas)
Black nails are perfect for every occasion just like white nails, adding an instant sleek look to any outfit.
The combination of short acrylic nails along with a dark, black polish can add style points to any outfit, taking it from plain to chic instantly.
For an additional touch to these black short acrylic nails, add a few gold accents to one or two fingers.
This is a great way to express your inner beauty!
Mermaid inspiration
Mermaids are mystical creatures known for their beauty.
It's no wonder that some of the trendiest cute short nail designs are inspired by mermaids, keeping summer vibes alive even in the coldest temperatures with bursts of colors and hot pink nails.
Go for an image that features one nail filled with scales (try stickers or nail wraps!), filling it in with glitter hues or go for a more mermaid glam look adding star, shells, gems, and a beautiful sea green to your perfect manicure.
Magnificent acrylic marble effect
If you're on the hunt for a chic way to mix colors and liven up your manicure without going for an ombre, why not try out a marble print?
Marble effect with white, light grey, and a pink together will create a fresh and fun design for your shorter nails that will look great with everything.
Sub the pink for other cool colors and watch how your whole mod changes and the attention comes toward you.
Short nail designs for weddings
Weddings require elegance, which you can achieve with a pretty manicure using nudes with white accents. Nude base goes with everything, allowing you to go from day to night with style.
Consider taking inspo from the wedding colors or theme and add them to your short manicure for the perfect finishing touch to your whole image.
Matte + glitter acrylic nails
If there is one combo that you need to try out this season, it's matte and glitter.
The cool tones and texture from matte polish nails are just the thing to make glitter nails pop, creating a subtle look with a bit of oomph.
Play with silver glitter, pink sparkles, or different hues, adding them to a few of your nails with the best acrylic nail colors to let your personal style shine.
Try these for prom night!
Metallic nails
If you've never tried metallic shorter nails on for size, you're in for surprise!
These nails are so classy, transforming any look from drab to fab.
Go with metallic silvers, golds, rose gold, or even try something unique like a fun green metallic.
Whichever color you choose, you're sure to have an instant upgrade to any nail look you've ever tried before.
Not into metallic?
You could also try a light grey color.
Dotted designs
Dotted designs are high fashion, adding a small accent and detail to nails.
Try going with a simple colour on the nail and adding a few dots in a straight line.
Don't go all the way, only adding three small dots for a visually pleasing look that will make your nails the talk of the town.
This is an awesome spring nails design.
Get geometric with it
Cute short nails with geometric shapes are a great idea.
One of the hottest acrylic pairings we've seen has been a solid white polish nail base with thin-lined, black geometric shapes.
It draws the eyes in, making them crave more.
Yellow short acrylic nails
Looking for a look that look like you've thought out of the box?
Then a highlighter look is just the thing to add to cute short nails.
Using white nail polish, you can get highlighters of various neon colors, dab them on, and then add a clear coat to top the white nail off and keep the blended beauty lasting for days!
These short light nails are unbeatable!
Polka dots
Simple colour short nails with polka dots are so cute and the color combos are endless.
Instead of just playing with different hues of the same texture, consider going with a solid color and adding silver glitter polka dots randomly all around the top coat.
You can even add dots of different colors, using your imagination as a source for a cute and stylish short nail design.
French manicure for short nails
A short nail with a French manicure is a game changer!
There is a common misperception that nails have to be long for French manicures, which couldn't be further from the truth.
Short nails look polished and put together with a French manicure, matching with every look and even adding a lady-like touch to the most laid-back lux looks.
These are perfect for the office or professional events.
Colored french tips
Another French option for a short nail is a colored tip, taking a unique spin on the classic look.
Consider adding the same color tips to all acrylic nails or change it up and add different colors to a few of your nails to change it up.
Imagine picture perfect nails that pair well with any look for instant influencer vibes.
This simple nail design is a winner.
Tie-dye
Ever thought about the idea of adding tie-dye to short nails?
If not, then what are you waiting for?!
This look is super unique and can transition from summer days to winter easily.
Consider a pastel shade by mixing a light color of pink, blue, purple, with a bit of white, adding different gradients to each nail for a trendy look that you won't see anyone else rocking.
This is easily one of the best short acrylic nail look.
Minimalistic looks
The minimalist style is here to stay, pairing with a wide range of styles and giving off vibes that are simple yet completely put together.
Some of the best minimalist looks of the season include nudes of all hues (like mint!) or pastels, all of them with neat lines that make short nails look sophisticated.
Try out a neutral ombre for a minimal look with flare.
This is one of the best easy nail art designs in the nail industry.
Nail art
Nail art designs require some creativity but, have the power to give your short nails a unique look that you won't find anywhere else.
Experiment with nail stickers, nail wraps, and more to transform your idea into a work of art with carefully placed decals and corresponding colors.
Scour through Etsy to purchase fun accesories for your next look.
Add swirls and twirls
Another cool nail design for short nails adds swirls and twirls with a solid-colored nail.
Instead of making it geometric, squiggle it up to make a never-before-seen nail look that will definitely score you some style cred.
Go for an elegant look with white and golden details or go all out with a nail full of different colored swirls.
You could even replace some of these swirls with small flowers for a summer days, small garden vibe.
Rocking rhinestones
If you like the sparkle but are looking for a substitute for glitter, try rhinestones on a few of your nails.
Find nail art for a short nail that inspired you, using rhinestones to make it come to life.
If you like a more structured look, add a line of stones to the tips, down the middle, or create your favorite shape.
These rhinestones can be found on etsy.
Red short acrylic nails
Cute short nails with a gel finish offer a polished look that will play up the fingers.
Gel manicure looks glossier, creating a sultry coat of color on the nails that will make them look perfect.
Try a solid color with decals to add something extra or go with multi colors to change it up a bit.
The next design you'll totally love.
All white everything
White short acrylic nails will never go out of trend.
A white nail is perfect for any occasion, transitioning from summer to fall like a charm.
Adding a solid white polish to the short names will bump up your image instantly and have those around you bragging about your class.
Whatever your style, white details on a manicure are a sure way to slay.
Nude short acrylic nails
Who says that short nail designs have to be extravagant?
Get a professional manicure to get hands looking and feeling great and let your natural nail shine.
You can always play with a light color or a different shade without going overboard, adding a subtle hint of color (like beige!)to your nails to keep them looking as natural as possible.
These short light nails are one of our favorite designs.
Mix and match
For a nail design that's out of the ordinary, try to mix and match styles.
Get a set of short acrylic nails with different styles on each, rotating between plain polish, nail stickers, and embellishments on each.
For a unique spin, it's good to think of a theme first (Christmas, fall, Halloween) and organize your look from there.
Get creative, think outside of the box, and take chances with fun designs to elevate your nail game.
Instagram-worthy acrylic nails
Long nails seem to get all of the attention, but short nails are on the rise.
Influencers of all types are going toward short acrylic nails as a way to create cool looks that are 100% functional.
They don't have to have just one color, allowing you to really show out and create an image that matches your personality.
The sky is the limit, going for pearls, puffs, charms, nail art, and more (Etsy is a good source!).
Take a look at Pinterest for inspo and see what kinds of ideas you can think up.
Lollipop inspired beauty
Lollipops are fun and full of color — what a great idea.
They are swirly and can give a boost to anyone's mood.
Because they're so much fun, why not create short nails inspired by them?
Choose bold colors and fuse them together with twirly designs or stick to one shade and add some nail stickers for emphasis.
Choose lime green or pink nail polish with cherry and strawberries for a cute and fun short acrylic nail design.
This kind of manicure you can get at a salon as a great way to find time for yourself.
Glittery goodness manicure
Cute short acrylic nails filled with glitter are gorgeous and chic.
The glitter makes nails pop and adds more flare to any get-up.
Choose a pink, red, or green for the best acrylic nail colors of the season or keep it classic with a black or silver glittery polish shade.
Nail artists such as Meraki have totally mastered this look.
Light blue short acrylic nails
Don't let the winter ruin your image, keep your manicure steaming hot this winter with cold weather nails.
Think of all things winter, like snowflakes and Christmas trees, using them as inspo to find the best acrylic nail colors and the best embellishments.
This light color will turn heads!
Best short acrylic cow print manicure
Cow print, along with other animal prints, have blown up in the fashion world, becoming an attention-grabbing trend that everyone's trying to get thier hands on.
However, instead of keeping them traditional, fashionistas are changing them up and playing with tones and hues.
To achieve this great idea, think of a mixture of brown, black, and white tones, using them to create a cool design.
With a nude polish, a white polish, or both, add designs or a sticker with cow print for a unique twist on a simple nail design.

Do you need nail wraps for these looks?Nail wraps were creating to produce further reinforcement for nail designs.
The nail wraps often come with designs on them and make the looks much easier to achieve.
However, nail wraps are not essential for these looks.
It is possible to do them either yourself or with a nail technician without nail wraps.

Overall

These trendy designs are the perfect manicure for all women looking for chic nail designs — even younger girls.
Your nail technician can help you perfect these shiny nails!
Whether you choose to try olive short acrylic nails or pink short acrylic nail ideas, your nails will be the center of attention wherever you go!
You can do them DIY or look for accessories from etsy.

There is no affiliate links commission from this post.