20 Hot Pink Nails Designs That Will Have You Tickled Pink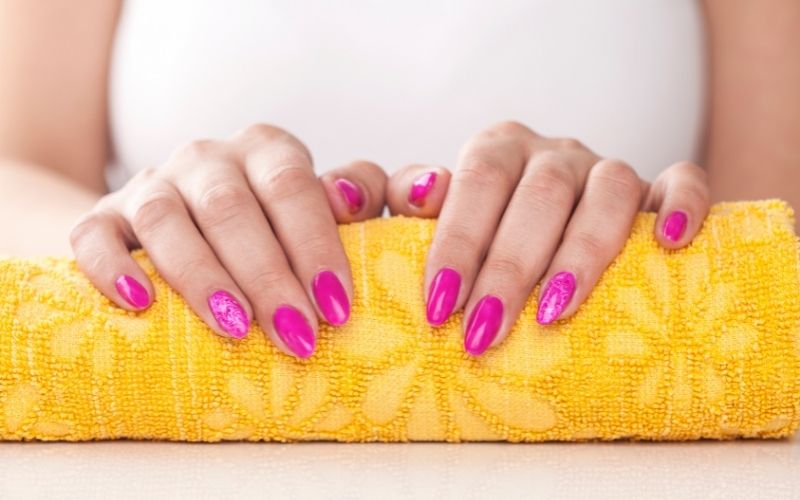 Embrace your feminine side with these twenty beautiful pink nail designs that will complement any skin tone, mood, and style.
Though hot pink nails are commonly associated with the warmer seasons, we believe they can be in style at any time of year. We definitely recommend these as spring nails though!
Just like nude nails and these cute short nails!
So, if you need inspiration for your next manicure, we are at your service.
Experiment with nail stickers, almond nails, rhinestones, which you can purchase on Amazon or Etsy.
Pink symbolizes loyalty and love — two virtues you will recall each time you glance at your manicure. With the right combinations and techniques, it can be a game-changer.
We challenge you to elevate your nail art and try your hand at these designs, all ranging from simple white short nails to intricate.
Or, if you're running short on time, have your technician take over at your next nail salon visit.
Either way, we guarantee with these nail designs, you'll have a newfound pink obsession.
Table Of Contents
Best Hot Pink Nails Of 2023
1. Hot Pink Nails
Hot pink nails are perfect for those who are not one to shy away from bold colors. A solid hot pink manicure will undoubtedly make a statement. This bright pink nails design is perfect if you want an uncomplicated style that will still seem as though you made an effort. This look can work perfectly with short acrylic nails or flame nails!
2. Hot Pink Gel Nails With Glitter
Showcase your dazzling personality with this classic nail design. Glitter is a great way to elevate any set of nails. Simply apply your favorite shade of pink and top it with a glitter coat for a nail design that will sparkle with every wave. Pink glitter nails are a nail color that'll never go out of style.
3. Rhinestone Nails Pink Design
Attract attention with this coffin nails design that demands it. If you thought pink was feminine, rhinestones will take it to the next level. Gently press the rhinestones on french nails over a pink base coat. This look is ideal for those who want to practice their nail game. Experiment with various shapes and placements to create a glamorous gel nails manicure.
4. Pink And White Nails
Pink and white? We can hardly think of a more perfect duo, especially with short nail designs. If you have short nails, this design is made for you, as it doesn't require a specific length to accommodate intricate nail art. We recommend alternating colors on each nail for a well-balanced, timeless appearance perfect for everyday wear.
5. Pink Star Nails
Be the star of the show and brighten your days and your nails with this starry design, perfect for all you astronomy lovers. Apply a silver or gold star to each acrylic nail for a dreamy effect you'll wish to wear all the time. Don't like stars? You could even make these butterfly nails with tiny butterfly stickers.
6. Pastel Pink Nails
Imagine you're at the spa, receiving a world-class massage – that's what this calming pink nail art makes us think of. Pastel shades are all the rage, and pink is no exception. Regardless of your nail shape, this soft, subtle design is ideal for any occasion. Use the same design on your toenails for a pretty matching pedicure.
7. Confetti Tips With Light Pink Nails
Channel your inner fairy for your next event — be it prom, a wedding, birthday party, or just to add sparkle to your average Tuesday. Apply your favorite light pink color to your nails and carefully place iridescent confetti flakes to your nail tips for a whimsical look.
8. Ombre Pink Acrylic Nails
Okay, you probably saw this one coming, but we can't help ourselves! Pink ombre nails are a classic design to add to your rotation. This idea is ideal for long nails because you have more real estate to work with. Use a combination of your favorite pink shades to complete the look.
9. Floral Pink Nails
Be the envy of the party with this simple nail design. Add a flame nails design on another finger nail for a nice addition! We consider flowers and the color pink to be a match made in heaven. Perfect for the spring season, this beautiful design will be the source of your stunning smile.
10. Baby Pink Nails Art Design
If you have short nails and are not willing to invest a ton of time on your manicure, we suggest a timeless baby pink shade. The soft hue and short length make this a hassle-free short nail design perfect for you busybodies.
11. Pink And Gold Nails
We've found gold complements an abundance of different colors, and pink is no exception. Try adding gold glitter, gold line, or flecks against a pale pink shade to create a chic, effortless design that dazzles in the light. Add a gem to spruce up the whole look. The glitter tip is what we love the most.
12. Pink French Manicure
A french manicure is a classy nail design we can safely say is not going anywhere. Choose your preferred pink shade as a base coat and elevate this timeless look by replacing the white french tip with a thin strip of silver glitter for an everlasting French nail manicure. Next time you get a manicure stick to this design!
13. Pink Accent Nails
If you want ideas for a set of gorgeous nails, look no further. There's a reason accent nails are trending; not only do they look fabulous, but they can also be applied to achieve any look you're aiming for. Apply a nude polish to your nails, leaving one blank for a pink shade of your choosing.
14. Matte Pink Nails
Tired of the glitter nail? Looking for a more understated nail design idea? Matte nails are the answer to your prayers. Even without the gloss, this design still makes a powerful impact. You can even add some matte black or silver nails to other fingers to change it up. Adding sparkles to an accent nail will elevate the whole look. Top it off with a coat of pink glitter for a set of fabulous nails. These also look great as long nail designs.
15. Red And Pink Nails
This pink nail art design will steal your heart. If you can't decide between these two colors, simply wear them both! Alternate shades on each nail to create a romantic nail design — perfect for Valentine's Day or your weekly date night.
16. Pink Heart Nails
Spread the love with this Instagram-worthy nail design. Take your mini file from your nail kit and file your nail in the shape of an almond or use some pink nail glue and acrylics. Then, create ovals on the tips of your nails with a pink shade. Finally, apply a clear gel top coat for a glossy finish to keep them chip-free.
17. Pink Butterfly Nails
Get creative and upgrade your pink nail art design with this beautiful butterfly idea. Take a classy pink shade and gently press your butterfly stickers to one or two nails. Then, add a cloud to create a dreamy effect that has people lining up to snap a picture. We guarantee this design will create perfect nails that stick with you.
18. Flaming Pink Square Nails
If you long for beautiful nail design ideas, we're not out of pink nail ideas just yet! Turn up the heat with this steaming design. Outline the flames in a bright pink shade to highlight their shape. Perfect for square nails, this trend is certainly trailblazing.
19. Rosy Pink Manicure
Are we treading the fine line of too many pink nail designs? We doubt it! Select a pink color and create a rose design on an accent nail for a romantic design you'll be gushing over. You can even add some accents of black color from black nail polish and change up the nail lengths for an awesome contrast look.
20. Pink Bubble Pretty Nails
Try your hand at this recent hot pink nails trend. Made from water and dish soap, this effect will elevate any look. Apply over your favorite pink gel nail polish for a cool effect you won't forget.
How To Find The Right Hot Pink Shade For Your Skin Tone
Finding the right shade of hot pink that complements your skin tone and undertone can be intimidating. Hot pink nails are bold, vibrant, and eye-catching, but not everyone can pull off this look. Understanding your skin tone and undertone is the key to nailing the perfect hot pink nail designs.
Understanding Skin Tones and Undertones
Before we dive into the best hot pink nail designs for specific skin tones and undertones, let's first understand what they are. Your skin tone is the natural color of your skin. At the same time, your undertone is the underlying color that affects how your skin appears.
Three main skin tones – fair, medium, and dark
Three main undertones – cool, warm, and neutral
If you are fair-skinned, you have a light complexion with pink or peach undertones. Hot pink nail designs with blue undertones will go with your skin tone.
Shades like fuchsia, bubblegum pink, and magenta look great on fair skin tones. Try ombre hot pink nails with white or light pink shades to create a subtle gradient effect.
A medium skin tone will have a slightly tan complexion with yellow or olive undertones. Purple undertones for hot pink nail designs complement this type of skin tone.
Plum, raspberry, and mauve shades are perfect for medium skin tones. Glitter or metallic finishes can give a glamorous look.
The dark skinned have a rich complexion with brown or red undertones. Look for red undertones.
Watermelon, hot pink and coral hues look great on dark skin tones. Nail designs with geometric patterns or tribal prints give a bold, edgy look.
The cool undertones have a pink or blue hue to the skin. Hot pink nail designs with blue undertones complement cool undertones.
Shades like fuchsia, hot pink, and magenta are perfect for cool undertones—hot pink nail designs with stripes or polka dots for a playful and fun look.
Warm undertones have a yellow or peach hue to the skin. Hot pink nail designs with purple undertones complement warm undertones.
Shades like raspberry, plum, and mauve are perfect for warm undertones. Try hot pink nail designs with floral prints or abstract designs for a feminine and chic look.
Neutral undertones have a balanced combination of warm and cool undertones. Depending on your preference, you can pick between blue or purple undertones for hot pink nail designs.
Shades like raspberry, bubblegum pink, and magenta look perfect for neutral undertones. You can also try hot pink nail designs with ombré or gradient effects for a subtle yet stunning look.
By understanding your skin tone and undertone, you can choose the perfect hot pink nail designs that complement your skin and make you feel confident and beautiful.
Hot Pink Nails Inspired By Pop Culture Icons
From iconic music artists to beloved movie characters, there are plenty of hot pink nail designs inspired by pop culture icons that you can rock with confidence. Here are some of our favorites:
Barbie Pink Nails: Barbie is a timeless icon known for her bold fashion choices, including her iconic pink wardrobe. Emulate her style with hot pink nails adorned with glitter and rhinestones for a playful and feminine look.
Elle Woods-Inspired Nails: Elle Woods from the movie "Legally Blonde" is another iconic figure known for her love of pink. You can create a hot pink nail design inspired by Elle Woods by adding some white stripes or polka dots for a preppy and playful look.
Madonna-Inspired Nails: Madonna has been an influential figure in pop culture for decades and is known for her bold and daring style. A hot pink nail design inspired by Madonna can include edgy accents like studs, chains, or lace for a more romantic touch.
Beyonce-Inspired Hot Pink Nails: Beyonce is a style icon, and her hot pink nails are always on-trend. Try a deep fuchsia shade with a metallic finish. Add some gold accents or intricate designs for a regal and glamorous look.
Nicki Minaj-Inspired Nails: Nicki Minaj is another pop culture icon known for her fearless fashion choices. A hot pink nail design inspired by Nicki Minaj can include some bold patterns and bright colors or unique shapes and designs to make a statement.
Jem and the Holograms-Inspired Nails: Jem and the Holograms is a beloved animated series from the 80s known for its vibrant colors and bold fashion choices. A hot pink nail design inspired by Jem and the Holograms can include some holographic accents or some fun neon colors to capture the spirit of this iconic show.
Final Thoughts On Hot Pink Nails
These are the best pink nail designs you'll need to try!
You don't need to wax and wane over which one to pick, you can try them all over time! Using durable nails from a simple piece assortment is definitely the way to go for these acrylic nail designs.
Going to a pink nails day spa or any nail salon will make these looks come to life in a cool, trendy atmosphere. The hot pink nails trend is here to stay.
FAQs