10 Unique Polka Dot Nail Art Ideas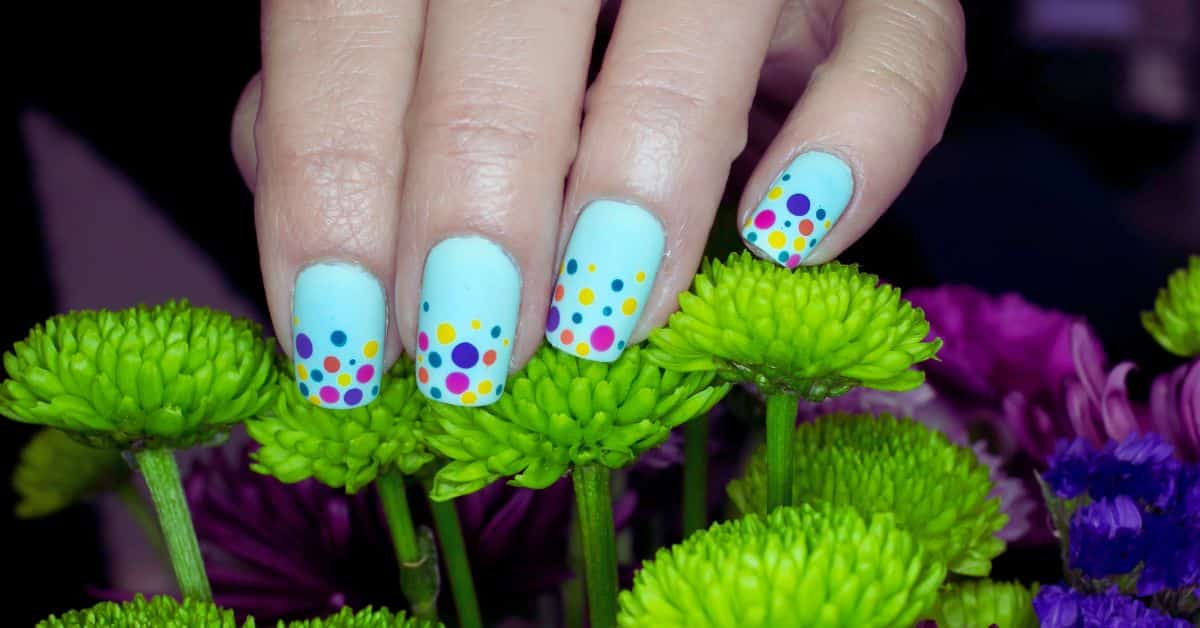 In the golden age of Hollywood, the allure of polka dots was undeniable, thanks to iconic actresses like Marilyn Monroe and Elizabeth Taylor. Their unforgettable performances and timeless fashion choices propelled polka dots to become a beloved and timeless pattern for women's clothing. Polka dots have remained a symbol of classic beauty from the silver screen to the streets.
What about bringing the classy look of these polka dots to your nails? Interesting right? For some of us, polka dots may have been one of the earliest nail designs we tried out in middle school! But polka dots have evolved over time from beginner-level nail art to a broad canvas for creativity.
If you want to move from that beginner level to pro or are looking for cute, easy, minimalist nail art, here are 10 super simple options you can create with or without the help of a dotting tool.
Table Of Contents
How To Create Polka Dot Nails?
Is how to put polka dots on nails your biggest doubt? Here is the simple answer. Before that, let's get started with the tools and supplies you'll need to create this nail art.
Polka dot nail art tools and supplies
Base coat
Two or more nail polish colors
Dotting tool
Top coat to seal the deal
Step-by-Step Guide To DIY Polka Dot Nails
Now, let's dive into the step-by-step guide to creating your polka dot nails.
Apply your base coat and let it dry completely.
Choose your base color and apply two coats, allowing each coat to dry before laying the next.
Once your base color is dry, it is time to get dotty! Dip your dotting tool in your nail paint and dot it onto your nails in whatever pattern you like.
Let your nails dry completely before applying your top coat.
You can also try polka dot nail art without a tool. You can use everyday household items like toothpicks, bobby pins, or the tip of a ballpoint pen to create dots on your nails.
To create polka dots without a tool, simply dip the tip of your chosen item into your nail polish and gently dot it onto your nails. You may need to re-dip your item into the polish for each dot.
Remember that using items other than a dotting tool may create larger dots, so adjust the size of your dots by using less pressure or a smaller tip. Also, be careful not to smudge the dots while they are drying.
10 Amazing And Super Easy Polka Nail Design Ideas
Now that you have learned how to create stunning polka-dot nail art. Let's explore some designs together!
1. Nude-Black Polka Dot Nails
Achieve an elegant and effortless office look that will leave your colleagues stunned with a combination of nude nails and striking black dots. This trendy nail design is simple to create.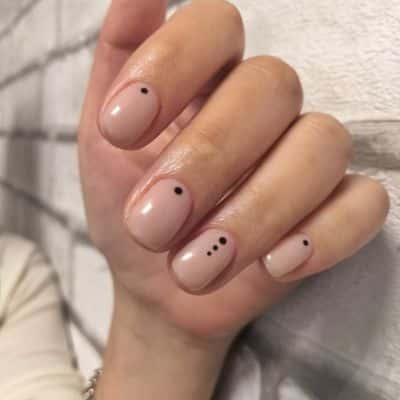 It takes just a few minutes, allowing you to save valuable time while still looking stylish.
2. Gel Polka Dots Nails
The artful combination of light and dark shades of blue with crisp white polka dots helps unleash your inner retro goddess.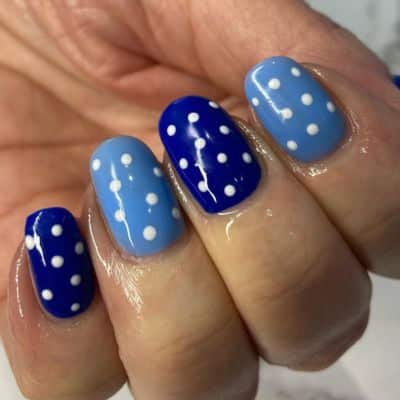 Try this nail design with a white or sky blue dress or a simple T-shirt and skirt to bring out the vintage creative style.
3. Black And Red Ladybug Nails
Describe your love for the world with this charming set of ladybug nails. The playful combination of black, white, and red creates a bold, eye-catching design that helps you make a statement.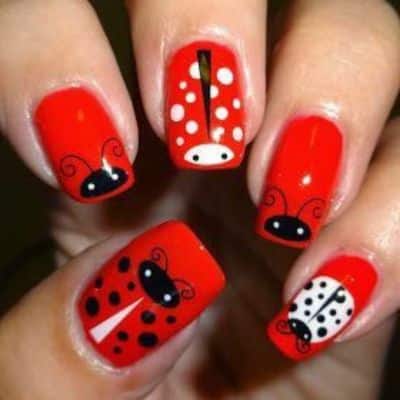 These lovely red and black little bugs represent luck and happiness, reminding us to enjoy the beauty in every moment. With these ladybug nails, you can carry soothing, positive energy wherever you go. Sprinkle your love and joy on those around you with this pleasant and unique nail art.
4. Polka Dot Nail Designs For Short Nails
Feeling insecure about your short nails? Then, why not try this incredible nail design featuring sparkling polka dots? The satisfying combination of purple and green is a bold and beautiful way to showcase your unique qualities and originality.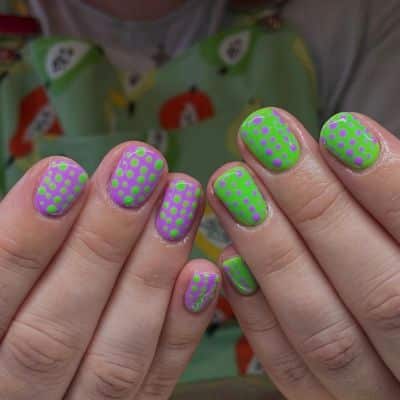 Whether you are attending a special event or just want to add some fun beats to your day, this lively nail art is a perfect choice. So, don't hesitate– with this design, you will be ready to confidently show off your style.
5. Polka Dot Rose Nail Design
Revisit the bygone era with this enchanting vintage-inspired nail design. This retro-style nail design, featuring white nails with tiny polka dots and delicate red roses, will turn heads. Getting this timeless and on-trend nail look is really easy with simple steps.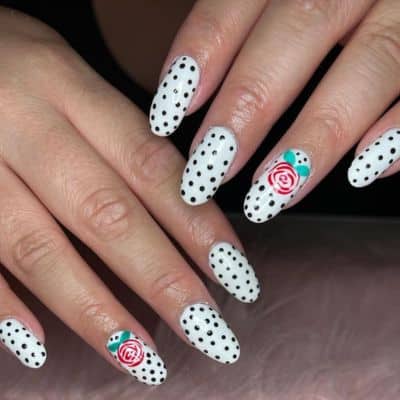 With this nostalgic nail art, embrace the beauty of yesteryear and add some elegance to your daily routine.
6. Rainbow Polka Dot Nails
Add some colorful vibes to your spring outfit with this unexpected yet stunning nail design.
The boldness of neon hues and the softness of pastels create a rainbow effect that will help you stand unique.
7. Yellow Vibes Polka Dot Nails
Add some sunset rays to your autumn season with this stunning yellow nail design featuring black polka dots in varying sizes and patterns. This nail art will brighten your day with its playful and cheerful yellow hue.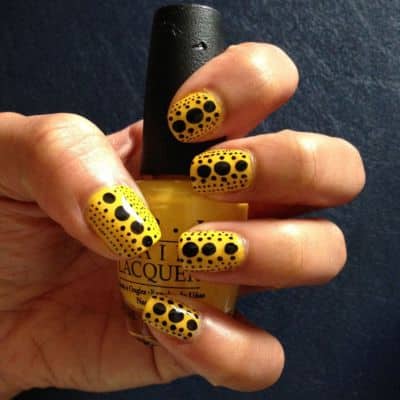 To reflect your unique character, create a complex design by experimenting with different dot sizes and patterns. Don't settle for a boring manicure when you can add fun and creativity to your look with this bold and beautiful yellow and black polka dot design.
8. 3 Dots Nail Art
Simplicity is always beautiful!! The combination of black nails with simple and neat three elegant gold dots is perfect for those who prefer a minimal look.
With its minimalist aesthetic and subtle shine, this nail art is ideal for any occasion, from a hectic day at the office to a crazy night out on the town.
9. Halloween Polka Dot Nails
Are you looking for a Halloween nail design that is both playful and spooky? The clever use of black and nude polish creates a striking night-and-shadow effect, adding just the right amount of mystery to your nails.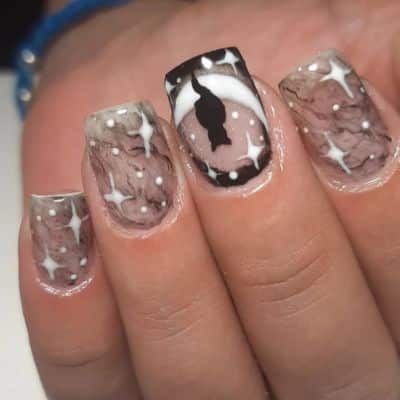 With some nail art knowledge, you will have no trouble recreating this fun and festive look.
10. Minimalist Bliss Polka Dot Nails
This nail art is right for people who adore minimalist nail fashion. To achieve this understated and soft look, you only need a dotting tool, white nail polish, and sage green nail polish.
Whether you are pressed for time or searching for a straightforward and enjoyable nail art endeavor, this design is the perfect selection.
Tips For Perfecting Your Polka Dots
Here are some essential tips to keep in mind to perfect your polka dots.
Ensure you have enough polish on your dotting tool to create a full dot, but not too much so it drips onto your nails.
If you mess up, don't sweat it. You can use a Q-tip dipped in nail polish remover to fix any mistakes.
Now that your nails look fresh let's talk about how to care for them.
Polka Dot Nail Care
To maintain the polka dot nails, moisturize them using cuticle oil and lotion whenever you get time. Using a non-acetone nail polish remover will help you protect your nails from drying out. Finally, To improve the life of polka dot nails, protect them with a clear top coat every few days.
With these simple tips and tricks, you will be the queen of polka dot nails in no time.
Polka Dot Nail Art Ideas For Every Style
Today, there are boundless opportunities to test with different sizes of circles, spaces, arrangements, and hues. With a simple base coat, two or more nail polish colors, and a dotting tool, it is easy to create good-looking polka dot nails in minutes. Also, numerous unique polka dot nail art ideas exist for every style and event.
So, get creative and add fun and charm to your nails with these simple polka dot nail art ideas.
FAQs
Q: Can I use stickers or decals to create polka dot nails?
A: Yes, you can use pre-made stickers or decals to create polka dot nails, but they may not look as polished as hand-painted dots.
Q: Can I add glitter or rhinestones to my polka dot nails?
A: Yes, adding glitter or rhinestones to your polka dot nails can add extra sparkle and dimension to your design.
Q: How do I make sure my polka dots are evenly spaced?
A: You can use a pencil or tape to mark where you want each dot to go before painting, or you can practice free-handing dots until you get the hang of it.
References