Going Green: A Comprehensive Guide To Styling And Maintaining Green Nails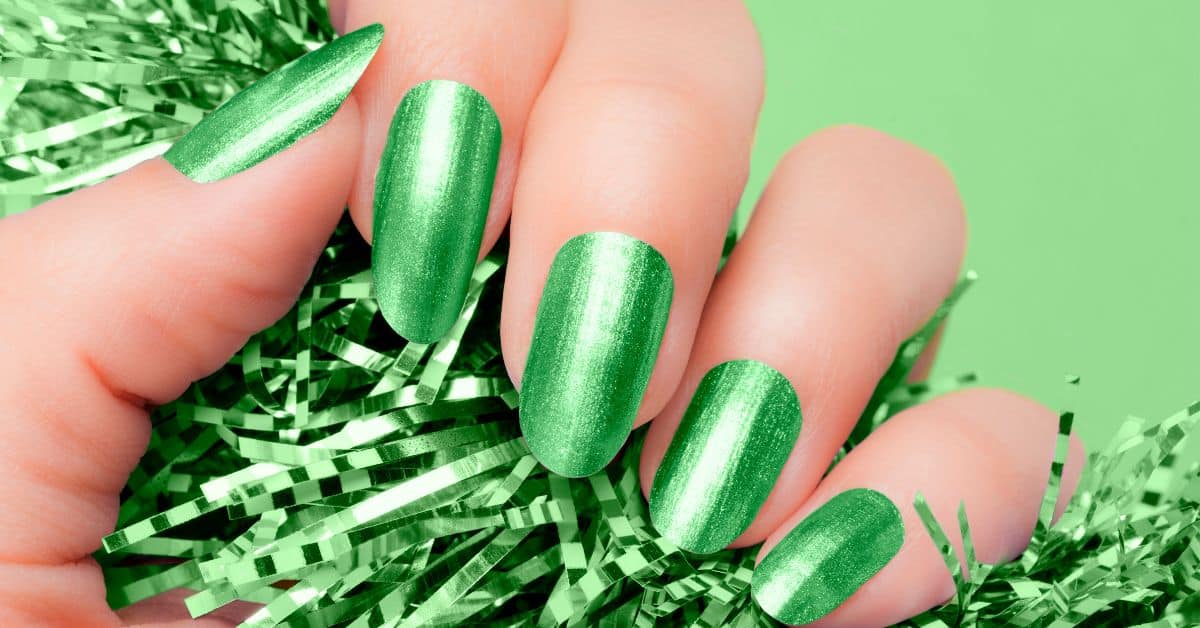 People always look for new styles and designs to enhance their appearance. Nowadays, one of the trending styles is green nails. This solid color has become a popular and minimalist choice for nail art lovers as they represent a symbol of harmony and nature. Also, this color is associated with freshness, growth, and renewal.
Here, we will cover everything you need to know about green nails, including different shades of green, the symbolism behind the color, different green nail art designs, and tips for maintaining a green manicure.
If you are looking to stay on top of the latest nail art trends, keep reading to learn all about green nails.
Table Of Contents
Are Green Nails Trending?
Yes, green nails are currently trending in the world of fashion and beauty. Various social media platforms, including Instagram and TikTok, are flooded with images and videos of green manicures. And celebrities have also been spotted rocking this trend on red carpets and in magazine photoshoots.
For example, Billie Eilish wore lime green nails to the 2020 Grammy Awards, and Kylie Jenner posted her photos with forest green manicures on Instagram.
With such high-profile celebrities embracing the trend, it is no wonder that green nails are becoming a popular choice for people who are looking to stay on-trend with their nail art works.
What Do Green Nails Symbolize?
The green color is often associated with growth, balance, and harmony. When it comes to nails, it represents different things based on the shade and the context in which it is used. For example, lime green is a playful and energetic color, while darker forest green can evoke feelings of calm and stability. Green also represents wealth and prosperity in some cultures.
Sometimes, green nails may also explain the personal significance of the wearer. For instance, a person who loves nature may wear green nails to express their appreciation for the environment. A person who is going through growth and changes in his life may also wear green nails as a symbol of that transformation.
Different Shades Of Green
Here are ten different shades of green that can be used for different green nail ideas:
When choosing a shade, consider your skin tone, personal style, and the occasion for which you will be wearing the manicure.
What Colors Look Good With Green Nails?
Green color can be paired with many different colors to create a stylish and cohesive look. Here are some color combinations that look good with green nails:
Combine different nail colors and create
For toenails, you have options like neon green toenail designs, lime green toe nail designs, mint green toenail designs, etc.
Green-Themed Nail Art
1. Kelly Green Roads
To achieve this green and black nail design, first, paint your nails using kelly green color nail polish. Now draw a thick black line using black nail color. Give outlines for these black lines using bright green.
2. Nude And Lime Green French Manicure
For this lime green nail design, paint your nails with any nude shade. Then, draw the lime green and black French patterns using a small-tip brush or tape.
3. Forest Green Leaf
To get this look, paint your three fingers in forest green and two fingers in any neutral color. Draw small leaf patterns on nude nails using a small brush or stencil.
4. Sage Green Eggs
Start this sage green nail design by painting your nails in sage green color. Now, add small dots and egg patterns using a small brush. Adding mustard yellow at the tip will add extra value.
5. Mint-Nude Spring Fragrance
It is easy to achieve this mint green nail design. First, paint your nails using a neutral color. Then blend the mint green color using a sponge or any other blending material.
6. Olive Art
For this olive-green nail design, use olive green and a neutral shade to achieve the base pattern. Then, print leaf designs using stencils in elephant black color. You can try some coffin olive green nail designs too.
7. Chartreuse French Girl
First, paint your nails beige or soft pink. Give a glittery touch to one nail using glitter nail polish. Now, stick tapes near the nail tips and create a French pattern in chartreuse color. Adding stones may improve the look of these nail designs.
8. Emerald Marbles
Use white and emerald green colors to create this emerald green nail design. You can do this using a small brush.
9. Simple Hunter
Try this hunter green nail design, simply and perfectly painting your nail using matte hunter green nail polish. Avoid glossy top coats to get the perfect matte look.
DIY Green Nails
Whether you need a bold statement or a subtle pop of color, there are many DIY options. Here are some tips for achieving a perfect DIY green manicure.
Choose the right shade that suits your skin tone and personal style. For fair skin, try a light mint or pastel green. For medium skin tones, choose brighter or more saturated green shades. For darker skin tones, get deep, rich shades of green like emerald or forest green.
Remove the old polish and shape and smooth your nails using a nail file.
Apply a base coat that protects the nails from staining.
Apply the green nail polish. Apply two coatings one after another. Allow the first coat to dry well before applying the second one. For sheer polish, you need to apply a third coat too.
To add some extra spicy element, try adding glitter or a metallic topcoat.
Apply the topcoat over the green polish for a fine finish and to help your green manicure last longer.
With these simple DIY steps, you can get a stylish and trendy green manicure at home.
Tips For Maintaining Green-Painted Nails
Once you have achieved your perfect green manicure, ensure it lasts as long as possible. Use these tips for maintaining your green nails and keeping them looking fresh for a long time.
With these simple tips, you can enjoy your green manicure for longer.
Show Your Wild Beauty With Green Shades
From light pastel greens to bold and daring shades, there is a perfect choice for every personality and style. This color can also be paired with different colors for stunning and unique looks.
Whether you prefer a DIY green manicure at home or professional work at a nail salon, with the right care and maintenance, you can help them last for weeks.
FAQs
Q: Are there any nail art designs that are perfect for St. Patrick's Day?
A: Yes, there are. Some popular St. Patrick's Day nail designs include shamrocks, rainbows, and gold accents.
Q: Can I mix and match different shades of green for my nail work?
A: Of course! Mixing and matching different shades of green can create a unique and eye-catching nail design. Just make sure the colors complement each other well.
References