French Manicure Maintenance: 7 Tips And Tricks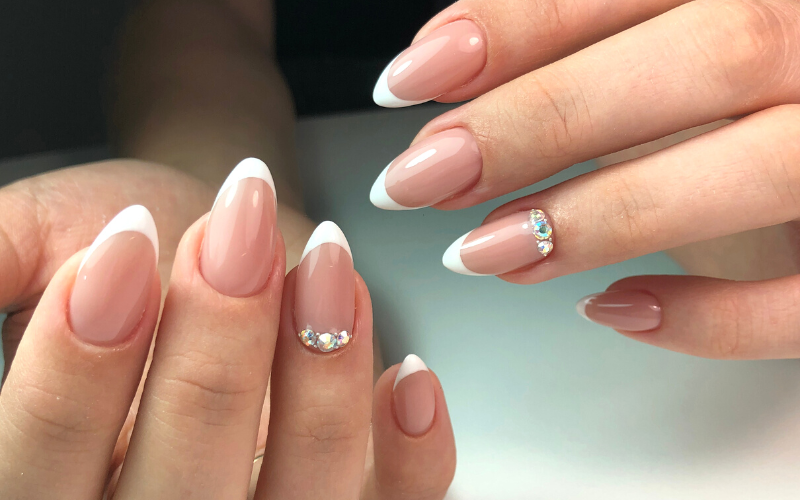 French manicures are a classic and timeless look that can enumerate a touch of elegance to any outfit. However, like any manicure, they require proper care and maintenance in order to look their best.
Whether you're a seasoned professional or a first-time French manicure wearer, this guide will give you the tools and knowledge you need to keep it looking fresh and polished. From proper application techniques to at-home touch-ups, we will address everything you need to know to ensure your French manicure lasts as long as possible. Let's get started on maintaining that perfect French manicure!
Table Of Contents
French Manicure History
The French manicure has been in trend for many years since the 19th century when grooming became popular. It was believed that the French manicure originated in France, but in the 1930s, a Parisian nail polish company produced the original French manicure. At that time, this manicure quickly gained popularity everywhere around the world. At that time, the base coat had a natural-looking edge with a white tip.
The French manicure went through numerous modifications over time to keep up with the new trends and designs. It became well-known in the 1950s thanks to Hollywood celebrities like Audrey Hepburn and Marilyn Monroe who wore it with vintage haircuts and red lipstick.
In the 1970s, Jeff Pink, the creator of Orly nail polish, and his famous clients came up with the modern version (featuring a natural base coat with a white tip). In the 1980s, this look stood for sophistication and well-groomed behavior and quickly gained popularity in Hollywood.
French manicure styles became popular in the 1990s as a result of nail technicians' experiments with novel forms, textures, and embellishments.
French manicures are still stylish and elegant nail designs that may be used on any occasion today. It appeals to ladies of various ages and socioeconomic backgrounds because of its classic and chic appearance.
French Manicure Tools
If you are a person who is passionate about trying French manicures at home, knowing the names of these mani-pedi tools and understanding their function is really important. These tools make your French Manicure journey easy and comfortable.
A small bowl of warm water to soak your nails before the manicure procedure. It softens the cuticles and makes them easier to push back.
Nail clippers or scissors to cut and shape your nails to get the expected length and shape.
Nail file to create smooth and even edges.
A cuticle pusher or cuticle nipper to remove the excess skin around your nails.
Base coat to apply to the nails as a base for the polish.
White tip guide for creating clear white tips at the edge.
Top coat to seal and protect the entire design.
Cotton swabs or a small brush to clear the mistakes or smudges during the process.
Nail buffer to buff the nails and get a smooth outer layer for the polish to adhere to.
Cuticle oil to moisturize and soothe your cuticles and nails after the process.
How To Achieve The French Manicure Look On Natural Nails: The DIY Method
Here are the basic steps for doing a French manicure at home:
Clean your nails and hands first.
Remove the old nail polish and dirt by pushing back your cuticles. It will ensure that the polish adheres well and looks neat and tidy on your nails.
Now, using a clipper or scissors, trim your nail to the correct shape. This step is important because only good shape can enhance the beauty of French manicures.
File the sharp edges of your nail using a nail file. Smooth and even the edges.
Soak your fingers in warm water to smoothen your cuticle.
Move your cuticles up using cuticle sticks and remove the excess skin in that area to provide a neat base for the manicure.
Buff your nail bed using a nail buffer.
Apply a base coat to your nails. Ensure it covers your entire nail surface.
Paste the white tip guide to your nail tips and paint the edges with solid white nail polish.
If anything went wrong, make the corrections with a small nail brush or cotton swab.
Apply the final top coat to seal and protect the completed French manicure design.
Give time for your nails to dry completely.
Apply cuticle oil to moisturize your cuticles and nails.
If you want to follow the traditional way, stick to nude nails. Otherwise, try different colors, like pink, orange, black, and blue, designs and embellishments to add more beauty to your nails.
Try designs like V French tips, French tip cherries, butterfly nail tips, and gold French nails. People with short nails can also try a French manicure.
French Manicure For Different Nail Shapes
The French manicure is a timeless and versatile nail style that can be tailored to fit a range of nail shapes, providing a beautiful and elegant appearance. Here, we've put together some tips to assist you in crafting the perfect French manicure that is unique to your nails.
For Round Nails:
Round nails are well-suited to a soft and feminine French manicure. File your nails into a round shape, following their natural curve to create this. Choose a white nail polish with a subtle pink or beige tint to complement your skin tone. Apply the white polish to the tips of your nails, following the curve of your nail. Finish it off with a topcoat to add gloss and protection.
For Square Nails:
To achieve a classic French manicure on square nails, file them straight and slightly round the edges. Apply a neutral base coat, followed by white polish to the tips. Add a topcoat for protection and shine. With practice, you can create a beautiful and timeless look that highlights your nails' natural beauty.
For Oval Nails:
For a modern and chic French manicure, oval nails are ideal. Start by filing your nails into an oval shape with a slightly pointed tip. Choose a slightly off-white white nail polish to subtly contrast your nail color. Apply the white polish to the tips of your nails, following the curve of your nail. Finish with a topcoat to safeguard the color and add shine.
For Almond-Shaped Nails:
For a sophisticated and elegant French manicure, almond-shaped nails are perfect. File your nails into a sharp point with a rounded base at the tip. Pick a white nail polish that is slightly brighter than your natural nail color to create a bold contrast. Apply the white polish to the tips of your nails, following the curve of your nail. Finish with a top coat to seal in color and add shine.
With practice, you can create a beautiful and timeless look that highlights your nails' natural beauty.
Alternatives To Traditional French Manicure
You wanted to boost the ante with your nail art, right? There are several variations to the traditional French manicure that can give your nails a modern, fashionable appearance. Consider these suggestions:
Reverse French Manicure – Rather than painting your nails white on the tips, try painting the base of your nails a light color and the tips a darker shade. It will give an appearance that's contemporary, striking, understated, and distinctive.
Geometric French Manicure – Use tape or stencils to make straight, diagonal, or triangular shapes on your nails. The result is a sleek and contemporary appearance.
Ombre French Manicure – An ombre French manicure involves blending of two or more colors together to produce a gradient effect. Begin with a light base color, and then progressively move towards a darker shade at the tips of your nails. The outcome is a stylish and refined appearance appropriate for any setting.
Half-Moon French Manicure – Paint your nails in a neutral color with the remainder of your nails painted in a half-moon shape at the base. You get a faint burst of color on your nails as a result.
French Manicure with Glitter – Use glitter to give your manicure some sparkle! Before adding glitter polish to the tips, apply a clear or light-colored base coat. It will produce an attractive appearance that is festive, joyful and ideal for special events.
Matte French Manicure – To modernize this classic style, pick out a matte rather than a glossy finish. Give your nails a velvety touch with a matte topcoat to give them a distinctive, classy appearance that is appropriate for any situation.
French Manicure For Special Occasions
A French manicure is a classic and elegant look that is perfect for any occasion. Here are some super simple ideas you may use to step up your French manicure to the next level.
1. Wedding French Manicure
A French manicure can be a great choice if you're getting married. You may add subtle rhinestones or sparkles to your nails to make them extra special. You can also incorporate your wedding colors into your French manicure by painting the tips with a color that matches your theme.
2. Holiday French Manicure
You can take your French manicure to the next level for the holidays by adding some festive designs. Try painting the tips with a holiday-themed design, such as candy canes or snowflakes, or incorporate some glitter or metallic accents into your French manicure.
3. Birthday French Manicure
For your birthday, you can add some extra sparkle to your French manicure with some glitter or rhinestones. You can also try painting the tips with a color that matches your birthstone for a personalized touch.
4. Prom French Manicure
For prom or other formal events, a French manicure can be appareled with some metallic accents. You may try adding some metallic stripes or design to the nail tips or a metallic ombre effect. This will add some glamor and shine to your nail game.
5. Graduation French Manicure
You can add fun and playful designs to your French manicure for graduation. Try incorporating your school colors into your French manicure by painting the tips with a color that matches your school. You can also add some fun designs, such as graduation caps or diplomas, to your nails.
A French manicure is a timeless look that can be dressed up for any special occasion. Adding subtle sparkles, metallic accents, or festive designs can take your French manicure to the next level and make it extra special for those special moments in life.
Tips And Tricks For Maintaining Your French Manicure
The following tips will help you maintain your French manicure for a longer period of time.
Avoid frequent hand washing because it may cause chips and breaks. Protect your French nails by wearing gloves when doing dishes or cleaning.
Always be gentle with your nails. Avoid nail biting, picking, or tearing, as this can create cracks in your polish.
If you notice any chips, flaws, or smudges in your French manicure, give a touch-up to prevent them from spreading.
Apply cuticle oil to your French nails on a daily basis to moisturize your nails and cuticles and keep them healthy and strong.
Repeatedly apply the top coat every other day. Thus, you can prolong the life of your French manicure. It can also give your nails a fresh look.
Keeping your nails shorter will be helpful to prevent cracks and damage after a French manicure.
If you want to remove the polish, use a non-acetone nail polish remover. Do it by wrapping your fingers with cotton balls that are dipped in nail polish remover.
You can also try solar nails that resemble a French manicure. Change the shapes of your nails by trying oval, coffin, and round, and make your nail beauty game different and unpredictable.
Maintain The Beauty Of French Manicures
If you are trying a French manicure for the first time on your own, achieving the desired results may take some time. The advantage here is that you will not only save money but also get a chance to try various colors or designs as often as you want. Post-French manicure process, you must maintain your nails by following the listed tips to retain the results for a while.
FAQs
Q: Is it good to try gel polish for a French manicure?
A: Yes, you can try that. It will last longer than regular nail polish. But you will need a UV or LED lamp to cure the polish.
Q: Can a French manicure create long-term damage to your nails?
A: Yes, in some cases. If not done correctly without proper care, a French manicure can cause long-term damage to your nails.
References