25 Irresistible Black Nails Designs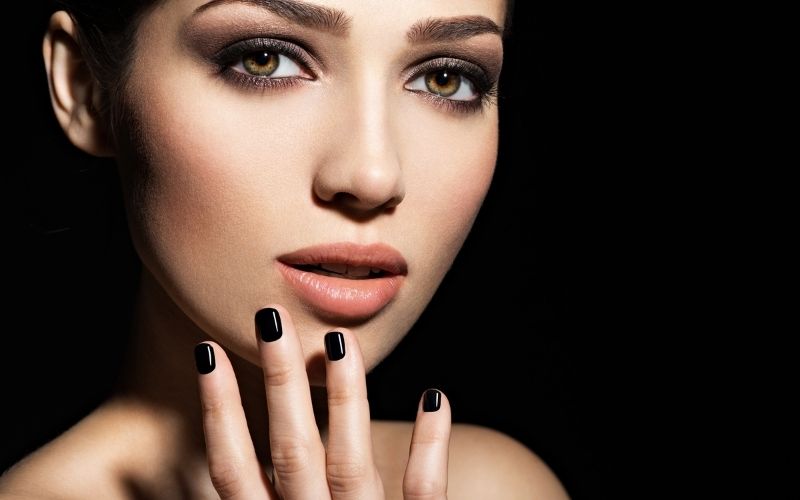 Everybody loves a black nail — a classic, sleek manicure that can be toned down for everyday wear or upgraded with bling, fancy nail designs, or other nail art.
Do black nails go with everything?
The answer is duh!
Even with butterfly nails and flame nails.
A dark nail can be trendy and timeless at the same time.
Be sure to also check out our guides to fall nails and nude nails too!
Here's our top list of black acrylic nail designs.
Classic Glossy Black Manicure
Intricate nail designs not your cup of tea?
This classy black nail design uses a simple black nail polish and some glossy top coat over an almond nail shape.
We also have more designs like this one on our lists of short nail designs and short acrylic nails too!
You can try this manicure with any nails shape!
Black French Manicure
Although this is a spin on the classic French manicure, the V-line black tips are elegant, sophisticated, and can be worn anywhere.
You can use a nail stencil, or freehand your mani with some gel polish.
This nail tip stands out anywhere!
These are great for spring nails.
Ombre
This almond nails beautiful nail inspiration (false nails from Etsy, go support small businesses!) is such a stylish look.
These black ombre nails fade from nude to dark in a beautiful pattern.
Instead of nude, you can also use a baby blue nails color to change the whole vibe!
A little nail glue will make this look possible!
Square Nails Hearts
If you like a freehand nail art challenge, you'll love these matte black nails.
Or, if you don't like the detail brush, you can use a nail stamp, beads, or some nail stickers for the same finish.
Pairing two classics, nude and black, can't go wrong, so have some fun with black nail art!
Yin-Yang
Can't decide between white and black?
These look great as white short nails too!
This classic look features half-and-half, so you don't have to choose.
You could even use some silver rhinestones for the dots on the middle nail!
Chinese Dragon
This manicure just screams sophistication; with a black base and black edge, those dragon accent nails really spice up this long square nail design.
French Tips
Head on over to the salon for these simple nail designs; there is no other popular trend like the classic French manicure with a dark nail tip.
Black Coffin Nails
Black goes with everything; these black manicure long nail designs could be spruced up with some rhinestones to add texture, or keep the matte black base to amaze people with your claws.
This matte nail design is an absolute winner!
We have 40 more designs like this one on our list of popular coffin nails!
Witchy Spider
Spooky Szn might be over, but there's no wrong season to indulge in a black nail color with a little silver nail art.
Those silver rhinestones sure do add a pop over that matte finish!
Ombre Inspiration
The beauty of this acrylic nail set leaves us just satisfied.
The gloss is perfect, and we love how each nail comes to a petite point; this black manicure would also look beautiful in matte!
The ideas are endless.
Black Glitter Nails
This glam design has tons of sparkle, perfect for any special occasion.
The faint gold glitter over the base coat is both glitz and glamour.
These are some cute short nails.
Galaxy
These nail ideas sure are great, but we love these shimmery cute black nails with hints of purple and glitter.
These stylish nails will make you feel great for the upcoming new year, or any other occasion.
Short Leopard Gloss
These black acrylic nails are short, sleek, and easy to work with; perfect for any party or outfit if you can't enough animal print.
You can also use orange nails for the background for a more realistic look.
Gloss Flame
Create a beautiful glossy flame over a matte black color with a bit of gel top coat.
This set is easy, but when the light hits it, you'll see those gorgeous flames leaping out from your acrylic nails.
Gold Leaves
Can't get enough pretty nail designs?
These gold nail stickers are used under a matte top coat for a low-shine design.
Abstract Heart
Good square nail designs aren't hard to come by, but this adorable set will make your heart leap!
Black Nail Design
This gorgeous black nail art over white nails will leave you wanting to go stargazing.
A great way to complete a nail art design is by working on top of a base color; white nail designs could also be used over black nails!
Snake
This shiny black color with the snake nail art is a great way to add some flavor to your life.
Marble Inspiration
Instead of all glossy black nails, use some gold leaf over a marble accent nail in your short nails to add uniqueness.
Silver Glitter
You know what's better than glitter?
A glitter ombre!
This silver glitter over a matte base screams sophistication and fun at the same time.
Who doesn't love a good glitter nail?
Red Nails
Black and red go together like Batman and Robin.
This vampy manicure inspiration will leave you unable to stop looking at your hands.
Festive Winter
Winter is almost here, and you might want to change your manicure to some christmas nails.
This black nail design uses white polish to make the fake nails pop.
Modern
Abstract imagery has been a hit in the nail art world; spice up the black color with some nail art.
Ultra Long Feminine
Can't get enough of the coffin shape?
These extra long nails feature a combination of pink and black nails with some cute flowers and pink glitter.
Grey
Black and grey are very close to each other on the color wheel, so they go well together.
Give this mani a chance, and you won't regret it! You can also make this work with matte nails!
Smoky
This long nail design features a smoke-like texture of black nail polish with a gold outline.
Studded Rhinestone
Low-shine rhinestones will make your matte black mani stick out from the crowd.
Show off those claws, girl!
Now that you have seen our beautiful list of black nail designs, let's look into the origin of black nails.
A Brief History About Black Nails
Adorning one's nails with a coat of black polish has a rich history in human culture and fashion, spanning several centuries. In ancient civilizations like Egypt and China, black nails were perceived as a sign of social distinction. The elite classes and royalty often painted their nails black using naturally sourced ingredients such as beeswax, egg whites, and vegetable dyes.
During the 1920s, black nails became an emblem of rebellion and nonconformity. The punk subculture of the 1970s and 80s was instrumental in popularizing black nail polish as a symbol of individualism and a rejection of mainstream society's norms.
By the 1990s, black nails had gained widespread acceptance thanks to their endorsement by influential musicians and celebrities such as Madonna, Gwen Stefani, and Johnny Depp. They propelled black nails into the limelight, promoting it as a fashionable and daring choice for both men and women.
In modern times, black nails have become a mainstay in the beauty industry, with black nail polish available in various shades and finishes. This has made it a versatile color that anyone can wear, irrespective of their style or personality.
The history of black nails bears testimony to this color's lasting popularity and versatility in the world of fashion and beauty.
Reasons Why Black Nails Are Popular
Do you know why black nails are so popular? – It's because they make a bold fashion statement that is edgy and classy at the same time.
Black nail polish has become a popular trend among fashion-conscious individuals of all ages and genders. This style statement is not just limited to gothic subcultures; rather, black nails have become a mainstream fashion choice.
Listed below are some reasons that make black nails popular and why you should try them too.
Versatility – Black nail polish is a versatile color and works for any occasion. It can be dressed upwards or downwards, making it appropriate for any setting. This hue looks great, both professional and informal. It's a classic color and invariably fashionable.
Complements Everything – Black nails are appealing and go with everything. They look good with any ensemble since it's a neutral color. Black nails will look great with any color, whether it's a vibrant neon or a classic red.
Shades – While black may seem like a simple color, there are different shades of black nail polish. Matte black, metallic black, shimmer black, and glossy black are just a few to name. The variation in shades adds depth and dimension to the nails.
Edgy – Black nails are a mark of edginess and defiance. For individuals who want to express themselves without being overt, they are ideal. It mounts an element of mystery to the look and gives an instant cool factor.
Gender Neutral – Men also enjoy wearing black nails, so it's not just ladies that do. They are a universally flattering fashion statement for all sexes. All genders love black nails, whether they are worn by celebrities or regular people.
Bold and Classy – No other nail color can compare to how sophisticated and elegant black nails are. For individuals who want to express themselves boldly without sacrificing elegance, they are ideal.
Easy to Maintain – Black nail polish conceals chips and cracks better than other nail colors. Your nails will still look amazing even if you go days without touching them up.
Final Thoughts On Black Nails
It's definitely time to grab your nail kit and get started on some of these black nail designs.
This comprehensive list of classy black nail designs will take your nails to an entirely new level!
FAQs