25 White Short Nails Designs You Need to Try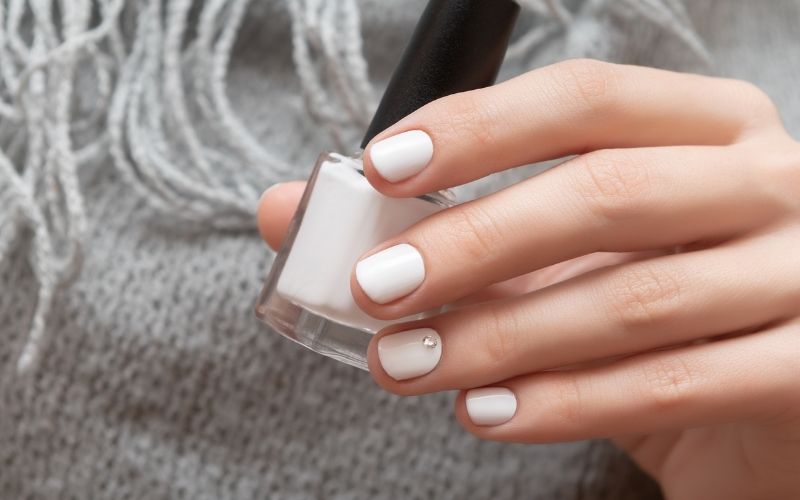 White short nails offer an equally exciting and creative outlet for nail enthusiasts, contrary to the belief that elaborate acrylic or brightly colored nails are the sole means of achieving captivating nail designs.
In fact, short nails painted white can serve as an excellent foundation for an endless array of nail designs while simultaneously evoking a timeless and classic aura.
Regardless of age or style preference, white nails are versatile and can accommodate various creative designs year-round without compromising simplicity or elegance.
We've compiled a list of the 25 greatest and cutest white manicure designs that may be worn with your chic short nails to help you up your short white nail game. With the help of these gorgeous nail design ideas, you may explore your creative side and come up with a singular style that will draw attention everywhere you go.
1. Simple Short White Nails
We're kicking off with a classic beautiful white nails idea that will never go out of style and doesn't involve any extravagance.
Lo and behold, a charming set of short nails adorned with two to three layers of white nail enamel.
The minimalist approach for this iconic white manicure makes it so captivating and versatile, as it can be donned with any outfit and for any occasion.
Whether it's a casual daytime look or an evening event, these pearly white nail designs will complement your style effortlessly, making it a perfect choice for any time of year.
2. White And Gold Glitter Short Nails
If you're a fan of white and gold, we've got just the thing for you – an ultra-glamorous nail idea that's sure to turn heads.
To achieve this lavish look, start with a set of short almond nails painted with two layers of pristine white nail polish. Then, choose two fingernails on each hand and add gold glitter, starting from the mid-point to the tips of your nail for a dazzling ombre effect.
The best part?
These dazzling nails would pair well with your morning coffee or tea, exuding an air of sophistication and elegance.
3. Black And White Short Nails
Black and white nails are among the most classic pairings, making this nail art design one of our favorites.
If you like how the single flame nail looks, we have an entire list of flame nails!
Adding a color at the opposite end of the spectrum in blacks a cool contrast.
Alternate black and white nail polish on your short fingernails for a marvelous monochrome manicure.
Bright white nails present a distinct contrast to the edgy black nails.
You could even go for a dalmatians print with these!
4. Silver And White Short Nails
Elevate your mani with this trendy nail design idea.
For this look, we recommend leaving most of your nails white.
Then use silver nail tape from Amazon or Etsy to create diagonal silver stripes on an accent nail.
Or, you could create trendy, metallic tips.
If you want to change it up, you can also add some baby blue nails to this look.
5. Glam Nude And White Short Nails
If you're looking for a more understated manicure, this nail design is one of our favorites because it still makes a statement.
Here, we have one hand boasting a simple white mani while the other showcases a set of nude nails.
6. Matte/Pure White Nail Designs
While we love glossy nails, matte nails deliver a modern, sleek look we can't resist.
For this look, take your favorite white nail polish and apply 2-3 layers.
Next, use a matte top coat to create a chic set of white gel nails — perfect for everyday wear!
7. White Floral Nails
This almond nails look will have you fighting the urge to gallivant in a meadow.
After applying a bright white shade to your short nails, apply transparent floral nail stickers to your nails, positioning them how you please.
With this white nail design, endowed with flirty florals, the possibilities for your nail beds are endless.
We also have other floral designs in our list of the best orange nails!
8. Black And White Polka Dots
This fun nail design is one of our favorites because it delivers a playful look and is simple to recreate, especially on short nails.
After prepping your nails with a clear base coat, paint your nails white and let them dry.
Then, take a dotting tool from Amazon or a bobby pin/stencils and randomly dot black nail polish over top and finish with a clear topcoat.
9. Geometric White Acrylic Nail
Be prepared to attract attention with this irregular shape nail design.
For this look, we've used white as a base coat and use nail tape to outline small triangle shapes with a bright nail polish of your choice.
Once dry, remove the tape, and voila!
You have yourself a trendy geometry manicure and one of the best acrylic nails.
10. Silver Glitter And White Nails
For this look, we've combined a few of our favorite things: white, silver, and glitter.
Here, we have most nails painted with white nail polish.
On each ringer, apply silver glitter for a set of gorgeous nails that sparkle.
White glitter nails never go out of style.
11. Rhinestone White Nail Art Ideas
The beauty of short nails?
You can still get creative with fun nail art accessories.
Apply white nail polish as your base coat and use glue to apply rhinestones and gems.
The product is a glamorous nail design that boasts unparalleled simplicity.
Try a pink diamond rhinestone, small crystals, or side rhinestones for some serious glam!
12. Pearly White Nail Design
This manicure is the epitome of elegance that looks stunning on shorter nails.
Simply apply two layers of pearly white nail polish to help your nails shine with every wave.
Want to elevate the look?
Use nail glue to apply tasteful rhinestones you can find on Amazon.
13. Zebra Stripe Nails
White nail polish often serves as a clean canvas to unleash your creativity — this nail art design is a perfect example of that.
For this zebra look, start by painting your nails white.
Next, take a thin brush and dip it into black nail polish.
Then, draw short angled lines to recreate zebra stripes gaps.
Once dry, finish with a clear topcoat.
14. Accent Nail Design
Incorporating an accent nail will elevate your white manicure.
Here, we have white nails and both ring finger nails and pinkie painted in a shimmering gold tips shade — perfect for daily wear or attending a special event.
Hot pink nails would look good with this look too!
15. Reverse White French Manicure
This manicure features an unexpected twist on your classic French manicure.
To achieve this minimalist look, use a nail art liner brush from Etsy to paint a white reverse line at the bottom of your nail (if it gets messy, use an angled flat brush to correct mistakes.)
Lastly, finish with a clear topcoat and admire your beautiful set of delicate nails.
16. Black And White Starry Nails
This look is one of our favorite white nail designs, as it features dainty yet understated nail art.
Here, we have a set of short white nails.
Then, apply black star stickers to your nails — no nail glue needed!
You can also dip a dotting tool into your black nail polish and add dots to your nails to enhance the look even further.
17. Short White Coffin Nails (Acrylic Nails Coffin Short)
Coffin nails don't always have to be long!
For this classy nail idea, we have short coffin nails painted in a creamy white shade.
Use nail glue to add several beautiful rhinestones and gems to elevate your white coffin nails from a simple nail design to effortlessly elegant.
18. Short White Almond Nails
When you have little real estate to work with, white almond nails are an excellent option, as they provide just a little height at the tip.
To recreate this look, paint your almond nails with white nail polish.
Before it dries, drag a toothpick through the polish and use gentle swipe gestures to gently create squiggly lines.
The result is an abstract nail design you need to add to your rotation.
These are perfect for bridesmaids!
19. White Chevron Nails
Chevron-patterned nails are a great way to give the illusion of longer nails.
Apply striping tape in the shape of an upside down "V" then use white nail polish to paint overtop.
Before it dries, remove the tape.
Now, you have a trendy nail design, perfect for short nails.
20. Pink Nails And White Flowers
This delicate floral design is a must-try, especially if you're headed on vacation.
To achieve this look, paint your nails white and use a dotting tool to create pretty pink petals.
Last, add a dot of sliver nail polish in the center of each flower for a soft romantic manicure.
21. White Watercolor Nails
If you're looking for unique white nail designs, this is one you'll love.
First, apply 2 coats of white nail polish and clear topcoat and let dry.
Then select a combination of colors (we recommend 2-3) and apply a small dot of each to the center of your nails.
Finally, dip a wide flat nail art brush in acetone and hover it over your nails, allowing it to drip.
Then gently pat with the brush to spread out the natural mixture of colors and dilute their pigmentation.
22. White Butterfly Nails
White summer nails, here we come!
Suitable for short nails, this beautiful manicure features pure white nails with multicolored butterfly stickers overtop.
Add gold flakes to make the look even more eye-catching.
Apply a clear topcoat to add a sheen to your butterfly nails.
23. White Nails With Hearts
For this next nail idea, we're aiming for romance.
Here, we have bright white nails with red heart stickers overtop a few of your nails, creating a lovely design that will make your heart flutter.
24. White Marble Nails
Among our favorite short white acrylic nail designs is marble nail art.
This marble effect manicure features white short acrylics enhanced by neutral swirls, creating a dreamy product that will have you swooning.
25. New Year's Eve Nails
This glitzy white nail art is perfect for ringing in the new year or attending a formal event.
For this look, you'll need a white base coat, along with gold flakes from Etsy, which add a bit of glitter to an otherwise simple mani.
Not feeling gold? You can swap it out for silver flakes and achieve the same effect!
The Importance Of Matching Nail Designs
Matching nail designs add an extra layer of sophistication and style to your outfit. Coordinating your nail polish with your clothing can make your overall appearance look more put-together and polished. Additionally, matching nails can enhance your self-confidence and make you feel more attractive.
Matching nails are also important in professional settings. If you work in an organization or any other professional environment, a well-coordinated outfit with matching nails can help you create a good impression on your colleagues, boss, and clients.
Tips for Matching Nails with Outfits
Matching nails with outfits are not as hard as it may seem. You can easily coordinate your nails with your clothing with a few simple tips.
The occasion should be the first consideration when matching nails with outfits. A formal event calls for a more subdued and classic look. At the same time, a casual gathering allows for more creativity and playfulness.
Contrasting and complementing can also work when matching nails with outfits. For example, you can wear a black dress with red nail polish for a classic look or a pink dress with green nail polish for a trendy and playful look.
Nail matching doesn't have to be monotonous. Look for some current trendy nail art ideas that go with your attire.
Opt for hues and designs that go well with your clothing and work well together. If you're going to wear monotone clothing, for instance, give your nails a splash of color.
Consider your accessories, such as your bags, jewelry, and shoes, to gain ideas for your nail polish color selection. If you are wearing silver jewelry, for instance, you can match your nails with silver nail enamel.
So, the next time you put an outfit together, don't forget to take your nails into account. Anywhere you go, you'll be the center of attention if you choose a manicure design that contrasts or enhances your outfit.
Overall
Whether you decide to use gel nails, acrylic nails, or natural nails, these looks will give you custom nails that'll look amazing!
You can use OPI gel or products like a cuticle stick to help achieve the look of short white nails.
Using different acrylic nail shapes and acrylic art et you the best simple acrylic nails of your life.
FAQs
References