40 Best Coffin Nails Designs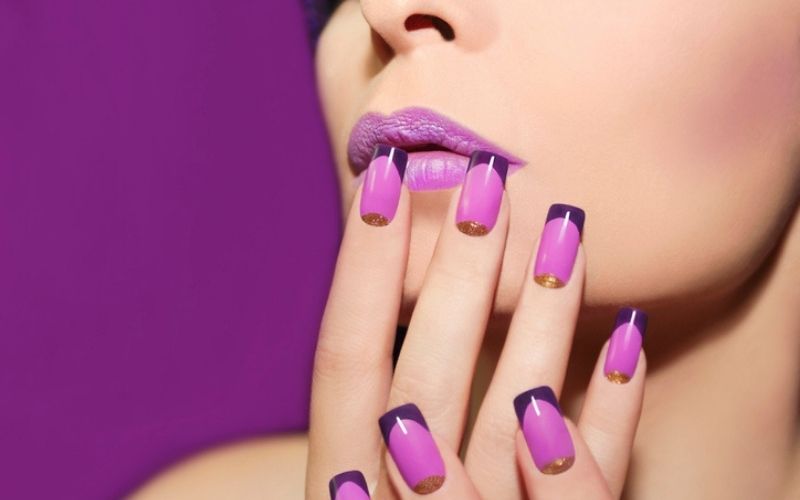 The coffin nail shape has been a popular acrylic nails style for years and is only gaining traction.
As women love their long claws, the coffin shape can be implemented into any nail design — even nude nails.
If you're looking for something more subtle, these almond nails are gorgeous too!
And wait for a second! Are you one of those wondering where the term "coffin nails" came from? Well, you're not alone. These terms are now popularly used in the beauty industry to describe a type of nail shape. Still, their origins are interesting and may surprise you.
Let's dive deep into the origin of coffin nails and how they became a trendy nail shape today.
What Are Coffin Nails?
Coffin nails, also interchangeably used as ballerina nails, describe a nail shape that resembles a coffin or a ballet slipper. This shape is achieved by filing the nails into a tapered point at the tip and a squared-off shape at the base of the nail.
Coffin/ballerina nails are typically longer than other nail shapes and can be worn with or without artificial nail extensions.
The Origin Of Coffin Nails
The origins of this nail shape are unclear, but it is believed to have become popular in the late 20th century.
One theory is that the shape was inspired by the goth subculture, where long, pointed black nails were a popular fashion statement. As this trend evolved, the sharp tips were gradually filed into a more practical and less aggressive shape, resulting in the coffin/ballerina shape.
Another theory is that the shape was popularized by celebrities like Rihanna and Kylie Jenner, who were early adopters of the trend. As they appeared in public with their coffin-shaped nails, the style gained popularity among their followers and eventually became a mainstream trend.
Regardless of its origins, the coffin/ballerina nail shape remains popular today and is often seen in various colors and designs.
What Causes Coffin Nails To Be So Alluring?
Enumerated below are several explanations why one might adore coffin-shaped nails:
Firstly, they provide an elongated appearance to the fingers and an ample area for artistic nail decorations. Additionally, they exude a dash of boldness to any attire.
Moreover, coffin nails are flattering to any variety of hand shapes.
Compared to rounder nails, coffin nails have a more thrilling and intrepid character.
Lastly, their flat tip configuration bestows sturdiness and fortitude upon the nails.
Who Should Choose Coffin Shaped Nails?
Coffin-shaped nails can be ideal for anyone seeking a fashionable and trendy nail style. They are especially suitable for individuals who find it difficult to grow out their nails but still crave lengthy and chic nails.
Our team recommends these nails for those looking for a distinctive and edgy look. While longer nails are currently in vogue, shorter coffin nails are still very much in style and equally chic.
Furthermore, coffin nails are perfect for women who lead active lifestyles and desire long-lasting, sturdy nails, as they are more durable compared to stiletto-shaped nails that are prone to breaking easily.
Don't forget to check out our guides on short nail designs and short acrylic nails too!
We have everything from square nails to minimalist styles.
Without further ado, here's our list of coffin nails.
Long Coffin Yin Yang Manicure
Feeling stressed? This Yin Yang will come to the rescue.
The shape of your nails say a lot about you; coffin nails are for sure for the spunky, sassy lady who loves the finer things in life.
You can make the base hot pink nails too.
These yin-yang design inspired nails have been around for decades and will make your fingertips look beautiful with minimal effort.
Long Nails Marble
This coffin nail idea uses beautiful gold leaf and marbling gel for your next manicure, perfect for any occasion.
The light colors give an angelic vibe you just can't beat!
Gold marble is super trendy right now.
Orange Bold Color Acrylics
These upgraded French tip and swirl nails use a gorgeous neon orange and some glitter for the accent nail.
These orange nails would be perfect for fall nails.
Short Butterfly White Coffin Nails
This look screams spring nails!
Butterfly nails have been one of the biggest nature animal print nail trends of 2021.
This look is also great with cute short nails and white short nails.
This nail art design uses the little foil butterfly decals over a glitter accent nail… perfect for those of us who prefer shorter nails!
Pink Ombre
These fake nails are gorgeous; transitioning from a nude to a bright pink, these statement matte nails are sure to bring all the attention to you.
This style can also work with a nude coffin nail or flame nails.
Matte Burgundy Coffin Nails
Try out these simple (yet elegant) long nails; no sparkle accent required!
This classic design is perfect for your next manicure set.
Short Coffin Nails American Baby Boomer
The American tips and baby boomer nails have a gorgeous baby pink fading to a milky white at the tip of your nail.
You could even add a little acrylic bow in this manicure set!
Pastel Ballerina Coffin Nail Designs
Ballerina nails are often similar in shape to the coffin nails.
This gorgeous manicure is simple… plus, look at those baby pink coffin nails!
You can't ignore the baby blue nails as well.
So adorable.
Neon Pink Edge French Tips
These long nails will look great on you!
You could even try out a full pink nail on your ring finger as an accent and keeping the rest of your nails the same.
Glamour Forest Green Nail
This dramatic look features a few different dreamy dark shades of dark green and some gold leaf to complete the manicure.
Long Coffin Nails With Rhinestones
Upgrade your manicure with some glittery rhinestone crystals!
This perfect manicure is definitely worth trying.
If you're not a big fan of the pink, you could also try out some blue coffin nails.
Modern Granite Nails
Instead of a boring monotone manicure, create your own granite/marble nails with a little bit of nail polish and a fine brushes.
Youthful Cow Print
Utilizing neutral colors, you can create a super fun manicure!
This look would be worth trying in a short coffin shape nail.
Shiny Red Nails
Glitter polish, this red coffin nails manicure uses a nail polish with a chrome powder.
Long Coffin Nails Vampire
This manicure combine the coffin nail shape with some gradient nails for the perfect combo!
These are for the girls who aren't a big fan of the natural nail look but love the ombre effect.
Nude Pink Natural Coffin Nails
These natural nails would be beautiful in short coffin.
The pinkish nude is rosy and warm… feels like home!
Sometimes, neutral nails are the way to go.
Sky Blue Coffin Nails
These adorable robin egg-colored nails are definitely one of the most gorgeous designs on this list.
We love the nail shape paired with the blue nail polish shade!
This is a favorite set for a beginner.
Designer Glitter
Have a party to go to?
Your nails will be the center of attention wherever you go.
You could also do this look in stiletto nails or almond… whatever nail shape you choose, it's undeniable that the glitter crystal is gucci gorgeous!
Grey Glitter Accent
These gradient nails (ring finger accent) are definitely worth trying.
These cute coffin nails feature an amazing color and some matte polish.
If you want some different nail designs, do this look with your choice of color polish!
Glitter Unicorn
These false nails use glitter chrome powder in an unexpected way, but we love how they turned out!
This cute coffin design is the perfect nail idea for a vacation, the office, or a party!
Yellow Ballerina Nails Inspiration
Ballerina and coffin shapes are often very similar that some people consider them to be interchangeable.
However, your nail artist will know the difference!
Do coffin acrylic and ballerina acrylic to find out which you like more.
This yellow color provides beautiful contrast to most skin tones.
Extra-Long Nails
These gorgeous stilettos feature a beautiful blush pink with a tapered point; be careful, you don't want to claw someone's face off!
These provide a lot of glamour to your day-to-day life.
Holographic Coffin Nails
Embrace your wild side with this nails inspiration.
The beauty and sparkle of your holographic nails will be a head-turner wherever you go!
You can find some great press ons on Amazon.
Butterfly White Nails
These matte coffin nails don't have any eye-catching sparkle, but are still very unique; you could even wear these to a wedding!
Matte Black
If you're not into neon colors, check out this matte black coffin nail; who doesn't love a matte color every now and again?
Matte black nails will never go out of style.
Stiletto Nails With Studs
Love long nails?
This unique set is for you.
With studs over all the surface area of the nails, the matte color underneath just barely peeks through the sides of your nail.
Blush White Ombre
These cute coffin nails are perfect for any occasion.
With a gradient from white to blush pink, this signature style ombre look will make your hands pop.
French Tip Coffin Nails
These natural nails use nude nail polish plus a bit of white for an ultra interesting design with tons of balance and beauty.
You won't be able to take your eyes off your nails!
Bright Colors Embrace
Your wild side with these soft pastel coffin nails, great for special occasions, like a party.
Although not the most elegant nails on this list, we love the long square shape.
Finish it with some clear polish for extra shine!
Extra-Long Coffin Nails
If you like super long nails, you have to do this design the next time you're at the nail salon; give your nail artist a challenge!
You can also do this look in a different color… they'd be super cute in green or blue.
Christmas Is Here
The winter season is approaching us!
This nude coffin nail design features white colors over the natural color for a little kick.
Strawberry Cow
If you love the summer season, these coffin nail ideas are for you.
The cow print has been a new trend of 2021, and we're not complaining!
These nails are a great choice.
Orange Coffin Nails
This marble design features a hazy array of orange colors; although Halloween is over, these nails are perfect for fall.
Pink Coffin Nails
Make a statement with this simple nail art; add some rhinestone designs to your nude nails to up your nail game for any formal event; are you even living right if there's no sparkle?
Silver Glitter
Got a wedding coming up (your own or somebody else's)?
These silver nails are perfect for you.
The white color with the right nail style will give you the ability to take on the world.
Not into silver? Gold glitter will totally work with this style, too.
Or, you can try a gold glitter combo!
Matte Navy Blue Nails
Kick it up a notch with this simple dark color manicure.
Although matte black coffin nails are popular, dark blue can be a great way to change the vibe of your aesthetic.
Teal Coffin Nails
This manicure is perfect for the summertime (or any other time).
If you don't like all the glitz that many manicures provide, this technique might be one of your new favorites.
Cosmos
Into astrology? This mani is for you.
The stars tell a story, and so does this manicure.
You can even use a purple lilac solor for this design.
Modern Pastel
This little design features some gems over standard stripes for a stylish look.
White Glitter
Big sparkle fan?
This mani is for you; with tons of glitter on each finger, the sun will never stop shining.
This is definitely the best white coffin nail design!
Wear this to your sunday brunch.
If you're feeling fiesty, you can even go for a pink glitter nail color.
Maintaining Your Coffin Nails
When it comes to applying coffin nails, the procedure is pretty much the same as any other acrylic. First, your technician will glue the acrylics and ask how long you want them. After cutting them to your preferred length, they will shape them into a square tip, similar to a stiletto nail. Once you and the technician are happy with the shape, they will move on to the color and design.
Acrylic coffin nails last 6-8 weeks and require proper care for longevity. Non-acrylic coffin nails need regular filing to maintain their shape as nails grow. Maintaining healthy skin around the nails is important to prevent damage.
Talk to your technician during your appointment for the best advice on how to care for your coffin nails. They can give you tips and tricks on how to keep your nails looking great. Following their advice, you can enjoy beautiful coffin nails for weeks. And if you love the shape, you can always return to the salon and ask for them again.
Final Thoughts On Coffin Nails
These are the best coffin nail ideas to match your wardrobe for any occasion!
Using some creativity, you can take your nail game to the next level.
If you're advanced, you can even try your own design.
Next time you hit the spa for a nail file or mani, consider getting some of these nail designs.Check out our other lists of trending nail inspiration here.
FAQs
References