9 Festive Nail Designs: Celebrating Holidays With Style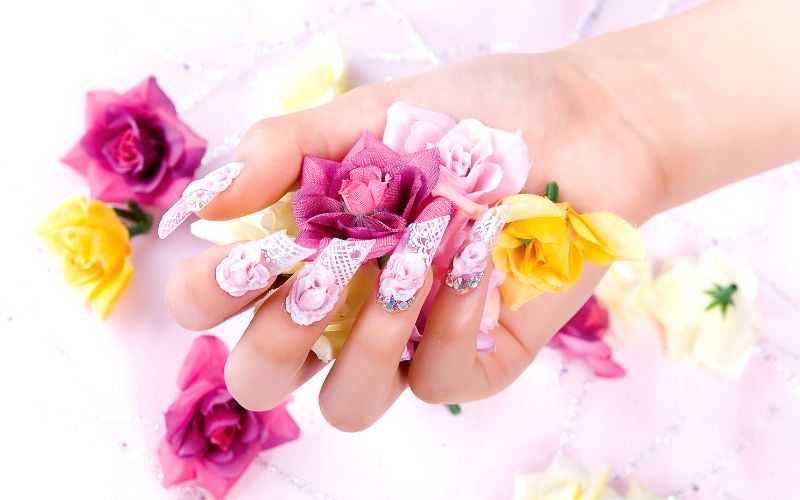 Festivals are always special because they often have cultural or religious significance. They usually bring people together under one roof. They can also provide a break from the routine of daily life and offer opportunities for rest, relaxation, and enjoyment.
You can enhance this celebratory spirit by dressing up and looking your best. If you are a person who wants to add an extra happy celebrative vibe to your nails, try our festive nail design suggestions.
These designs are perfect for attending holiday parties, galas, and family and public gatherings. Here, we have listed some inspiring ideas and patterns to help you find the perfect festive nail design for your special moment.
Table Of Contents
Christmas Nail Ideas
Christmas is a big deal for children and adults. It is a great time of the year for getting together with your friends and family members, exchanging wonderful gifts, and celebrating the birth of Jesus Christ. These holidays fill our days with magic, peace, love, and joy.
One way people love to show holiday spirit is by getting all decked out with festive nail designs. Most people love trying different designs because it is a way to express their happiness and spread joy to others.
If you are looking to make your nails stand out and be unique during Christmas season, check these out:
Pick a base color that represents the holiday season, like red, green, or gold. These colors are capable of creating a great background for your festive designs.
Add some glitter factors with glitter nail polish.
Use Christmas-themed stickers like trees, ornaments, bells, deers, and snowflakes. It is an easy way to add some festive mood to your nails.
Make your nails look like a winter wonderland by using white polish to create a snowy background and adding red and green accents for Christmas trees.
Try out different patterns like stripes, polka dots, or plaid.
The holiday season is all about nature, fun, memories, and beauty, so why not bring them to your nails? Include holly leaves, winter branches, or pine cones.
Nail Designs For Aloha Festival
This festival is for celebrating Hawaiian culture and the spirit of Aloha. During this time, people usually come together with friends, family, and the community and enjoy music, dance, and delicious food. Spreading love and positivity is the major aim of this celebration.
Trying unique nail designs for this festival is a way for people to show their Aloha spirit.
Here are some suggestions for you:
You can choose some colors that represent the tropical beauty of Hawaii, like bright greens, pinks, and blues.
Make your festive nail designs more beautiful with tropical flowers.
Create nail designs inspired by tropical fruits like pineapples, coconuts, and watermelons.
Use Hawaiian prints like hibiscus, plumeria, and tapa to bring a festive mood to your nails.
Nail Designs For Cherry Blossom Festival
The cherry blossom festival is an anticipated event of the year for most people. It represents the arrival of spring and the beauty of mother nature. Even though this festival is celebrated in many countries, it is most popular in Japan, where it has been a tradition for centuries.
Here too, people love to celebrate the cherry blossom festival by trying festive nail designs.
Here are some suggestions if you are one among them:
Create cherry blossom designs using techniques by hand-painting, using stencils, or applying water decals.
Incorporate the beauty of cherry blossoms into your nail designs. Include the petal designs in white and pink.
Draw or apply a single branch design or additional elements, such as leaves and birds.
You can also try a floral arrangement on your nails, combining cherry blossoms with other flowers to create a beautiful spring-inspired look.
Nail Designs For Halloween
People celebrate Halloween, the widely celebrated festival in the world, by dressing up in different costumes, decorating their homes, and enjoying spooky festivities.
If you are looking for suggestions on how to choose the best nail patterns and colors for Halloween, here are some easy and effective tips:
Consider bold and dark colors when choosing your nail designs. Black, dark purple, and deep red are popular options.
If you are wearing a witch costume, consider a nail design that features a broomstick or a cauldron.
For a more whimsical look, choose a design that includes bats, cats, or spiders.
If your costume is in a dark, Gothic style, choose a nail design that matches the same theme.
Easter Special Nail Designs
Easter is a significant occasion for Christians all over the world because it celebrates the resurrection of Jesus Christ and is frequently linked to feelings of renewal, hope, and joy.
Due to the chance it presents for quality time with loved ones, attending religious observances, and participating in various fun activities, Easter is anticipated by many people.
Making festive nail art that embodies the holiday is another fantastic way to celebrate Easter. Here are some ideas to help you get started if you want to give it a try.
Mardi Gras
Mardi Gras is a well-known festival that is observed by numerous people all over the world. This is typically observed by citizens of nations like the United States, France, and Brazil. This festival is known for its vibrant colors, upbeat music, and festive setting.
Along with the standard Mardi Gras decorations like masks and costumes, people also like to get creative with their nail art to mark the occasion.
The following are some ideas for choosing festive nail art for Mardi Gras:
Pick vibrant, striking, and alluring hues like purple, green, and gold.
Add a few Mardi Gras elements, such as masks, beads, and the Fleur-de-lis.
New Year Nail Designs
The New Year is a time of new beginnings and resolutions, often marked by leaving behind the challenges of the past year and focusing on the future. This occasion is typically celebrated by spending time with loved ones, creating new memories, and cherishing moments that will last a lifetime.
The emphasis is on starting afresh, and this makes the day all the more meaningful.
Nail designs and nail art have become an important part of New Year celebrations. Here are some suggestions for selecting nail patterns and nail colors for New Year.
Try nail designs with New Year motifs like champagne glasses, fireworks, and party hats.
Look for bold colors like red, green, and gold.
St. Patrick's Day
The popular holiday known as St. Patrick's Day is observed on March 17. On this day, people all over the world honor Ireland's patron saint. Wearing festive nail art is one way people like to get in the holiday spirit.
Here are some options to consider if you're looking for some twisty inspiration for your St. Patrick's Day nail designs.
Consider using hues that are similar to the colors of the Irish flag, such as gold, green, and white.
Include rainbows, pots of gold, leprechauns, and shamrocks in your design.
Try emerald, lime, or mint greens, as well as other hues of green.
Include patterns with Celtic influences, such as spirals, crosses, or knots.
4th of July
The 4th of July is also known as Independence Day in the US.
Here are some suggestions for 4th of July nail designs.
Choose colors that reflect the American flag, such as red, white, and blue.
Try different shades like navy blue, sky blue, or ruby red.
Incorporate popular 4th of July motifs such as stars, stripes, fireworks, and American flags into the nail design.
How To Remove Festive Nail Designs
Here are some simple ways to remove festive nail designs:
Soak Your Nails In Acetone: First, soak a small piece of cotton ball in acetone and place it on each nail, then wrap each nail with aluminum foil. Wait for 10-15 minutes, then gently remove the foil and the polish with an orange stick or a cuticle pusher.
Use Nail Polish Remover: Apply nail polish remover to a cotton ball and smoothly rub it over each nail. Wait for a few minutes, then gently remove the polish using an orange stick or a cuticle pusher.
Scrape The Polish Off: If the polish is starting to chip or peel, use an orange stick or a cuticle pusher and gently scrape it off. Be careful not to scratch your nails.
Regardless of which method you choose, always make sure to moisturize your cuticles. It will help your nails to be healthy and hydrated.
Tips For Minimizing Damage To Your Nails In Festive Seasons
Here are some simple suggestions to prevent harm to your festive season nail designs.
Choose polishes that are advertised as durable or resistant to chipping to maintain the integrity of your designs.
Excessive washing during the holiday season may cause smudging or peeling of your nail designs.
Wearing gloves for tasks such as dishwashing, cleaning, or any other activities to safeguard your nail designs from harm.
Keep your cuticles hydrated and healthy to prevent breakage and preserve the appearance of your nail designs.
Avoid contact with rough surfaces, such as typing, cooking, or opening packages.
If you see a chip or peel, prevent it from expanding.
Taking occasional breaks from nail designs may give your nails a chance to rest and stay healthy.
Add More Fun Factors To Your Festivals Days
Celebrate your festivals and make your private celebrations like weddings, Valentine's day. and birthdays are more colorful with creative festive nail designs. Whether you are looking to show off your patriotism on the 4th of July or add some spooky flair to your Halloween costume, there are countless patterns and colors to choose from.
So don't be afraid to be unique and have fun with your festive nail designs!
FAQs
Q: How long will festive nail designs last?
A: The longevity of festive nail designs depends on various factors, like the quality of the polish and your finger usage. To make your designs last longer, use a high-quality topcoat and avoid activities that could chip your nails, such as washing dishes without gloves.
Q: Can I mix and match different festive nail designs on each nail?
A: Yes, mixing and matching different festive nail designs can be a fun way to create a unique and eye-catching look. Just be sure to choose colors and patterns that complement each other.
References