Unique And Best 4th Of July Nail Designs To Try This Year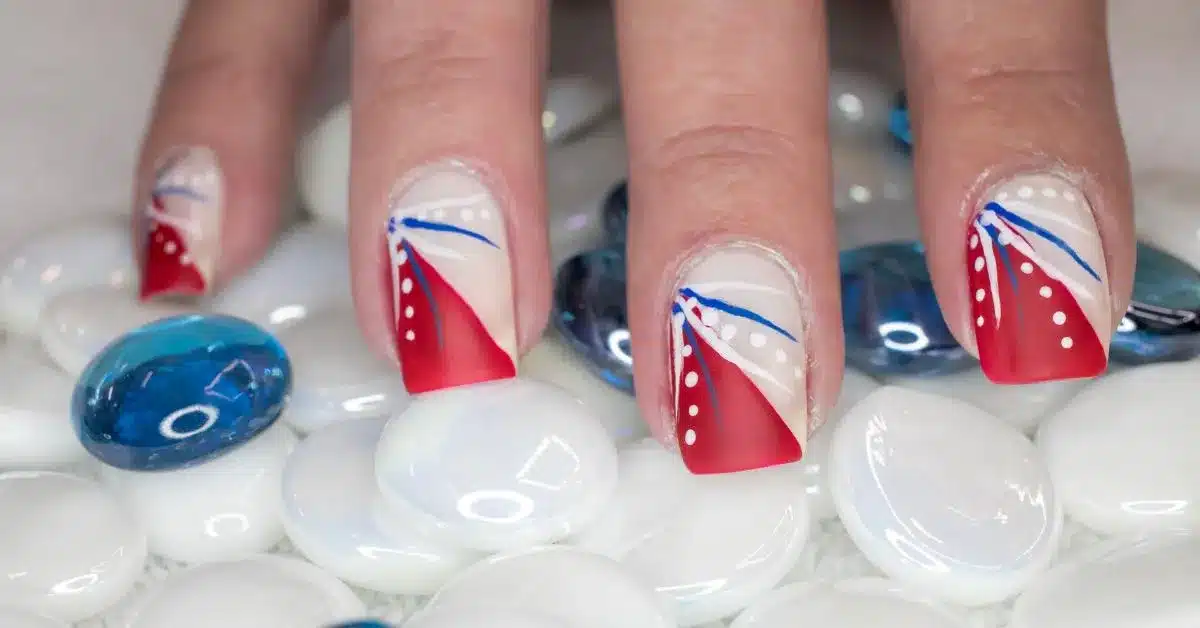 Are you seeking a specific way to show off your patriotic spirit this Fourth of July? There are countless ways to commemorate this special day, from backyard barbecues to dazzling fireworks displays. But what better way to showcase your patriotism than with a stunning manicure?
Try these festive nail designs and add energetic vibes to your Independence Day celebrations. If you are hosting a cookout or simply spending time with loved ones, a perfect 4th of July-inspired nail design will help you show your nationality and love.
Here we have rounded up the best of the best, so you can spend less time searching and more time enjoying the holiday!!!
Table Of Contents
Different Tools And Techniques To Create 4th Of July Nails
Creating innovative and eye-catching nail art designs helps you reveal your creative and stylish side. Various tools and techniques are used to achieve intricate Fourth of July nail designs.
Let's dive deeper into the world of nail design tools and techniques to elevate your Fourth of July nail game.
Essential Tools For Creating Independence Day Nails
Unlock your inner creativity this Independence Day with these essential tools.
Dotting tools in varying sizes allow you to create intricate patterns and dots.
Fine-tipped brushes offer precision in lines and designs.
Don't let complexity deter you – use nail stencils to achieve a flawless finish effortlessly.
Tips For Creating Intricate 4th Of July Nail Designs
Before trying on your nails, draw a design layout on paper and try different colors.
Use a base coat at the initial stage and a top coat to help the design last longer.
Once you apply one layer of nail polish, let it dry completely and move on to the next steps.
The right tools and creative techniques help you show your patriotism in a better way.
Colors For Independence Day Nails
White, red, and blue are the most popular colors for the Fourth of July. So, consider these colors and create your own style to be unique on this special day.
10 Chic And Patriotic Nail Designs For the Fourth Of July
Let's explore some rocking red, white, and blue nails and understand why these colors hold such significance in American culture.
1. Festive Fireworks
Celebrate this year's Independence Day with this fireworks-inspired nail art. To achieve the perfect look, start with a black base and add white or silver dots and lines to represent the fireworks.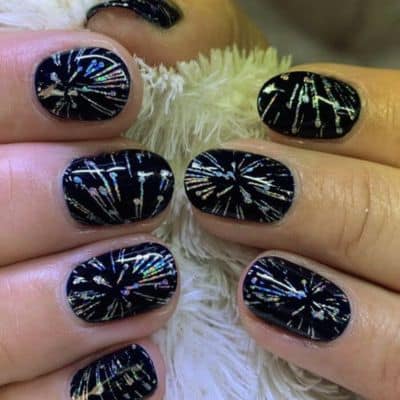 Also, try different small 3D accents like stars or jewels to create a textured effect.
2. American Flag Nails
Show off your patriotism with this creative American flag nail art. Paint your four nails with a base of red and one nail with a base of blue. Then add blue lines on one red nail and leave the others. Draw white stars on your blue nail. This classic design is an excellent choice for those who want to show their love for the country.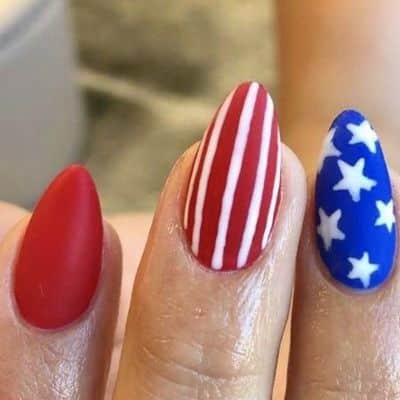 Try some fun, or add the summer vibes to your 4th of July nails with these patterns.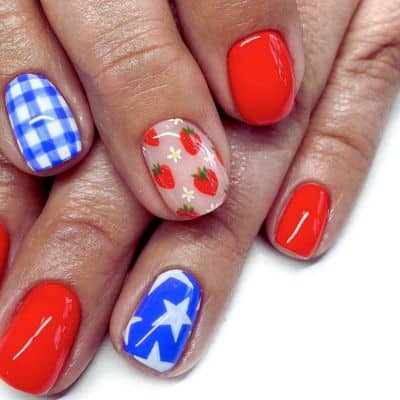 If you have short nails, take this nail design as an inspiration to make your Fourth of July celebration more memorable.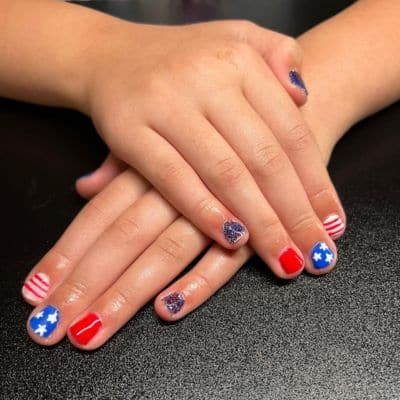 3. Glittering Stars
This nail design with glittering stars is perfect if you want to add some glittery and shiny look to your 4th of July celebration. To get this look, paint your four nails with a glittering red base and one with a glittering blue base.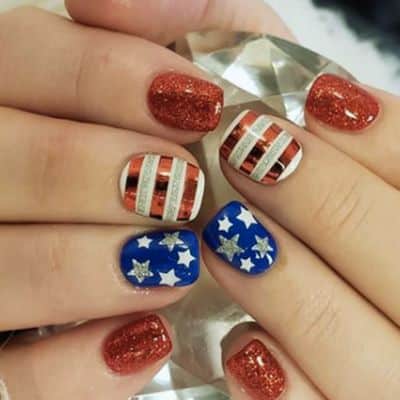 Adding white silver lines on red nails and glittery stars on blue nails will create a sparkling effect. This nail art is perfect for those who want to shine like a star.
4. Patriotic Polka Dots
Be a retro girl with these patriotic polka dot designs. To get perfection, paint your nails with a white base, and add red and blue dots. This red, white, and blue nail art is perfect for those who want to bring colorful emotions to their 4th of July celebration.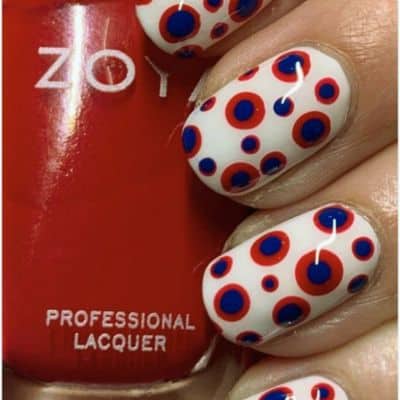 Here is another polka nail design for the Fourth of July. Adding some stones may make the design more attractive and unique.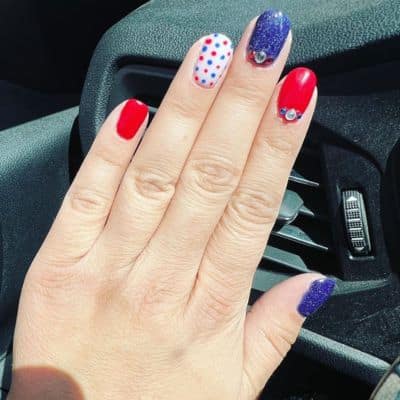 5. Patriotic French Tips
Add some spice and twist to your regular manicure with these classic patriotic French tips nails. First, paint your nails with a white or nude base, then add red and blue tips in creative patterns. You can use brushes in different sizes to create this design.
This creative nail design is the perfect choice for one who wants to be simple yet patriotic on the 4th of July.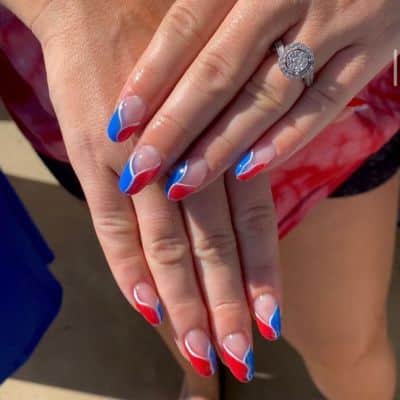 If you want to show your summer love with French tips and symbols of fruits and flowers, try this minimalist nail art.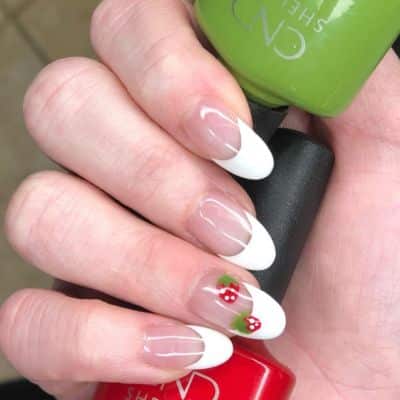 6. Festive Ombre
Create a festive ombre effect with red, white, and blue nail colors. For this look, start with a base of blue and gradually blend it into the red on your tips. Then, add a touch of white in the middle portion.
This festive nail for the 4th of July can be perfect for people who love a gradient effect.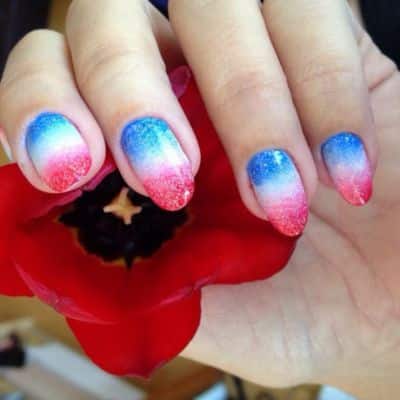 Try this watery twist by Tom Bachik to show your patriotism at the 4th of July celebration venue.
7. Folds And Foil Independence Day Nails
Create a festive foil effect with red, white, black, and blue colors. Paint your nails with a base of black and add foil works in red, blue, and white colors. If you want to include some metallic touch to your 4th of July look, try this easy nail art without any hesitation.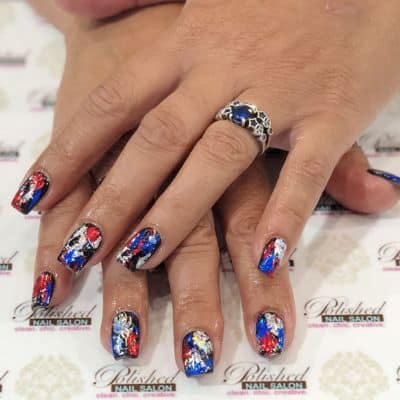 8. Easy 4th Of July Nail Art
If you want to try something unique with less effort this Independence Day, you can choose this option. Achieving this nail look is really easy. Start with a clear base coat, then draw clear red and blue lines diagonally near the tips area. Now, include some white stars near the border of the blue line.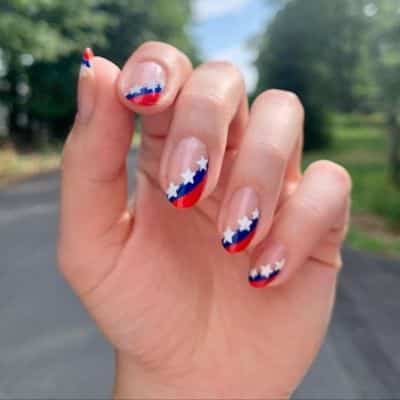 Try the same nail design in a different way to make your patriotic nail art extraordinary.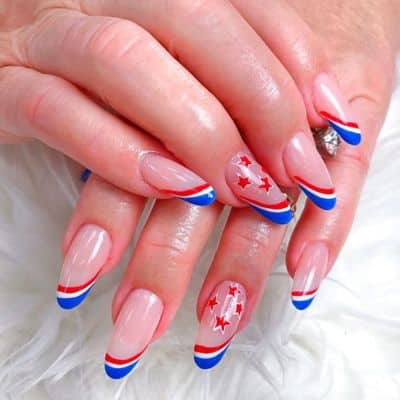 9. Unique Patriotic Nail Designs
Are you planning to rock this 4th of July on California Beach? This nail design would be an excellent choice for you. Different colors, smiley patterns, US flag designs, 3D decorations, and creative drawings may bring out the best.
10. Cream-Filled Nails
The 4th of July Ice cream nails are the right choice to show your happiness and love for the nation and sweets. This festive nail art incorporates the American flag's colors – red, white, and blue in flag patterns and colorful ice cream cones.
Try this for celebrating Independence Day or any summer occasion.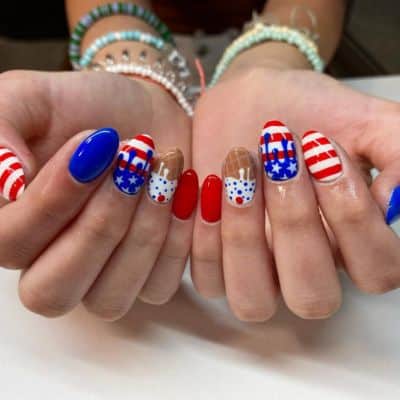 Here is a demo video that explains each and every step you need to know while creating perfect Fourth of July nail art.
Make Your Girly Patriotic Look More Special
Several tools and techniques are available to create simple and creative Fourth of July nail designs, such as fine-tipped brushes, dotting tools, and nail stencils. Use those tools effectively, achieve the perfect designs using red, white, and blue colors, and make your Independence Day celebration more fun and unique.
FAQs
Q: What are some popular Fourth of July nail designs?
A: Popular Fourth of July nail designs include patriotic patterns like the American flag or bald eagle, as well as red, white, and blue stripes, stars, and fireworks.
Q: Are there any easy 4th of July nail art for beginners?
A: Yes, there are many designs available. Some simple designs include painting your nails blue and then adding white stars or stripes with a toothpick or nail art brush, or painting your nails red and then adding white dots to represent fireworks.
Q: Can I use regular nail polish for Independence day nail art, or do I need special nail art products?
A: You can use regular nail polish for Fourth of July nail designs, but using special nail art products like nail stamps or nail stickers can make the process easier and give you more intricate designs. Nail art pens and brushes can also be helpful for creating precise lines and details.
References