10 Bold And Beautiful Stiletto Nail Designs: Tips And Tricks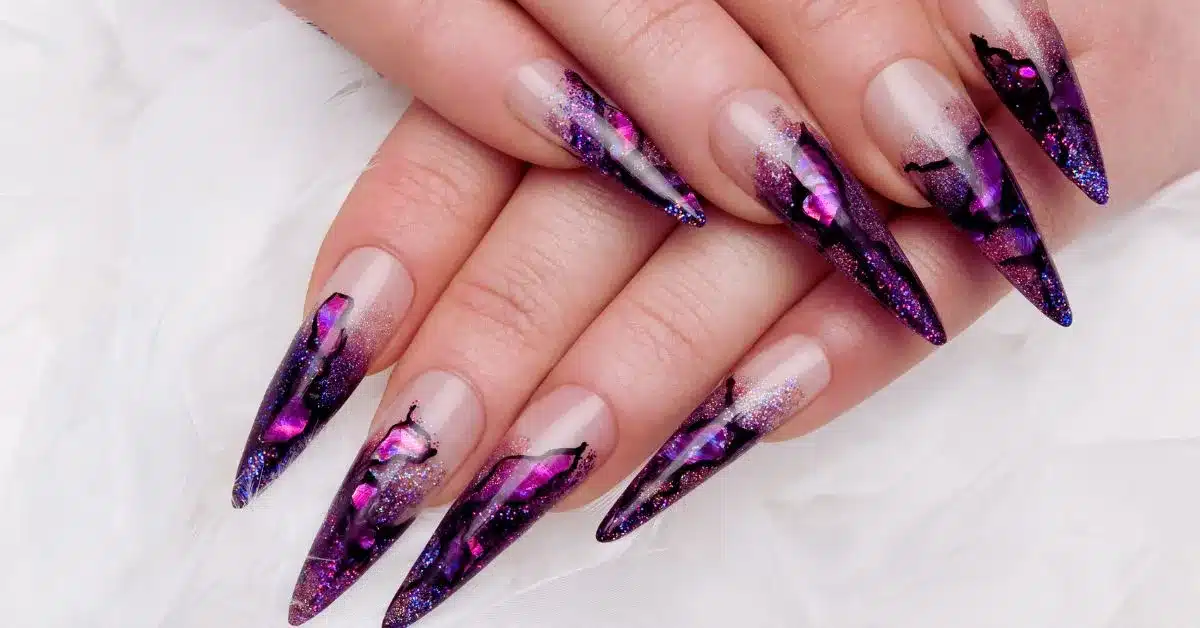 Ladies, are you ready to put your best foot forward and leave a lasting impression everywhere you go? Stilettos are the epitome of fierce femininity and confidence; the right nail design can take them to the next level.
Here, we will cover every classy nail design, from delicate florals to edgy metallics. If you are a novice or a nail expert, this guide has something for everyone.
Yes!!! Get ready to get inspired by some seriously stunning stiletto nail designs!!!!
Table Of Contents
Stiletto Nail Shape: Benefits And Drawbacks
First, weighing the benefits and drawbacks of stiletto nails is important. Although they can lengthen the fingers and provide a blank canvas for striking nail art designs, they need frequent maintenance and might not be appropriate for all situations.
It would help if you thought about the size of your nail beds, the length of your nails, and the shape of your fingers. Stiletto nails can be short or super long, so you must consider your lifestyle and what you are into.
Tools And Materials Required To Create Stiletto Nail Designs
Creating stunning stiletto nail designs is an exciting and creative endeavor. Still, it requires a few essential tools and materials to achieve a polished look. This section will explore the necessary equipment and supplies to get started, followed by a step-by-step guide on creating the perfect stiletto nail design. We will also cover typical issues that may arise during the design process and provide tips on troubleshooting them.
Essential Tools And Materials For Creating Stiletto Nail Designs
Nail file
Nail tips
Nail glue
Acrylic
Nail brush
UV lamp
Step-by-Step Instructions For Creating Stiletto Nail Designs:
1. Begin by filing your natural nails to the desired length and shape.
2. Apply nail tips using solid adhesive nail glue.
3. Applying acrylic liquid and powder to build the nail shape using a nail brush, working in thin layers.
4. After achieving the desired shape, file and buff the nails for a smooth finish.
5. Apply your favorite nail polish color or design to complete the look.
6. Finish with a topcoat to protect and seal the design.
You can try artificial nail tips or extensions if your nails are not long enough to shape them into a stiletto shape. However, it is important to ensure they are applied properly and safely to avoid damaging your natural nails.
Simple And Must-Known Fixes For Common Stiletto Nail Design Issues
Lifting or Peeling: If the nail tips start to lift or peel, reapply nail glue and press down firmly.
Cracking or Breaking: If your stiletto nails are prone to cracking or breaking, try adding a layer of acrylic for added strength.
Lumps or Bumps: If you notice lumps or bumps in your stiletto nail design, use a nail buffer to smooth the surface.
You will easily create stunning stiletto nail designs by following these step-by-step instructions and troubleshooting tips. You can create different, truly unique, and eye-catching looks with some good practice and innovative ideas.
10 Popular Stiletto Nail Design Inspiration
These pointed, long stiletto nails give you more space and opportunities for different nail art. If long nails are not your choice, try short stiletto nail ideas. It will give your short fingers an ultra-elegant appearance.
Check out this list to find the one that best suits your style.
1. Rosy Gradient Stiletto Nail Design
These lovely and feminine light pink stiletto nails that fade from light to dark pink hues can create a muted gradient effect that is excellent for summer.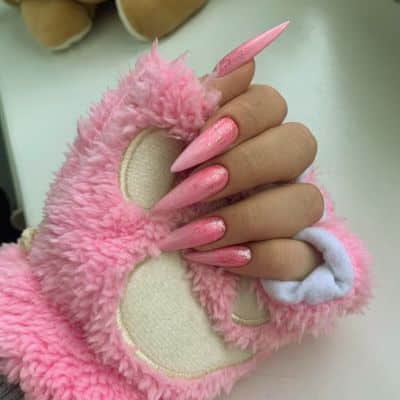 You will need a base coat and light pink nail polish to complete this design. First, apply the light pink nail color. Once it dries, spread a darker pink polish layer to the tips of each nail and merge the two shades using a round shape nail art sponge. It enables you to create the ombre effect.
2. Stiletto Nails With Black And White Stripes
This stiletto nail with rhinestones and bows is an ideal traditional choice for any event. You should have a base coat, black nail color, and white nail polish to achieve nail design.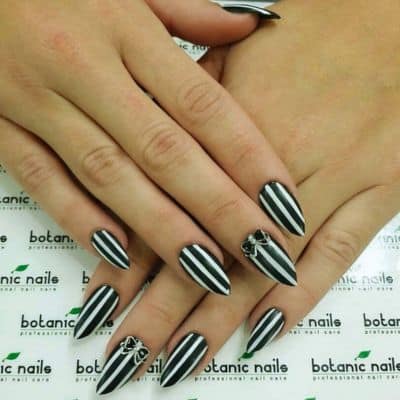 Once it dries, use white nail tape to form vertical stripes on each nail. Use nail art glue to attach the bows and rhinestones to your nail design.
3. Rainbow Sparkle Stiletto Nails
This multicolored and sparkly rainbow stiletto nail design is the right pick to bring the beauty of the rainbow to your life. To create this nail design, a base coat, clear polish, and glittery nail polish in various shades are necessary.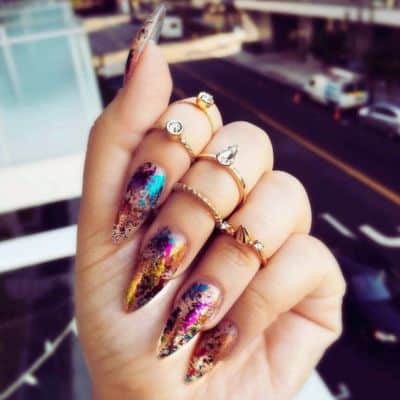 You must be imaginative and creative to get a unique and versatile nail look.
4. Glowing Red Glitter Stilettos
With a glowing red base and gold glitter accents, this design lets you get a daring and enchanting look for your night parties.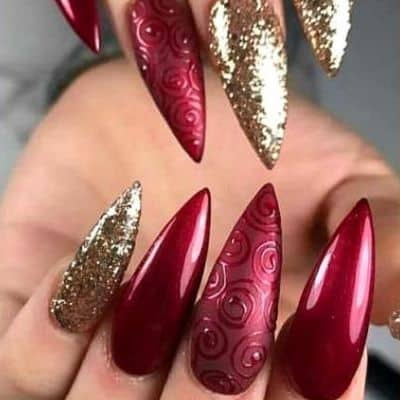 You will need a base coat, bright red polish, and gold glittery nail polish to test these flawless blood-red stiletto nails. Use gel formula in the appropriate colors to get the 3D elevations (the soul of this nail design).
5. Matte Navy Blue Stiletto Nails
This modern royal blue stiletto nail with a white accent nail can be perfect for your workplace or a night out. You will need navy blue matte polish and white nail polish to get this look.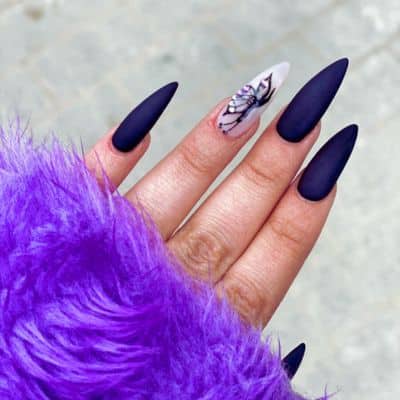 You should have a thin nail brush, toothpick, or a dotting tool to create beautiful butterfly nail art.
6. Silver Holographic Stiletto Nails
This innovative nail idea is best for weddings, parties, night outs, and festivals. To achieve this nail design, get holographic or hologram mirror powder first.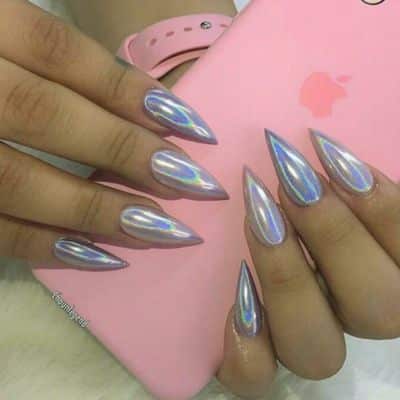 The procedure includes applying the base coat and your favorite nail color. Sprinkle the hologram powder on your nails using a nail art brush.
7. Black Stiletto Nails With Floral Accent
This delicate, feminine nail design in black color with floral accents is the right choice for spring weddings, garden parties, beach vacations, brunches, and picnics.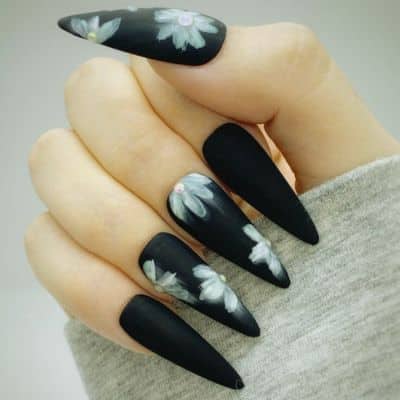 You will need a black and baby blue nail color, a thin brush, and a dotting tool to achieve this design. Only a little patience and practice help you achieve the best look.
8. Leopard Print Stiletto Nails
This trendy animal-nail design with a leopard pattern in classic brown and black or bold colors is the right nail choice for fashion events, music festivals, and costume parties.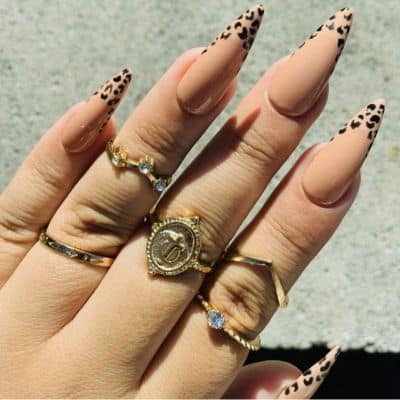 To recreate this stiletto nail art, you will need a base coat, nude or light-colored polish, brown or black nail polish, a dotting tool or toothpick, and a thin brush. Try random brown spots, black borders, and jagged lines branching out from the edges.
9. Gold Foil Stiletto Nail Design
Try this nail design for formal events, festivals, photoshoots, and birthday parties. To create this nail art, purchase gold foil sheets from a beauty supply store or online. Ensure that gold foil is specifically designed for nail art. Then, you will need a top coat, base coat, adhesive, and tweezers.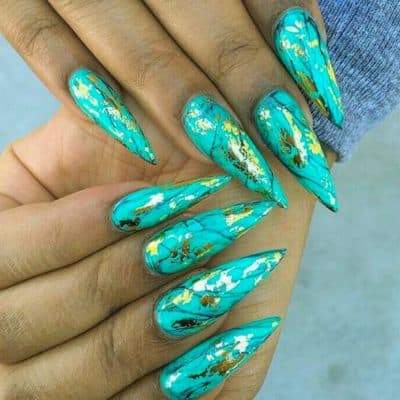 Apply an ocean blue base coat first, then let it dry. Applying adhesive to your nails is the subsequent step. It can be used on the entire nail or just the spots where the gold foil will be applied. Any lumps or wrinkles in the gold foil can be removed by applying gentle pressure with a brush or your finger.
10. Purple And Silver Glitter Stiletto Nail Art
Try these stiletto nails out for celebrations, formal occasions, and nights out. Start with a base coat, then add a coat of purple metallic polish to create this edgy and fun design.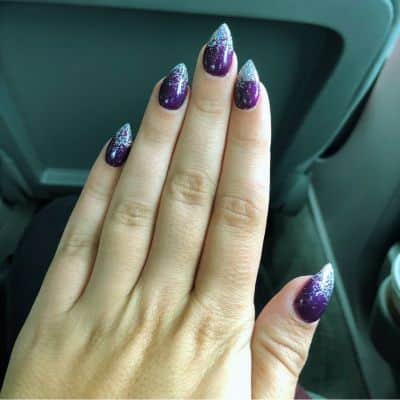 After it has dried, use a small brush to apply silver glitter polish where it is needed.
Unleash Your Feminine And Confident Side With Stunning Stiletto Nails
Stiletto nails are perfect for women to express their femininity and confidence. Before choosing the right stiletto nail shape, it is essential to consider factors like nail length, finger shape, and nail bed size. To create stunning stiletto nail designs, you need essential tools like a high-quality nail file, nail tips, nail glue, acrylic powder and liquid, a nail brush, acetone, nail polish, and a UV lamp.
By following the step-by-step instructions and inspiration from the 10 popular stiletto nail designs mentioned above, you, stylish and modern girls, can take your stiletto nail designs to the next level and create truly unique looks.
FAQs
Q: Can I get stiletto nails if I have short nails?
A: Yes, you can still get stiletto nails even if you have short nails. Your nail technician can add extensions to achieve the desired length.
Q: Are stiletto nails comfortable to wear?
A: Stiletto nails can be uncomfortable for some, especially if they are not used to trying long nails.
Q: Can I do regular activities with stiletto nails?
A: Yes, you can still do regular activities with stiletto nails, although some tasks may require extra care to avoid damaging the nails.
Q: Can I customize my stiletto nail designs?
A: Yes, you can customize your stiletto nail design to suit your preferences, such as choosing different colors, patterns and adding embellishments.
References