Polished Perfection: 10 Marble Nail Design Inspiration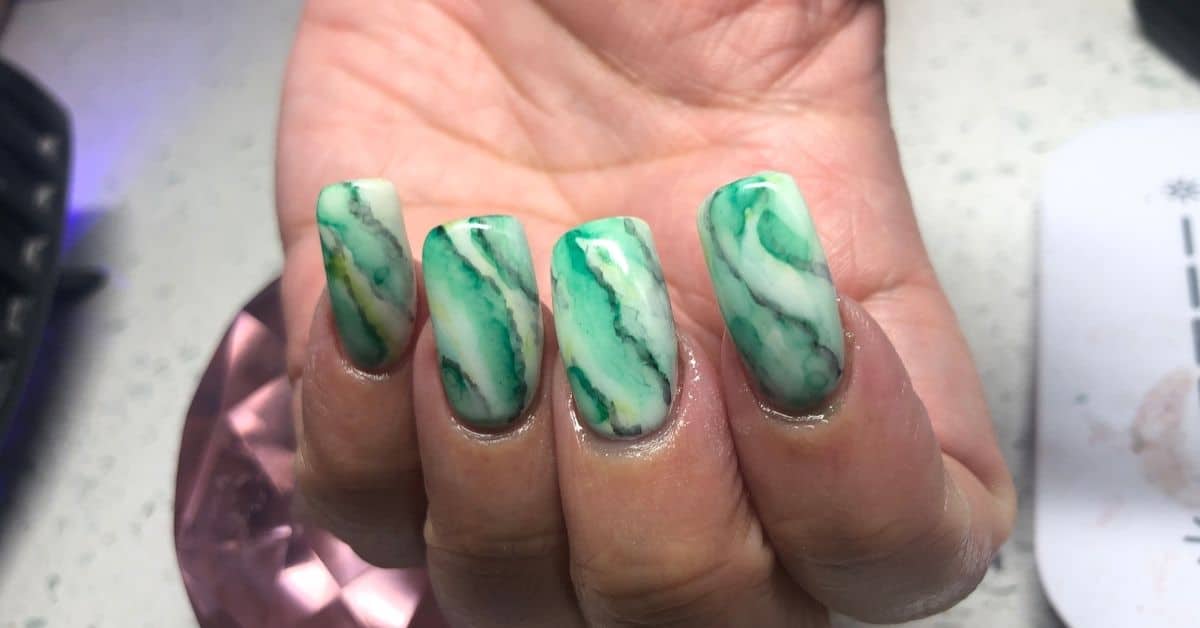 Have you ever wanted to bring the luxurious look of marble balls to your fingertips? The beautiful blend of colors and intricate patterns of classy marble nails will leave everyone wondering how you achieved such a stunning look.
Luckily, creating this effect is easier than it seems. With a little bit of practice, wise color selection, and the right tools, achieving marble nails is a breeze!
So why not shine bright at your next event with some creative marble nail designs? Whether it is a birthday party, meeting, or spring event, you are sure to stand out with these magnetizing nails.
Table Of Contents
Mesmerizing Marble Nail Designs From Insta World
Let's elevate the nail game with these stunning marble nail designs that have taken social media by storm! These wonderful designs will never fail to fascinate you with their blend of colors, chemicals, and intricate patterns.
Prepare to be mesmerized by the radiance of this nail design! With its stunning seawater hue and creative marble pattern, this design is truly one-of-a-kind. However, what distinguishes this design even further is the utilization of a particular chemical blend in the nail polish, giving it a radiance that glows like radium, even in the dark.
This exceptional design was fashioned by the talented and versatile nail artist Michelle Nguyen, known professionally as Coca Michelle. With years of experience and a robust presence on social media, Nguyen has become a sought-after authority in the realm of nail art, celebrated for her intricate and imaginative designs.
If you are a fan of Megan Thee Stallion and Popeyes' delicious Hottie Sauce, you may have noticed something particularly special in their collaboration video. Upon closer inspection, you will notice the stunning marble nail art by Michelle Nguyen.
This intricate design perfectly complements Megan Thee Stallion's bold style, adding an extra touch of glamor to the already scorching-hot video. Michelle Nguyen's skillful color and pattern choices produce a distinctive and refined appearance.
Discover how to make your own one-of-a-kind marble nail designs by watching Marie Nailz's popular video. This creative and gifted nail artist, based in California, is recognized for her intricate designs that frequently combine vibrant colors and decorative elements.
Marie's work has been showcased in various beauty publications, and she has amassed a large following on popular social media platforms such as Instagram.
Here is another nail design done by Marie for Gabriella Sarmiento Wilson, known professionally as H.E.R. This gray and white color combination and glittery touch add an additional attraction to your outfit.
Make an impact with the latest nail design from renowned nail artist Tom Bachik! Drawing inspiration from the stunning California Blues, Bachik has created a mesmerizing marble design.
With his impeccable attention to detail and artistic flair, Bachik has once again proven why he is one of the most sought-after nail artists in the business.
Dreamy Marble Nail Designs For Any Occasion
Kickstart your nail art experiments with these exquisite marble nail motifs! From traditional blood-red and black to contemporary lavender and frosty azure, these ten prevalent designs are bound to enhance your appearance and infuse a dash of refinement into any attire.
Prepare to assert yourself with your nail artistry!
1. Marble-French Nails
The newest and best French Tip Pattern trend is here, so get ready to add a dash of elegance and charm to your overall appearance! It is impossible to ignore the stunning contrast between delicate baby pink and strong hot pink patterns. The pink color and oval shape of your nails are the ideal illustration of your distinct personality.
This stylish design will make you feel and look your best whether you are going to a wedding event, a birthday party, or an Easter evening celebration.
2. Pinky-Red Nails
Have you caught wind of the newest nail trend that is making waves in the beauty world? It is none other than the gorgeous red marble nail design, which incorporates a soft touch of pink to create a stunning look.
The best thing about this design is its versatility – you can flaunt it for any occasion, whether it is a romantic evening with your significant other or a fun night out with your friends. The striking marble pattern is sure to turn heads and make you the talk of the town!
3. Colorful Marble Nails
Try this dazzling colorful marble nail design! This stunning design features a blend of sandy beige, powder blue, lemon yellow, apricot orange, and soft lavender hues that will make your nails the talk of the town.
Whether you are dressing up with a white floor-length gown or pairing it with a casual blue jean jacket, this versatile design complements any outfit effortlessly.
4. Fairy Nails
Do you want to feel like a modern Cinderella? This adorable marble nail design is ideal for achieving that fairy-tale princess look without any difficulty!
The stunning blend of lilac and white produces a dreamy atmosphere that will make you feel like royalty. Match this nail design with a flowing white gown or a charming lilac top and jeans to truly enhance your outfit. I assure you that your friends will be curious about your fashion expertise once they see how fantastic you are!
5. Naturally-Green Nails
This marble nail design in shades of green with accents of white and pale pink will make you feel grounded and connected to nature. Whether you are planning a forest visit or simply want to add an earthy touch to your daily attire, this design is an ideal option. Complete your pretty look by pairing it with a stylish green outfit and a natural beige lip color.
Rest assured, you will feel like a goddess of the forest no matter where you go!
Watch this video to learn how to create this stunning nail design.
6. Lightening And Thunder Nails
Have you heard about this black marble nail design? Trust me, it is capable of creating a little storm on your nails with its unique and eye-catching look. Picture yourself rocking this design during the winter season, paired with a cozy woolen jacket and your favorite blue jeans – you will be turning heads left and right.
Don't hesitate to give it a try; I know you will absolutely love it!
7. Orange-Ray Nails
Want to add some sunset vibes to your nails this summer? Check out this beautiful summer marble nail design! It is perfect for your beach trips and will make your sunset views even more unforgettable.
To complete the look, pair it with a stunning bright orange sleeveless dress and some simple sandals. You will feel like a fairy of hope spreading positive vibes wherever you go. So, let's get ready to rock this summer with some beautiful nail art and stylish outfits.
This video can give you an idea of how to create a nail design that is almost similar.
8. Princess-Touch Marble Nails
Feel like a princess in your own world with this gorgeous rose gold marble nail design! It is perfect for any pretty girl who wants to spread love wherever she goes. And to complete the look, pair it with a cute pink overcoat and some white glass sandals – you will feel like an angel from heaven with wings!
Don't worry if you are not a nail art pro – this simple video can show you how to create a similar design in just a few easy steps.
9. Dracula-Inspired Nails
Show off your wild side with this black and red marble nail design! It is perfect for any Halloween party or secret night out where you want to make a statement. To complete the look, pair it with a dark shade of black or deep red – you will look fierce and bold.
So why not unleash your inner diva and rock this edgy nail art? Let's get ready to paint the city red (and black)!
10. Spring-Vibe Nails
Incorporate the rejuvenating spirit of spring into your nails with this stunning spring marble nail design. It is an impeccable way to include a touch of floral magnificence in your appearance.
Amplify the impact by pairing it with a regal blue or white dress. Revel in the sensation of fresh air right at home with these exquisite nails.
Add Some Glamour To Your Nails With The Amazing Marble Manicure
Marble manicure patterns present a splendid approach to augment your appearance with a touch of fashion. With their captivating fusion of hues and motifs, these designs prove suitable for any event. Creating such designs is simple and easily achievable with some practice and the appropriate equipment.
So, experiment with these alluring marble manicures and allow your nails to make a statement.
FAQs
References