Elevate Your Wedding Look With 17 Stunning Nail Designs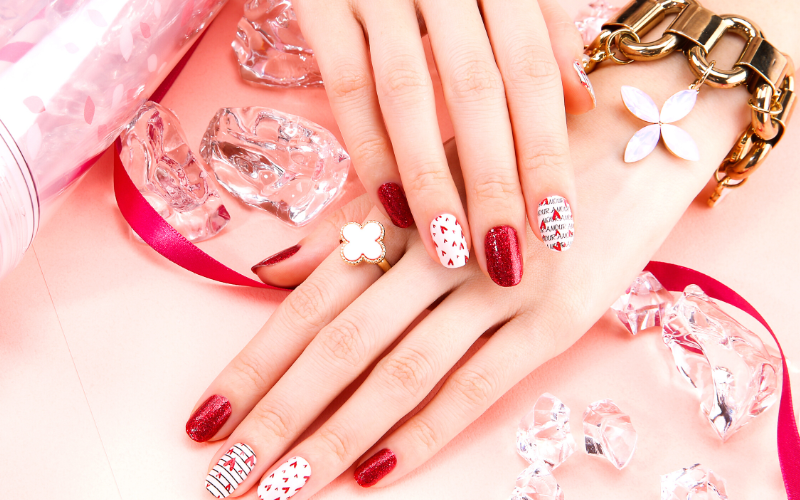 Weddings are all about capturing special moments. It is an occasion to celebrate love and start a new chapter of life. On this special day, everything wants to be on point, including your nails. The bride's nails should be just as flawless in photos as the rest of her.
A killer set of nail designs can add some serious glam to your look and make you feel like an elegant lady. It's a small but impactful way to make a statement on your big day.
So why settle for basic manicures when you can elevate your look with some seriously stunning nail designs? Here, we show you how to up your wedding day bridal look with some nail art. Whether you are classic and chic or bold and daring, we have covered options for every style.
So, grab a seat and get ready to add some serious bling to your wedding day look!
Here are some stunning wedding nail designs if you are a traditional or stylish person.
1. French Manicure With A Twist
Try a French manicure and add some twist to it. Adding a pop of color or glitter to this contemporary design gives your nails both traditional and modern touch.
2. Bridal Glitter Ombre
Glitter Ombre is a chic and stylish wedding nail design that is perfect for a wedding. It involves creating an ombre effect by blending two or more shades of glitter polish.
3. Rose Gold Accents
This wedding nail art includes delicate and intricate patterns. To get this look, paint your nails in solid pastel colors, and then add small rose accents in contrasting glittering colors.
4. Pearl Accents
Pearl accents nail art is an elegant bridal nail design. The process involves painting the nails in neutral or glittering shades and then adding small pearl details to the nails using a clear topcoat or glue. You can add these pearls in a variety of patterns, such as in a line or scattered randomly, for a unique look.
5. Elegant Lace
An elegant lace look can be achieved by using a stencil or stamp. You can also create this look by hand-painting the lace design. Use a fine brush for this. Try this on a solid neutral shade, such as white or pale pink. White or golden lace can add value to this white or pale pink base.
6. Chic Chevron
Chic chevron nail art creates a trendy and peaceful touch to your wedding look. Paint your nails in a solid shade or in a gradient of two or more colors for a bold look.
7. Glitzy Glam
Glitzy Glam nails is an eye-catching wedding nail design that features a lot of glitter and sparkle. To achieve this sparkling design, paint your nails with one or two solid glitter shades. Add rhinestones or sequins to match your wedding dress.
8. 3-D Floral Arts
Add three-dimensional floral elements to your nails on your special day with this nail design. The flowers can be made using acrylic or gel and molded onto the nails, or they can be made using real or artificial flowers and attached to the nails using a clear topcoat or glue. Try solid or gradient shades to complement the flowers.
9. Diamond Accented French
This wedding nail design is a combination of classic French manicures and stylish diamond accents. The tips of the nails are painted in a traditional French style, typically white, and then small diamond accents are added to the rest of the nails using a clear topcoat or glue.
10. Gold Glitter Gradient
The gradual blend of two or more shades of gold glitter, starting with a light shade at the base of the nail and transitioning to a darker shade at the tip, adds a different bright and royal touch to your wedding look.
11. Classic Red Nails
This solid red shade symbolizes love and passion, making it a popular choice for brides on their wedding day. This wedding nail design is perfect for brides who want a bold and classic look, and it works well with traditional or formal wedding dresses.
12. Delicate Watercolor Flowers
This art can be done on your nails by hand-painting flower motif designs with a fine brush. Adding a palette of pastel or bright colors to these flowers creates a watercolor effect on your nails.
13. Ethereal Butterflies
Bring the warmth of summer with this butterfly nail design and make your wedding day more special and memorable. Add a glittering butterfly design to your nails using acrylic or gel, or paint it using a fine brush.
14. Sparkling Swarovski Crystals
Add Swarovski sparkling crystals to your regular manicure as decorative embellishments using adhesive.
15. Whimsical Wedding Bells Nail Art
These bell designs add a lighthearted touch to the bride's overall appearance, making her hands look more charming. The bells symbolize the joy and happiness of the wedding day.
16. Chic Geometric Shapes
Nails with clean lines and bold shapes help you appear modern and bold on your special day. This style often incorporates geometric patterns, such as triangles, squares, hexagons, and circles, in various colors and finishes.
17. Glittering Hearts
These glittery or sparkly hearts and embellishments create a festive and romantic atmosphere.
Make The Day Exceptional
Always choose one nail art or design that fits your wedding dress and theme. Whether you opt for a classic French manicure, glittering accents, or eye-catching patterns, a perfectly-done nail design upgrades your wedding look.
FAQs
References