Contrast And Class: 10 Black And White Nail Designs For The Fashion-Forward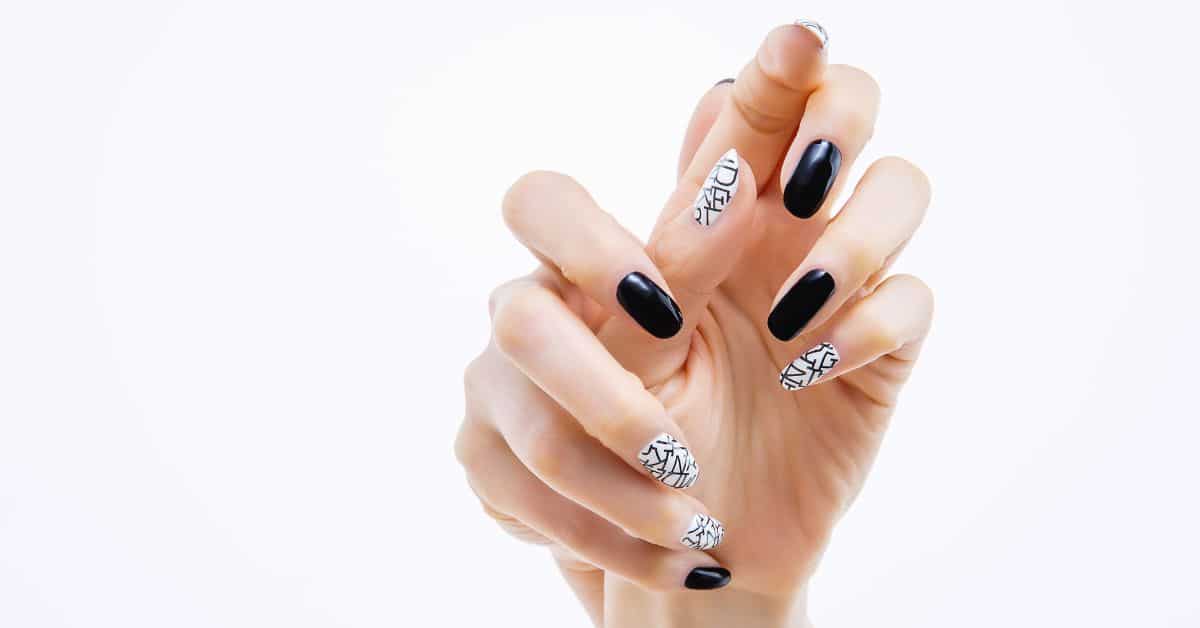 The timeless look and versatility of black and white make it a unique and beloved color combination in the fashion and beauty industry. This solid nail color scheme provides countless opportunities for stunning and appealing nail designs.
The stark contrast of black and white can create a striking visual effect, whether you prefer a minimalist design with straight lines and geometric shapes or a more intricate pattern with complex structures.
Black and white nail art is also both classy and traditional, in addition to being modern and trendy. So use this clear and simple guide to dive into the wonderful world of black and white nail art. It enables you to express your uniqueness and develop your own distinctive style like never before.
Don't be afraid to take chances and try out various designs!
Table Of Contents
Collection Of Creative And Striking Designs By Talented Artists
Prepare to be amazed by the striking black and white anime nail art by the talented Mei Kawajiri, a Japanese nail artist based in the fashion capital of NYC. This stunning creation was specially designed for the legendary jewelry designer Lynn Ban, renowned for her cutting-edge and avant-garde designs that have graced the fingers of celebrities like Rihanna, Lady Gaga, and Madonna.
Mei Kawajiri's intricate nail art perfectly complements Lynn Ban's signature style.
Introducing the stunning black and white nail design sported by the lovely "senorita" Camila Cabello, courtesy of the renowned Tom Bachik. Using a combination of classic French black and white, along with Gel X tips, Tom has brought to life mesmerizing nail art. Don't miss this gorgeous creation!
Prepare to turn heads with yet another stunning black and white nail design created by him for American actress Hailee Steinfeld, who is always stunning. This lovely design has white nails with black tips that give the appearance of stiletto nails. It is sleek and fashionable. So, don't ignore the opportunity to spruce up your appearance with this must-try nail art!
Behold the serene hand-painted dove nail design by the talented Betina Goldstein, the perfect accessory to showcase the exquisite chain rings by the renowned Doublemoss Jewelry brand. Doublemoss is not just any jewelry brand – it is a contemporary brand that is committed to sustainability and creating unique pieces that are both eco-friendly and stunningly beautiful.
Betina's intricate nail art captures the essence of peace and tranquility, a perfect complement to Doublemoss's nature-inspired designs.
Gorgeous Black And White Nail Designs To Try Today
Want a traditional and stylish manicure? This stunning color combination gives you different opportunities, from complex geometric patterns to delicate and beautiful floral patterns. Let's check some inspiring looks to copy this season.
1. Matte Nature-Inspired Nails
The delicate white leaf patterns on these elegant black matte nails make them stand out. The contrast of the bold black and subtle white creates a stunning visual effect that is sure to turn heads. This nail art is ideal for formal occasions, Easter brunch get-togethers, or adding some edge to your regular wardrobe.
2. Neutral Flower Nails
Elevate your nail game with these gorgeous nude nails featuring delicate black and white flower accents. The understated elegance of the nude base pairs perfectly with the intricate floral details.
This black and white flower nail design is perfect for weddings, formal events, or just adding some extra charm to your everyday wear.
Here's another black and white floral nail design.
3. Beige-Animal Print Nails
Step up your nail game with these glossy beige nails featuring black and white animal patterns on select portions. The glossy finish adds a beautiful vibe, while the animal patterns give an edgy and daring feel.
This cool black and white nail design is perfect for a simple night hangout in the city or adding some personality to your everyday look.
4. Cutie-Cat Nails
Embrace your playful side with these adorable baby pink nails featuring a stylish black and white cat face. The cute cat design against the soft pink base is both fun and fashionable.
Try this pretty black and white nail design for casual outings. If you are a cat lover or you just want to add some pet-love vibes to your style, you can try this nail art without any hesitation.
5. Sparkles And Heart Nails
The glossy oval nails, black hearts, and white stones can provide a unique and eye-catching visual effect that is perfect for romantic occasions and date nights. This nail work can add some extra charm to your everyday wear too.
6. Spider And Web Nails
These bold and daring black nails with elaborate spiders and web patterns can help you express your "Spiderman" love. This creative look is the perfect choice for a winter Halloween night or any themed birthday party.
7. Peace And Bold Nail Design
This contrast black and white nail design with blocks can highlight the beauty of your simple or grand outfit. Wear this classic chess pattern nail design for a traditional family event or a professional meeting. A beige-colored top with flares, open hair, and simple shoes with this nail design may add some extra charm to your party look.
How about this extraordinary suggestion? This clean and simple geometric pattern is suitable for a formal gala or casual brunch with friends.
8. Digits And Figures
This nail design and small patterns can create an alluring aura. This is perfect for a birthday party (to show the year of birth), a night out, or any other special event where you want to flaunt your bold and artistic side. Pair them with a stylish leather jacket and bold lips to create an edgy look.
9. Bold Stripes Nails
Love stiletto nails? Then, this nail design is the right choice for you. The horizontal lines and unique patterns help you achieve a stylish look in simple steps. You can try this design to stand out at any special event. If it is a romantic night out or an interesting spring concert, this nail design never fails to give you an updated feel.
10. Minimalist Sparkling Nails
Short nails, painted with glossy nail polish and decorated with small black and white stars, make your fingers twinkle like shiny stones. This simple yet creative nail design is a perfect choice for an evening walk with your friends or to fulfill your festive or celebratory look.
Video Recommendation:
Check this video. It can help you create some unique patterns from your comfort even if you don't have any professional experience in this field.
So why be reluctant? Explore the wonderful world of black-and-white nail art and let your creative side out.
FAQs
Q: Are black and white nail designs suitable for all occasions?
A: Yes, black and white nail designs can be both traditional and trendy, making them suitable for a variety of occasions. From formal events to everyday wear, there is a black and white nail design that can fit any occasion.
Q: How do I choose the right black and white nail design for me?
A: Consider your personal style and the occasion you'll be wearing the design for. If you prefer a bold look, opt for a geometric pattern or abstract art. If you prefer something more subtle, try a delicate floral design or a simple French tip.
References