Simple Toenail Design Ideas To Try In 2023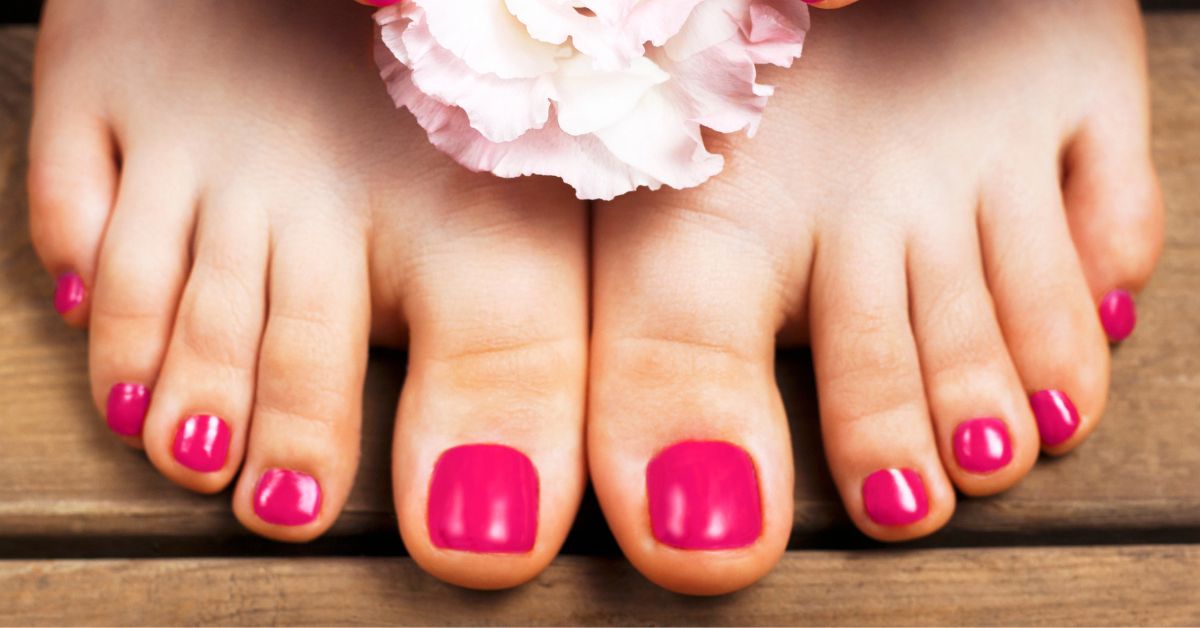 Have you ever wondered about stepping up your toenail game with some beautiful toenail designs? Hmm.. If you have that frown look on your face, here's why.
First, your feet are important, and they deserve to look beautiful, just like the rest of you. Secondly, having a good nail design on your toes paired with good footwear can boost your confidence. It's all about expressing yourself and showing off your personality.
And let's not forget the practical benefits – a fresh pedicure with a cool design can keep your toenails healthy and prevent them from getting all jacked up. So, help your toenails look fierce with some simple toenail design ideas!
Are you ready to get your toenail looking fresh and fabulous for any occasion? Look no further because we have got you covered with some amazing ideas that are perfect for every occasion from weddings to festivals.
So sit back, relax, smile, and get ready to take your toenail game to the next level!
Table Of Contents
Which Toenail Shape Is Best For Me?
It's completely dependent on your choice of design and natural toenail characteristics.
Here are some popular toenail shapes you can totally consider.
First up, we have the oval shape. It's got that soft and curved vibe, not too sharp at the tips. And guess what? It creates an elongated look for your toes.
Next up, we have the round toenail shape. It is similar to the oval shape but with a rounder tip. You will love it if you have wider toenails or shorter toes.
Feeling edgy? The square toenail shape might be your jam. It is sharp and follows the shape of your toe's nail bed.
You can't go wrong with the classic almond toenail shape, either. It's got that tapered edge that comes to a point at the tip, like an almond.
Lastly, we have the stiletto toenail shape. This one is long and pointed, just like a stiletto heel. You might want to save it for special occasions, though it may not be suitable for everyday wear.
But wait, there is more to it! The prettiest toenail shape for you is not just about looking cute. Consider your personal style, foot shape, and lifestyle in mind too. So, experiment with different shapes to find what works best for you. And don't forget to keep those toenails well-groomed and healthy.
Best Way To Shape Your Toenail For Cool Designs
Here are some tips to shape your toenail like a pro:
Grab a high-quality toenail clipper and nail file. Make sure the clipper fits the shape of your nail and is sharp enough to slice through it without any drama. Use a file to smooth out the edges.
Cut your toenails straight across instead of rounding them. It prevents ingrown toenails and keeps your nails in good shape.
Move the file in one direction. Don't go back and forth because that can mess up your nails.
Don't cut your toenails too short. Leave a little bit of the white part at the end of your nail to avoid ingrown toenails.
After the shaping, use a buffer to smooth out any rough spots and give them a polished look.
Be gentle and take your time when shaping your toenails.
Make sure you keep things clean. Follow these tips, and you will have healthy, good-looking nails on your toes in no time.
What Is Trending Toenail Design In 2023?
There are many!!
In recent years, intricate toenail art designs with bright, bold colors, geometric patterns, 3D embellishments, and a mix of textures such as matte and glossy finishes are trending.
If you want to create some totally unique and trendy toenail designs, you want to unleash your inner creative beast! Here are some creative and simple toenail design ideas to get you started:
Mix and match different patterns and colors to make a fun and playful toenail design.
You can put together stripes and polka dots or mix floral and geometric patterns.
Throw some glitter into the mix to give your simple toenail design some extra sparkle.
Add some 3D bling to your toenail art with gems, pearls, or studs.
Play around with different textures to create a unique and fun look. You can use matte or glossy finishes.
If you are an animal lover, put paw prints or animal patterns on your toenails.
So don't be afraid to get innovative and let your imagination run wild! With these ideas, you will be on your way to having the coolest toenail work around.
Experiment With Different Floral Toenail Art
Toenail flower designs can be the best way to bling up your nails.
Check out these ideas to get you started:
Sunflowers are lit for simple toenail designs because they are bright, cheerful, and easy to paint.
DIY Method: Paint your nails yellow and add small brown dots to represent the center of the flower. Add green leaves for a more realistic look.
Cherry blossoms are delicate and beautiful and make great toenail work.
DIY Method: To try this hot pink toenail design, paint your nails a light pink or white color. Then, use a thin brush to create small, curved lines in a darker pink color to represent the cherry blossom petals. Add small dots in the center of each flower with a darker pink or black color.
Rose is a classic choice that can be painted in different colors to match your swag.
DIY Method: Paint your nails a light color, like white or pastel pink. Then, draw the rose petal design in any darker color. You can also add some green leaves and stems.
Daisies are simple and beautiful flowers. You can try this design on your toenails with ease.
DIY Method: Try this simple toenail design by painting your nails with any light color, like white or yellow. Now, with a small brush, draw the petals patterns in darker color. Finish it by placing a small yellow or black dot in the center of each flower.
Orchids are a little intricate flower design that can be tried on your toenails for a unique and elegant look.
DIY Method: Start by painting your nails in light color, like white or light pink. Now, draw orchid petals in a darker color using a small brush. Finish the design with a small yellow or pink dot in the center of each flower.
Best Toenail Designs For Different Occasions And Seasons
Now let's talk about the best toenail art for different times of the year and stuff like that:
Summer: For summer toenail designs, use bright colors and designs that have fruit or flowers, like watermelons or hibiscus.
Winter: In wintertime, use dark colors like navy or burgundy, and try out snowflakes or other winter things, like reindeer.
Spring: To try simple toenail designs for spring, use pastel colors with butterflies or other pretty nature things.
Wedding: For weddings, go with French tip-toenail designs or pretty flowers.
Sports events: Show your team spirit by using your team's colors and putting their logo on your toenails!
Halloween: For Halloween, try out creepy designs, like spiders or bats, or pumpkins.
Christmas: For Christmas, use red and green colors, and put snowflakes or Santa Claus on your nails.
Beach Vacation: If you're going to the beach, use designs that have seashells or starfish, or coral on them.
Birthday: For a birthday, put the birthday person's favorite colors or age on your toenails. Add some glitter or balloons for extra fun.
New Year's Eve: For New Year's Eve, use shiny colors like gold or silver.
Valentine's Day: For Valentine's Day, use hearts and pretty colors like pink or red, or white.
Office Or Professional Setting: Keep it simple with French tips or basic designs, like toenail line designs.
Some Cute Nail Designs For Toenails
Milky Moon Hearts
This nail design with a black base and white heart designs is a bold and cute option with a playful touch.
Pastel Fantasy
This pastel-painted toenail is a soft and delicate option for a gentle and pretty look.
Repeated Dot Pattern
The black base and colorful dots give you a fun and vibrant look with the craziness of colors.
Colorful Geometry
This colorful geometry design is a modern and chic option for you. It gives you an edgy and trendy look.
Leafy Touch
The simple leaves on pastel toenails are an elegant and understated design for a subtle and feminine touch.
Glittery Sparkle
Glittery leaves on nude toenails give you a glamorous look by adding sparkle and glam to your nails.
Intensive Gradient
This soothing and gentle gradual transition of colors from light to dark in pastel hues gives your nails a calming look.
Zebra Vibes
The zebra-inspired toenail design is a better option to show your bold and daring side.
Smiling Toes
This is a fun and cheerful toenail design in which the yellow smiley faces are painted on a colorful background for a playful and lighthearted look.
Minimal Floral
Delicate flowers and single sparkling rhinestones add some extra glam and beauty to your nails.
Which Are Trending Nail Colors In 2023 For Toenail Art?
There's a whole bunch of fire choices out there. Picking the best colors for your toenail designs is all about what you are into, what is going on, and what time of year it is.
So, let me hip you to some color options:
Nude: Nude colors are a classic choice for simple toenail designs. They keep it real and natural, which is perfect for any occasion.
Pastels: If you feel like a spring chicken or are preparing for summer vibes, pastel colors are best. They give you a soft and girly look that is perfect for when the sun is shining.
Bright: If you want to turn up the heat and make some noise, bold and bright colors are the way to go. They add a playful pop of color and are perfect for when you are chilling at the beach or getting ready for a summer party.
Metallics: When it is time to get fancy for a wedding or holiday party, metallic colors, like silver or gold, are the move.
Dark: When the leaves start changing colors and the air gets a little crisp, that is when it is time to bust out the dark colors, like black or navy. They will keep your toes looking tight all through fall and winter.
So, what's your choice?
Proper Tools And Materials Needed For Toenail Design
If you want to get your toes looking tight, you should have the right tools and materials on deck. Here's what you need:
Nail Polish: You should have some nail polish in the color or colors of your choice. Make sure it's fresh and not all crusty.
Nail Art Brushes: There are a bunch of different brushes you can use for nail art, like flat ones, detail ones, and striper ones. They all do different things, so figure out which ones you need.
Dotting Tool: This little tool is a clutch for making tiny dots or patterns on your nails.
Nail Stickers or Decals: These are basically pre-made designs that you can stick on your nails. Easy peasy!
Nail File and Buffer: Smooth and shape your nails before you start slapping on that nail polish.
Cotton Swabs and Acetone: Inevitably, you will mess up at some point. That's where cotton swabs and acetone come in handy. Just clean up that mess and keep it moving.
Top Coat: Don't forget to put a top coat on your design to keep it looking fresh for as long as possible.
Now, listen up. You should be patient and precise if you want to get the toenail designs right.
Tips And Tricks To Maintain Your Toenail Works
After you make your toenails all pretty, you should keep them the same. Here is some stuff to do:
Get the dirt off your toenails by washing them with soap and water.
If you notice the symptoms of toenail fungus, yellow toenails, or any other infections, treat them with the right remedies.
Put lotion or oil on your toenails and the skin around them. So they don't get dry or crack.
Avoid mean chemicals like bleach, cleaning stuff, or hair dye because they can hurt your toenail art.
Wear shoes that protect your toenails from getting messed up, like closed-toe shoes, especially if you are doing something active.
Don't let your toesies be in the water for too long, as they make the nail polish chip off. If you are in water a lot, wear sandals.
After a few days or a week, you might need to touch up your toenail art with some more nail polish.
Don't peel off the nail polish because that'll hurt your nails. Use a special remover that doesn't have acetone, and wipe it off nicely and gently.
If you follow these tips, your toenail art will stay nice and pretty for a while.
And that's the deal with toenail art. Have fun painting your toesies!!!
FAQs
Q: What are some toenail designs for people with small toenails?
A: Toenail designs for people with small toenails can include simple patterns such as polka dots or stripes. You can also try a minimalist design with a small accent on one or two toes.
Q: What are some toenail designs for men?
A: Toenail designs for men can include simple designs such as a solid color or a diagonal stripe. Men can also try a minimalist design with a small accent on one or two toes.
References