33 Beautiful Short Nail Designs 2021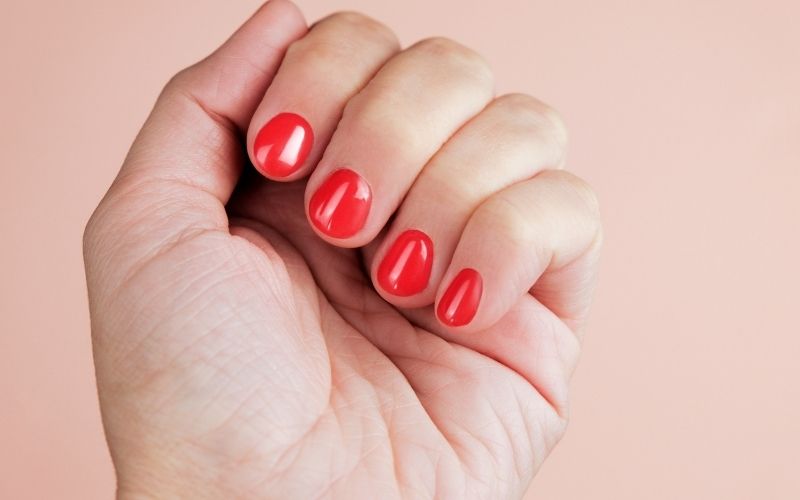 Long nails may have been the go-to style of choice for the last several years, but short nails are most definitely making a comeback!
The best part is there are a ton of nail designs for short nails to keep the look interesting and attention grabbing — if that's what you're after!
We also have an ultimate guide to nude nails, fall nails, and spring nails designs that you definitely need to check out!
You can ditch the hassle of maintaining longer nails for the simplicity of cute short nails with a unique or intricate design.
Or you can try out solar nails which last way longer than typical short acrylic nails.
Looking for some inspiration?
Check out our list of the best short nail ideas to take your nail salon manicure to the next level:

Our top 33 short nail designs
Here's our top 33 picks for short nails!

Pastels short nail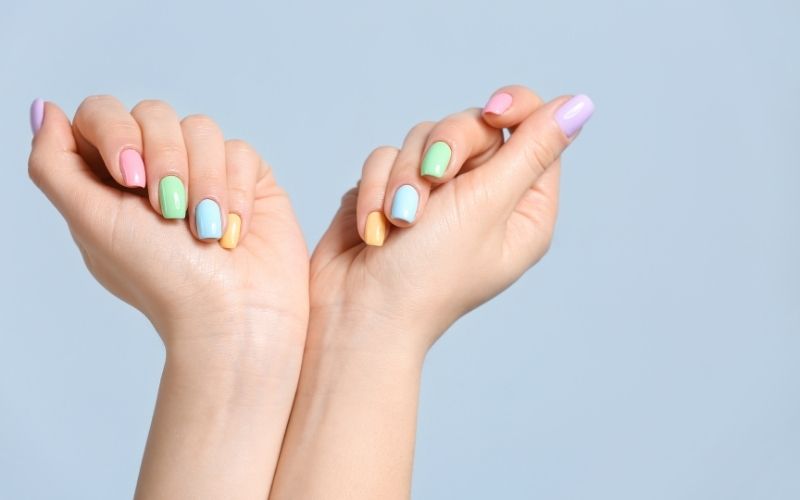 This pastel nail design is definitely in! You can even use almond nails for this look.
It's also an all-time classic option.
Pastel shades look good on any nail shape and are perfect for a short nail design.
This look can also work well with coffin nails or flame nails!
With colors like soft baby pink polish, mint green, and baby blue, among others, you can mix and match these perfect polishes any time of year.
These can even be made into a matte nail design with simple gel nails.

Casual floral short nail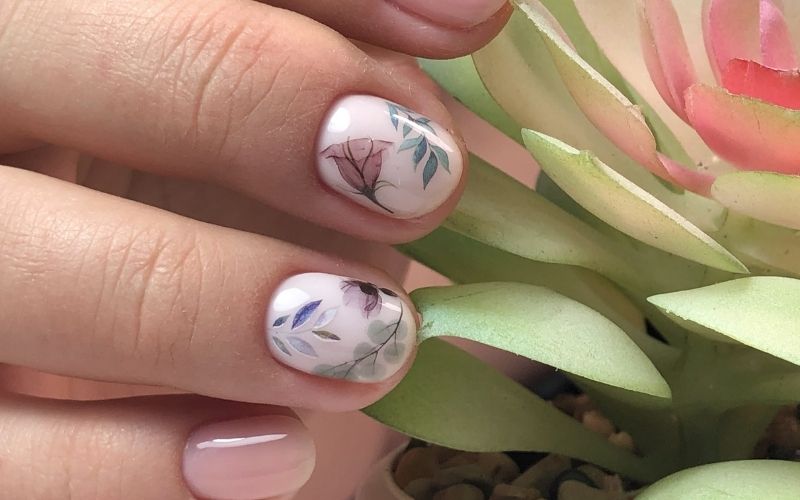 Floral nails are a perfect way to transition your manicure from winter to spring and add a pop of color to the top of your nails.
A few floral accents look amazing with white, cream, or light pink nails on the rest of your nails.
Add a few butterflies to make these chic butterfly nails.

A twist on the classic french manicure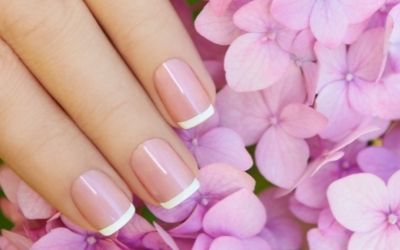 There are so many ways to play up the classic French manicure, but one idea we are loving to spotlight short nails is to flip the line closer to your cuticle skin instead of the end of your nails.
It's a romantic look for short nails and you can even switch up the classic french nails to silver or even rose gold glitter polish.
You can even put some nail color on the French tip — this would be a great choice!

Black nails for everyday wear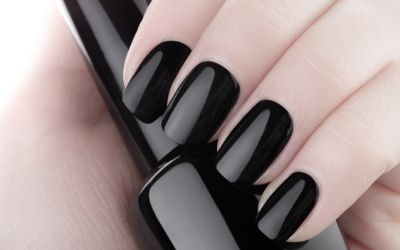 If it's versatility you're after, black polish is a perfect choice for short nails as it can be both sophisticated edgy at the same time.
A black matte nail is a classic manicure that pairs well with just about any outfit choice from jeans to formal wear.
Really into black nails? We have an entire list of black nails trends you should check out!
If you're feeling saucy, try creating a black pattern to these nails.
Or switch it up and go with white short nails!

Black with white polish short nails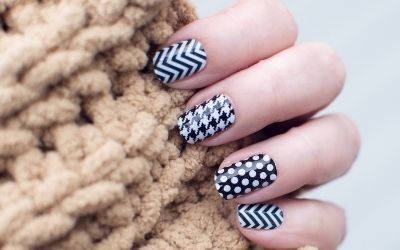 If you feel like black nail polish alone just doesn't do the trick for your natural short nails, you can show your creativity with a pop of white to make your next manicure stand out.
Small dots, skinny lines or any white matte nail design over a black base coat add something unique to an otherwise classic choice.
You can never go wrong with anything polka dots.

Tie dye nails design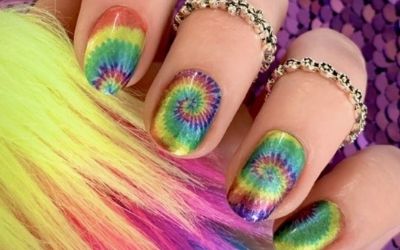 The tie dye trend is everywhere and it has become one of the top fun nail designs as well!
With a ton of possibilities, tie dye nails with your favorite colors like cherry red and cobalt blue are a super creative nail design to try on your next girl's night in!
It might take a bit of patience to get it right but it's well worth it!

Leopard accent nail
If you're looking for a unique design for your mani without going too crazy, one or two leopard accent nail stickers/nail stamps over nude nails might be your new go-to!
It's a fun design that makes the perfect choice for a short manicure.

Golden details classy short nail designs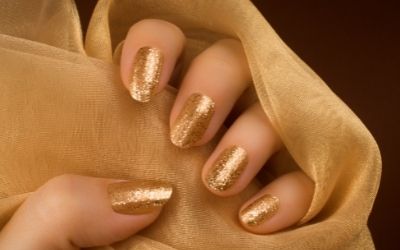 Adding some golden details to your manicure can give even the best nail colors the right amount of sparkle and shine.
You can use gold foil to create an intricate design or gold polish to keep this cute nail design simple.
Gold glitter is also an easy way to add a bit of glitter and glam to this look.
Add a top coat to this to keep it from getting damaged.
These are the definition of classy nails!

Minimalist white nail design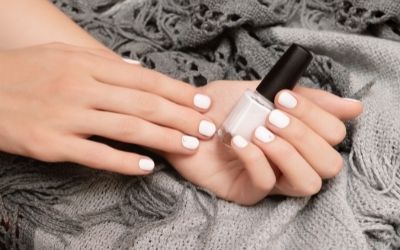 White nails with a matte finish is a popular color that is fresh, classy and appropriate for any season or occasion.
This simple design can also work with chrome nails. No stencils or drawing needed!

Iridescent pearl acrylic nail designs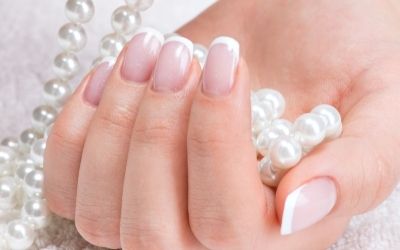 A trendier spin on white nail polish, an iridescent pearl polish shade keeps short nails classy and elegant while offering a lot of shine for any special occasion.
You could even add some small pearls for an elegant finishing touch.

Matte and glitter classy look
For those who love a simplistic matte polish but want to add a different tone, a glitter accent nail is a fun way to take a traditional color choice and make it really pop.

Geometric designs (triangular look)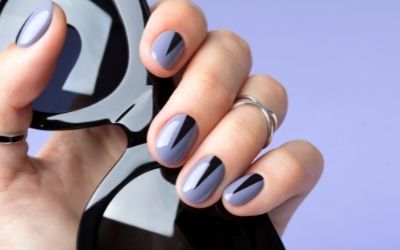 Geometric shapes such as squares and triangles and other different patterns hit the scene last year and are a great way to add texture and dimension to any nail length.
You have the whole rainbow of different colors to choose from, from bold shades to pastels and nudes to create a really modern look.

Ray of sunshine cute gel nails
Does anything yell summer season quite like yellow?
For cute nails, any subtle yellow and white design from swirl to tie dye looks great with a tan, plus its an easy nail art design to do yourself at home with a toothpick.
This look is a great manicure for any skin tone and produces an elegant look.
These orange nails are amazing for the warm weather season!

Sunflowers elegant nail design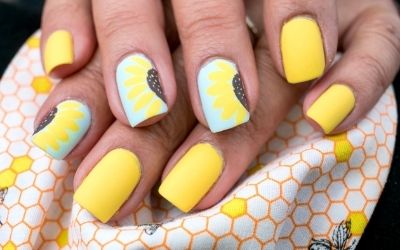 Speaking of sunshine, sunflowers over a matte black nail are an example of a great fall season look for short nails that makes for a cute nail art design.

Mermaid Scales
Mermaids are having a moment right now, and if you're looking to get in touch with your mermaid side, a fun way to do so is with mermaid scale fingernail or two!
Pair your scale with a gold nail or glitter nail polish for extra oomph!
These are great for younger girls, but can be perfect for all ages.
Favorite Fruit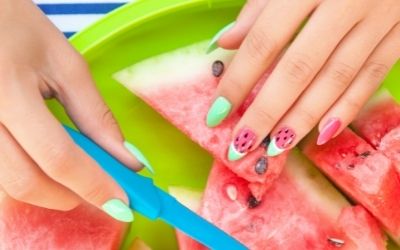 Fruits are always a cool nail design that provides pops of color.
A pink blush base with black seeds on top create a chic look that take your nails to a new level.
Papayas on a coral background? Raspberry over a teal nail base?
The possibilities are endless.
You can even do different fruits from your pointer, middle fingers, ring finger and even to your pinky!

Gold minimalist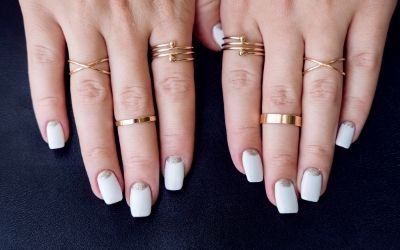 A beautiful nail design for any formal event that pairs well with any nail shape are some simple gold lines with a matte top coat.

Hearts a plenty
Valentine's day nails anyone?
Without going overboard, a tiny red heart on a pink nail or black shade is a brilliant idea for just the right amount of valentines day flair.
Instead of polka dots, you can also make some plaid nails. The stripes and detailed design will become a staple in your favorite manicure ideas!
The little heart makes this look feel so delicate and cute!
You'll definitely need to try these cute short nails.

Classic red
Who can resist red nails?
This pretty color is a real attention grabber.
Red nail polish is a classic look thats bold and will always be a favorite for both short and longer nails alike.
You can always experiment with different shades of red, too.
These are picture-perfect for an event like prom night to make you feel super lady-like.

Burgundy with a pop of color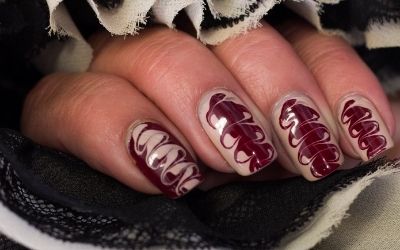 Another take on the classic red nail design, burgundy nails are both bold and sophisticated.
Add a pop of white or gold to take this nice color nails to new heights.
The nude background adds a special contrast!

Neon nails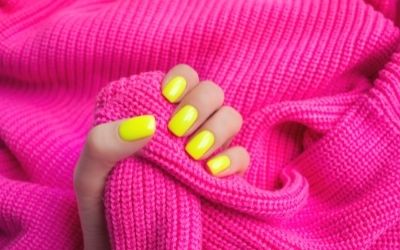 Neon is the new black! We've gone from neon bikinis to neon nails.
Bold, shiny nails in bright colors offer a nice contrast to a color combo with matte white nails.

Simple dots
Need an easy nail design you can do at home?
Dots are where it's at!
Small dots are a simple nail design that add a dash of color to any traditional manicure.
P.S. We love this look with pink nail polish.

Palm trees
Palm trees are a summer classic nail art design accessory that compliments baby blue or nude polish for a really tropical treat. Even a plain white stamp will create a nice, low-key look.
These designs have a unique color scheme!
For the winter time, you could also add designs such as a snowflake on the base of the nail.

French manicure acrylic nails
I'd be remiss not to mention the classic french manicure on this list- even short nails look amazing with this natural look.
A simple french manicure never goes out of style.

Marble effect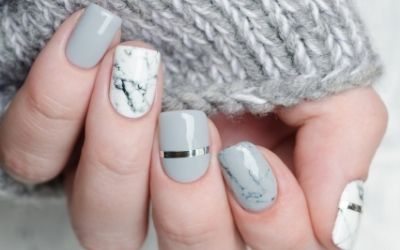 Marble print nails are a pretty nail design that can be done with any color combo from bold colors to muted nudes for perfect nails depending on your mood!
These will go great with any gold jewelry.

Night sky glamour nail
Nails done to match the night sky might be the perfect manicure.
You can achieve this pretty manicure with a dark navy nail polish and silver glitter or with nail stickers- the choice is yours!

Tropical summer nails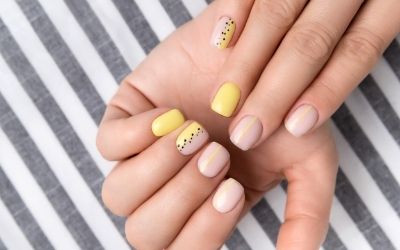 Nothing says summer quite like monstera leaves or birds of paradise, and luckily these unique designs look great on short nails.
The subtle yellow makes for an unexpected color which makes the whole look work. This is the definition of a chic manicure.

Pink ombre nails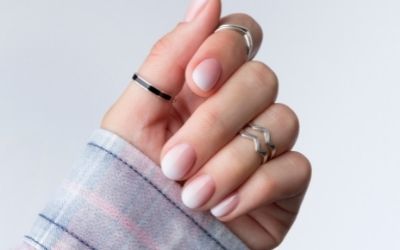 Ombre is another trendy nail design technique that is pretty easy to DIY without a trip to the salon for a gel manicure.
Get the gradient effect by blending a dark color or light pink polish at the tips of your nail into an even lighter color at the top.
Tip: Purple acrylic goes great with this style! A purple nail design never goes out of style!

Animal print mix up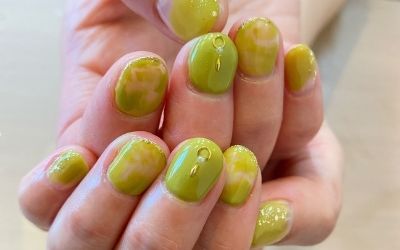 Go for a twist on the normal animal print colors with black, gold and coral, or a dark green, black and orange for a cute short nail design.
These nails scream fun and a pretty choice!

Emerald nails (green nail design)
This understated color is a must-have for winter.
Emerald nail polish/gel polish is simplistic and fresh and a shiny top coat with some gold studs looks amazing on shorter nails.
Add a splash of glitter to put people in true awe!

Beauty lace nail art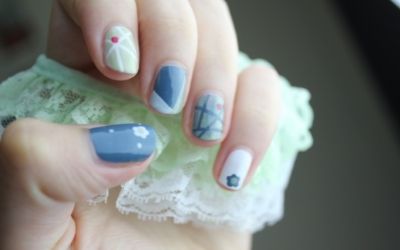 Lace designs are white details that are both intricate and romantic.
A detailed lace design over the natural nail, nude shade or pink color is a subtle way to add some interest to your mani.
Either way, the baby blue nails on this look are so perfect.
Hit these with a clear top coat!

White to gold gradient glitter shade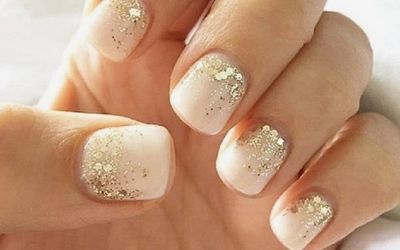 There is something about white and gold on shorter nails that both classy and glam.
A white to gold gradient is a gorgeous look for the bride or bridesmaids on the big day.
If you're not a fan of gold, you could also try a silver nail design.
Glitter polish always creates gorgeous nail art!

Rhinestones with a nude nail combination
You have to be careful with rhinestones as they can easily go from chic to gaudy.
With just a few of these nail accessories over a nude base you can achieve a classic yet refined look.
For this great design, you can choose your own color!

Short nail designs: final verdict
Whether you're trying to spice things up for valentine's day or trying to get festive for christmas, it's always going to be a good time for these cool nail designs.
Not only are short nails cute and practical, they are a great way to keep your nails and cuticles looking stylish yet low-key.
Short nails can be styled up for formal events like weddings, parties or prom but they can also be a super simple way to keep nails looking great for the office or college.
These nail ideas are a true work of art that people in the nail industry will surely notice!
As with any cute nail art designs, you can either do it DIY or schedule some kind of manicure with your nail technician.
These gems are surely going to step up your nail game!