Burgundy Nails: How To Rock This Nail Trend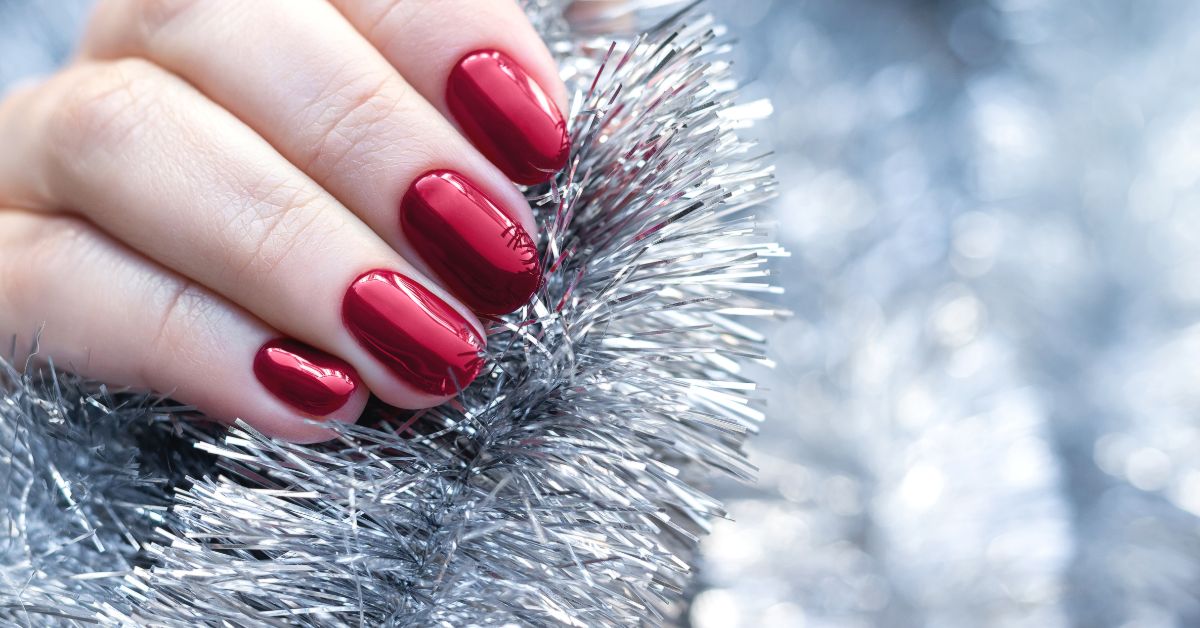 Burgundy, the popular and versatile nail color, is a classic shade that never goes out of style, and you can get a bold look by pairing it with other colors and designs.
Burgundy is the best option for people who want to add some brightness and an extra beauty vibe to their nails without going too flashy. This color is little deeper and richer than the traditional red color, making it a more subtle and simple option for those who prefer a minimized nail look.
Here, we will explore the world of burgundy nails, discussing everything from their symbolism to different shades. Whether you are new to this trend or a seasoned burgundy nail enthusiast, you can find valuable tips and insights on how to rock this nail trend.
Let's dive into the world of burgundy nails.
Table Of Contents
What Do Burgundy Nails Mean?
These nails carry different meanings depending on the cultural and personal context. Generally, this color is associated with elegance and power. Some people consider this color as a romantic one that represents love and passion.
In certain cultures, burgundy symbolizes prosperity and wealth. Ultimately, some may simply choose burgundy shade because they love the color, while others intentionally choose it for a specific occasion or purpose.
Is Burgundy A Popular Nail Color?
Yes, burgundy is a popular nail color for several reasons. First, this versatile color can be worn in different settings and seasons. They add an additional glamorous look to any outfit, whether it is a formal dress or casual jeans and a t-shirt.
Second, burgundy goes well on many skin tones, making it a go-to choice for a person who wants to be bold and confident. Finally, this classic color has stood the test of time, remaining popular throughout the years.
Celebrities And Burgundy Nail Designs
Many celebrities have been spotted with burgundy manicures on the red carpet and in their daily lives. Here are some examples:
Rihanna, the pop star, has been seen rocking burgundy nail design on several occasions, including at the 2013 Grammy Awards.
Selena Gomez, the singer and actress, often love burgundy nails. She has appeared wearing burgundy shades in many of her music videos and public appearances.
Meghan Markle, the Duchess of Sussex, has appeared wearing burgundy nail design on various occasions, including her royal engagement.
Overall, burgundy manicures remain the most-preferable choice for many people, including celebrities from various industries and backgrounds.
How To Choose The Right Shade Of Burgundy For You
The right shade of burgundy can create a significant difference in your overall look. Here are some simple and easy tips to help you pick the perfect shade of burgundy for your nails:
Consider Your Skin Tone: For fair skin, lighter shades of burgundy with pink or purple undertones will be a better choice. For medium skin, deep shades of burgundy with red or brown undertones suit well. If you have dark skin, you can go for bold shades of burgundy with blue or purple undertones.
Determine Your Undertone: Burgundy has different undertones like pink, purple, red, and brown. To choose the best one for you, you have to consider your skin's undertone too. If you have a warm undertone, pick burgundy with a red or brown base. If yours is a cool undertone, go for burgundy with a blue or purple base.
Consider The Occasion: Occasions play a vital role in choosing the right shade of burgundy. Pick a deep, rich burgundy shade for formal events, and go for brighter shades of burgundy for casual events.
Look At The Lighting: When selecting a shade of burgundy, consider the lighting you will be in too. If you are going to be in a natural light setting, lighter shades of burgundy will be suitable. If you are going to be in dimmer light settings, go for darker shades.
Overall, finding a shade that complements your skin tone, undertone, and occasion is essential. Take the time to try different shades and choose the perfect one for you.
What Colors Go With Burgundy Nails?
This beautiful color can be paired with many other nail polish colors. Here are some nail colors that can be combined with burgundy nails to create a coordinated look:
Gold: Burgundy nails with a gold combination are a classic choice.
Black: Black and burgundy nails can create a dramatic and bold look.
Nude: Pair your burgundy nails with nude or beige nail polish for an understated look.
Silver: Burgundy nails with silver are a stunning choice for a night party or a special occasion.
The key is experimenting with different nail color combinations and finding the perfect one.
Burgundy Nails For Different Occasions
Here are some burgundy nail designs that go well for different occasions.
Burgundy Nails For Work
For work, the design has to be simple and professional.
Burgundy French Beauty
This classic French manicure with the burgundy tip is perfect for an office look.
Solid Burgundy Shade
This solid choice is simple and appropriate for any workplace. For this dark burgundy nail, choose the shade that complements your skin tone and dress choice.
The Subtle Sparkle Lady
Add a subtle sparkle to your burgundy manicure for a minimal and professional look. Try incorporating a glitter or metallic accent nail.
Negative Universe Nails
This burgundy nail design involves leaving a small portion of the nail bare to create a minimalist look. Try burgundy and white, nude, or black negative space for a modern look.
Lines And Crosses Nails
These burgundy nails with geometric designs like stripes, dots, or triangles can help you appear too bold. Precise and clean lines can give you an accurate result.
Burgundy Nails For Formal Events
Here are some ideas for burgundy nail designs that are perfect for formal events:
Graceful Gradient Nails
These burgundy ombre nails, which fade from a lighter to a darker shade of burgundy, can help you achieve a stunning and elegant look.
Metallic Accents Touch
Adding gold or silver metallic accents to your burgundy nail coating can add a glamorous feature to your nail.
Burgundy Embellishments
Adding additional attractive features like crystals or pearls can make your burgundy nail look more luxurious. Keep these embellishments minimal to avoid looking too flashy.
Simply-Matte Nails
These matte burgundy nails are a simple and minimal choice for all formal events, with a hot and spicy look. Try a matte glitter polish if you want to bring a velvet finish to these coffin burgundy nails.
Burgundy Designs For Casual Outings
Here are some ideas for burgundy nail designs that are perfect for casual outings:
Glitter-Gloss Star Nails
A glittery topcoat or glossy finish with shining stars and flowers can give a sparkling touch to your nails.
Dot-Dot Classic Nails 
Incorporating polka dots in white or black colors can help you shine bright in your casual look. You can try bright colors like yellow or blue for these dot patterns.
Being-Wild Nails
Incorporating animal prints like leopard or zebra can help you get a bold and daring look. You can use a white-black combination or silver-burgundy combination to make it more attractive.
Rose Gold Beauty
This rose gold burgundy nail design is a combination of rich, deep burgundy-colored nails and single or double rose gold accent patterns. 
Artistic Nails
Delicate flower designs like daisies, roses, and sunflowers on burgundy and white nails can add a feminine and romantic touch to your look.
Tips For Maintaining Burgundy Nails: Before And After
Maintaining burgundy manicures is essential to prevent them from chipping and fading. Here are some tips.
Keep your nails healthy and strong.
Keep your nails clean and dry, and apply cuticle oil regularly.
Apply a base coat before burgundy nail polish application to prevent chipping and staining.
Go for thin layers of burgundy nail polish instead of thick layers.
Avoid hot water exposure.
Top coat application is essential to seal in the polish and prevent chipping.
Do touch-ups once you start noticing chips or fade.
By following these tricks, you can maintain your burgundy-shaded nails and keep them looking beautiful for a long period.
Be Vibrant With Burgundy Nails
Follow the tips, choose the right shade of burgundy, and pair it with suitable complementary colors to maintain its vibrancy for longer. Remember, good care and high-quality products can assure you the best results.
So go ahead and rock your burgundy nails with confidence!!!
FAQs
Q: What occasions are appropriate for wearing burgundy nail polish?
A: Burgundy nail polish can be worn on various occasions like work, formal events, and casual outings.
Q: What does burgundy nail polish symbolize?
A: Burgundy color is associated with power and wealth. It can also be considered a symbol of confidence and strength.
Q: What are the different shades of burgundy nail polish available in the market?
A: Various shades of burgundy nail polish are available in the market, ranging from deep red to purple undertones. Some popular options include wine, maroon, and cranberry shades.
Q: What are some popular burgundy nail polish brands?
References