30 Trendy Fall Nails Ideas You Need In Your Life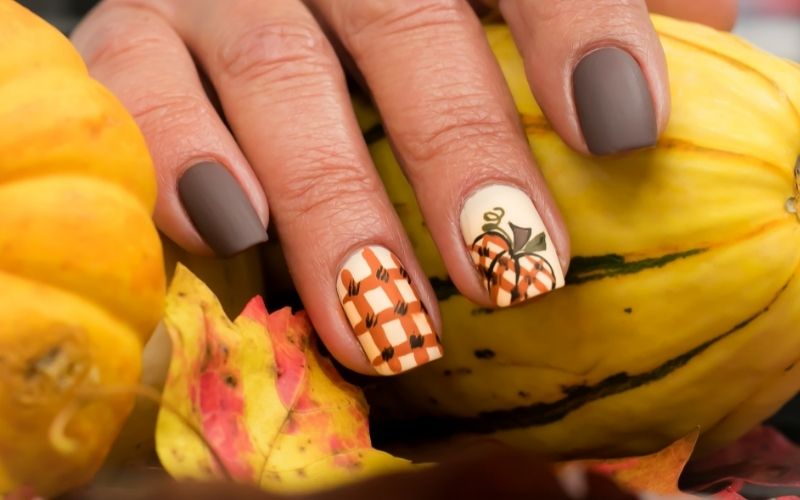 Fall is upon us (buh-bye, summer vibes and butterfly nails) and our nails are looking awfully bare!
Whether you're a pumpkin spice latte lover, a Halloween fanatic, a sweater-loving gal, or all of the above, you might be wondering about the best fall nails designs.
If you're a short nail type of girl, we have a full list of short nail designs and cute short nails here!
And we also have an ultimate guide to nude nails, too.
In a time full of Halloween festivities, hayrides in the forest, and thanksgiving family gatherings, you'll need some inspirational designs for those precious nails.
And if you haven't heard about the solar nails craze yet, you might want to see those first.
Keep reading to learn more!
These are the 30 best fall nail ideas:
Fall Nail Ideas
Here's our comprehensive guide to fall nail art ideas!
Scream Nails
If you're a horror movie fan, you'll love to curl up next to a bowl of popcorn and watch your favorite Scream movie with these horror-inspired nails.
Featuring a stiletto design, these spooky nails are sassy and fun.
Past halloween? Checkout the best spring nails designs for some white short nails designs!
Fall Leopard Print Nail Art
These black and orange nails needed a little spicing up, so why not add some leopard print to the mix?
This look can be achieved with a toothpick or nail art dotting tool on your almond nails.
This look can even be achieved with flame nails on some fingers!
Browns Coffin Nails
If you like the classic nude nail look, you should try out these gradient nails, no expertise required!
All you need is five different shades of the same color for this fall nail art idea.
Trendy Marble Cute Fall Nails
These swirly brown nails are right on trend this season.
What a beautiful idea!
This nail design is most popular in long square or long almond shapes.
Black Glitter Nails
Add a little spice to an otherwise boring black nails manicure with some black glitter!
Customize the length and shape of the nail set to your liking and accent those nails with some sparkle.
And voila, you have classic black glitter nails.
Brown French Tip Nails
After all these years, French tip nails are still all the rage.
Why not switch up the look from the standard pink and white French tips to a fall nail color one?
All you have to is paint your nails with some nude nail polish and then finish with a brown tip.
Brown Marble Acrylic Nails
Upgrade your standard brown tips acrylics to a hazy, dreamy marble-inspired manicure.
Add a pop of gold leaf for added glamor in the end result!
Burgundy Fall Leaf Nail Art
These cute nails are perfect for any occasion!
The burgundy base color and the maple leaves combine to create the best look for acrylic nails.
You can also add some rich Burgundy elegance by embracing the deep, luxurious shade for a more sophisticated and classic fall look.
Brown Long Nails
These acrylic nails are best for everyday wear.
If you like to keep it simple and classy, this is the perfect fall nail design for you.
Cute Ghost Fall Manicure
These adorable autumn nails feature sweet little ghosts over a standard French manicure.
You'll need a steady hand and some toothpicks/stencils for this design!
Nude Hearts
These acrylic nails are a great idea to ask for at the salon.
The hearts are absolutely adorable, and you can't go wrong with fall neutrals!
Also, try these trendy heart nail designs to help convey your feelings of love and affection.
Orange Leaf Fall Nail Design
This acrylic nail set features maple leaf nail stickers and a glitter accent nail.
Use a bright orange for gorgeous nails!
Orange being the perfect color for fall, you can try some mind-blowing nail designs with this vibrant hue.
Creepy Pumpkin Nails
This has got to be one of the best acrylic nail designs on this list.
This sweet pumpkin Jack o' lantern-inspired mani over a burnt orange color family is absolutely adorable.
Accent Nail Manicure
These classic acrylic nails will bring all the attention to your mani.
If you're not a big fan of orange, you could even replace it with some neon colors for added wow factor.
Red Metallic Nails
These pretty nails are reminiscent of Dorothy's slippers.
You could even use this color for some beautiful metallic accents in a different manicure.
Standard Short Nails
These skin-colored nails are the perfect addition to any Instagram post.
You won't detract from your outfit with these, plus they're short enough to do everyday tasks with.
Nail Stripes
You can DIY this fall nail idea with a little bit of nail art tape.
Simply paint your base autumnal hue nail color and add some stripes with the fall nail art tape.
This is one of our favorite color nail designs.
Romantic Astrology Nails
This nail design uses swirls and is one of the best fall nail art designs for long acrylic nails.
Romantic astrology nails are a popular nail art trend that combines elements of astrology and romance. These nail designs often feature zodiac symbols, constellations, celestial motifs, or romantic symbols like hearts and stars.
This nail art allows individuals to showcase their love for astrology and express their romantic interests through creative and personalized nail art.
Fall Nail Color Ombres
This nail design features fall nail art techniques and swirls some fall colors to make some gorgeous nails.
If you love gradient effects, then Ombres works beautifully, and that too with almond-shaped nails.
Start off with a light color at the base and gradually blend into a darker shade towards the tips. Or else you can also use two or more complementing shades or various color combinations to match your style and mood.
The ombre gradient design actually adds depth and visual interest to your nails, giving them a trendy and stylish look.
Standard French Mani
Keep it classic this fall season with these acrylic nails!
Be sure to support small businesses and go to your favorite nail salon.
You could replicate this idea with a darker shade tip or base color.
Plaid Autumn Nail Art
You've just found your Thanksgiving nails!
This nail art features some glitter and stripes for some truly cute nails.
Try using Etsy to find some handmade press-on nails!
Orange Ombre Nail Design
These fall nails can be found on Etsy and are perfectly shiny.
The fall nail colors are similar to the falling leaves of autumn.
Fall Nail Idea
Not into such intricate designs?
This mani is for you.
Go to your favorite salon for the best acrylic nails… you have great taste!
Orange Trendy Nails
This fall manicure uses different shades of orange and reminds us of warm drinks on a fall picnic.
Use your own inspiration and try to find a better way to create this look than with small detail brushes.
Glitter Burgundy Nails
These fabulous nails are sure to be a head-turner wherever you go.
Featuring dark red glitter, this manicure is one of the best fall nail designs.
You could even replace the glitter with some metallics, if you wanted to!
Blue Ice
Bored of all the fall colors in your manicures?
It's never too early to transition to something a little more winter wonderland.
These baby blue nails are sure to impress.
You can also try some similar ideas of acrylic nail designs.
Gorgeous Baby Boomer Nails
Upgrade the standard baby boomer nail look with some acrylic nails and rhinestones!
Who doesn't love a little pop of glitter and sparkle in their mani?
Red Metallics
Instead of dropping tons of money at the salon, DIY your own nails with some chrome powder as a top coat.
Blood Spilled
Get gory with these blood-splattered nails!
All you need is some white and red polish for this beginner Halloween look.
Cute Pink Halloween
Not interested in the horror side of Halloween nail designs?
Try this fall nail idea instead!
Celebrate Halloween without being freaked out at your own hands with some cutesy pink acrylic nails.
Get Set To Flaunt Your Fall Nail Design
Fall, also known as autumn, is a season characterized by warm hues, falling leaves, and a cozy atmosphere.
In terms of trendy nail designs, fall inspires a range of options. Earthy tones like deep burgundy, burnt orange, and rich brown are popular choices, mirroring the colors of changing leaves.
Other trendy designs include incorporating fall elements like pumpkins, acorns, or fall florals into the nail art. Matte finishes, metallic accents, and intricate nail patterns inspired by cozy knitwear or plaid patterns are also on-trend.
These nail designs capture the essence of the season, allowing individuals to express their love for fall and embrace its warmth and beauty at their fingertips.
Overall
These are absolutely some of the best cute fall nail designs to try.
These nail ideas are filled with autumn colors and are a great way to get in the fall spirit!
Pair these fall design nails with a pumpkin spice coffee and you'll be set.
FAQs
References