10 Trendy Heart Nail Designs To Spread Love And Style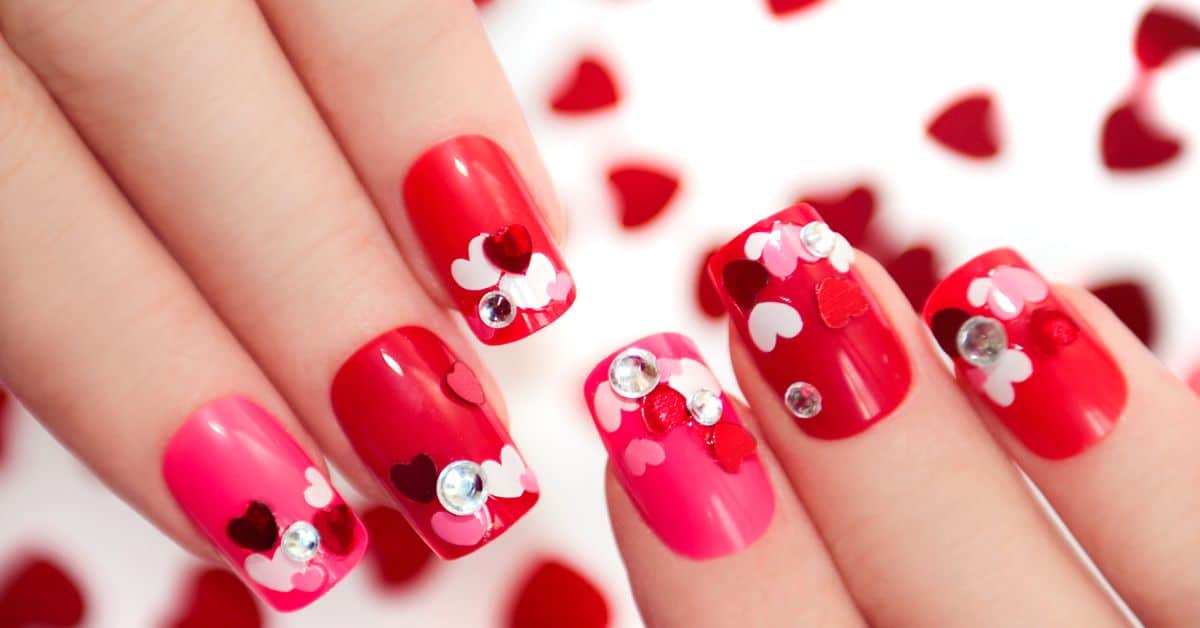 As the saying goes, "Love makes the world go round," what better way to spread love than with heart nail designs? Hearts are universally recognized as a symbol of love and have been used to convey this emotion for centuries.
But spreading love is not always as simple as saying, "I love you." It can be expressed in many ways, and one unique way to do so is through your creative manicure. By adorning your nails with heart designs, you can show off your romantic and caring side in a subtle yet eye-catching way.
Whether attending a wedding, celebrating Valentine's Day, or just enjoying a date night with your special someone, a simple heart design manicure can help you express your feelings of love and affection.
So why take a few minutes to pamper yourself and spread the love? A heart nail design is a perfect way to do just that. Let your nails do the talking and fill the world with love!!!
Table Of Contents
10 Heart Nail Designs To Steal Your Hearts
These ten creative nails are sure to capture your attention and leave a lasting impression.
1. Love In Red
Indulge in the ultimate romance with these classic red nails embellished with delicate white hearts. This timeless red nail art with the perfect combination of passion and elegance makes your heart skip a beat.
Try this charming and iconic style, and let your nails speak volumes about your love for beauty.
2. Heart Of Gold
This nail design is a combination of soft nude or light pink base nail design with delicate gold hearts on each nail. The combination of neutral and metallic hues creates a subtle yet stunning effect that is perfect for any occasion.
Prepare to feel like a true fashionista with these heart coffin nail designs.
3. French Heart Tips
Revamp the timeless French tip with a romantic and playful twist. This charming design replaces traditional white tips with tiny, delicate hearts in soft pink or red hues.
Try this French tip nail design with hearts, and let your nails do all the talking.
4. Glitz And Hearts
Add glam to your nails with this stunning glittery manicure with a perfect blend of pink and white glitter. The glitz and sparkle are further accentuated with the addition of elegant heart shapes, making this design a true standout. This look is perfect for any special occasion, from proms to weddings, and will leave everyone in awe of your flawless style.
This glitter heart nail art will make you feel like a true fashion icon. Indulge in the perfect combination of glitz and hearts, and let your nails dazzle all those around you.
5. Fading Hearts
Fall in love with this trendy and romantic nail design with fading shades of pink and white and charming white hearts. The ombre effect adds modern style, while the delicate heart shapes provide a touch of romance.
Let the fading hearts on your nails tell the story of your heart's desire as you confidently flaunt this stylish design. Get ready to turn heads and steal hearts with this stunning ombre nail design.
6. Melting Hearts
Heat things up with this stunning and edgy melting heart nail design. This unique design features black matte nails that are accentuated with glossy black hearts, creating a bold and powerful statement. The contrast between the matte and glossy finishes adds an element of intrigue to this design – a perfect choice to show off your fierce and daring side.
Get ready to melt hearts and break barriers with this exceptional, stylish nail design!
7. Easter Love Nails
Brighten up your Easter nail game with this classic nude gel manicure. Add a sprinkle of holiday cheer with delicate egg-patterned hearts delicately etched in pastel shades. This perfect combination of subtle elegance and whimsical fun will have your nails stealing the show at any springtime gathering.
So, whether you are hunting for eggs in the garden or enjoying brunch with loved ones, let your nails reflect your festive spirit.
8. Travel Heart Nails
Get ready for your European adventure with these unique green heart nail patterns! These green and white nails feature red and adorable heart patterns that will make you stand out in any crowd. Whether wandering the streets of Paris or taking a gondola ride in Venice, these nails will perfectly complement your travel wardrobe.
So, pack your bags, grab your passport, and show off your trendy style with these nails!
9. Fly High With Purple
Celebrate the magnificence of Easter and spring with this gorgeous light purple shade heart nail art! Combining this soft hue with a radiant red heart makes a subtle yet striking effect. The delicate balance of colors is perfect for various occasions, from brunch with friends to family gatherings.
So why not show off your romantic and playful side with this Easter-themed nail design?
10. Butterfly-Heart Charm
As the spring season blooms, it is time to bring out the nail game with fresh designs. How about trying the baby blue 3D heart nail designs in a long stiletto shape? These butterfly nails will add a touch of dimension, making them stand out even more.
With a soft shade of blue reminiscent of the clear sky of spring and the delicate heart designs, these nails will surely capture the season's essence.
Be The Lovely Girl
Heart nail designs are a creative and unique way of expressing love and affection. A heart design manicure can be worn on different occasions to tell your romantic and caring side subtly. These ten creative nail designs are sure to grab others' attention.
FAQs
References