Hop Into The Festive Season With These 10 Easter Nail Designs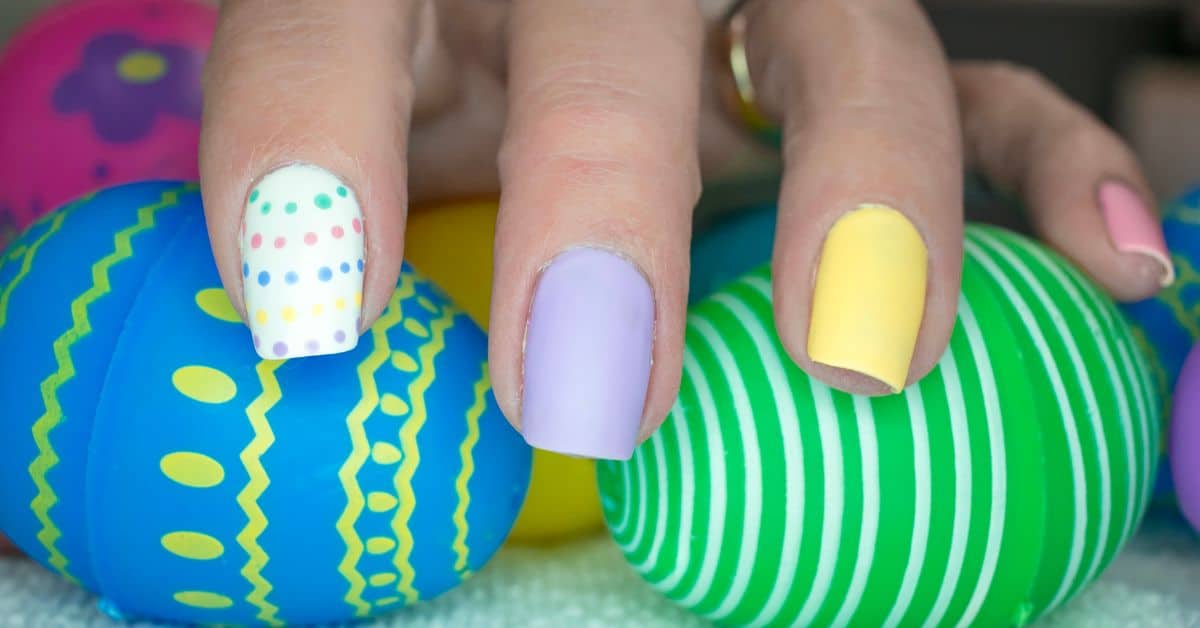 Spring is in the air, and it is time to start thinking about the Easter preparations. From choosing the ideal and lovely pastel dress to organizing your Easter brunch menu, there are numerous enjoyable and festive ways to get into the holiday spirit.
But what about your nails? Easter manicures are the ideal way to bring even more joy to your festive look. Celebrities like Ariana Grande, Cardi B, and Kylie Jenner have all worn Easter-themed nail art in the past, demonstrating that this trend is not just for children.
To create eye-catching Easter nail designs, you have countless options in terms of colors, patterns, and embellishments. Also, you have design options like playful bunnies to delicate florals. Thus, having brand-new nails with all these elements can make you feel happier on that special day.
So why not give your nails a little extra love this Easter and embrace the fun and beauty of the season?
Table Of Contents
Trend Alert: Insta Nail Inspiration
Here is "Naked Disco Nails," a trend-setting manicure style created by celebrity nail artist Tom Bachik for Selena Gomez. According to him, achieving this manicure with a neutral tone and glitter effect is easy from your comfort. So, why not give it a try for your spring Easter nail design?
Check Betina Goldstein's recent post that shows a pastel peach design for the upcoming spring season. Take inspiration from her post and incorporate this charming design into your Easter nail look.
Kami is a gifted nail technician who has a passion for creating stunning and original nail designs. She has a keen sense of style and an eye for detail from years of experience in the nail industry. Her artistic talent and originality have won her a devoted following among both clients and colleagues.
Here is her recent post for the prestigious "Miu Miu" brand. This exquisite design with vivid colors and floral patterns can be a better choice for your Easter nail look. Let your nails bloom with this stunning and captivating design.
Cheerful Easter Nail Ideas: Smiling Stars And Colorful Daisies
Would you like to enhance your Easter look with some colorful flowers and chocolate-themed designs? Look no further! These charming Easter nail designs, featuring creative and festive Easter themes, are the perfect way to complete your holiday look.
1. Little Chick Bunny Nails
These pastel-colored nails with beautiful polka dots, chick designs, and bunny ears are the ideal choice to welcome the Easter vibes to your atmosphere. This design can perfectly capture the spirit of Easter. So, wear it for a family brunch or an Easter egg hunt.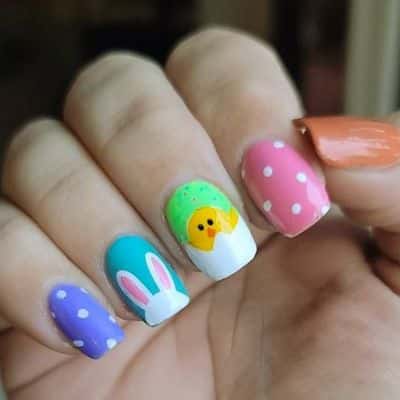 Try this simple duck and bunny nail designs for your Easter evening.
2. Smiley Star Nails
This sweet pastel-colored nail look with daisies, smiley faces, hearts, and stars can elevate your Easter celebrations. This design goes well with your festive attire, thanks to its intricate details and vivid colors. This playful and cheerful nail design can spread joy and positivity in your Easter party with friends.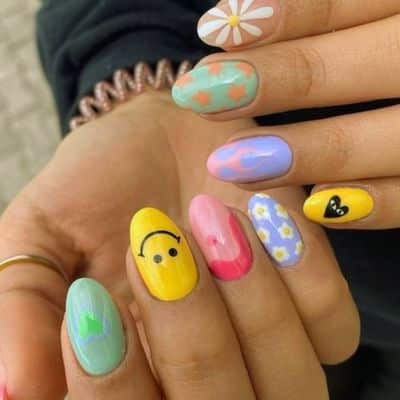 3. Icy Blue And Coral Nails
Indulge in the cool and refreshing vibes of Easter with these mesmerizing icy blue and coral nail designs. The delicate floral and leafy patterns are the perfect choice for any formal Easter event.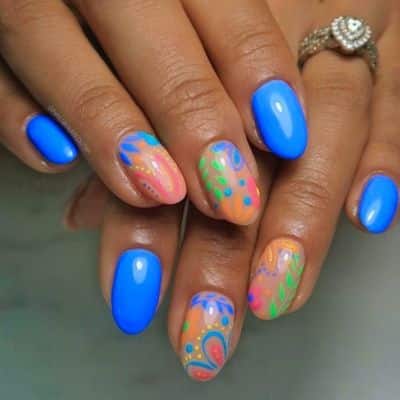 4. Bright Abstract Nails
Add some color and creativity elements to your Easter mood with these clear nails featuring bright colors and abstract patterns. The unique design exudes confidence and individuality, making it an excellent option for anyone looking to stand out from the crowd. This manicure is perfect for any casual Easter event and to make a statement.
5. Colorful Checkered Nails
Unleash your inner fashionista with this bold and playful checkered pattern featuring different bright colors on each nail. This fun and creative Easter nail design is perfect for anyone looking to show off their unique style. You can try this nail design for any casual Easter event.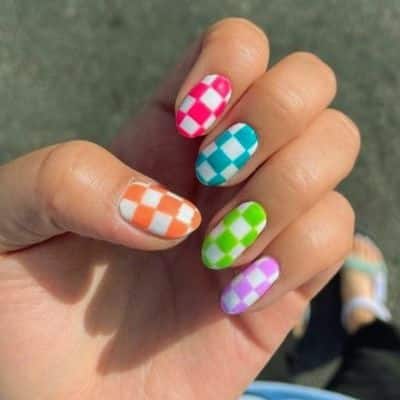 This simple demo video can help you recreate this design from your comfort.
6. Playful Omelet Nails
These simple beige nails with a cute omelet pattern can add a beautiful, funny element to your Easter brunch. This unique design, perfect for any Easter morning gathering, will undoubtedly bring a smile to everyone's face.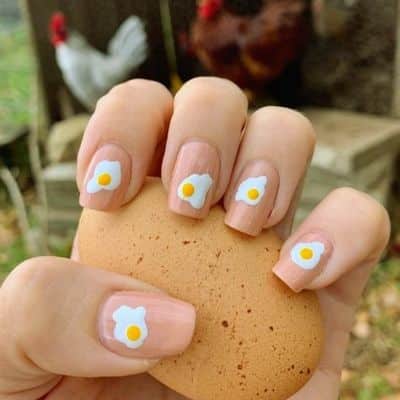 7. Rainbow Sprinkle Nails
Add a splash of fun and color to your Easter celebration with these trendy orange and white nails. The combination of the bold orange, white, and colorful sprinkles creates a striking contrast, capturing the spirit of Easter in a playful and fashionable way.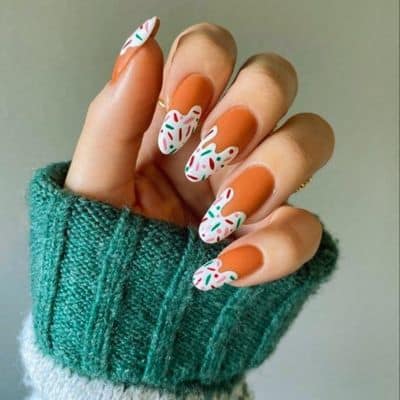 8. Pastel Accent Nails
Bring the real essence of Easter to your nails with this stunning pastel lavender and beige color combination featuring a cute chick pattern on the thumbnails. The delicate and charming design with complete cuteness is a perfect choice for any Easter celebration.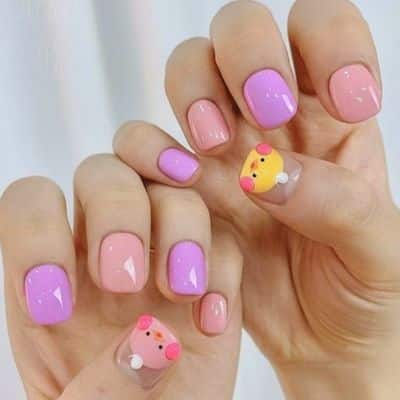 These nails are ideal for an Easter egg hunt or a family gathering, where you can showcase your festive spirit and love for springtime.
9. Donut Nails
Get into the Easter spirit with these sweet baby pink nails that feature mouth watering donuts. The charming pattern is perfect for bringing some personality to your appearance and honoring the festive occasion. While the baby pink color exudes a soft, feminine vibe, the donut and intriguing pattern give it a whimsical, amusing edge.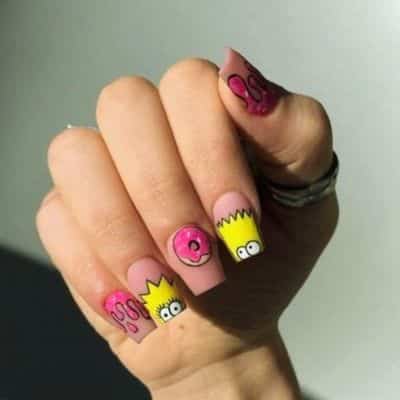 This nail art is ideal for Easter brunches or gatherings with family and friends.
10. French-Egg Nails
Elevate your Easter nail game with this stunning nude nail design. The egg pattern French tips and golden negative space design add some glamor vibe, while the adorable white bunny ears create a whimsical and playful feel.
The neutral nude base provides the perfect canvas for the intricate and eye-catching design, making it suitable for a variety of Easter events, from casual family gatherings to elegant brunches. The subtle yet stunning details of this nail design will surely make you feel like a true Easter fashionista.
Explore more creative Easter nail ideas by clicking on this link.
Get Into The Holiday Mood With Easter Nail Designs
Easter is not just about dressing up in pastels and indulging in brunch menus but also a time to display your artistic talent with Easter nail designs. From cute little chicks to playful omelets, the options are endless.
So, get ready to hop into the festive mood and let your nails blossom with color, patterns, and embellishments.
FAQs
Q: What are some popular Easter nail designs?
A: Some popular Easter nail designs include pastel-colored nails with floral or bunny designs, Easter egg-inspired designs, and nail art featuring chicks, lambs, or other springtime creatures.
Q: Can I do Easter nail designs at home?
A: Yes! You can create Easter nail designs at home with the right tools and materials. For that, you need nail polish in pastel colors, a dotting tool or toothpick, and small brushes.
Q: How long do Easter nail designs last?
A: The longevity of Easter nail designs depends on the quality of the nail polish and the care you take of your nails. Generally, you can expect them to last for about a week before they start to chip or fade.
References