From Mocha To Espresso: Achieving 10 Flawless Brown Nails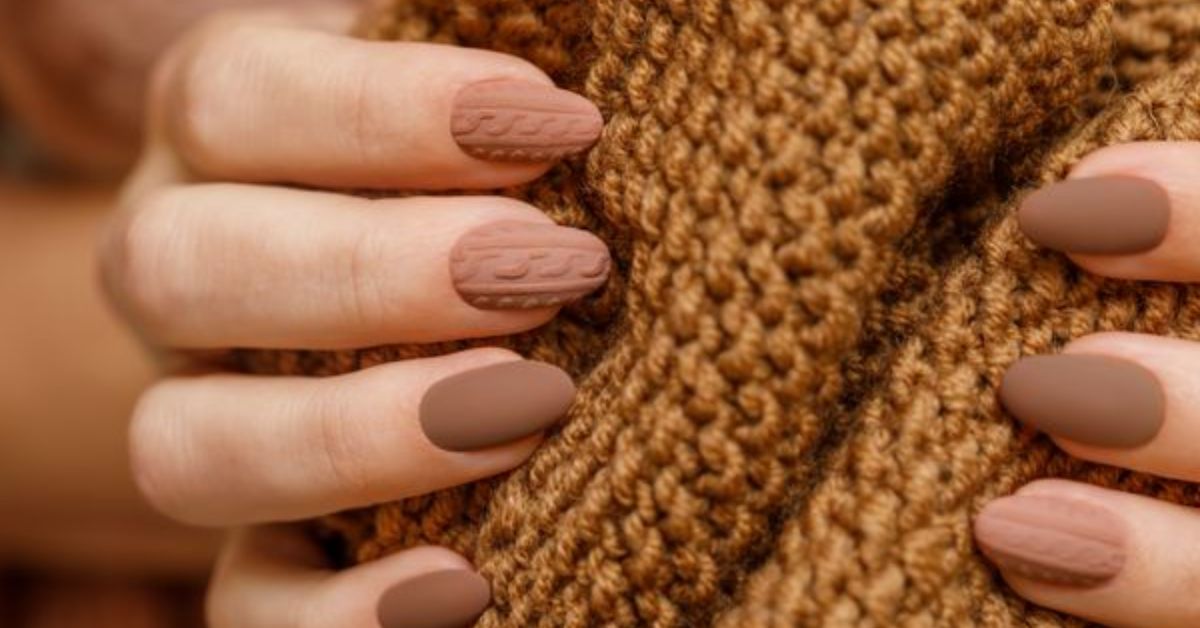 The rise of minimalist fashion made brown nails trending. Nowadays, many people are gravitating toward simple and more natural looks, and brown shades succeeded in fulfilling their expectations with less effort. 
Brown, the versatile shade, can make you picture-perfect for any occasion. This color is suitable for one who wants to experiment with darker shades but prefers something more subtle than black. But with so many shades of brown, it can be overwhelming to decide where to start.
Here, we will explore the elegance of brown nail polish, the different shades available, and simple tips and tricks for choosing and achieving the perfect brown nail designs. Whether you are a seasonal nail polish enthusiast or a beginner, these ideas will help you elevate your manicure game and achieve flawless brown nails every time.
So, let's dive in!
Table Of Contents
Is Brown Nail Polish An Elegant Choice?
Yes, brown nail polish is an elegant and simple choice. The essential thing is choosing the right shade that complements your skin tone and occasion.
Lighter shades of brown can give you a natural look, while darker shades of brown can create a bold and dramatic appearance. Applying brown nail polish perfectly is another crucial task to achieve a graceful and flawless look.
Exploring The Different Shades Of Brown Nails
Here are ten different shades of brown that you can try on your nails:
Beige – This light and creamy brown gives a natural and subtle look.
Tan – This warm and sandy brown is perfect for a beachy look.
Taupe – This medium brown shade with a gray undertone complements different skin tones.
Caramel – This warm and inviting medium brown shade is perfect for brown fall nail designs.
Bronze – This shimmery medium brown shade can add a glam touch to any look.
Chocolate – Chocolate brown nail designs with deep and rich brown shades can create a bold look.
Espresso – This dark brown shade with a hint of black is perfect for all formal events.
Mahogany – This reddish-brown shade can create a warm and cozy appearance.
Chestnut – This medium to dark brown shade with a hint of red is a better choice for the winter season.
Mocha – This medium to dark brown shade with a hint of gray is suitable for a modern appearance.
Choosing The Perfect Shade Of Brown Nail Polish: Tips And Tricks
Choosing the perfect shade of brown nail polish can be a difficult task because there are so many different shades and undertones to consider. However, these tips can help you easily find the perfect brown nail polish for your skin tone and personal style.
Consider Your Skin Tone: Skin tone has a great role in choosing the right brown nail polish shade. If you have fair skin, pick lighter shades like beige or nude. For medium skin tones, pick warm shades like caramel or bronze. If you have darker skin, go for rich and deep shades like chocolate or espresso.
Consider The Occasion: Definitely, the occasion can influence your choice of brown nail polish shade. For example, if the event is a casual one, go for lighter shades of brown. If it is a formal event or a night out, go for darker and richer shades.
Consider Your Outfit: Considering the colors and patterns of your outfit is really important. Pair neutral outfits with lighter shades and darker outfits with deeper shades of brown.
Do Some Experiments With Undertones: Brown nail polish usually comes in different undertones like red, orange, and yellow. So, be playful and try different undertones to find the shade that complements your skin tone and personal style.
Testing: Always test the one you picked to ensure that it matches your skin tone and looks great on your nails.
Stunning Brown Nail Designs To Elevate Your Manicure Game
1. Beige-matte Wild Nails
To achieve this light brown nail design, paint three fingers in beige and two fingers in chocolate brown. Now, add animal patterns like zebra prints, tiger prints, or leopard prints on beige nails to improve the look. This matte nail is a wonderful choice for the festive season.
2. Tan-ish Love
For this simple brown nail design, paint your nails in tan brown nail shade. Now, draw simple flowers and heart patterns using white nail color. Finally, add a glossy top coat to improve the shiny look.
3. Taupe-Glitter Accent
To get this look, paint your nails using taupe color nail polish and apply the glossy layer on each nail. To make the nail design more special, add a silver glittery touch to one nail.
4. Caramel Tortoiseshell French Tip
Try this innovative brown French nail design using nude and caramel nail colors. First, paint your nails nude in color and do the tip enhancement using a caramel hue. Use a small brush and black nail color to give details to your tip.
5. Simple Bronze Nails
It is easy to get this look. Get a suitable bronze color nail polish from a good brand. First, prepare your nails for a smooth canvas, and then apply two to three thin layers of nail polish. The perfectly-painted nails will give you a flawless look and finish.
6. Sugar And Spicy Chocolate Nails
To get this innovative brown and white nail design, you need some drawing skills. You can also use stencils or tape to get accurate prints. The colors required are chocolate brown and black.
7. Expressive-Espresso Nails
Try this dark brown nail design, the combination of espresso and mustard yellow color, to create an outstanding look. A glossy layer at the end of the nail work will add some extra elegance to your nails.
8. Royal Mahogany Nails
Paint your nails using a mahogany brown color nail polish and give a glittery coating to them to add a royal touch. This nail design is suitable for a night party or a wedding night.
9. Chestnut Stamping
Try this classy brown nail design using stamping techniques. For this, you should have colors like bright green, chocolate brown, and chestnut brown. Leaving some nails simple and adding flower patterns may add extra beauty to this design.
10. Mocha-Hearts Coffin Nails
If you love different nail shapes, try this coffin brown nail design. Give a base layer using any nude color, and then add hearts in French-tip format using mocha, white, and chocolate brown colors.
DIY Brown Nails: How To Create The Perfect Look At Home
Do you want to have beautiful brown nails without spending a lot of money? Here is how you can create the perfect brown nail designs at home.
Take off your old nail polish and file your nails into your favorite shape.
Dip your fingers into warm and soapy water for a few minutes to make your fingers feel good.
Wipe your nails dry with a towel.
Put on a layer of base coat to protect your nails and make them smooth.
Wait until the clear polish is dry.
Use the brown shade of your choice to paint your nails.
Apply two to three thin coatings and wait for the layers to dry.
Add a topcoat to make your nails shiny and pretty.
If you have made any mistakes, don't worry! You can use a small brush dipped in nail polish remover to fix them up.
Now, you are all set to have amazing brown nails that look just as good as the ones in a nail salon.
Be A Sweetheart With This Chocolate Shade
These simple DIY techniques and tips for choosing the suitable shade for your skin tone and lifestyle may help you create a perfect brown manicure from your comfort. Finally, you can achieve flawless brown nails every time with a little patience and attention.
FAQs
References