Unleash Your Inner Boldness With Red Nail Designs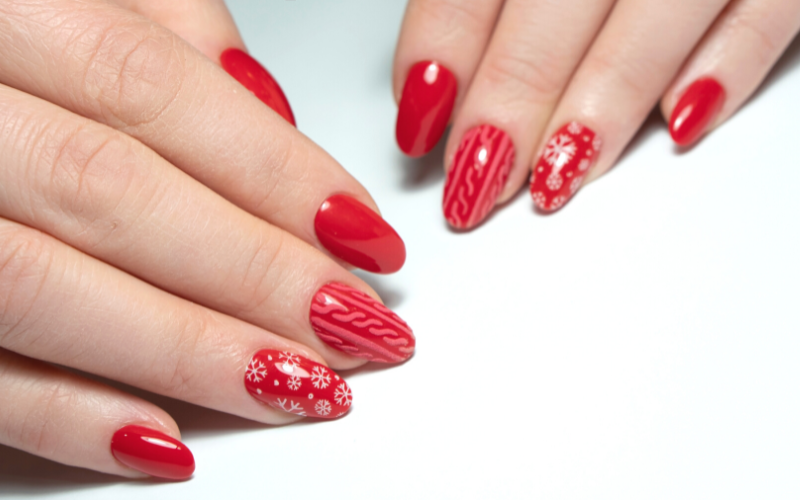 "Red Nail Designs: The Ultimate Beauty Statement"
Red nail designs are the perfect way to impart a touch of glamor to your fashion sense. Whether you are dressing up for an occasion or just you want to make a bold statement, red-painted nails are the ultimate beauty accessory.
This vibrant color and attention-grabbing hue can instantly elevate your look in any outfit and make you feel confident and stylish. From classic red manicures to elaborate nail designs, there are countless ways to incorporate red into your fashion quotient.
So why wait? Get ready to turn heads and create a trendy statement with red nail designs today!
Table Of Contents
Red Nail Designs
Red is a classic, bold, and timeless color that matches well with all your outfits and skin tones. It's also considered a symbol of love, passion, and femininity. This versatile color can be paired with different colors, patterns, and textures to create innovative nail designs. Some popular red nail designs include:
French Manicure With A Red Tip
You can try this classic French manicure for special occasions or everyday wear. Additional embellishments like glitter, rhinestones, or stripes may add some extra sparkle to this design.
Ombre Red Nails
Ombre nail design, the gradient effect, involves the color transitions from light to dark or vice versa. You can pair this eye-catching, fashionable ombre red design with different nail art techniques and bold colors for a unique and stylish look.
Glitter Red Nails
Glitter red nails are a fun and festive nail design that adds shine to your look. You can choose a glitter polish that matches your red base color or contrast with it, such as silver or gold, for a bold and dramatic effect.
Floral Or Polka Dot Red Nails
Floral or polka dot red nails add a pop of color and personality to your look. You need a dotting tool or toothpick for a fun and playful look on your red nails. This design is perfect for spring and summer and can impart a whimsy to your nails.
Red Matte Nails
Red matte nails offer a modern twist on the classic red manicure. The flat and non-shiny finish creates a chic and stylish look. To get this look, choose a solid red color or add matte accents to specific nails.
Note: Matte polishes tend to chip more easily than glossy polishes, so be sure to use a strong topcoat to protect the design and keep your nails looking fresh.
Red And Black Nails
Red and black is a bold and daring combination. You can mix and match the colors by alternating red and black nails for a bold look. Red and black nails are perfect for a night out and add a touch of attitude to your look.
Red Nails With Animal Prints
Red nails with animal prints add a touch of fun to your look. You can add animal print accents using black polish, stencils, or decals. Try prints like leopard, zebra, butterfly, and snake.
Red nails with animal prints are perfect for a casual or fun occasion.
Red Abstract Art
Red abstract art nails include a variety of nail art techniques, such as brush strokes, splatter effects, or geometric shapes. You can mix and match different shades of red, such as bright and dark red, for a dramatic and stylish look. Adding black or white accents to the design may give you a contrasting effect.
Red Nail With Hearts
This is a playful and romantic nail design that adds a touch of love and affection to your look. You can add heart accents using a contrasting color, such as white or pink, or with heart decals.
Try varieties like small and large hearts to add a touch of sweetness to Valentine's Day or a romantic occasion.
Diamond Red Nails
Red nails with diamonds add a touch of luxury to your look. Use rhinestones, nail stickers, or metallic polish to achieve this look. Mix and match different diamond sizes and shapes to make the game spicier.
The Power Of Red
The color red possesses a remarkable intensity, being closely linked with feelings of passion, love, and vitality. Scientific evidence suggests that it has the ability to elevate heart rate and blood pressure, thereby generating an invigorating and stimulating effect. Moreover, red is often emblematic of power, confidence, and fortitude.
Furthermore, red stands as a resolute and empowering hue, with studies demonstrating its capacity to enhance one's self-assurance and self-worth.
Therefore, by incorporating red into your nail designs, you can add a pop of color to your look, make a bold statement, and help you tap into these feelings of empowerment and confidence.
And…. Who says red nail polish is just for women? Men can also rock bold and edgy red nail designs. Masculine designs, such as matte red nails or black and red color block designs, can make a statement and challenge traditional gender norms.
Maintaining Your Red Nails
You might have perused through our previous articles wherein we incessantly emphasize the paramountcy of upholding the well-being of one's nails. Adhering to such practices bestows upon your nails a refined and astoundingly sophisticated appearance. Engaging in the appropriate care and maintenance of your nails can also serve as a deterrent against unsightly chips and smudges.
It is also equally important to keep your nails looking their best. Hence, moisturize your cuticles regularly and use a top coat to seal in the color and prevent chips. When removing red nail polish, use an acetone-based remover to prevent staining your nails.
Spread Love With This Unique Color
As the Valentine's season is approaching, celebrate your love and affection with a classic red shade or a more modern glitter or matte finish. Pair your red nails with a romantic dress or a chic outfit for a complete look that's sure to turn heads.
FAQs
Q: Can red nail designs be appropriate for an official meet-up?
A: Yes, simple and elegant red manicures such as a classic red or a red French tip are the best and most professional choice for the office look.
Q: Does mixing red with other colors look good?
A: Yes, red can be combined with other colors to create unique designs. Some popular color combinations are red and black, red and gold, and red and white.
Q:  What shade of red should I choose for my skin tone?
A:  It's important to choose a shade of red that complements your skin tone. For fair skin, try a bright, cherry red. For medium skin, go for a deeper, wine red. And for dark skin, a bold, fire-engine red will look stunning.
Q:  How can I add some extra flair to my red nails?
A:  There are many ways to add some extra flair to your red nails. You can add some glitter or metallic accents, create intricate nail art designs, or experiment with different nail shapes. The possibilities are endless!
Q:  Can I wear red nails with any outfit?
A:  Red nails are versatile and can be worn with any outfit. They add a pop of color and a touch of boldness to any look.
References