Rhinestone Mania: The Latest 10 Rhinestone Nail Designs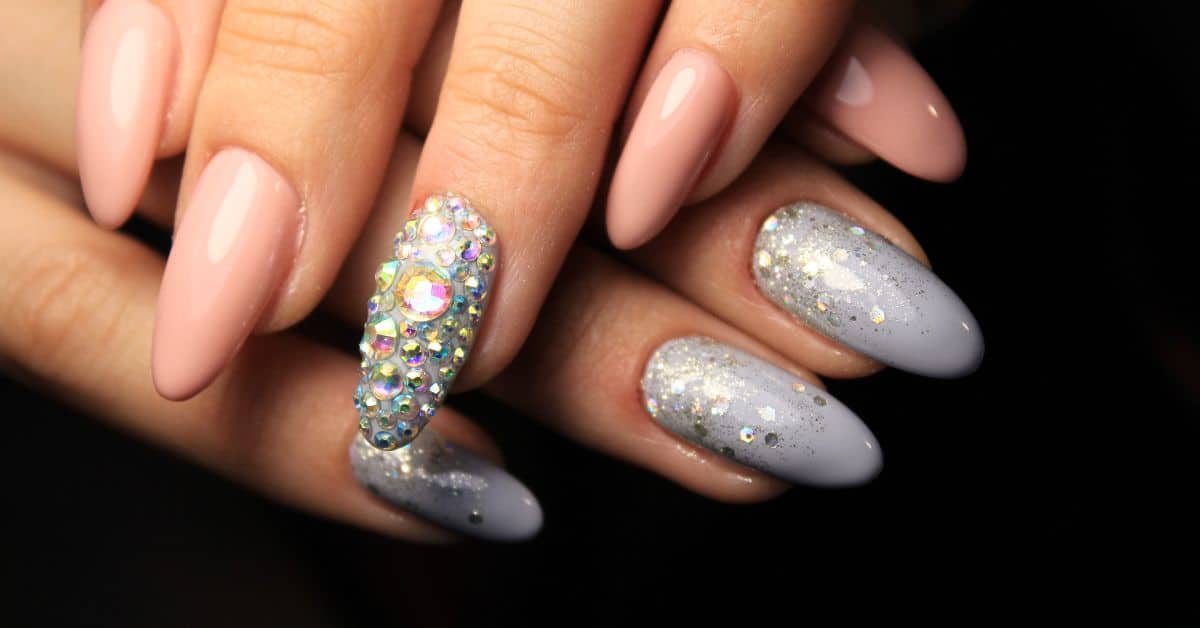 Do you enjoy trying new nail trends? Then, rhinestones help you make those trending designs more attractive and creative. Rhinestones can help you in creating a captivating nail appearance!
They usually come in an infinite number of shapes, sizes, and colors. But to achieve class and glamorous nail perfection, the right tools and stone selections are needed. Here, we will walk you through the various varieties of rhinestones, along with the mani-pedi tools needed to apply them.
In addition, we have gathered some trendy and well-liked rhinestone nail designs to add a little extra sparkle!
Table Of Contents
Rhinestone Nail Art By Top Celebrity Nail Artists
Check this stunning red nail design adorned with rhinestones, brought to you by the talented nail artist Miss Pop. With her impeccable sense of creativity and love for colorful designs, Miss Pop has become a highly sought-after artist in New York City's beauty industry.
In addition to her work as a nail artist, Miss Pop is also a frequent contributor to major fashion and beauty publications. Her work has been featured in Vogue, Elle, Harper's Bazaar, and many other publications. For this exquisite design, Miss Pop used Color Club Nail Lacquer's ravishing regatta red color, perfectly accentuating the sparkling rhinestones.
Behold this fabulous nail design featuring big, bold rhinestones, custom-designed by none other than Park Eunkyung. It is done for the multi-talented South Korean singer, actress, and model Jisoo, known as a member of the K-pop group Blackpink.
Park Eunkyung is a highly acclaimed nail artist hailing from South Korea, famous for her intricate and incredibly detailed nail designs that have won the hearts of many Korean celebrities such as IU, Red Velvet, and Kim Yoo-Jung.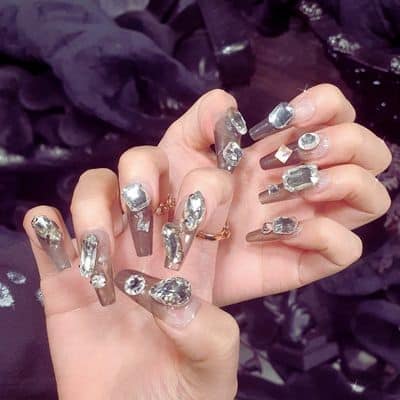 This stunning nail design is created by none other than Britney Tokyo, the celebrity nail artist who has left her mark on some of the biggest names in the music and fashion industry. She crafted this eye-catching design for the immensely talented American singer-songwriter Tori Kelly as the perfect birthday accessory.
Britney Tokyo's extensive clientele includes superstars like Ariana Grande, Cardi B, Kylie Jenner, and Gigi Hadid, among many others.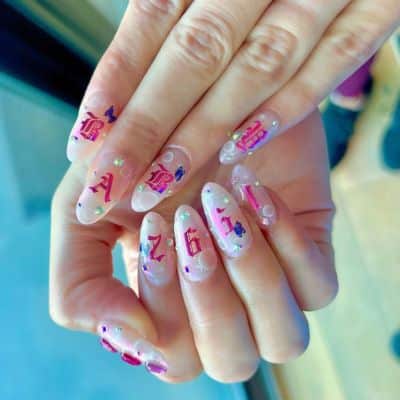 Introducing the latest in nail fashion, Tom Bachick's "Lip Gloss and Diamonds" design, flaunted by the stunning Jennifer Lopez at the 2023 Grammys. A match made in style heaven, the dynamic duo carefully crafted a chic and understated nail look to perfectly complement JLo's GUCCI gown.
The simple nail design with rhinestones combines the subtle shimmer of lip gloss with the luxurious sparkle of diamonds, creating a captivating effect. This stunning nail art is sure to turn heads and leave a lasting impression on any red carpet-event.
Essential Tools And Types Of Rhinestones
The right choice of rhinestones and tools is essential in crafting mesmerizing rhinestone nail designs that can make your nails stand out.
Types Of Rhinestones
Shimmering Flatbacks: These are the backbone of the nail art universe. With their flat facade, they are effortless to apply and come in a spectrum of sizes and hues to suit any design.
Pointed Wonders: For 3D designs that demand a touch of dimension, pointed-back rhinestones are the answer. This type comes in various shapes and sizes, from petite to statement-making.
Lustrous Marvels: Infuse sophistication into your nail art with these iridescent rhinestones that add a refined and glossy finish to your designs.
Playful Contours: From hearts to stars to flowers, shaped rhinestones enable you to unleash your creativity and devise whimsical and fun designs that will surprise your friends.
Vivid Neon: These eye-catching and vibrant rhinestones are perfect for adding a burst of bright color to any nail design and will catch everyone's attention.
Tools Required For Applying Rhinestones
With these tools and essentials, you can create stunning and fashionable rhinestone nail designs.
A good pair of tweezers is essential for applying rhinestones to your nails in the ideal location.
To keep these rhinestones in place and stop them from falling off after a day or two, strong and long-lasting nail glue is essential!
Dotting tools make it simple to pick up and place tiny rhinestones, enabling you to create intricate designs easily.
You can use toothpicks to apply nail glue to your rhinestones and place them precisely where you want them on your nail.
When you are done applying your rhinestones in various patterns, use acetone or acetone-less nail paint remover to clear the excess glue or polish that might have amassed around the nail.
Let your imagination hit the boundless sky with these different types of rhinestones and tools.
Be Unique And Bright With These Rhinestone Nail Art
Shine bright like a sparkling diamond with these dope rhinestone nail art designs. Step up your mani game with bling that is on fleek!
1. Classic French Manicure With Rhinestones
This French nail design with rhinestones involves painting your nails with a clear or nude base color and creating a classic French manicure with white or beige tips. To add some sparkle, you can line the edge of the white or beige section with rhinestones.
2. Ombre Glitter And Rhinestones
For this ombre nail design with rhinestones, start with a clear base coat and create an ombre effect on your nails using glitter polish. Blend the glitter with a sponge to create a seamless transition. After the polish is dry, add rhinestones in a scattered pattern over the glitter section.
3. Rhinestone Accent Nail
Create a fashionable and stylish appearance by implementing a glittering gemstone plan on one striking digit while coating the remaining nails in a uniform hue. Use a natural hue on the digit and affix precious stones to develop a heart, star, stripe, or any alternative style of your liking.
This cute nail design with rhinestones is perfect for individuals who wish to augment their nails with a dash of allure while retaining an air of subtlety.
4. Geometric Rhinestone Design
Remain upgraded with the most recent nail fashions with this contemporary and amusing design. Utilize gemstones in geometric shapes such as triangles, rectangles, or wavy lines, employing stones of various hues and magnitudes. This fall nail design with rhinestones is ideal for individuals who desire to create an emphatic declaration with their nails.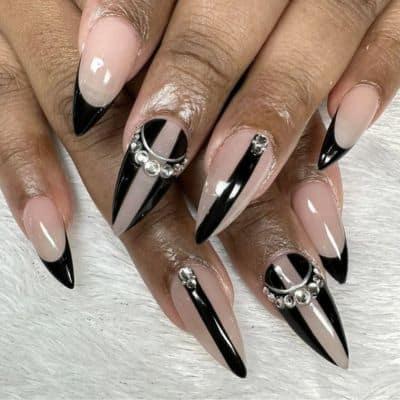 5. Floral Rhinestone Design
For a fragile and feminine appearance, initiate with a translucent or natural base coat and place precious stones in the shape of flowers. Use a thin nail art brush to paint the outline of a flower in white or another light shade and load it with small jewels. Append a larger gemstone in the center to craft a remarkable floral design.
This flower nail design with rhinestones is perfect for nuptials, proms, or any other formal gathering.
6. Rainbow Rhinestone Gradient
Create a colorful gradient effect on your nails using rhinestones. To achieve this fancy nail design with rhinestones, start with a clear base coat and apply rhinestones in a rainbow pattern from the base of your nails to the tip. Use smaller rhinestones at the base and larger ones at the tip for a gradient effect.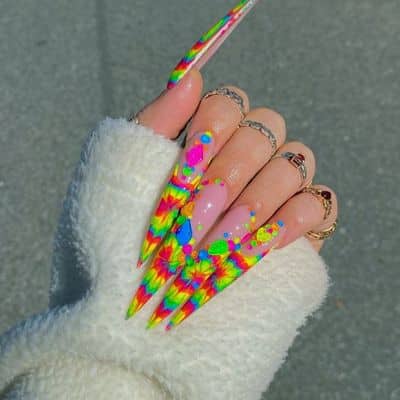 7. Elegant Rhinestone Half-Moon
Realize an elegant and sophisticated appearance by painting your nails with a clear or natural base coat and appending a crescent-moon shape at the bottom of your nails using gemstones or any nail color. Employ larger jewels at the periphery of the crescent moon and smaller ones in the center for a more polished appearance.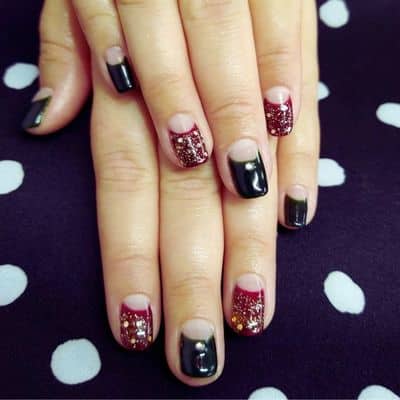 This gel nail design with rhinestones is perfect for individuals who wish to augment their nails with a touch of allure.
8. 3D Rhinestone Accents
Incorporate some depth into your nails by fabricating 3D designs with gemstones. Apply a transparent base coat and utilize nail glue to attach precious stones in various magnitudes and shapes, such as bows, hearts, or stars. This 3d rhinestone nail design is ideal for individuals who wish to make a declaration with their nails and stand out from the crowd.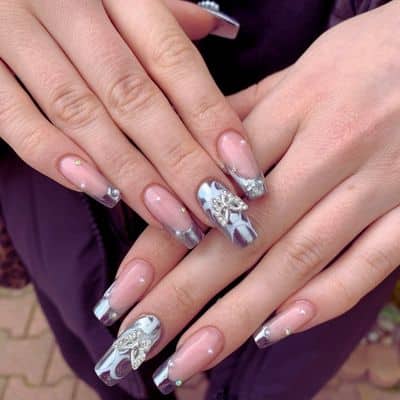 9. Rhinestone Chevron Pattern
Create a trendy and modern long nail design by applying rhinestones in a chevron pattern. Start with a clear or nude base coat and use a fine brush to paint a chevron shape in white or any other color. Fill in the chevron shape with small rhinestones or place a single golden stone at particular places.
10. Gothic Rhinestone Design
For a dark and edgy Halloween nail design with rhinestones, apply the stones in a gothic pattern. Start with a black base coat and use a fine brush to create a design with small rhinestones in the shape of crosses, skulls, or other gothic symbols. Add a few larger rhinestones for added drama.
Maintenance Of Nail Designs With Rhinestones
Maintaining the magnificence of a rhinestone nail design is no easy task and can be quite difficult. However, proper care and attention can prolong its life and keep it dazzling. This section delves into the maintenance of rhinestone nail art, including how to care for them, tips for prolonging their life, and safety precautions to keep in mind.
How To Care For Rhinestone Nail Designs
Caring for rhinestone nail designs requires special attention. Here are some effective tips to help you care for your rhinestone mani.
Avoid Overexposure To Water: Extended periods in water can cause rhinestones to loosen. Avoid soaking your nails in hot or cold water for long periods, and wear gloves while washing dishes or doing other water-based activities.
Stay Away From Harsh Chemicals: Cleaning products and nail polish removers can damage or dislodge rhinestones. Use gentle products when cleaning your nails.
Handle With Care: Refrain from using your nails as tools or doing anything that might cause the rhinestones to fall off or become damaged.
Tips For Prolonging The Life Of Rhinestone Nail Designs
Here are some tips to extend the life of your rhinestone nails.
A clear topcoat layer over the rhinestone nail design can protect it from wear and tear.
Avoid surfaces that may scratch or damage your rhinestone nail designs, such as sandpaper or rough fabrics.
Store your rhinestone nail designs (if it is artificial) in a secure place where they won't be crushed or damaged when not in use.
With these care and maintenance tips, you can keep your rhinestone nail designs looking dazzling for an extended period. Remember to take safety precautions and store your designs properly when not in use, and enjoy your exquisite nail designs with rhinestones for weeks.
Experiment With Various Rhinestones
The best way to express your creativity and give your nails a glamorous feel is to incorporate rhinestones into your digits. There are countless options, from a traditional French manicure with rhinestone accents to a more contemporary geometric pattern.
So move forward and let your creativity run wild, experiment with various rhinestone types and tools, and get ready to astound everyone with your stunning nail art!
FAQs
Q: How long do rhinestone nail designs last?
A: The longevity of rhinestone nail art depends on various pointers, such as the quality of the stones used, the application method, and how well you care for your nails. Generally, rhinestone nail designs can last up to two weeks with proper care.
Q: Can rhinestone nail designs be done at home?
A: Yes, nail designs with rhinestones can be done at home with the right tools and materials. However, it can be a challenging and time-consuming process, so it's essential to have patience and practice to create a beautiful and long-lasting design.
References