The Magic Of Long Nails: 20 Trendy And Chic Designs For Your Next Manicure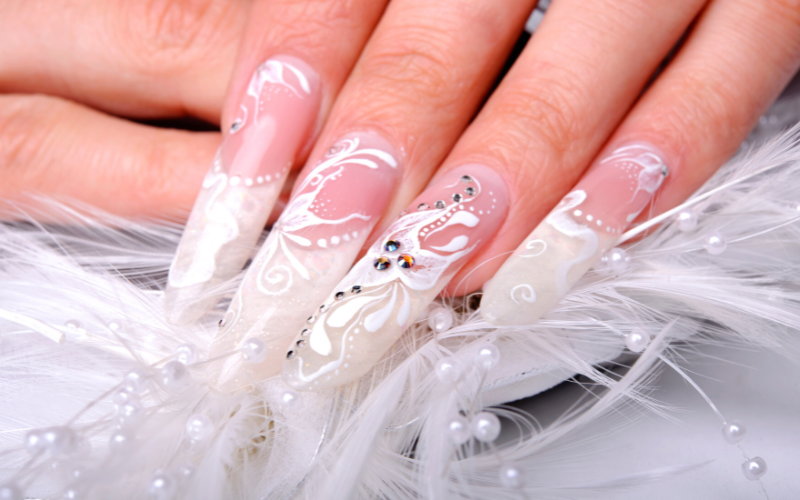 With the rise of social media pages and the influence of fashion bloggers and celebrities, long nails have become a trend. Not only do they provide a canvas for creative designs and artwork, but they can also enhance your overall look and complement your outfit.
Here, we will explore the magic of long nails and showcase some of the trendiest and chic long-nail ideas that you can try for your next manicure. There are different, attractive designs to choose from that will add extra beauty to your natural long nails.
Do you want to add some pizzazz or geometrical designs to your current manicure? Hold tight and read this.
Here are 20 trendy designs for long nails.
1. Raspberry Ombre Almond Nails
This hot and happening long-nail idea combines two of the hottest nail trends – a vibrant ombre effect and a sleek, feminine almond shape. The long almond shape elongates your fingers and helps you show off your flair for fashion.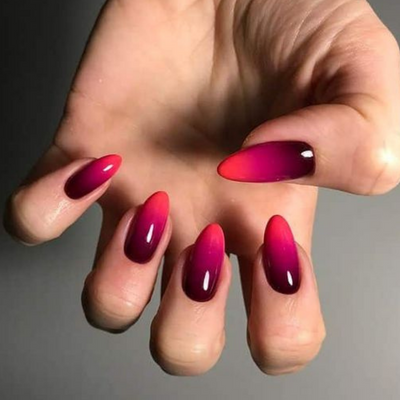 2. Malibu Barbie Long Nails
Bring out your inner beach babe with Malibu Barbie nails. This fun, flirty design is inspired by the iconic Barbie doll and her love for all things sunny and bright. Whether you are heading to the shore or just want to add a little bit of summer feel to your nails, this long-nail idea is sure to be a hit.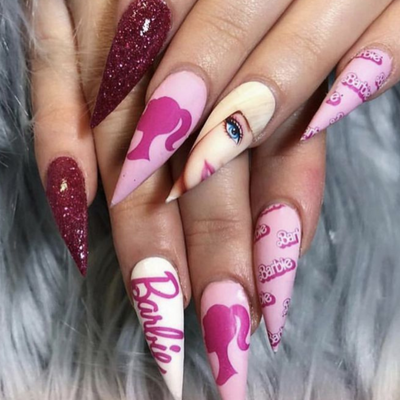 3. Clear Neon Long Nails
This eye-catching long-nail idea is all about mixing transparent nails with neon accents for a look that is both chic and edgy. The combination of the clear base and neon pop creates a modern and unexpected twist on the classic French manicure.
Whether you are hitting up a night out with the girls or just want to make a statement, clear neon on long nails is the way to go.
4. Yellow Long Nails
To get this look, paint your long nails with a vibrant shade of yellow and keep the rest of the design simple and chic. Whether you opt for a solid color, a simple stripe, or a playful polka dot, this long-nail idea is sure to bring a smile to everyone's face. This design is perfect for summer days, beach trips, and any other occasion where you want to feel bright and cheerful.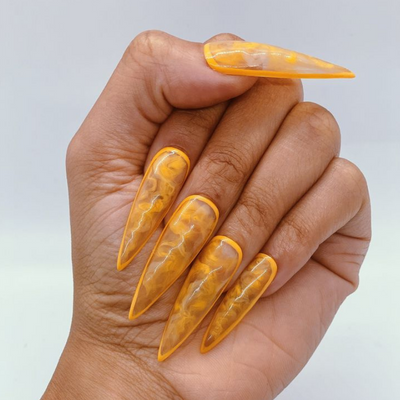 5. Yellow And Blue Long Glitter Nails
Add some sparkle to your life with yellow and blue long glitter nails. This long-nail idea combines both yellow and blue and creates a bright and playful look that is perfect for summer days and nights.
6. Blinged-Out Princess Long Nails
This elegant and glamorous design is perfect for those who love to add a touch of royalty to their look. The key is to add as much bling as you like, making this design ideal for weddings and other formal events.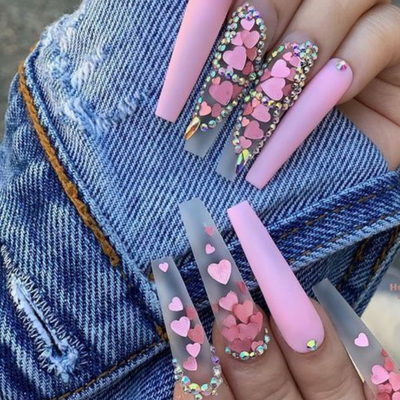 7. Cotton Candy Nude Long Nails
This soft and feminine design is perfect for those who love a subtle and elegant look. Whether you opt for a solid color, a soft gradient, or a delicate pattern, the cotton candy nude long-nail idea is sure to bring a touch of sweetness to your manicure.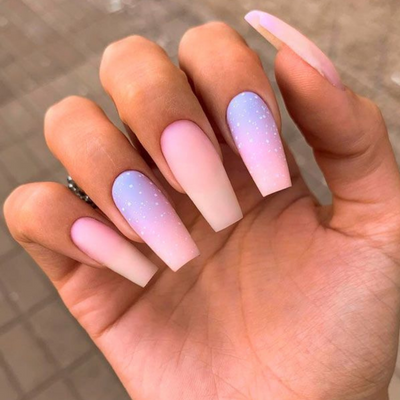 8. Blue Long Acrylic Valentine's Day Nail
Show your love on Valentine's Day with long blue acrylic nails. This romantic and playful design is perfect for those who want to celebrate the holiday in style. To create this long-nail idea, paint your long acrylic nails with a shade of baby blue and add heart accents in red or pink.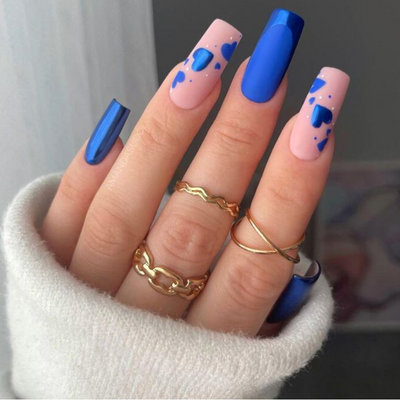 9. Extra Long Coffin Nail Designs
This long-nail idea is perfect for those who want to show off their edge and style, and it is ideal for concerts, parties, or other events where you want to stand out.
10. Long Multi-Color Nail Designs
Bring some extra color to your life with these long multi-color nail designs. This long-nail design will add some vibrancy to your nails. Try colors like neon pink, yellow, green, or blue, and add patterns, stripes, or other designs to mix things up.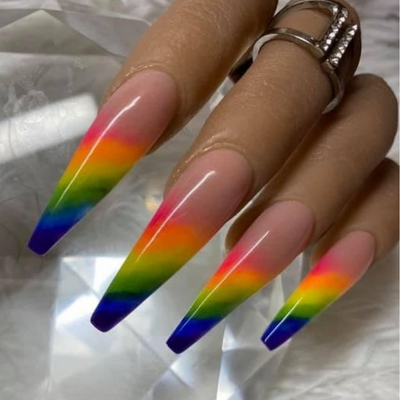 11. Bold Animal Prints
Get wild with animal prints. To get this bold long-nail look, paint your long nails with a base color, such as black or brown, and then add animal print patterns, such as leopard, zebra, or snake. You can also add studs, rhinestones, or other embellishments to give your nails extra attitude.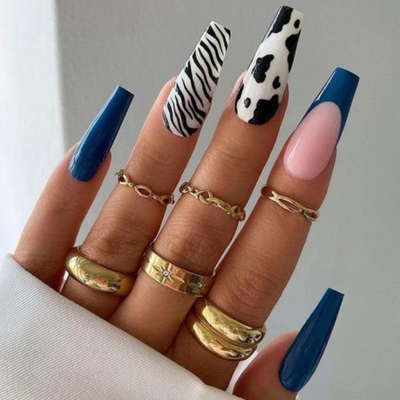 12. Cloudy Long Nails
Bring some dreamy vibes to your manicure with long cloudy nails. To get the look, paint your long nails with a pastel shade, such as light blue, pink, or yellow, and then add white clouds or clouds of different shades. It is ideal for spring, summer, or other cheerful events.
13. Evil Eye Varying Style Long Nails
Bring some serious edge to your manicure game with an evil eye long-nail idea. This design is perfect for those who want to show off their daring and confident side, and it is suitable for special events or clubbing.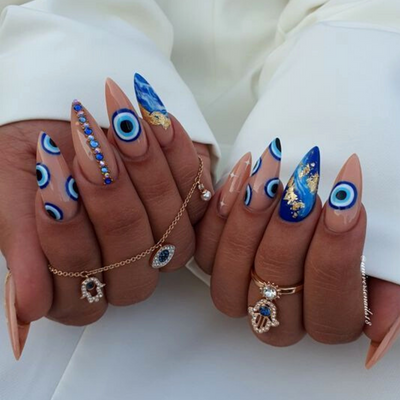 14. Pumpkin Brown And Glitter Long Nails
Get ready for fall with this trendy long-nail idea. This design is perfect for anyone who wants to add a touch of autumn to their nails. You can add autumn-themed designs, such as leaves, acorns, or pumpkins, to give your nails a fun and festive touch. This design is perfect for autumn events, such as pumpkin picking, apple cider sipping, or hayrides.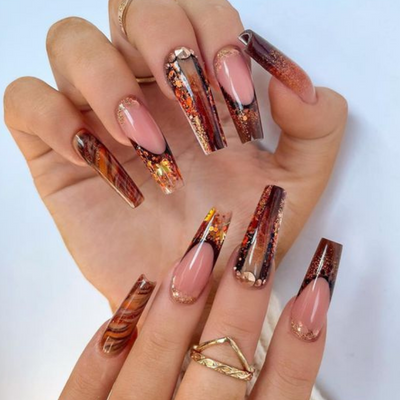 15. Gradient Brown Long Nail Design
Create this long-nail idea by painting a light brown shade at the base of your long nails and gradually blending in a darker brown shade towards the tips. This design is ideal for all occasions, whether you are attending a fancy party or just running errands.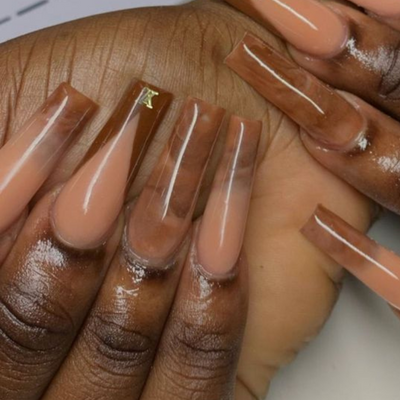 16. Stiletto Long Nails
This edgy style features sharp, pointed tips that resemble the shape of a stiletto heel. This long-nail idea gives you a scope to play with different colors, patterns, and embellishments.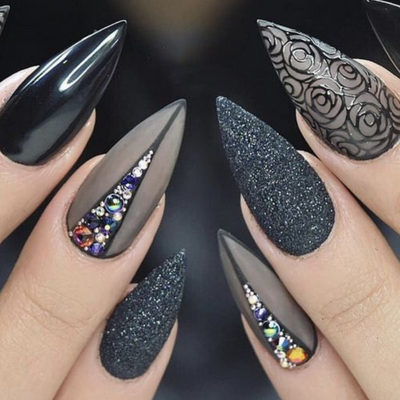 17. Long Purple Nail Designs
Whether you prefer a subtle ombre effect or an all-over intense hue, there are so many different ways to rock this shade. For a touch of glam, try adding some glitter or metallic accents. Experiment with unique shapes like a stiletto or coffin to make your nails stand out. Mix and match different purple shades to create a unique and creative look.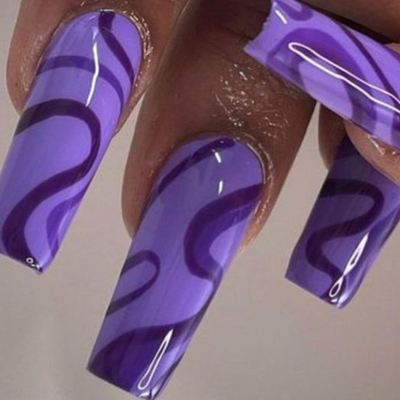 18. Diamond Glitter Long Nails
Feeling fancy and girly? Look no further; diamond glitter long nails help you make all your glam dreams come true. Whether you want a full-on glitter explosion or just a touch of sparkle, these nail designs are a surefire way to add bling to your look. Shine bright and priceless like a diamond with this stunning long-nail idea.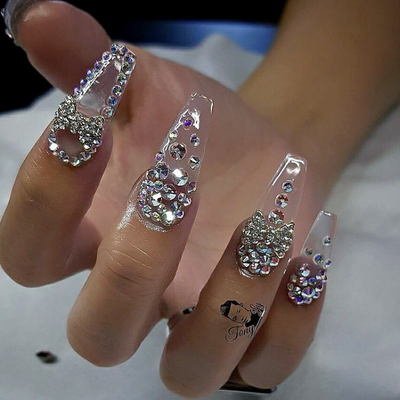 19. Acrylic Halloween Long Nails
Get spooky with some seriously stunning acrylic Halloween long nails. This long-nail idea is perfect for giving your nail a creepy-cute vibe. Whether you prefer creepy crawlies, spooky spiders, or a chic Halloween-inspired design, there is a style for every look you choose on Halloween.
20. Nature-Friendly Olive Green Long Nails
If you are looking for a nature-friendly nail design that is on-trend, consider olive green long nails. This shade of green is a perfect mix of earthy and modern, making it a great choice for a variety of occasions. Consider pairing your olive green long nails with nature-inspired jewelry or clothing to complete the look.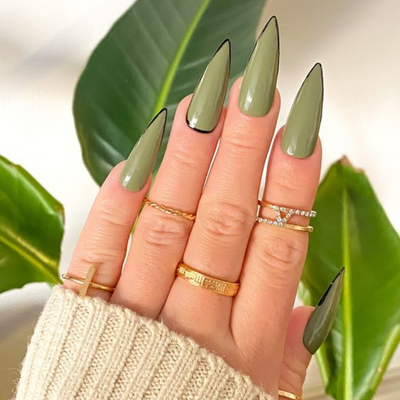 Try Trendy Ideas
Having long nails is an effective way to express your individuality and show off your creativity. With the right care and attention, you can grow strong and healthy nails that are perfect for showcasing a variety of trendy and attractive designs. If you have natural short nails, try artificial nail extensions.
FAQs
Q: How can I grow my nails long and strong?
A: To grow your nails long and strong, keep them hydrated by using a nourishing nail oil or cuticle cream, protect them from damage by avoiding harsh chemicals and wearing gloves, use a strengthening base coat, avoid biting and picking, and eat a well-balanced diet rich in vitamins and minerals.
Q: How to be updated in long-nail design trends?
A: Stay on-trend with the latest long nail designs by exploring options like ombre, glitter, animal print, neon, and more. Check out our fashion and beauty blogs for inspiration and keep your nails healthy with proper care and maintenance.
References