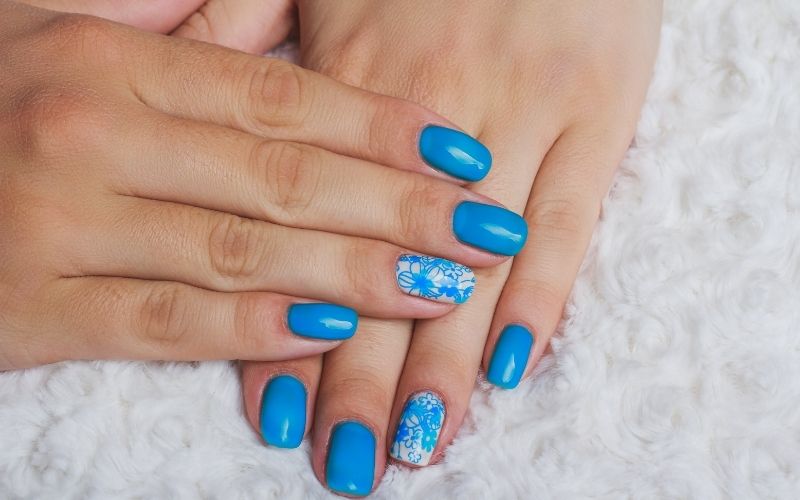 Baby blue is a romantic, popular color that can be worn during any season to brighten up your day!
They pair perfectly with coffin nails and short nail designs.
White short nails are also a great place to start!
Here are 35 gorgeous manicures to try out at your next visit to the nail salon!

Glitter pretty nails
This blue polish will perk up any occasion!
A slight sparkle nail design with beautiful blue tones makes these cute short nails special.
You could even alternate with nude nails on each finger for a whole new look.

Cloudy with a chance of baby blue
This almond nails simple manicure makes for some cute nails!
Try these as spring nails.
A change in texture with the white swirl design creates some fabulous nails, great for any skin tone.

Long coffin nails
Who doesn't love a good coffin nail?
The long nail isn't for everybody, but these acrylic nails sure are beautiful.
We also have a list that has blue flame nails here!

Mermaid gold leaf
These glamorous nails are perfect for the summertime, or any time!

Razzle dazzle
These nails feature a white glitter nail accent, plus some added sparkle on the end of the nail.

Short coffin nails french tips
This nail design features the classic French manicure nail with a baby blue A-line.

Glitter beauty cute acrylic nails
Featuring a glitter accent nail, this acrylic set uses tons of different ideas in one manicure.

Blue butterfly
The butterfly nails trend has been super popular throughout 2021, and it doesn't seem to be slowing down; this is one of the best blue nails ideas!

Flower short nails
Instead of the same long nail designs, try out some short nail designs!
This manicure features some cool nail designs and flower nail art.

Monochrome blue color
Instead of fingernails coated in the same nail polish, try out a different color look ranging from baby blue to navy blue to switch it up.

Matte coffin
These matte nails should definitely be your next nail design.
Matte blue is perfect for a party or a picnic.

Perfect accent nail
Did you know that an accent nail is the best way to prevent a boring manicure?
You have to do this adorable blue nail polish manicure with a glitter accent.

Trendy TikTok nails
These blue acrylic nails feature an oval shape that has been all over the internet.
These gorgeous nails have a simple swirl pattern in a beautiful light blue color.
You can also add an orange nails tint around the swirl pattern for a whole new look!

Day wear ombre tips
These high gloss coffin nails are one of the best blue nail designs if you don't want your nails to be all one color (and if you love a gentle ombre); perfect for the springtime!

Short nails
If you hate the feeling of a long manicure, this nude look will suit you just find.
These short acrylic nails are the real deal.
Add your favorite nail color to the tips of your nails, and you're golden!

Blue glitter mani
This acrylic set is perfect for any special occasion; featuring a little white nail polish and a gentle ombre, the glossy nail truly sets the tone of these blue acrylic nails.
Look at those sparkles!

Blue hearts
This blue nail art is all over TikTok.
The blue color mixed with black nails is undefeated!
Using some swipe gestures with a detail brush, you'll love your new manicure!

Bright blue
These long coffin nails have an adorable color to them!
We <3 this lovely nail polish and the glossy look.
Stunning butterfly
This summery set is perfect for this time of year; it might be getting colder, but this gel mani is great for those of us who love summer.

Dark blue nails
This list might be for baby blue nails, but who doesn't love a dark blue nail polish color?
This set offers simplicity and confidence.

Blue flame
This gorgeous combination of clear, white, and blue is bursting with creativity; no nail stickers required for this nail idea!

Blue snowflakes
Winter is around the corny, and what a great way to celebrate! The details on this set are perfect.

Wedding nail art
One of our best fabulous blue nail designs on this list; we adore these fake nails!
Sheer perfection.

Floral nail inspo
Check out this blue nail design!
The nail art design is out of this world.
The rhinestones provide just the right amount of shimmer, and the baby color suits the acrylics perfectly.

Pretty nails
Who doesn't like the color blue?
If you love glitter, you'll adore these ombre tips!
This blue manicure will definitely up your nail game.

Chrome blue nail polish color
These stunning dark blue nails has a magical blue radiance with the perfect balance of dark and light.

Square aquamarine
Aquamarine and baby blue are color siblings, so this set is a great idea if you want to change it up.
Use different colors with this short square shape for best results!

Dark navy almond
This beautiful navy looks stunning with a matte top coat!
If you like a toned-down manicure, this chic nail polish color won't bring so much attention to your hands.

Butterfly blue nails
This look uses a beautiful icy shade for some light blue nails; the marbling design is an adorable look, and we can't get enough of those butterflies!
Definitely a winning nail art design.

Flower acrylic nail designs
Inspire yourself with this gorgeous floral nail art.
You can use a false nail or some acrylic with your favorite shades; we love matte blue nails.

Half diamond design
This coffin nail look uses a magnificent bright color; you could do the whole thing with your choice of different colors, but we love this baby nail look.

Long square nails
Keep this glossy nail look in the front of your mind next time you go to the salon; you don't need a celebrity nail artist to get a great manicure!

Dark blue flame
This list wouldn't be complete without these royal blue flame nails. This look is at the top when it comes to dark blue nail ideas.

Seeing Stars
These nails are a great deal upgraded from your standard blue manicure.
Let's go stargazing!

Hazy icy blue
In addition to a beautiful length, this set features some gorgeous gold leaf and various shades of blue for the perfect manicure.
Overall
These designs are an awesome way to show off some stylish baby blue nail polish designs.
These nails look and feel like art and will definitely attract some compliments from other people!
Whether this is your favorite color or you're simply looking for pretty nail designs, we hope you give one of these a try.