Fall In Love With These 13 Oval Nail Designs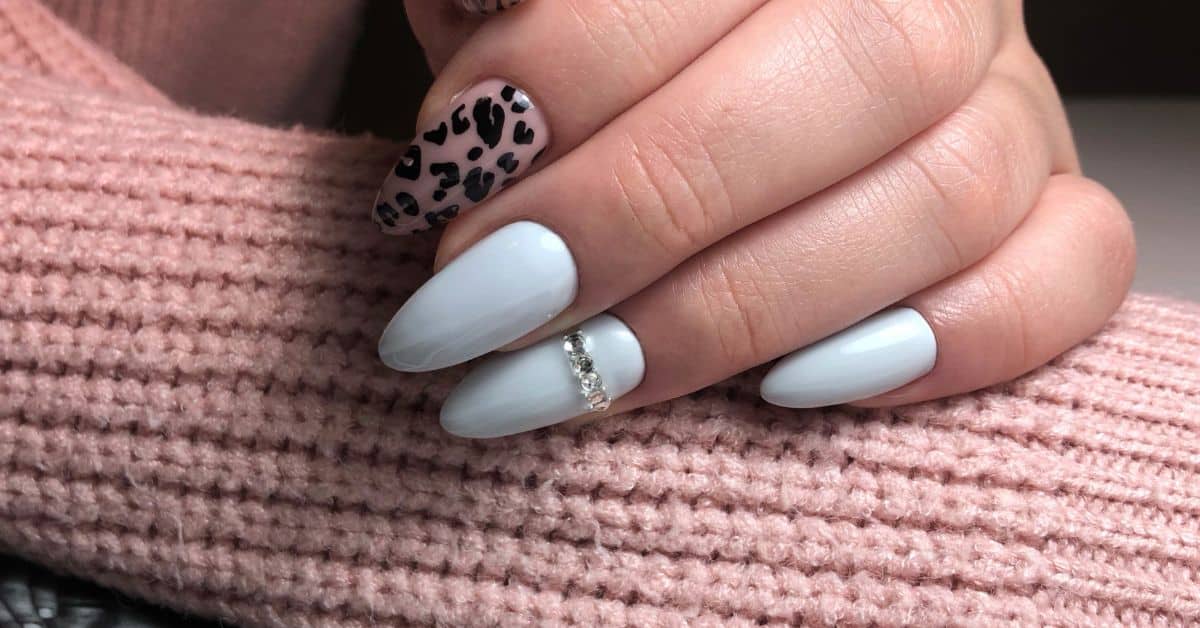 The classic oval-shaped nails are perfect slate for presenting complex nail designs and gorgeous color shades. Whether you want to add some glamorous vibes to your everyday look or make a statement with your nails, oval nail ideas are an excellent choice. Oval nails can be styled in various ways, using simple and neutral to bold and colorful shades.
Let's discover some fantastic oval nail designs here.
Table Of Contents
6 Trendy Oval Nail Designs By Top Celebrity Nail Artists
Get ready to elevate your nail look with Betina Goldstein's gorgeous beige and black squoval nail design. This stunning squoval nail art is stylish and perfect for chilly winter days and breezy spring days. According to Goldstein, these nails are a great way to kick off the day in style and make a statement with your beauty routine.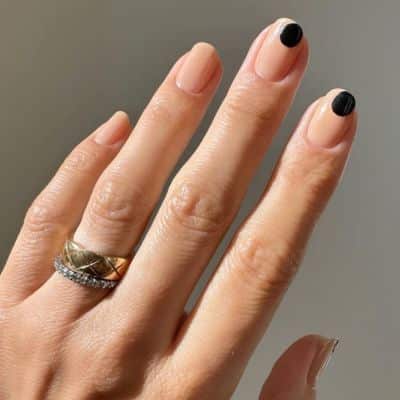 See this stunning white oval nail design by Britney Tokyo, the talented celebrity nail artist based in LA who has worked with Paris Hilton. Recently, Paris Hilton announced the arrival of her new baby by posting a photo of her fingers holding the newborn's hand. And right there, in the post, you can see these gorgeous white oval nails created by Britney Tokyo.
It is no surprise that her creative and eye-catching nail designs are loved by celebrities and fashion enthusiasts alike.
This magnificent neon red oval nail art is done by the renowned celebrity nail guru Tom Bachik. He is known for his fascinating magical work on Selena Gomez's nails. With this, Bachik has again weaved his magic with this incredible design.
The vibrant red hue is perfect for the season, adding a touch of warmth and vibrancy to any look. With these nails, Selena is all set to soak in the sunshine and bask in the glory of her flawless style.
Tom Bachik has yet again confirmed his creative prowess with his latest oval nail design named "Naillien." The Oscar-winning actress, Anne Hathaway, was the lucky recipient of this masterpiece.
To attend Versace's fall 2023 runway show in Los Angeles, Hathaway paired the nail design with a stunning crocodile-embossed black dress, creating an ensemble that oozed glamor and sophistication.
Prepare to be wowed by Coca Michelle's humorous approach to nail design. Her latest creation features an oval shape and a subtle brown shade that exudes a laid-back vibe.
Michelle has shared her love for this design by posting it on social media, accompanied by the caption, "loves cloudy weather and sushi." This playful and artistic nail design perfectly encapsulates Michelle's unique style and personality, proving once again that nails can be a form of self-expression and a canvas for creativity.
All eyes were on Emma Chamberlain as she sashayed down the red carpet at the Vanity Fair Oscar party 2023. Her stunning black dress and equally captivating oval nail design caught the attention of fashionistas worldwide.
The mastermind behind this creative and chic design was the renowned nail artist Thuy Nguyen. With her exceptional skill and expertise, Nguyen has elevated Chamberlain's look to new heights, proving that nails are just as important as any other fashion accessory.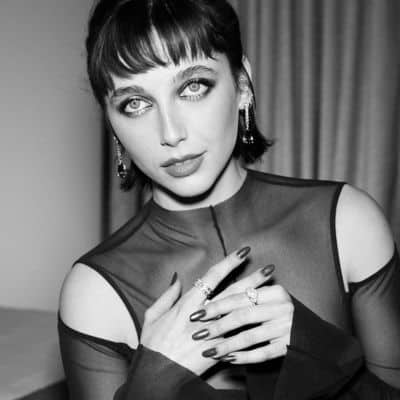 How To Shape Your Nails Oval
First, start with clean and dry nails. Start by filing the corners of your nails to round them up. Hold the file at a 45-degree angle and file in one direction at a time to avoid any splits.
To get that smooth oval shape, move the file to the top of your nail and gently file across it. Keep it even and smooth; no rough edges are allowed. Once you get the shape you want, use a buffer to polish the edges and smooth out any rough spots.
If you want to make this shaping process easier, use a cuticle pusher to gently push back your cuticles and expose more of your nail bed.
There are tons of online tutorials and instructional videos that help you figure this out all by yourself.
In the end, shaping your nails into an oval shape is a piece of cake if you use the right tools and methods. With some practice and perseverance, you will be able to flaunt some bomb oval-shaped nails with your fave nail art.
Try These Creative Oval Nail Ideas
Anyone who loves appealing and contemporary nails should definitely consider these creative nail artworks.
1. Boho Chic Nails
This design is all about those earthy vibes. The feathers and beads add some spice and make it pop! It is seriously perfect for any boho-themed event or music fest. You can rock these nails with any chill outfit and add that bohemian swag to your look. So go ahead and get groovy!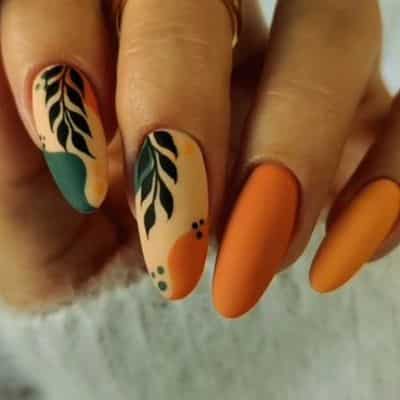 2. Classy French Nails
If you want a simple yet stylish and modern look, this simple oval nail design is for you. The French tips in neutral colors like white or nude are ideal for an important company meeting or job interview where you want to make an excellent first impression.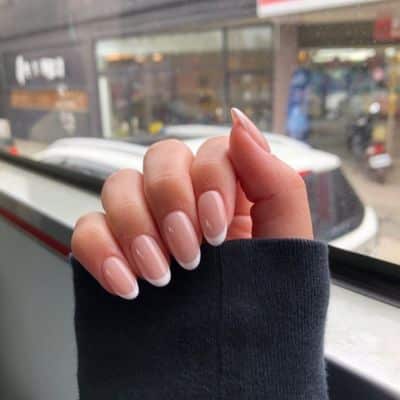 3. Galaxy Glam Nails
The galaxy glam nails are the attractive and out-of Universe option! These blue oval nail designs, which highlight deep blues, purples, and shimmery accents, are ideal for a sci-fi-themed celebration or a night out with friends.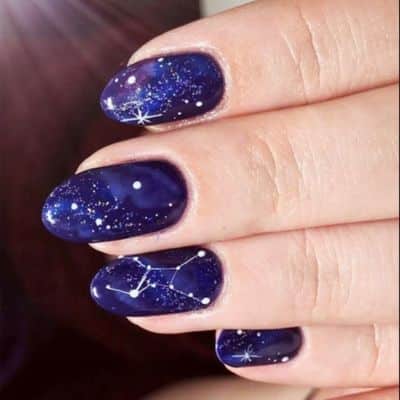 4. Nude Leopard Nails
These nude oval nail designs, ideal for a girls' night out or a bachelorette party, showcase animal print patterns like leopard or zebra stripes. Your nails get a little cheerful and sassy flair from the animal print.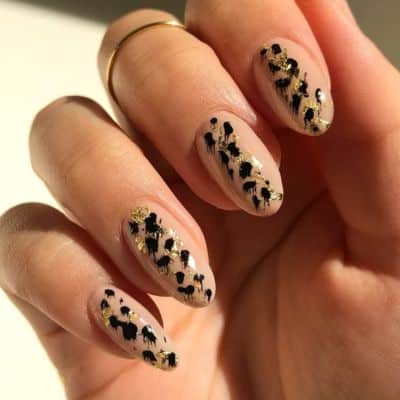 5. Sparkling Snow
With accents of blue, white, and silver glitter, the glowing snow nails are ideal for a winter wonderland theme. These winter oval nail designs are also suitable for a cold wedding or holiday party.
6. Nautical Nails
The nautical nails are the suitable choice to make your beach evening or a boat party more adventurous. These nails have stripes and anchor patterns in blue and white, adding a chic sailor touch.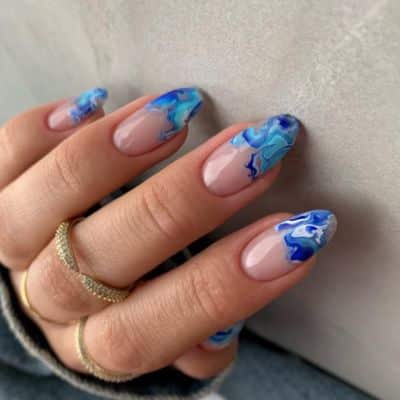 7. Black and Gold Glam
Last but not least, the black and gold glam nails are a classic combo of black and gold with embellishments like studs or chains. These nails are perfect for a formal event or a night out at a fancy club.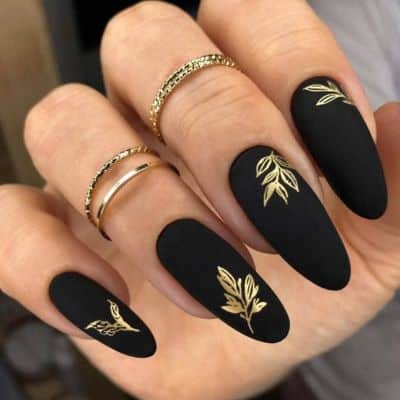 Tips For Maintaining Your Oval Nails
It's critical to adhere to specific care routines in order to keep your oval nails strong and healthy.
To stop the development of bacteria and fungus infections, keep your nails dry and clean.
Regular cuticle and nail moisturizing can help stop cracking and breaking.
To prevent chipping and breaking, refrain from using your nails as tools. Your nails will stay in shape if you regularly file and trim them.
You can maintain the strength and health of your nails by using strengthening nail polish or treatment.
Follow these guidelines to protect your oval-shaped nails from breaking and cracking.
We believe that glamorous oval nail designs created by the best celebrity nail artists and suggestions from our side allow you to demonstrate your individual style and charisma simply.
FAQs
Q: What colors look best with oval nail designs?
A: Oval nails tend to look great with a variety of colors, but some of the best options include pastels, neutrals, and classic reds. Light pinks, nude shades, and metallics are also great choices. Ultimately, the best color is one that makes you feel confident and happy!
Q: Which is better: almond or oval nails?
A: Choosing between almond and oval nails depends on personal preference and the shape of your natural nails. Almond nails have a more pointed tip, while oval nails have a rounded tip. Almond nails can make your fingers look longer, while oval nails can give the illusion of wider fingers.
Q: What is the disadvantage of oval nails?
A: One disadvantage of oval nails is that they can be more fragile than other nail shapes, such as square or squoval. This is because the tips of oval nails are more tapered and thinner, making them more prone to breaking or splitting. Additionally, oval nails may require more maintenance to keep their shape and prevent them from becoming too pointy.
References