30 Spring Nails Ideas You Can't Live Without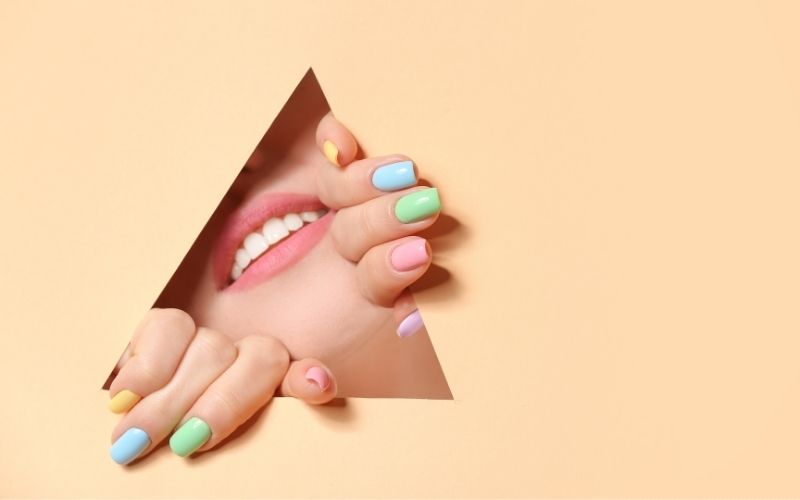 It's springtime – flowers are blooming, the sun is shining, and the sound of birds chirping becomes your new alarm in the morning.
With your spirits lifted as fall nails styles come to a close, you need a set of nails to match your mood.
This year, we encourage you to try some new nail art that makes a statement.
Whether you prefer daisy nails to rainbow nails, floral patterns, flame nails, pastel hues, butterfly nails or bold designs, there is a plenitude of trendy nail art ideas to choose from.
Below are some of our favorite spring nail trends that go along with your favorite spring dress. Show them to a nail technician at the best nail salons, or try them at home for a DIY manicure or pedicure.
We guarantee they're all Instagram and Facebook-worthy; just be prepared for your comments to be flooded with compliments.
So, let's commemorate the start of the season with these 30 undeniably cute spring nails.
Natural Spring Nail Color Ideas (Nail Designs Spring)
Embrace some fresh and natural nail colors that are perfect for the spring season. Natural nail colors not only look great but also make a statement about your style and personality.
If you're looking for inspiration to elevate your acrylic nails, gel nails, or almond nails, check out these trendy natural spring nail color ideas to last you for months that are perfect for any occasion.
1. Perfect Pastel
Pastel colors have long been connected to spring. These hues can give your nails a classy, feminine appearance.
Pale pink, lilac, light blue, mint green and lavender are a few of the most well-liked soft pastel manicure colors. They are ideal for both formal and informal situations because they can offer a dash of color to your nails without being overly striking.
Just combine several pastel hues for a playful twist if you want to up your nail game even further.
A nice way to create a subtle gradient look is by using pastel ombre nails. Pink pastel square or spring pastel embellishments are other options you might explore.
2. Bold Barbie Pink March Nails
Did you notice Elle Woods, Carrie Bradshaw, and Cher's nails in Clueless?
They all had one thing in common – The love for hot pink nails and weren't afraid to show it.
The bold Barbie pink is a vibrant and cheerful shade that adds a burst of color to any outfit, scoring it the perfect choice for a joyful and jaunty style. So, channel your inner girly girl this spring season and rock a set of bright pink nails to show off your personality and sense of style.
Moreover, a pink spring design never fails, especially in various styles, from a classic French manicure to bold designs, short nail designs and patterns.
3. Flower Frenzy Spring Nails
Okay, you probably saw this one coming.
What better way to express your love for spring than with flowers in cute short nails?
This nail design perfectly embodies the essence of spring, with its delicate floral patterns that are a surefire way to make a smile and brighten up any day.
And if you are heading to Bonnaroo, this is the ideal choice to complement your bohemian look. Opt for nude flowers that exude a natural and effortless charm for an understated yet chic take.
Embrace the season of rebirth and growth by trying out this adorable and blooming nail design that will capture spring's essence.
And don't forget to try some nude flowers.
4. Darling Daisy Nails
Redefine beauty with this darling daisy design if you're looking for something lovely and wanna add a touch of charm to any outfit. These delicate flowers are a classic symbol of springtime, and they look beautiful when painted on your nails.
Symbolizing innocence and purity – daisies are a great way to celebrate the beginning of spring. You can get creative with different colors and patterns. For a more subtle look, paint the daisies in white or pastel shades, or make them pop with bright yellow centers.
This classic nail idea will undoubtedly elevate your mood. Whether you choose a subtle or statement-making approach, these darling daisy nail designs will surely add a fresh and fun touch to your springtime style.
5. Beautiful Butterfly
Flowers' vibrant colors and fragrances often symbolize springtime, but butterflies also serve as a quintessential emblem of the season.
What makes this design particularly captivating is the combination of the butterfly shape and symmetrical patterns. The nude nails serve as the perfect backdrop for the intricate design, creating an overall effect that is simply breathtaking.
To add some flair to your nail art, why not experiment with a coffin nail symmetrical butterfly design? The stunning visual display is sure to captivate the gaze of passersby with every gesture.
I'm pretty certain you won't be disappointed with the outcome!
6. Picturesque Polka Dot
If you're seeking a lighthearted and charming nail design, look no further than the picturesque polka dot style. This design evokes a sense of playfulness and will add a delightful touch to your overall appearance.
The polka dot design is highly versatile and allows you to experiment with many colors embodying the season's fun-loving essence. Combine and contrast different hues to create a distinctive and personalized design that truly reflects your individual taste.
7. Cute Coral
This is for those seeking to deviate from the conventional pink shade. Coral presents itself as a novel and distinctive alternative to infuse a burst of liveliness into your nails.
The delicate infusion of orange undertones in coral imparts a tropical feel, subtly hinting that a summer getaway is just around the corner.
Soon enough, you'll be enjoying the serenity of a stunning Brazilian beach while sipping delicious mai tais and relishing in the absolute ecstasy of it all.
8. Ombre Spring Nails
It's not difficult to understand why ombre nails have been the hottest trend for a while. This stunning style involves blending two or more colors seamlessly, resulting in a subtle yet striking gradient effect that's sure to turn heads.
If you're tired of your old black nails and looking to switch things up, ombre nails are the way to go. You can design a distinctive and individualized look that exactly matches your style using endless color choices and combinations.
Some Classic Spring Shades include pastel pink and coral, peach and nude, and mint green and lavender.
Now that you've gotten some ideas for your spring ombre nails, here are some tips for achieving the perfect look:
Use a makeup sponge: Apply your chosen colors onto a makeup sponge and gently dab them onto your nails for a seamless gradient effect.
Blend carefully: Take your time when blending the colors to ensure a smooth and even transition.
Seal the deal: Finish off your ombre nails with a high-quality topcoat to protect your manicure and make it last longer.
9. Wavy Pastel
We've already covered the ubiquity of pastels in the springtime, but now we challenge you to take it a step further.
Here's how to achieve this trendy look:
Step 1: Prep your nails.
Initially, you will have to prepare your nails, just like with any manicure. File and shape your nails to whatever desired length and shape. To protect your nails, use a base coat and ensure your polish adheres smoothly.
Step 2: Paint your base color.
Choose your base color for the wave design. Pastel shades like pale blue, pink, or lavender work well for this design. Apply two coats of your base color and let it dry completely.
Step 3: Create the waves.
Now it's time to create the waves! If you want to create wavy lines, you have the option to use either a nail art brush or a striping brush.
Your nails will seem more striking if you start at the base and use a separate color to draw a wavy line that goes all the way to the tip. You can repeat this step using different colors until you achieve the desired look.
Step 4: Enhance with extra details.
Incorporate more elements into your wave nail design to enhance its appeal. Consider adding rhinestones or glitter onto the waves to give your design a sparkling effect.
Step 5: Seal the deal.
After you've finished your design and you're satisfied with the outcome, allow it to dry thoroughly. To secure the design and protect your manicure, apply a top coat.
To make your nails stand out and capture attention this season, try out various colors and details to create a distinct and eye-catching look.
So, make a splash this spring with the wave nail design!
10. Bee Beautiful Nails
Show your appreciation for the diligent bees in our ecosystem by donning these beautiful nails that feature a detailed honeycomb design.
The charming blend of gold and white shades perfectly complements the spirit of springtime. To give your gorgeous honeycomb nails an added sparkle, remember to apply a clear top coat that will leave them with a lustrous finish.
Let your nails serve as a sweet homage to the bees that work hard to sustain our environment!
11. Gorgeous Greenery Accents
Spring is the perfect time to embrace nature's reawakening and what better way to do it than with some festive green nails? Classic green shades are a timeless choice for the season and perfect for St. Patrick's Day too!
Here's how you can achieve this simple yet stunning look:
As always, start by prepping your nails.
Step 1: Choose a classic green shade like emerald or forest green for your base color. Choose a nail enamel and apply two coats, then allow the polish to completely dry.
Step 2: To give your nails a modest yet fashionable accent, add some sage tips. To make the tips, you can use a small paintbrush or a nail painting brush. Paint a fine sage green line across the top of your nails beginning at the tip. Do the same for all the nails.
Step 3: To add an extra pop to your nails, try incorporating greenery designs. You can use a nail art brush or stencils to create leaves or vines along the sides of your nails. This will give your nails a fresh and natural look.
Step 4: Once you're done, allow it to dry completely and finish off with a topcoat to protect your manicure and give it some shine.
12. Yellow Sunflower Spring Nails
Brighten up your day with the vibrant energy of sunflowers! Something about their sunny disposition definitely puts a smile on your face. And now, you can carry that cheerful feeling wherever you go – on your nails!
-Lift your spirits with our stunning nail art inspired by sunflowers. These nails will make you feel as radiant as the sunflowers themselves.
So why not reward yourself with a brief sunlight burst?
13. Radiant Rainbow Nails
This gorgeous nail art is undoubtedly for you if you enjoy expressing yourself through strong, vibrant colors. The vibrant color scheme and alluring design present an excellent chance to highlight your unique sense of style.
But even if you typically stick to more subdued tones, spring is the perfect season to experiment with new looks and break out of your comfort zone. After all, this is when nature is bursting with color and energy, so why not let that inspiration spill over into your own personal style?
14. Flower French Manicure
Nothing says spring nail designs like flowers.
Fun and flirty short nails are the perfect choices for anyone looking to add a touch of springtime beauty to their look.
This flower nail design is a fun variation on the traditional French tip manicure and was inspired by the lush wildflowers that blossom in the French countryside each spring. It's the ideal way to embrace the beauty of nature and add some seasonal flair to your nails thanks to its delicate and feminine allure.
15. Unique Unicorn
Get ready to enhance your Instagram game with this charming and wacky acrylic manicure design!
With its blithesome, magical theme and fun use of classic spring shades, it's sure to make a statement and capture the attention of all your followers.
If you're looking to unleash your inner child and inject a bit of whimsical appeal into your appearance, then this adorable design is just the ticket! Featuring a mystical unicorn and pastel rainbow accents, it's a fun and lighthearted way to embrace the spirit of spring and add some personality to your nails.
And don't worry about this design going out of season – with its delightful use of timeless pastels and playful imagery, it's the perfect way to keep the springtime magic alive all year round.
16. Blue Sky
We've got the perfect baby blue nail idea for all the nature lovers out there to complement your springtime look! With its clear blue sky-inspired polish and puffy white clouds design, this stunning nail art will surely become a staple in your spring rotation.
Whether you're going to a picnic in the park, a garden party, or you just want to add a bit of springtime beauty to your everyday look, these nails perfectly capture the vibrant, fresh energy of spring and provide the perfect backdrop for the whimsical cloud design.
As the seasons change and the skies clear up, what better way to celebrate than with a fun and playful nail design?
17. Classic White Nails Ideas
If you're in the business for something quick and minimalist, you can never go wrong with a clean coat of white nail polish.
These are beautiful white short nails.
This bright look is a reminder of brighter days ahead.
For a quick DIY moment, you can add some colorful rhinestones to give your nails an extra sparkle.
18. Rose Gold
Rose gold is a perfect transition shade from winter to spring.
It's more subtle than other pink colors that define the season, so if you're looking to ease into the warmer months, this is the nail design for you.
Add some gold sparkle accent tips to really pop off!
19. Glitter
Featuring glitter swoops against a round nude background is both fun and sophisticated, making it the perfect choice for any occasion.
The glittery design showcased here is just the tip of the iceberg – there are endless other breathtaking options available to help you showcase your distinctive style and celebrate the splendor of the season.
So if you're seeking a way to infuse some serious glamor into your springtime look, then this nail concept is definitely worth giving a shot!
20. Floral Crystal
Take your nail art to the next level with this creative design.
Get inspired by the blooming flora and apply flower rhinestones to your nails to honor the spring season.
Add a clear coat on top for extra shine.
If you're not yet confident in your abilities, take this to the salon and have your nail technician do the magic for you.
This look also works as marble nails.
21. Split Nails
Have a hard time choosing between too many spring nail colors? Well, we've got a fun and creative solution for you – why not use them all?
You can display all of your favorite springtime hues in a chic and humorous way with this fashionable manicure design. Simply split each nail in half and use two different colors for a fun optical image that's sure to make a statement.
This design isn't just imaginative and playful – it's also an excellent opportunity to try out fresh color palettes and showcase your individual flair. Whether you choose bold and bright hues or soft and subtle pastels, this design is sure to bring a playful touch of springtime beauty to your look.
22. Nature-Inspired
With warmer days ahead, it's time to get outside and bask in the wonders of nature.
And what better way to complement the season's beauty than with some stunning spring nail art?
With a fine brush in hand, unleash your creativity and paint a vibrant sun, fluffy clouds, colorful rainbows, and shimmering spring sparkles that perfectly capture the essence of a blissful spring afternoon in Colorado Springs.
So why wait? Let your imagination run wild and breathe life into your nails with this captivating and unique design.
23. Abstract Floral Nails
Did you assume we were done with the floral designs?
Nah, we have another wonderful springtime nail design in store for you.
This time, let's concentrate on vivid and lively hues that conjure up the enthusiasm and vivacity of the season.
Use tones of yellow, pink, and white to brighten up your nails in the springtime, and add some seasonal accessories to make your nails stand out. With this colorful and modern design, you'll be prepared to face spring in chic fashion.
24. Lovely Ladybug
If you like red nail polish, don't put it away just yet. We have a cute and playful nail design that will capture your attention.
This design draws inspiration from insects and has a charming yet refined appearance that can add a playful element to your manicure.
Treat yourself like royalty and give your nails the regal treatment they deserve with this delightful insect-inspired design.
25. Whimsical Watercolor Nails
Prepare to have your people fooled – because this nail design is so stunning, they might mistake it for an abstract painting.
With a breathtaking blend of classic spring shades like pink and orange, your nails will capture the essence of the season's awe-inspiring sunsets. Wherever you go, this design will leave everyone mesmerized.
Why not enhance your manicure with some creative style and allow your nails to make a statement?
26. Fun Fruity Cute Nail Art
Warm days mean fresh fruit, don't they?
Well, how about having that same fruity goodness on your nails? That's right – this spring nail art idea is all about embracing the deliciousness of fresh peaches, limes, kiwis, and more.
With a fine brush and some artistic flair, you can outline these vibrant fruits on your nails and bring your fruity nail dreams to life. If you're lacking creativity, Meg's exquisite design is a great source of inspiration.
So why settle for boring nails when you can recreate stunning fruity nail art? It's time to go bananas and let your creativity run wild with this deliciously delightful nail idea.
27. Pale Pink Rose
Feeling romantic, are you?
If so, this beautiful spring nails ideas is perfect for you.
Just because Valentine's Day is over doesn't mean you can't shift the love into the new spring season.
The allure of pale pink/light pink is hard to resist at any time of year.
You could even try these with an almond shaped nail and pale blue/pale yellow to change things up.
Pale blue tips are so lovely too!
There are countless possibilities. After all, there's something about the allure of pale colors that just screams romance.
28. Luxurious Lavender Purple Nail Designs
Lavender is another staple spring color.
During hot days when your only desire is to unwind and enjoy the sun, this tranquil and calming color is just the right choice.
If you wanna create a stunning manicure, lavender is a great choice. Try using a bright white nail polish to create shapes on your lavender manicure.
When it comes to this stunning lavender hue, the options are limitless. You can opt for a modest and understated lavender tone or go for something a bit more eye-catching such as a lavender ombre or adding some glitter accents.
29. Slanted French Tip
Turn your home into a beauty nails spa with this ingenious nail idea that features a modern twist on this classic design.
You can create a refreshing look for spring by using an array of bright and lively shades to enhance the beauty of these delicate spring nails.
With a little creativity and some colorful polishes, you can achieve a stunning and professional-quality manicure from the convenience of your own home.
30. Stunning Silver Spring Designs
These timeless color nails look bright and luminous — perfect for spring.
For a bit of a change, consider adding some gray nails to your design as they can provide depth and sophistication to your manicure and complement other shades exceptionally well.
Whether you opt for the traditional spring colors or something a little more daring, this classic nail color look is sure to turn heads and make you feel amazing.
Summary
You won't go wrong with any of these gorgeous nail art ideas, regardless of whether you want to rest and unwind while a professional works their magic or are in the mood to take on a DIY project.
If you want to purchase your own acrylics, Etsy is a terrific place to start. You may also request that your nail technician make a special set of acrylic nails particularly for you.
And for those who want to treat themselves, a top-notch spa or manicure salon is always a fantastic option. With top-notch services and skilled nail technicians on staff, you can expect to depart feeling renewed and with a stunning set of nails that will attract attention everywhere you go.
Why then wait? Indulge in one of these gorgeous nail art designs as a luxury treat for you.
FAQ
References