30 Spring Nails Ideas You Can't Live Without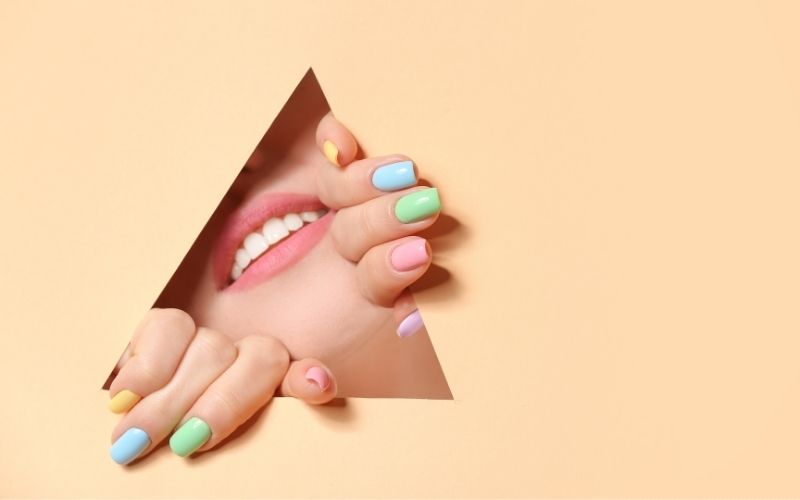 It's springtime – flowers are blooming, the sun is shining, and the sound of birds chirping becomes your new alarm in the morning.
With your spirits lifted as fall nails styles come to a close, you need a set of nails to match your mood.
This year, we encourage you to try some new nail art that makes a statement.

You should also look into solar nails which are some of the best short acrylic nails on the market!

Commemorate the start of the season with these 30 undeniably cute spring nails.
From daisy nails to rainbow nails, flame nails, and butterfly nails, we have plenty of ideas to last you for months, so if you're looking for some inspiration to elevate your acrylic nails, gel nails, or almond nails, you're in the right place.
Below are some of our favorite spring nail trends this year to go along with your favorite spring dress.
Show them to a nail technician at the best nail salons or try them at home for a DIY manicure or pedicure.
We guarantee they're all Instagram and Facebook-worthy; just be prepared for your comments to be flooded with compliments.

Natural spring nail color ideas (nail designs spring)

Check out these spring nail trends inspiration for your next manicure!

1. Perfect pastel
Spring has long been associated with pastel colors.
Paint your nails with soft hues of sky blue, lilac purple, baby pink, seafoam green, and more for a classic springtime design.
Want to elevate your nail game even further?
Mix and match several soft shades and voila!
You have a pastel party on your hands.
Try a square pastel pink or spring pastel accents.

2. Bold barbie pink march nails
Think Elle Woods, Carrie Bradshaw, and Cher from Clueless.
What do they all have in common?
They love hot pink nails and aren't afraid to show it.
This spring season, channel your inner girly girl and rock a set of bright pink nails that make a statement.
A pink spring design never fails, especially in the form of short nail designs.

3. Flower frenzy spring nails
Okay, you probably saw this one coming.
What better way to express your love for spring than with flowers in cute short nails?
This nail design is the epitome of the season.
The floral effect is bound to bring a smile to your face.
And if you happen to be going to bonnaroo, this is definitely the right choice!
Try some nude flowers.

4. Darling daisy nails
Redefine beauty with this design.
Symbolizing innocence and purity, daisies are a great way to celebrate the beginning of spring.
This classic nail idea will undoubtedly elevate your mood.

5. Beautiful butterfly
If flowers are the plant associated with spring, butterflies are the season's mascot.
Get creative and try your hand at this coffin nails symmetrical butterfly nail design that will draw strangers' attention with every wave.
The nude nails background make these so beautiful!

6. Picturesque Polka Dot
If you're looking for a fun spring nail idea, look no further than these accurate nails.
This design is cute nails personified.
Experiment with multicolored polka dots to match the playful mood of the season then snap a picture of your adorable DIY manicure.

7. Cute coral
Putting a twist on the classic pink color, coral is a perfect alternative to brighten your nails.
The slight orange nails undertones supply a tropical vibe that indicates summer vacation is not too far away.
Soon, you'll be enjoying a relaxing time, sipping mai-tais on a pristine Brasil beach.

8. Ombre spring nails
Replace your black nails with some ombres!
Ombre nails have been a trend for a long time — hop on the bandwagon with some classic spring shades to put your own seasonal spin on this subtle yet stunning cream nail style.
This design is the best in the book.

9. Wavy pastel
We've already covered the ubiquity of pastel in the springtime, but now we challenge you to take it a step further.
This gorgeous wave nail design idea is fun, imaginative, and definitely in season.

10. Bee beautiful nails
Show your appreciation for the ecosystem's busy bees with these sweet, gorgeous nails that feature an intricate honeycomb pattern.
Combinations of gold and white are perfect for spring.
Apply a clear top coat for added luster.

11. Gorgeous greenery accents
Springtime indicates nature coming back to life — bring your nails to life with a classic green shade that screams spring.
While this idea is nothing revolutionary, sometimes it pays to stick to the basics.
Plus, these festive nails are perfect for St. Patrick's Day.
Add some sage tips and other greenery designs for some added pop.

12. Yellow sunflower spring nails
Can you think of anything more cheerful than sunflowers?
Yeah, we can't either.
Lift your spirits with these fabulous nails.
It's perfect for spring when the flowers are blooming on a log and the sun is shining.

13. Radiant rainbow nails
This beautiful nail art is for those who love color and are not afraid to flaunt it.
And, if you're one to shy away from vibrant shades, spring is the perfect time to break out of your comfort zone and try something new.

14. Flower french manicure
Nothing says spring nail designs like flowers.
Next time you visit the nail salon, ask for these fun short spring nails.
This flower nail art is reminiscent of the wildflowers that grow abundant in France and provide a seasonal twist to your average french tip nails manicure.

15. Unique unicorn
This cute acrylic nail designs idea is Instagram-worthy.
Indulge your inner child and embrace this mystical design, which features classic spring shades, so your manicure will still (magically) be in season.

16. Blue sky
Nature-lovers will love this babyblue nails Idea.
With spring comes clear blue skies, so why not have the nails to match?
Featuring puffy white clouds against a blue sky polish, this design will become a staple in your spring nails rotation.

17. Classic white nails ideas
If you're in the business for something quick and minimalist, you can never go wrong with a clean coat of white nail polish.
These are beautiful white short nails.
This bright look is a reminder of brighter days ahead.
For a quick DIY moment, you can add some colorful rhinestones to give your nails an extra sparkle.

18. Rose gold
Rose gold is a perfect transition shade from winter to spring.
It's more subtle than other pink colors that define the season, so if you're looking to ease into the warmer months, this is the nail design for you.
Add some gold sparkle accent tips to really pop off!

19. Glitter
Make glamour a priority with fun spring nail ideas, including this one.
Glitter swoops against a nude round background will celebrate color, sparkle, and spring.

20. Floral crystal
Take your nail art to the next level with this creative design.
Get inspired by the blooming flora and apply flower rhinestones to your nails to honor the spring season.
Add a clear coat on top for extra shine.
If you're not yet confident in your abilities, take this to the salon and have your nail technician do the magic for you.
This look also works as marble nails.

21. Split nails
Have too many spring nail colors and are struggling to decide between them?
Why not use them all?
Use two different colors to split each nail in half for a cool optical image.

22. Nature-inspired
With warmer days ahead, it's time to get outside and appreciate nature.
This spring nail art idea will match the glorious weather.
Use a fine brush to create a sun, clouds, rainbows, and spring sparkles — the perfect spring afternoon in Colorado Springs.

23. Abstract floral nails
Did you think we were done with the floral designs?
Think again!
This nail idea is perfect for spring.
Use bright spring colors, spring accents, including yellow, pink, and white to enhance the look with colors of spring.

24. Lovely Ladybug
Don't put your red nail polish away just yet!
This insect-inspired nail design makes for a sweet and playful manicure for your majesty.

25. Whimsical watercolor nails
This design will have your people mistaking your manicure for an abstract painting.
We recommend using classic spring shades, like pink and orange, to match the season's breathtaking sunsets.

26. Fun fruity cute nail art
Warm days mean fresh fruit, don't they?
This spring nail art idea certainly reflects that.
Take your fine brush and outline a bright peach, limes, and kiwis on your nails – just go bananas.
Copy this design from Meg and live your fruity nail dreams!

27. Pale pink rose
Feeling romantic, are you?
If so, this beautiful spring nails ideas is perfect for you.
Just because Valentine's Day is over doesn't mean you can't shift the love into the new spring season.
The allure of pale pink/light pink is hard to resist at any time of year.
You could even try these with an almond shaped nail and pale blue/pale yellow to change things up.
Pale blue tips are so lovely too!

28. Luxurious lavender purple nail designs
Lavender is another stape spring color.
This calming shade will make you want to relax in the warm weather.
Use a bright white nail polish on this purple manicure to create shapes for added dimension.
Now these are some pretty nails!

29. Slanted french tip
Turn your home into a beauty nails spa with this ingenious nail idea that features a modern twist on this classic design.
Use a variety of spring shades to brighten the look of these delicate spring nails.

30. Stunning silver spring designs
These timeless color nails look is bright and luminous — perfect for spring.
Gray nails can also work for this look.

Overall
Whether you decide to go full on DIY or visit one of the best nails salons for some first-class relaxation while your cute acrylic nails get worked on, you can't go wrong with any of these nail art designs.
You could get your own acrylics from Etsy or ring some up from your nail technician.
For first-class customers at a spa, you'll always get the highest quality treatments to create the best nail art designs!