Add Some Sparkle To Your Nails With these 34 Classy And Glamorous Designs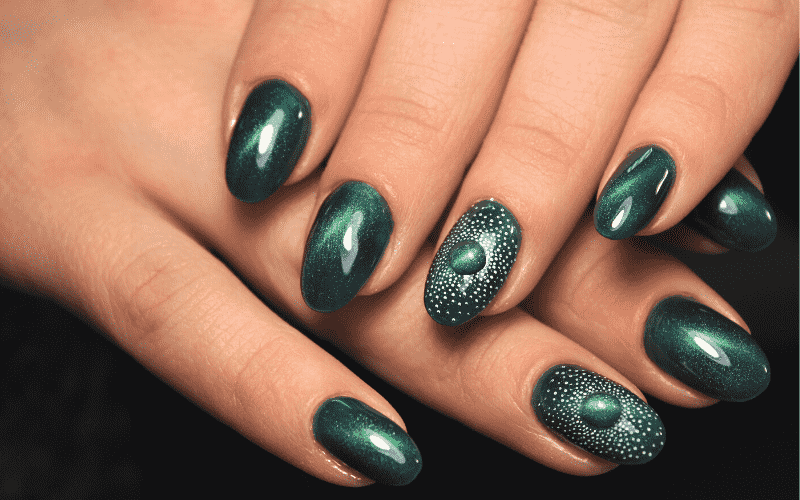 Feeling bored with regular minimalist nail designs?? It's time to add some spicy factors to your nails with classy glamorous nail designs.
Classy glamorous nail designs typically feature metallic hues, glitter, rhinestones, and other embellishments that add sparkle and shine to your nails. These designs help you stand out uniquely at night parties and wedding evenings. The right choice of these elegant nail designs is best for people who want to be classy, traditional, attractive, and glamorous.
Here, we will explore some of the most popular, stylish, classy, and glamorous nail designs you can try at home or at a nail salon. From stiletto and rhinestones to marble and neutral hues, you will find a wide range of options to suit your personal taste and occasion.
Table Of Contents
List Of Classy Glamorous Nail Designs
1. Pink And Silver Glitter Nails
This popular glitter classy glamorous nail design has been a favorite among fashion enthusiasts for years. This nail design combines the soft and feminine hue of pink with the sparkle and shine of silver glitter.
For a more formal look, you can opt for a solid or ombre pink base with silver glitter accents on the tips or accent nails. For a casual look, silver glitter can be the main color with pink accents.
2. Classy Stiletto Nails
This glamorous nail design helps you appear unique in the crowd with its sharp, pointed shape. You can try a different range of colors, from neutral hues to bold and bright shades.
They can also be decorated with glitter, rhinestones, and other embellishments.
3. Colorful French Coffin Nails
With their shape and vibrant colors, these classy nail designs are the best way to add a traditional touch to your personality.
You can get this look by painting the tips of the nails with different, bright, and bold colors while the rest of the nails are painted in a neutral shade. These coffin nails create a vibrant look that is perfect for summer, holidays, and special events.
4. Matte Burgundy Floral Accent Nail
The matte burgundy nail design, featuring intricate floral designs, is ideal for individuals who have a love for nature and embrace their emotions.
This classy glamorous nail design with stunning color and intricate flowers evokes a sense of love and beauty throughout the day.
5. Peachy Nail With Rhinestones
Peach is a fly color to show off your simplicity and regal vibes. Step up your royal game by adding some sparkle with rhinestones on your peachy nails.
This classy glamorous nail design is capable of giving you a royal look at any night party.
6. Multi-Colored Short Nails
Worried about short nails? There are plenty of ideas for this type. Take it up a notch by rocking some rainbow hues.
Mix and match bold colors to make your nail game bold and daring with this classy glamorous design.
7. Burgundy Nails With Silver Glitter Accent
Make your nails appear hot with this glamorous nail design.
The burgundy color adds extra attraction, and the silver accent makes it shine in the light.
8. Classy French Tip
French Tips are classy glamorous nail designs that never go out of style. With their classic white tips and neutral base colors, they offer you a neat and professional look.
Classy French Tips typically feature a neutral base color, such as beige, cream, or light pink, with white tips. The crisp, clean line of the white tip creates a sharp and refined look that is both classic and modern.
9. Zebra Hippie Almond Nails
This classy glamorous nail design is the perfect mix of wild and groovy. These funky and fun nails feature a bold black and white zebra print paired with a trendy almond shape, making them a must-have for those who love to express their individuality.
The almond shape is a great choice for those with longer nails. Whether you are attending a festival or concert or just want to show off your wild side, zebra hippie almond nails are the best choice.
10. Colorful Cheetah Almond Nails
With the almond nail shape and vibrant cheetah print, you will be turning heads wherever you go.
11. Neon Twist Almond Nails
This is a classy glamorous nail design that involves painting your natural nails in a bright neon color, often in shades of green, yellow, or pink, and shaping them into an almond shape.
12. Abstract Art On Clear Nails
This classy glamorous nail design involves creating artistic and abstract designs on nails that have a clear or transparent polish.
This style of nail art allows for creativity and artistic expression and can be achieved using a variety of techniques such as stamping, painting, or using embellishments.
13. Wavy Art Clear Nails
This nail design involves creating wavy patterns or lines on clear or transparent-polished nails. Draw these wavy patterns using a fine brush, stencils, or even tape.
The classy glamorous nail design can be simple, with just one or two wavy lines on each nail, or more complex with multiple waves in different colors or shapes.
14. Marbled Acrylic Nails
Marbled acrylic nails are a type of nail enhancement made by mixing different colors of acrylic powders to create a unique, marbled pattern.
15. White Stripes Clear Nails
This classy glamorous nail design is a simple one that involves painting thin white stripes on a clear or translucent base coat.
The stripes can be applied vertically, horizontally, or in any other pattern to create a variety of looks.
16. Cherry Acrylic Nails
Cherry acrylic nails refer to a type of artificial nail made from a mixture of liquid and powder polymer that is sculpted and molded over the natural nails to enhance their length, shape, and appearance.
Cherry designs, recreated on the nails with red color nail polish, will make this classy glamorous nail spicier.
17. Butterfly Acrylic Nails
Butterfly acrylic nails feature a butterfly or multiple butterflies as a central theme. The design is created using acrylic powder and liquid, which is then shaped and painted to resemble a butterfly.
This classy glamorous nail design is popular among those looking to add a touch of nature and beauty to their nails.
18. Holy Cow Clear Nails
This nail art involves painting the cow pattern on your clear or transparent nails.
This classy glamorous nail design can be created using various nail art techniques such as painting, stamping, or decals, and it is a fun and unique way to showcase your love for cows and farm life.
19. Barbie Pink Acrylic Nails
This nail design features a bright and vivid shade of pink, similar to the iconic Barbie doll's signature color.
This classy glamorous nail design is achieved using acrylic powder. The bright Barbie Pink color is then applied to create a fantasy.
20. Minty Green Dip Nails
This mint green classy glamorous nail design is created using a dip technique.
21. Purple Nails With Flowers Art
This is another classy nail design where the nails are painted purple and decorated with flowers. The flowers can be painted with various colors and designs to create a unique look.
This type of nail art is popular among women as a way to add some unique color and floral work to their nails.
22. Red Nails With Golden Rose Touch
You can try this elegant, glamorous red nail design by painting the nails in red color and adding a touch of gold in the form of a rose design.
23. Sunflowers And Stripes
Sunflowers and stripes are popular patterns for nail art. Sunflowers are often painted using yellow and brown shades to create the petals and center, while stripes can be created using tape or a brush and any color of polish.
Try this glamorous nail design on both fingernails and toenails and add a fun, bright touch to any manicure.
24. Chocolate Brown Sunflower Nails
To try this chocolate brown sunflower nail design, paint sunflowers using a yellow color on your chocolate brown nails.
This classy glamorous nail design adds a warm and rich tone to the sunflower design, creating a unique and stylish look.
25. Pastel Nails With Rhinestones And Bow
This classy nail design combines soft, pastel colors with sparkly rhinestones and a cute bow design.
The pastel colors are usually light shades of pink, purple, yellow, blue, or green, and the rhinestones and bow can be added to one or multiple nails.
26. Cute And Easy Feathers
This classy glamorous nail design is a combination of delicate, pastel colors with intricate feather artwork.
Choose pastel colors like light shades of pink, purple, yellow, blue, or green, and paint the feathers with thin brushes and precise strokes.
27. Sparkly Flame
In this design, the flame art will be covered in sparkly glitter or rhinestones.
The flame design is usually created using orange, yellow, and red shades and can be accented with the addition of sparkly glitter or rhinestones.
28. Colorful Flame Nails
In this classy glamorous nail design, the nails will be decorated with colorful flame designs.
The design is usually created using bright, bold shades of red, orange, yellow, blue, green, and purple and is meant to represent a blazing, colorful flame.
29. Trendy White And Black Flames
Try this classy glamorous nail design by painting white flames nail art on your black base color.
The design is created using contrasting white and black polish.
30. Peekaboo Mickeys Nails
A hidden Mickey Mouse design on the clear nail is the major characteristic of this classy glamorous nail design.
The designs are usually created by painting a nude, pastel, red, black, or yellow color and then using small brush strokes to add the outline of Mickey Mouse's iconic head and ears.
31. Red And Black Mickeys
Here, your nail will be decorated with a red and black Mickey design.
32. Aladdin Nails
This classy glamorous nail design is inspired by the Disney animated film "Aladdin."
These designs can include characters such as Aladdin, Jasmine, Genie, Abu, and the Magic Carpet, as well as elements from the film such as the palace and lamp.
33. Mulan Nails
Recreate this classy glamorous nail design by including the character "Mulan" on your nails.
34. Villain
Add the inspiration of villains from popular movies, television shows, and comic books to your nails.
Try characters such as Ursula from "The Little Mermaid," Maleficent from "Sleeping Beauty," the Evil Queen from "Snow White," and more.
Improve Your Look With These Designs
Adding some sparkle, color, and simplicity to your nails with classy and glamorous designs is an excellent way to enhance your look through your fashion sense. From the use of high-end materials to intricate techniques, there are various hot options available to help you create unique nail designs.
So, why not add some glamor to your nails today and let your fingers shine bright in the crowd?
FAQs
References