Golden Glam: Top 10 Gold Nail Ideas For Any Nail Shape And Occasion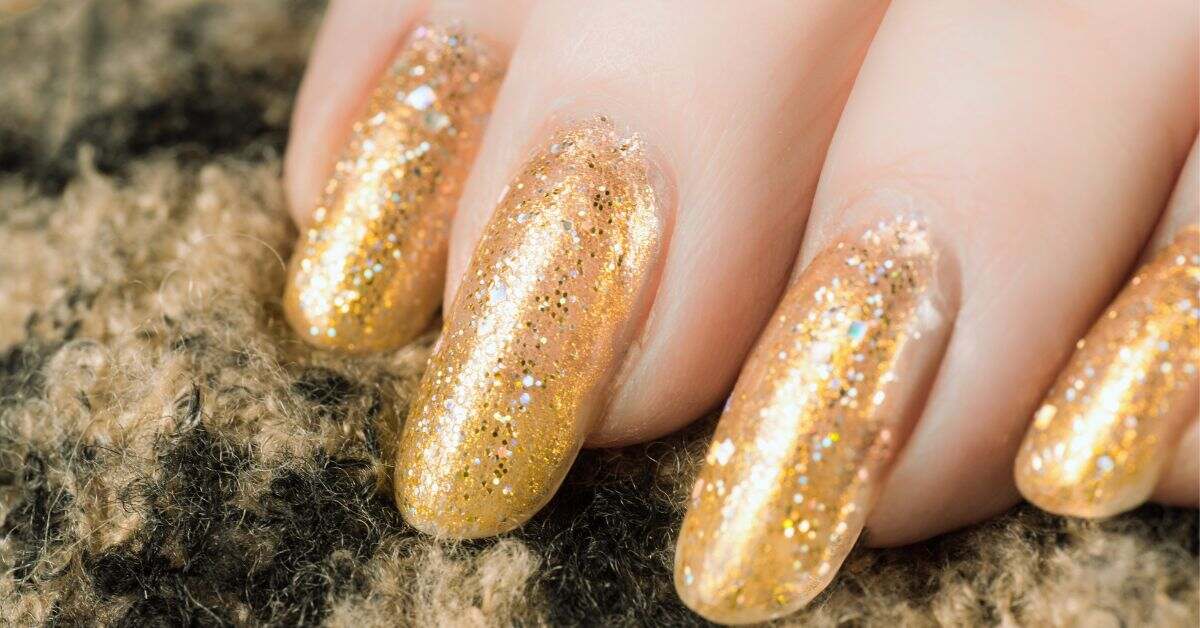 Gold nail ideas are a great way to add some glow to your nails and radiance to any outfit and occasion. Generally, gold nail colors come in a variety of shades and finishes, from bright and bold to more subtle. You can try solid nail design, intricate nail patterns, or a super shiny look with this nail color.
No matter how you choose to wear them, gold nails are sure to turn heads!!!
But why are gold nails so popular right now?
Gold color pairs well with just about anything, so you can wear them with your favorite jeans or your fanciest dress. Plus, if you have short nails, long nails, square nails, or round nails, there are some gold nail ideas that work.
So, what are you waiting for? Use our tips, tricks, and creative nail designs to achieve the ultimate golden glam manicure.
Table Of Contents
Brief History Of Gold Nails As A Fashion Trend
Back in the day, gold was a symbol of wealth and status, so it is no surprise that people wanted to incorporate it into their personal life.
Historians believe that gold was first used on nails in Ancient Egypt, where it was a popular trend among the upper classes. They used gold leaves to adorn their nails and created intricate designs by incorporating precious stones and materials.
In the 20th century, gold nails became a popular trend once again. Hollywood stars like Marilyn Monroe and Audrey Hepburn rocked gold manicures, cementing the trend's place in pop culture.
In recent years, gold nails have made a comeback yet again, thanks in part to social media influencers and Hollywood celebrities.
What Color Goes With Gold Nail Polish?
There are many nail colors that can complement gold nails nicely. Here are a few options:
Red: This classic color pairs well with gold. Whether it is a bright, bold red or a deeper, more burgundy shade, it will make your gold nails pop.
Black: A black manicure with gold accents or gold glitter on the tips can be a striking option.
White: This clean and classic color can provide a nice contrast to gold-colored nails. A white base with gold stripes or polka dots can be a playful combination.
Navy Blue: This rich color pairs well with gold. A navy blue manicure with gold accents or glitter is a better choice for a formal event.
Purple: This regal color can complement gold nicely. Whether it's a deep, royal purple or a lighter lavender shade, it can make your nails elegant.
Green: A deep, emerald green or a bright lime green can be a bold choice for your gold nails.
Ultimately, the choice of which nail color to pair with gold is up to your personal taste and style. Experiment with different combinations to find the one that works best for you!
Different Gold Nail Ideas
There are so many gold nail ideas that you can try out to add some major bling to your look.
First, a classic gold glitter manicure. This is perfect for adding a bit of sparkle without going overboard. For this, simply paint your nails with a base coat of gold polish and then sprinkle some gold glitter on top while it is wet.
If you feel a bit more adventurous, try out a gold foil manicure. Use actual gold foil sheets to create a super shiny, metallic look on your nails. This process may require a bit more precision, but the end result will bring a smile.
Next, incorporate some nail art into your gold nails. Try out a geometric pattern with gold and black polish, or even paint on some cute little gold stars or hearts.
Try out a gold accent nail for a more subtle look. Simply paint your nails with a neutral base color, and then paint one nail with a coat of gold polish. This simple way can add some glam to your nails without going all out.
Finally, if you want something extra, try out 3D gold nail art. Use embellishments like gold studs, chains, or even little gold leaves for truly stunning results.
Top 10 Gold Nail Ideas
Looking for some bomb gold nail ideas that help you shine like a queen on any occasion? We have got you covered with our top 10 picks.
1. Classic Gold
You can never go wrong with classic gold nail polish. Keep it simple and chic with a single coat of metallic gold polish.
2. Glittery Touch
Add some sparkle to your nails with a gold glitter top coat. Layer it over a neutral or black base for some serious bling.
3. Golden French Girl
Switch up the classic French manicure design using gold polish on the tips. This stylish gold French tip nail design can create a classic look.
4. Foil Accents
Add some texture to your nails with gold foil accents. You can use nail glue or adhesive to try this beige and gold nail design.
5. Golden Stripes
You can use striping tape or a thin brush to create this gold-line nail design.
6. Golden Blends
Blend different shades to try this ombre gold nail design. Start with a light gold at the base and blend into a darker shade towards the tips.
7. Polka Love
Add some fun to your nails with gold polka dots. You can use a dotting tool or a toothpick to create the dots.
8. Gold And Wild Nails
Get wild with some gold animal print nails. You can use a stamping plate or freehand the designs with a thin brush.
9. Shiny Marble Nails
Create a marble effect with different shades of gold. You can use a water marble technique or a sponge to create this white and gold marble nail design.
10. Gold Studs
Add some 3D texture to your nails with gold studs. Get studs and stones in different shapes and sizes and apply them with nail glue.
There you have it; our top 10 gold nail ideas are perfect for any occasion. Try them out, and let your nails do the talking!
Gold Nail Ideas For Different Nail Shapes
Check out our top picks for different nail shapes.
Almond-shaped Nails: Try a gold chrome polish for this shape. The reflective finish will enhance the shape and make your nails stand out.
Square-Shaped Nails: Try bold designs like gold leopard print.
Coffin-Shaped Nails: Try nail designs with gold glitter that blends different shades of gold together for a dazzling effect.
Round-Shaped Nails: Try a gold French manicure.
Stiletto-Shaped Nails: Go bold with black and gold nail designs on stiletto-shaped nails.
Oval-Shaped Nails: Try a subtle gold glitter gradient look on oval-shaped nails.
Squoval-Shaped Nails: We recommend a gold glitter accent nail for this nail shape.
Ballerina-Shaped Nails: This nail shape looks great in gold metallic polish.
Gold nail ideas for short nails
For short nails, try nail designs like
Gold French tip
Gold glitter
Gold foil accent
Dainty dots
Gold nail ideas for long nails
For long nails, try nail designs like
Gradient glitter
Gold foil tips
Bold animal print
Gold ombre
3d studs
No matter what your nail shape is, there is a gold nail idea that will suit your style. Try out some of these designs and let your nails steal the show.
Try Out Different Designs With This Glamorous Trend
Whether you have short or long nails, there are plenty of gold nail ideas to choose from, including glitter, foil accents, animal prints, and more. Achieving a professional-looking manicure at home is easy with the right products and techniques, so don't be afraid to experiment and try different designs.
So go ahead and add some twinkles to your look with these dazzling gold nail ideas.
FAQs
References