Matte Nail Ideas: Tips And Tricks For The Perfect Matte Finish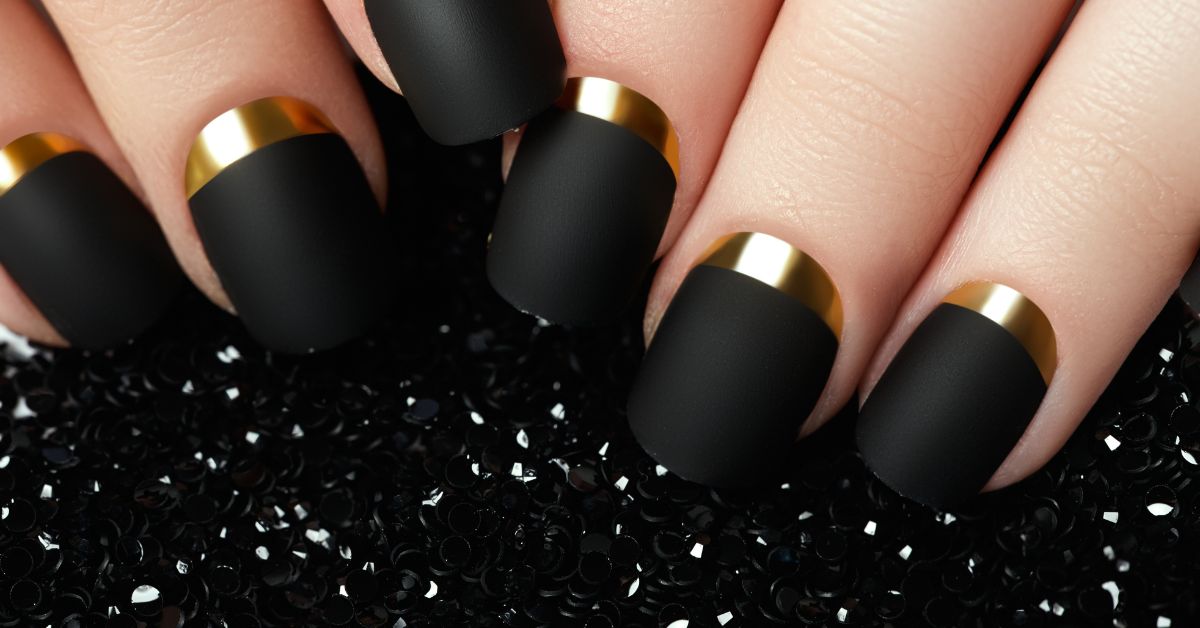 Matte nails, ever heard of them? They are the coolest and simplest nail design in the beauty world right now! Loads of beauty fanatics on Insta, Pinterest, and Twitter are totally mad about them. Hashtags #mattenails and #matte has been used, like, a bazillion times!
Different matte nail ideas have even been featured in fashion shows by top designers like Chanel, Marc Jacobs, and Alexander Wang! But are matte nail ideas actually worth it? Do they last longer than glossy nails? Are they tough to maintain? Can you get fancy designs on them for every occasion?
Well, Fret not! We got all the answers for you and some super cool tips and tricks to make your matte manicure look fresh and stylish.
Table Of Contents
Can You Get Designs On Matte Nails?
Yes, you can try different designs on your matte nails. There are thousands of innovative and unique matte nail ideas available to make your nails look stunning. Since it provides a smooth and even surface, it acts as a great base for designs.
Try geometric shapes, abstract patterns, floral motifs, or any intricate linework on your matte nails. You also have options like black matte nail designs, short matte nail designs, etc. If you need something bold and daring, experiment with different color combinations, gradients, and textures.
Ensure that you always have a high-quality nail art brush or tool to ensure precision and accuracy. Using stencils, tape, or stickers may also help you get complex designs without the need for freehand drawing skills.
Trendy Matte Nail Ideas
Here are 10 trendy and creative matte nail ideas to try:
1. Peek A Boo Metallic Matte
To achieve this look, paint your nails with any one of your favorite matte nail colors first. Then with any dark colors, draw some lines and patterns. It has to appear like a metallic and glossy design.
2. Royalty Touch Nails
Paint three fingers with dark matte nail polish. Paint white color on two fingers. Add some glittery lines to that white-painted nails to give it a royal look.
3. Simply Superb
Do your want to be simple and elegant? Then, this design is the right choice for you. Choose some bright matte nail colors and paint the tips of your nail with different colors. It gives you a simple and professional look with less effort.
4. Matte-Glossy Friendship
We know that matte and glossy look is different. But in this design, we are going to incorporate both the look in one place. Yes, paint your nails with matte nail polish and give a glossy touch to your nail tip by painting it with the same color of glossy nail polish.
5. Creamy Drops
Do you want to replicate the look of your birthday cake on your nails? It is possible in simple steps. Paint only the tips of your nail with a dark matte color and draw a design like creamy drops.
6. Smell Like A Blue Lady
Do your love simple flower designs? Then, this is the place for you. Paint your nails with blue matte polish, then draw simple flower patterns on them with white and yellow colors.
7. Feel The Love
Feel your love with this lovable nail design. This baby pink and blue combination is capable of expressing your love and emotion on valentine's day or any other day. Use small brushes or stencils to achieve these small heart designs.
8. Fall In White Lines
Black and white is a classy combo, as always. For this historic look, paint your nails with black matte polish first. Now, stick tapes on your nails and draw stripes with white nail polish.
9. Puppy Love
Want to express your pet love on your nails? You can do that by transferring the animal patterns to your nails. For this look, paint your nails with white matte nail polish, and then draw simple brown animal patterns on them. It helps you achieve perfect animal pattern nails.
10. Glittery Electric Vibe
For this party nail look, use black matte nail polish and paint all your nails. Now sprinkle some glitter on your nail. Also, draw star and thunder patterns using white nail polish.
DIY Matte Nail Ideas
Do you want to try different matte nail ideas at home? Here are some steps to follow:
First, make sure your nails are super clean and dry. Just use some soap and water and clean them up nicely and well.
Next, put on a base coat to keep your nails safe. This will help your matte polish stick better.
Then, you can put on two or three coats of matte nail polish. Let each coat dry before putting on the next one.
Once it becomes dry, you can apply a special matte topcoat. This will make your nails look cool for way longer.
Last but not least, put some lotion or cuticle oil around your nails to keep the skin around them hydrated.
Thus, get amazing matte-painted nails without even leaving your house.
But if you are feeling fancy and want to add some extra pizzazz to your nails, here are some bonus tips:
To make cute polka dots, just use a toothpick or dotting tool.
For stripes, use nail tape or a striping brush.
To add some sparkle, sprinkle some glitter over wet nail polish.
To create a gradient effect, blend two or more colors together on your nails.
To add some delicate flower designs, use small brushes or toothpicks.
To get that classic French tip look, use nail tape.
For a unique negative space design, use clear tape or stickers.
So, have fun experimenting with these designs and show your fabulous new matte nails to your friends.
Does Matte Polish Last Longer?
Matte nail polish is a real winner when it comes to longevity. It is way more long-lasting than normal nail polish because it is super thick, has more color stuff, and sticks to your nails better. Plus, it can handle all the regular day-to-day stuff like using a computer or washing dishes without getting messed up or scratched.
Another cool thing is that it is way harder to chip or peel once it dries, so you can rock that matte look for longer than you could with shiny nail polish. Overall, matte nail ideas are a pretty popular choice for people who want their nails to look nice for a long time without having to redo them every day. And who doesn't want that?
Do Matte Nails Dry Faster?
No, they might take a bit longer to dry than regular nail polish. Consistency is the reason here. Sometimes it takes a little more time, depending on which brand you are using, how many coats you put on, and the atmospheric factors.
If you want to be a professional in matte nails, you should have patience. But don't worry; there are ways to speed it up! You can use a special topcoat or nail polish drying spray that helps it dry faster.
So next time, remember that matte nails take a little more time to dry. Plus, you can use the extra time to take some cool nail selfies and show them to your friends with tags #nailgoals and #mattemadness.
Do Matte Nails Get Dirty?
Yes! Just like any other type of nail polish, matte nails can accumulate dirt and oil.
Now, you might be thinking, "who cares about dirty nails?" But keeping your matte nails clean and well-maintained is super important! If you don't, you may experience some serious issues like discoloration, staining, infections, and more.
Is Matte Or Glossy Better For Nails?
Both glossy and matte nail designs have their own unique benefits and drawbacks. In general, both are safe for nails as long as proper nail care techniques are followed.
Matte Nails
Matte nails are great for people who are always on the go and use their hands a lot. They are less likely to chip, which means you don't have to touch them up as much. Plus, they are like magic erasers for your nails! It hides the bumps or ridges, making your nails look smoother.
But be warned; they need a little high maintenance as they show dirt and fingerprints more easily.
Glossy Nails
Glossy nails are easier to maintain because they don't show dirt and fingerprints as much as matte nails. Plus, they make your nails look healthier and stronger. But they are more likely to chip if you are always washing your hands or using harsh chemicals.
So, if you are a person who is always on the go, matte nails might be better for you. But if you want your nails to look shiny and new, glossy nails are the way to go.
Tips And Tricks To Maintain Your Matte Nail Designs
If you have tried matte nail ideas, maintaining them requires a little extra care compared to regular glossy manicures. Here are some easy tips and tricks to help you keep your matte manicures looking beautiful and fresh:
Avoid using hand lotion or cuticle oil on your nails after applying matte nail polish.
Use gloves when doing household chores or working with harsh chemicals.
Avoid exposing your matte nails to water for extended periods of time.
Be gentle when using your hands.
Avoid picking or biting your nails.
Touch up your nails as needed.
Store your matte nail polish in a cool, dry place because high temperature and humidity may cause the polish to thicken or dry out.
By following these simple tricks and tips, you will be able to extend the life of your matte nails look and keep your manicure looking fabulous for longer.
Get A Flawless Matte Look
From trendy and creative designs to DIY methods, the possibilities are endless to achieve a matte finish. And while matte nails may require a bit more maintenance than their glossy counterparts. With our simple tips and tricks, keep your matte nails looking flawless and beautiful for days.
So go ahead and try different colors, designs, and techniques, and have fun creating your own unique matte nail look!
FAQs
Q: What are some creative ways to add texture to matte nail designs?
A: There are several ways to add texture to matte nail designs, including using matte glitter polish, experimenting with 3D embellishments, or using a matte topcoat with a textured base color.
Q: What are some unusual color combinations that work well with matte nails?
A: Unusual color combinations for matte nails are navy blue and mustard yellow, emerald green and burnt orange, or lavender and mustard green. These unique pairings can create an eye-catching and unexpected look.
References