8&8 Secrets To Getting Clear Skin Overnight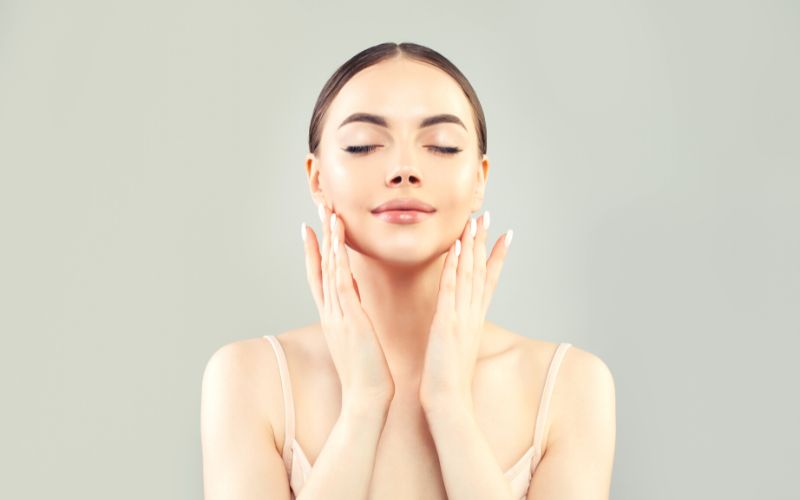 Everyone loves to have healthy, glowing and clear skin. To achieve flawless and clear skin, you must be diligent and maintain a healthy lifestyle. Dust, pollution, humidity, extreme temperatures, poor sleep and diet, eating too much junk food, wearing makeup, and dehydration can rob your skin of its moisture and natural glow.
While foundation, concealer, and makeup can temporarily make you feel and appear pristine, they cannot naturally make your skin healthy and radiant.
Here are tried-and-true methods to obtain your best skin as soon as possible if you're short on time and seeking ways to get clear skin overnight.
#1 – Go To Bed With A Clean Face
Never hit the bed with makeup on. Face cleanliness is more important to maintain healthy skin. The basic mantra is to double cleanse your face or use appropriate makeup removal methods to remove any impurities or residue left on your skin. Always use mild cleansers to remove excess oil, unclog pores and avoid or delay skin breakouts.
Always choose a face wash or cleanser that suits your skin type.
#2 – Exfoliate Your Skin
Exfoliating your skin before bed is essential to achieving glowing skin overnight. The exfoliation gets rid of the dead skin cells and helps you get smooth skin without flaws. You can witness a natural skin glow in the morning through exfoliation.
#3 – Enrich Your Skin Through Hydration
Your skin needs adequate hydration to be healthy and bright. Your face may dry out after every face wash, especially when using soap or harsh cleansers. Sometimes, seasons like winter and summer also impact your skin, making your skin dehydrate and drier.
So, applying a thin layer of moisturizer is always beneficial for your skin.
#4 – Utilize Face Steaming Technique
Facial steaming techniques can help you in many ways. Steaming can open your pores and loosen trapped dirt and sebum. Doing it before bed can completely clear the dirt, grime, and foreign particles on your skin.
Thus, you can wake up with fresh skin in the morning. You can try professional facial steaming or a DIY method.
#5 – Cold Compress Therapy
Massaging your skin with ice cubes can tighten skin pores and soothe skin. At times, zits and redness can be annoying. A chill massage with ice or natural cooling ingredients like rose water, aloe vera gel, or cucumber can reduce inflammation and redness instantly.
#6 – Avoid Salty/Processed Foods In The Evening
When you eat more salty or processed foods in the evening, it may result in skin puffiness. Puffiness or eyebags can give you a tired look. So, avoid salty food from the dinner list if you want to attend an important event the next day.
You can also use de-puffing gel to remove the swelling at night.
#7 – Use Under-Eye Cream
Use eye creams with ingredients compatible with your skin type or work well on your skin. Niacinamide, hyaluronic acid, alpha hydroxy acids (AHAs), vitamins, and licorice root extract can yield the expected result. It can brighten dark under-eye circles and give them the essential glow instantly.
#8 – Sleep Peacefully
Getting adequate sleep is crucial to maintain overall health. Sleeping 6 to 8 hours will enable your skin to achieve some overnight skincare benefits. Consume sleep-inducing foods before bed, or try to use a humidifier in your bedroom to have a sound sleep.
Natural Remedies For Clear Skin
Try simple natural remedies with ingredients found in the kitchen to get your skin to glow overnight. Remember to remove every trace of makeup through cleansing or makeup removal techniques.
Apply a balancing toner and hydrating moisturizer before using any of these ingredients on your skin.
#1 – Add Glow With Aloe Vera
Aloe vera is a natural moisturizer that can heal skin damage and acne wounds with regular application. Apply a thin layer of aloe vera on your skin and massage it for a few minutes. Leaving it overnight can help you witness supple, soft, and glowing skin in the morning.
#2 – Try Apple Cider Vinegar
Raw apple cider vinegar is a powerhouse and helps exfoliate your skin and calm breakouts and other damage. Apply apple cider vinegar on your face using a cotton ball and allow it to sit on your skin overnight. It exfoliates dead skin cells and exposes the healthy layer of skin.
Don't apply apple cider vinegar if you have sensitive skin since it will make your skin drier. Remember to apply moisturizer post-wash.
#3 – Wipe Off Your Skin Dullness With Lemon
Lemon has bleaching properties that brighten the skin. Glycerin is suitable for dark spots, skin lightening, and fighting wrinkles.
Combine a few drops of lemon juice and glycerin and gently massage the mixture into your skin. This combination can hydrate your skin and help you vanish the skin's dullness and pigmentation.
#4 – Scrub Away With Tomato
The various enzymes in the tomato can gently exfoliate your skin to remove the layer of dead skin cells. Dip a piece of sliced tomato into sugar and gently massage it on your face in circular motions. Keep it on for 5 minutes and rinse it with lukewarm water.
#5 – Oil Massage
Massaging your skin with any essential oil before bed may reap many benefits. You may choose sunflower seed oil, jojoba oil, grapeseed oil, lavender oil, almond oil, rosehip oil, or coconut oil to massage, as each carries enormous benefits.
If you have acne-prone skin, don't leave the oil on your skin overnight. Wash your face after a gentle massage to avoid new breakouts.
#6 – Skin Nourishment With Raw Milk
Applying raw milk to your face nourishes your skin and provides needed moisture. Leaving it overnight may help with adequate hydration and fresh and naturally glowing skin.
#7 – Reveal The Glow With Honey
Applying honey on your face and leaving it overnight balances your oily skin and reduces excess oil production. It can give you healthy skin with a dewy glow in the morning.
Honey is non-comedogenic, so it will not clog your pores or give you fresh breakouts.
Check out our list of morning drinks that can give you glowing skin.
#8 – Slough Off With Potato
Nourish your skin through vitamin C and enzymes present in potatoes. The acidic and antiseptic action helps slough off dead cells and leaves behind a youthful glow.
Hence, slice a potato and rub it on your skin in circular motions. Wash it off after some time in lukewarm water.
Get Naturally Glowing Skin
Clear skin is not something you can accomplish overnight. Still, you can acquire it with intention and lots of tender loving care. You must maintain an active lifestyle, eat a balanced diet, and get the recommended amount of exercise. In addition, using the right cleanser, toner, and moisturizer will nourish and hydrate your skin.
Natural solutions can help you regain your natural shine and radiance, even though you need to address the issues for your skin to feel healthy.
FAQs
Q: Can apple cider vinegar help you have clear, radiant skin?
A: There is no scientific proof to support the potency of apple cider vinegar in treating skin problems, even though it is frequently used to address skin care problems.
Q: Which oil is good for the face overnight?
A: Almond oil is one of the greatest oils for the skin and gives a natural glow. After applying almond oil to your face, gently massage with your fingers and allow it to get absorbed into the skin through the night. It will hydrate your skin and make your skin healthy.
References