Makeup Removal: Right Techniques For Clean And Clear Skin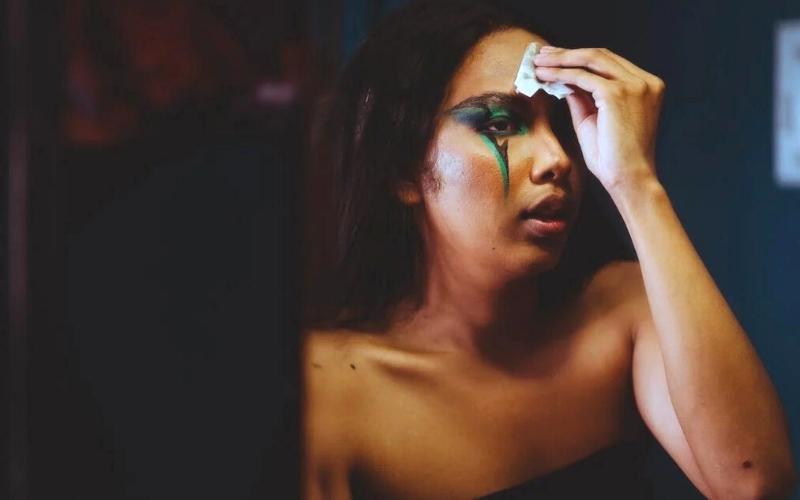 While some people find it difficult to apply makeup, others may find it as difficult to remove those tenacious cosmetics from their faces. Depending on how you use them, these items may not always be bad for your skin.
We frequently neglect to remove our makeup before bed or haphazardly rinse our face, causing it to remain on all night. Our skin will suffer more harm if we engage in this unhealthy behavior. Breakouts, acne, and freckles are just a few concerns it can lead to regarding beauty care.
There will always be cosmetics that, despite your best efforts, are difficult to remove and cause outbreaks. To effectively and safely rid your face of any traces of makeup, follow the suggestions provided below.
Steps To Remove Makeup
1. Secure Your Hair First
Tying or tucking your hair with a clutch or bands is essential before you go forward with makeup removal. Ensure all your hair strands are away from your face and neck. Remember, your hairline and neck are where a lot of makeup residue builds up.
2. Wash Your Hands
Wash your hands thoroughly because hygiene plays a major role in skin care. Doing so will avoid any transfer of dirt or infection onto your skin.
3. Use Wipes Or Micellar Water To Remove Makeup
Use easy-to-handle makeup remover wipes to clean the layers of makeup on your face, around the eyes, nose, mouth, and neck. Use alcohol-free wipes to avoid the dry feel post-usage.
On the other hand, micellar water helps with deeper cleaning of your skin and provides hydration. You can saturate the cotton pad with micellar water and wipe it off clean. You probably wouldn't need a cleanser after using micellar water since it would clean out most debris on your skin.
4. Wipe Your Lips
Always start your makeup removal from your lips. Removing the lipstick on your lips is essential, even if worn out.
Apply petroleum jelly to your lips and let it sit for a few seconds. Then, wipe it off with a wet washcloth and, if needed, reapply until the lipstick is removed almost completely.
5. Next, Attend To Your Eyes
The skin is delicate and sensitive around the eyes. Therefore, you must be careful while removing makeup around your eyes and eyelids.
Use waterproof makeup remover or oil-based cleanser if you wear waterproof mascara and eyeliner. Soak a cotton pad with makeup remover or cleaner, close your eyes and hold it onto your eyes for a few moments. Gently wipe in sweeping motions over the eyelids until you remove most of the makeup.
Don't rub or scrub over or around your eyes since the skin is very delicate and sensitive. There is a tendency to damage your skin and, of course, your eyes.
6. Don't Forget Your Hairline
If you apply your foundation correctly, it ought to reach your hairline. So don't forget to take off your makeup there as well. It could get your roots a little damp, but thoroughly cleaning is well worth it.
7. Finally, Cleanse Your Face
It's time to wash your face after removing your makeup using an oil-based makeup remover and a wipe. You shouldn't skip this step.
While a fast wipe-down is an excellent place to start, it doesn't clean deeply. It's crucial to follow both processes of removing makeup and washing your skin to completely remove all traces of makeup and give yourself a clean slate. You may also attempt double cleansing if the makeup is stubborn for removal.
8. Don't Forget To Apply Moisturizer
Thoroughly rinse your face off any residue and use a clean towel to pat dry. Don't rub your face. Be gentle.
Apply a gentle moisturizer that suits your skin type to moisten your skin and avoid dryness post-makeup removal.
Natural Ways To Remove Makeup
You can see numerous products in the market to remove all the makeup from your face. But most of them contain chemicals not precisely suitable for your skin. Better, try these natural methods to remove your makeup.
These natural ingredients can effortlessly remove makeup from your skin without stripping.
1. Almond Oil
Most of us use almond oil, from oiling our hair to our skin to cooking. You can also use it to remove makeup from your face and neck.
Dispense a few drops of almond oil and apply it generously on your face and neck using your hands or a cotton ball. Allow the makeup to soak for some time since it will be easier to wipe off with a soft cloth or dry cotton balls.
2. Coconut Oil
Coconut oil is one of the craved oils for our skin and hair due to its easy absorption. Besides nourishing and healing your skin, it is a natural makeup remover. It works on both heavy and waterproof makeup.
Coconut oil is simple to use. Rub molten oil over your face and neck, leave it for a few minutes, and then wipe it off with cotton swabs.
3. Hemp Seed Oil
The hemp seed oil has many healing and anti-inflammatory properties for various skin issues. It not only soothes your skin but also moisturizes it. It is a lightweight oil, so you don't have to worry about clogged pores.
Warming up the oil will make the removal process work faster. Apply warm hemp seed oil on your face and neck. Gently work with your fingers to massage in circular motions on your skin, including your eyelids, to help stimulate blood circulation and lymphatic system drainage.
4. Aloe Vera Gel
Oil-based makeup removers can be substituted with aloe vera. It does wonders on both skin and hair. It is well known for treating sunburns, dryness, and skin issues, including acne.
Aloe vera can remove makeup effortlessly and delicately due to moisture. You can gently use it on delicate skin types to remove any form of cosmetics, especially the area around our eyes.
5. Milk
Using milk as a makeup remover at home is quick and simple. Milk contains potent bleaching effects that aid in skin whitening and makeup removal. Whole milk is a wonderful all-natural food with vital fats and proteins that assist your skin in retaining moisture and repairing damaged cells.
Use a small amount of milk to remove stubborn makeup. Apply it to your face, then remove it with a washcloth or cotton ball. You can also take a spoonful of almond oil, mix it with a cup of whole milk, and apply it to your face with a cotton ball. It will not only revive your skin but also take off your makeup. After washing your face with water, remove eye makeup by wiping your eyes with a cotton ball dipped in milk.
6. Honey
Honey, along with olive or coconut oil, is a perfect combination for cleansing your skin and removing makeup. It is a magic elixir and suits all skin types. It has numerous benefits, including moistening dry skin, balancing oil production in oily skin, reducing open pores and whiteheads/blackheads, reducing wrinkles and fine lines, brightening dark spots, fading scars, exfoliating, and many more.
Mix 2 tbsp of raw honey and 1 tbsp of lemon juice, and apply it evenly to your face and neck, avoiding on and around the eyes. Gently massage your face for about 30 seconds. Finally, rinse it with warm water to remove any residual traces. This mix works well for oily skin.
7. Cucumber
Cucumber is another natural makeup remover for acne-prone or sensitive skin. Its anti-inflammatory properties help soothe irritated skin and can be used with a carrier oil to eliminate makeup. Cucumber can be applied to your face either as juice or paste.
Combine two tablespoons of coconut oil, one tablespoon of castor oil, and cucumber juice and mix it well. Now dip a cotton ball or pad in this solution and apply it to your face. After a stipulated time, gently rub with a cotton ball or damp washcloth to remove makeup.
8. Steam Your Face
Steaming your face before cleansing can open up your pores and help remove dirt and makeup that have sunk in deeply in your skin. You may steam over a bowl or sink of hot water, use a home facial steamer, or use warm towels to steam your face.
Taking Off Makeup: Dos And Don'ts
To effectively and safely rid your face of any traces of makeup, follow the Dos and Don'ts provided below.
The Do's
Be gentle on your skin while removing the makeup. Take it slow and ensure the makeup is completely removed.
To break the makeup, apply the makeup remover, whichever you opt – waterproof makeup remover, oil-based cleanser, or natural ingredients – to your face and neck. Give some time for the remover to react with the makeup, and then slightly massage and wipe off.
Be extra cautious in your neck area and hairline since these are the areas where it is hard to remove makeup completely. It may require another application of the makeup removal process.
Clean the edges of your eyelids until every speck of makeup is removed.
Always use lukewarm water for rinsing, and pat dries your skin with a soft towel.
Make it a point to apply a gentle moisturizer to soothe your skin after makeup removal and rinsing since makeup removers tend to strip off skin oils.
Use sustainable and environment-friendly makeup removal products. Many makeup remover products contain synthetic chemicals that are bad for your skin and the environment. Ingredients in environmentally friendly products are typically more natural and gentler on the skin.
The Don'ts
Don't throw yourself on the bed without removing the makeup. The harsh chemicals can penetrate your skin and cause unwanted breakouts or reactions.
Avoid normal, or baby wipes to remove makeup since these are for general cleaning. Use makeup removal wipes to clear off the makeup on your face and neck, and cleanse it with soap and water to completely remove the residue.
Don't rub or scrub your face with your fingers, cotton pads, washcloth, or wipes, as they can break or cause irritations to your skin.
Makeup removal may not be an exciting part of your beauty routine, especially when you get home late. People usually focus more on prepping their skin makeup-ready but do not show the same interest in removing it.
Say "hello" to healthy, radiant skin by saying "goodbye" to your makeup at the end of each day. Remember, applying and removing your makeup greatly influences your skin's quality.
FAQs
Q: Which DIY makeup remover has the best effectiveness?
A: Blend witch hazel and water. Apply the liquid using a cotton ball and leave it for some time. Start by gently rubbing it around your eyes or face in circular motions.
Q: Does Vaseline remove makeup?
A: Vaseline's petroleum base makes it easy and gentle to dissolve virtually any makeup. In contrast to certain makeup removers, Vaseline is safe to apply around your eyes. It is especially effective in removing waterproof mascara.
References