Say Goodbye To Your Body's Uneven Skin Tone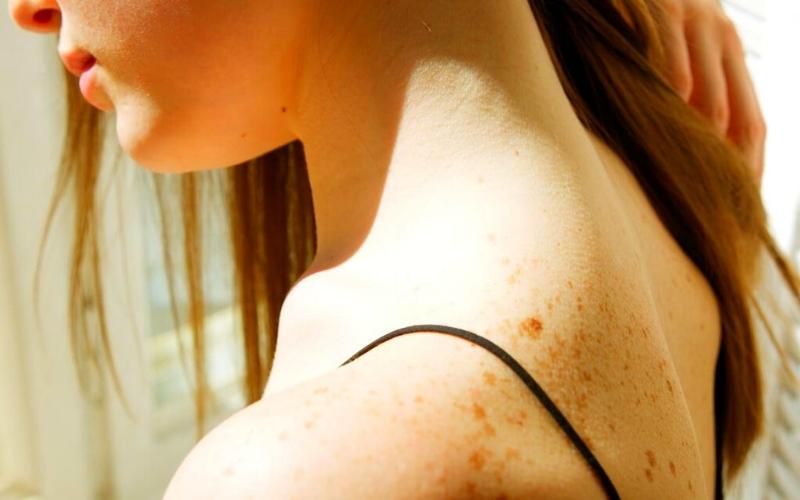 Everyone has experienced this: one moment, our skin appears healthy and radiant; the next, it's a patchy, uneven disaster. Uneven skin tone can take many forms – a few brown spots, areas of redness here and there throughout the body, age spots, blemishes, sun spots, or depigmented areas due to skin conditions.
Even though there is no such thing as perfectly even skin, there are techniques you may use to regulate an uneven skin tone on your body and achieve a more harmonious, balanced complexion.
The Real Reasons Behind Uneven Skin Tone On Your Body
One of the most frequent causes of uneven skin is sun exposure since UV rays can result in dark patches and discoloration. Age, certain drugs, and hormonal changes are additional potential factors.
I will be brief here on the reasons to make it easier for you to understand. Still, you may navigate through to know more about uneven skin tone and its causes in detail, along with identifying your right skin type to find the right treatment.
A melanin overproduction (hyperpigmentation), underproduction (hypopigmentation), or a combination of the two may give the illusion of having numerous hues.
Uneven skin tone can manifest itself in various ways. Still, ultimately it relates to melasma, patches, or uneven texture (age spots, blemishes, or sun spots). Hence, your body can have a few brown spots or areas of redness here and there as opposed to a uniform, even tone.
Anything that irritates or inflames the skin might result in hyperpigmentation, leading to uneven skin darkening.
Dark stains on the skin can be caused by anything, including insect bites, scratches, pimples, exposure to UV radiation, and even free radical damage like that brought on by pollution.
Skin pigmentation diseases, including vitiligo, can lead to uneven skin tone.
The unevenness of the skin tone can also be caused by sun damage. As you've probably heard, sun damage hastens the skin's aging process. Unprotected UV light exposure is to blame for 90 percent of the aging symptoms. One result of UV damage is uneven skin tone; other effects include fine lines, facial wrinkles, and drooping.
Trauma that is caused by cystic acne and picking at any breakouts. Both have the potential to cause long-lasting skin discoloration. If you have body acne, don't wait until scars have appeared before seeking treatment. Pick spot treatments and other acne treatment and prevention solutions, such as cleansers.
A darker skin tone makes one more likely to have an uneven complexion. Melanin is more abundant in darker skin tones. It can be released into the surrounding tissue due to inflammation or cell injury.
Uneven skin tone might also be a result of the normal aging process. Although you can't hold back your skin from aging, various treatments, from face creams to anti-aging serums, can help your skin fend off issues, including dullness, dryness, uneven skin tone, and more.
Certain drugs, hormonal changes, and genetics also play a role in causing uneven skin tone.
How To Get Rid Of Uneven Skin On Your Body?
There are several methods for dealing with uneven skin on your body. One way is to use a self-tanner to even out the skin tone. It is a temporary solution but can give you some immediate results.
Treatment procedures to even out your body's skin tone as a whole at a dermatologist's office could be a costly affair. If you have mild to moderate unevenness on your body, you may adopt all or a few of the options to minimize or eliminate the discoloration.
1. Remove Dead Skin Cells
To remove dead skin cells, exfoliate your entire body once a week. You must also slough off dead skin cells on your arms, legs, and torso to expose the underlying healthier, more even skin. Exfoliating can significantly improve your skin's appearance, particularly during the drier months.
Seek out products with salicylic acid. It is excellent if you have skin prone to acne and readily removes dead skin cells. After exfoliating, your skin could feel tight, so moisturize right afterward.
2. Target The More Darker Areas
Use a glycolic peel weekly to lighten dark spots, closed comedones, and acne scars. Pay attention to the dark areas, especially on your face, arms, legs, and torso. Avoid sun exposure for a few days after the application, and ensure you moisturize your skin to avoid dryness.
You may buy glycolic peels from a spa, a cosmetics retailer, or a doctor. Following peel application, expect some redness. Avoid the peel from getting inside your eyes, nose, or lips.
3. Brighten The Skin
Use a vitamin C serum to make your face, arms, and legs look more youthful. It protects your skin from UV damage. It makes your skin lighter and more radiant. Apply a few drops of the serum on uneven patches of skin.
Additionally, vitamin C helps lessen inflammation and aid in acne prevention.
4. Soothe Your Skin
Apply a calming cream that contains niacinamide (vitamin B3) to help reduce redness/inflammation, shrink pores, correct skin tone, and diminish wrinkles and redness. Dab the cream daily wherever there is inflammation throughout your body.
Some skin ailments may cause persistent red, swollen skin, requiring you to schedule an appointment with a dermatologist.
5. The Nighttime Care
Before going to bed at night, apply retinol (alpha hydroxy acid) serum to lighten or remove dark spots. It eliminates dark spots while preventing the formation of new ones.
Because it degrades and is less effective under sunlight, it is advisable to use the AHA cream at night. You should be able to see a more even skin tone after using this serum consistently for four to six weeks.
Professional Treatments By Skin Care Specialists
An in-office procedure will certainly make sense if you're still unsatisfied with the skin tone improvements. There are numerous ways to effectively address uneven skin tone.
1. Microdermabrasion
Sessions: May require 3 to 6 treatments
Cost: Range from $100 to $600
Procedure: This procedure uses no chemical substances at all. In essence, the exfoliation procedure removes away layers of dead skin.
Downtime/Expectations: No downtime is required. It is a wonderful alternative if you are concerned about persistent post-treatment redness.
2. Microneedling
Sessions: May require 3 sittings
Cost: Range from $300 to $1750 per session
Procedure: This procedure effectively involves hundreds of tiny needle punctures to your skin to cause damage so that it can heal with more collagen and suppleness. You can combine therapy with topical creams or serums to brighten your skin and level the tone even more.
Downtime/Expectations: 24 to 48 hours following the treatment, expect some redness and irritation.
3. Chemical Peels
Sessions: May require 3 to 6 sittings
Cost: Range from $100 and $1,000 (Depending on the chosen peel type)
Procedure: It is a little more invasive procedure. A superficial peel only eliminates the epidermis from the region being treated. In contrast, a deep peel removes the entire epidermis and the dermis.
Downtime/Expectations: It will take time for your skin to recuperate before the redness disappears.
4. Laser Treatments
Sessions: May require six or more treatments, with a four-week gap between each
Cost: Range from $250 and $2500 (depending on the degree of the treatment)
Procedure: The various colors in your skin will be broken up and removed with a laser. They can lighten dark areas to make them blend in with the rest of your skin tone.
Downtime/Expectations: Laser treatments, in some situations, lead to acne and even darken your skin, depending on your skin type.
5. Depigmenting Agents
Sessions: You may need to apply daily.
Cost: Depends on the product advised
Procedure: Dermatologists may advise using whitening gels or lotions on the affected areas. They work well against discoloration areas on the majority of skin types.
Downtime/Expectations: They could take longer to work, provide your skin with less moisture, and may leave you with oily skin.
6. Intense Pulsed Light (IPL)
Sessions: May require 3 to 5 sessions
Cost: Range from $700 to $1,200
Procedure: It's a 30-minute process where various wavelengths of light penetrate deeply into the skin, forcing collagen and blood vessels beneath the epidermis to contract and lighten the dark spots on the skin. An IPL Photo Facial will undoubtedly help people with discolored skin or skin that has dark areas.
Downtime/Expectations: Minor post-treatment skin sensitivity
Decide which cosmetic procedure is right for you by speaking with your dermatologist. The optimal course of action for you will depend on all the factors you and your skin care specialist discuss, including each option's advantages, disadvantages, and costs.
How To Balance Out Your Body Skin Tone?
There are many ways to help even out your skin tone. Some common methods include sunscreen, eating a healthy diet full of antioxidants and vitamins, and using natural skin-lightening agents such as lemon juice, strawberry, or Aloe Vera.
Even if you have acne, wounds, etc., resist the urge to pick at your skin to avoid scarring.
Every day, use mineral-based sunscreen.
Avoid going outdoors in the sun between 10 am to 2 pm when it is the brightest.
To stay hydrated, consume about 1.5 to 2 L of water daily. Water consumption may vary depending on gender and daily routines.
Include a topical antioxidant Vitamin C serum in your morning regimen in addition to retinol or retinoid prescription products in your evening routine.
Exfoliate frequently but not excessively.
Add moisture to your skin through moisturizing creams/lotions or oils such as tamanu oil, coconut oil, and kukui nut oil.
Engage in regular workouts to improve blood circulation in the skin.
Plan yearly skin screenings and checks to look for malignancies and other dangerous skin conditions.
The Takeaway
When you follow these measures, uneven skin tone won't stand a chance against you. The beautiful thing is that you can employ all of these suggestions simultaneously to maximize your outcomes to glow up. This move will enable you to prevent your delicate skin from further discoloration while achieving a more even and beautiful skin tone.
FAQs
1. Is there any connection between stress and uneven skin tone?
Yes, of course! Stress may reduce your sleeping time and nutritional food intake. Both these factors contribute to early aging, hyperpigmentation, and patchy and uneven skin tone.
2. What are the foods that help even out the skin tone?
Citrus fruits, poultry, mushrooms, green peas, tuna, ginger, tomatoes, sweet potatoes, and milk can help you even out your skin tone by supplying needed nutrients.
3. Can I manage my uneven skin tone with Ayurveda techniques?
Yes, you can effectively treat your uneven skin tone with Ayurveda methods and herbs. The treatments include massaging with herbal oil and applying herbal packs.
References