Top 8 Sunscreens That Won't — Break You Out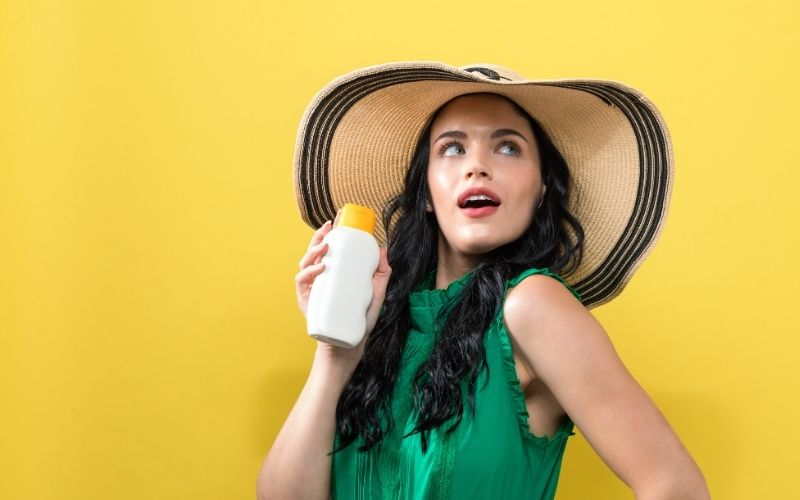 If you've been around here long enough, then chances are you now know that wearing protective clothing is the best sun protection.
Well, actually it's even better to limit time in the sun.
But if you are going to get out there for a hike, beach day, or just some exercise, a daily FDA-approved sun protection factor (SPF) with broad-spectrum UVA protection is typically a must for the last step in any good skincare routine.
Just like wearing sunglasses while in direct sunlight is important for eyecare.
Not to mention it helps to prevent the sun's rays from turning your skin red and causing early skin damage. So when you go to the beach, bring that towel and bring that skin protection.
What's the point?
Simply put, sunscreen is critical to protecting your skin from sun damage whether you're spending time under the sun's ultraviolet rays for a single day or all summer long.
Wearing a daily sunscreen also helps decrease your risk of skin cancer, helps prevent fine lines and wrinkles, and helps prevent other problems from the sun's harmful rays such as hyperpigmentation (dark pigment), dark spots, uneven skin tone, or an increased appearance of fine lines.
Even for those of you tanners with darker skin, this applies to you too!
Whether the product package shows it by ounce or ml it's a good first step to make sure you're using enough sunscreen and that you are choosing sunscreens that are water resistant/perspiration resistant with a high SPF.
Let's chat about the best face sunscreens that provide an effective way to give your skin the protection it needs without negatively impacting the effectiveness of a facial moisturizer you're using, a cosmetic routine you're following, or acne treatments you're doing…and without making you break out!
1. Neutrogena Clear Face Oil-Free Sunscreen
Picking the best sunscreen for your skin type can be a tad overwhelming.
Especially if you're one of those oily skin or dry skin types sun bum that hates traditional sunscreens with an oily residue.
So we'll start with a great option for acne-prone skin that's good for your breakouts and good for your bank account.
Yes, please!
How can you tell that this is a good option? The name gives it away!
Neutrogena Clear Face Oil-Free Sunscreen hints at being good for acne-prone skin and oily skin types when it states that it is "oil-free". One of its pros is that it has a lightweight, liquid consistency that rubs in well and doesn't feel like you just coated your face with old-school thick SPF.
It also has broad spectrum UVA and UVB protection which means it protects your skin from both of those potentially harmful rays that come with sun exposure!
This is a chemical sunscreen meaning it uses chemicals, like avobenzone (1), that filters out the sun's harmful rays including infrared radiation.
With broad spectrum protection and oiliness-free properties for this price, you can't go wrong with this sunscreen.
2. CeraVe AM Facial Moisturizing Lotion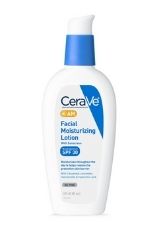 CeraVe is a tried and true broad-spectrum protection go-to for many people who struggle with sensitive skin and it may be a great option with broad spectrum SPF value that doesn't break you out!
CeraVe AM Facial Moisturizing Lotion contains ingredients like hyaluronic acid, niacinamide, and ceramides to help hydrate and calm the skin while also protecting you from UVA and UVB rays at the same time since it is a broad-spectrum sunscreen (2).
The product lets you know that it's safe to use for acne-prone skin by using the word "non-comedogenic."
This term simply means that the product is thought to be non-acne causing! This product contains mineral sunscreen ingredients, like zinc, as well as chemical sunscreen ingredients.
Mineral sunscreens differ from chemical sunscreens because they provide a physical barrier between your skin and the sun!
3. Drunk Elephant Umbra Sheer Physical Daily Defense Broad Spectrum Sunscreen SPF 30
If you're looking for an aesthetically pleasing, physical sunscreen preference, look no further!
Drunk Elephant Umbra Sheer Physical Daily Defense Broad Spectrum Sunscreen SPF 30 is where it's at.
This product contains 20% zinc oxide, which is a physical blocker, and is chemical-free and cruelty-free! It offers broad-spectrum protection from the sun, meaning it blocks UVB and UVA rays and does all of this while infusing your skin with antioxidants and protective serum to help with signs of aging from free radical damage (3).
This product is a great option for sensitive skin due to its moisturizing ability and the lack of chemical active ingredients.
We can't forget to mention, this SPF is tinted which gives you that highly sought-after "glow" to your complexion and helps you skip the dreaded white residue you may see from other sunscreens!
This is a great go-to for lighter and darker complexions!
It's also worth noting that Drunk Elephant Umbra Tinte Physical Daily Defense Sunscreen SPF 30 is a tinted product that is fragrance and paraben free, free of sulfates, and has a strong 20% concentration of zinc oxide.
Tinted sunscreens have been shown to be especially effective for people with hyperpigmentation problems.
4. Aveeno Protect + Hydrate Face Sunscreen SPF 50
Ballin' on a budget? We feel you!
Chances are you've heard of, and love, the Aveeno products already so we know this won't be a hard sell.
Your skin's on the drier side? We have good news! Aveeno Protect + Hydrate Face Sunscreen SPF 50 is a top pick if you are looking for a sunscreen product that combats dryness, fights UV exposure, and works well with acne-prone skin (4).
This facial sunscreen actually contains antioxidant oats which helps moisturize, soothe, and protect your skin.
This SPF protects against UV light with chemical sunscreen components like avobenzone and oxybenzone. Of course, it is a broad spectrum SPF and protects against the sun's UV rays, like UVA and UVB rays!
5. EltaMD UV Clear Facial Sunscreen SPF 46
Okay, get ready. This is one of our faves.
EltaMD UV Clear Facial Sunscreen SPF 46 is a fave for many dermatologists. Especially for their acne-prone patients!
If you're battling acne, rosacea, eczema, skin discoloration, or if you just have sensitive skin in general, this may be the next daily sunscreen you need to snag.
This sunscreen contains niacinamide (or vitamin B3), hyaluronic acid, and even lactic acid which helps calm and hydrates your skin while giving you that glow factor! It is a broad-spectrum SPF and combines both chemical and physical blockers to give you adequate UV protection from sunlight (5).
This broad spectrum SPF is known for feeling aesthetically pleasing which, let's be real, increases your personal preference for wearing it every day!
To top it off, it comes in a tinted formulation which is great for days when you want to skip your makeup primer but still have a little something on! As a tinted sunscreen that also appears matte, there's no going wrong with this one.
Goodbye, old white cast SPFs!
6. La Roche-Posay Anthelios Ultra-Light Mineral Sunscreen SPF 50
La Roche-Posay is a dermatologist favorite for several reasons but especially due to its tolerability for patients with sensitive skin.
La Roche-Posay's Antihelios Ultra-Light Mineral SPF 50 is infused with antioxidants. Products that have antioxidant properties help fight free radicals and protect your skin from further damage.
It is a broad spectrum 100% mineral, also known as a physical blocker, and contains both zinc oxide and titanium dioxide to protect your skin from the sun (6).
People love the texture of its liquid formulation and its matte finish. Again, no white residue with this guy!
7. Vanicream Sunscreen SPF 35
Vanicream is well-known by dermatology providers for its safety with patients that have sensitive skin or a history of skin allergies.
Their sunblock is a go-to if you haven't been able to find an SPF that you can tolerate!
It is free of any unneeded scents, potentially irritating essential oils, and botanical extracts.
It is even non-comedogenic for those of you with sensitive skin and who are acne-prone! This formulation provides broad spectrum protection and contains both physical and chemical blockers such as zinc oxide, titanium dioxide, and octinoxate.
If you just can't seem to find a facial sunscreen that doesn't break you out with acne bumps or a rash, this is a great one to reach for!
8. Badger Clear Zinc Sunscreen SPF 30
Looking for an organic option? We got you!
Badger carries several organic skincare options including their beloved daily sunscreen!
Badger Clear Skin Sunscreen SPF 30 is organic, reef-friendly, and free of inactive ingredients with scents or potentially irritating fragrances (7) which makes it a good choice if you struggle with sensitive skin!
Picky about the ingredients in your skincare products? We don't blame you!
This SPF only includes a handful of organic, natural ingredients, including zinc oxide, and actually rubs in clear when applying!
It's also a broad-spectrum AND and water-resistant option, so don't be afraid to toss this baby in your beach bag or reach it for it next time you find yourself poolside!
Why the right sunscreen is so important
Sunscreens come in several forms including spray sunscreen, sunscreen stick, and powder sunscreen, but whether you're in the United States or anywhere else in the world you probably know by now that taking sun protection measures is super important even for people with dark skin.
But why? First off, excessive sun exposure can increase your chances of getting skin cancer which is something we all want to avoid if possible.
While some skin cancers are easily treated with medical help, others can be life-threatening so this should be your number one reason for applying SPF daily.
If that isn't enough to convince you, excessive uv ray exposure and sunburn can lead to signs of:
Premature aging
Discoloration or age spots
Uneven skin tone
Fine lines
Wrinkles
Broken skin
Why is finding the right sunscreen for regular sunscreen use so important?
It's so important for you to find a facial sunscreen and body sunscreen that you like wearing so that you will actually put it on and not have to be applying vitamin E or doing blue light therapy after the damage is done!
If you hate the way it feels, chances are it will find its way lost in your junk drawer growing algae with that old dirty hair brush and those used numbered birthday candles.
So be picky and find the one that works best for you!
Simple things to look out for in a good sunscreen
Want some keywords to keep a lookout for when on the SPF search? Here ya go!
Non-comedogenic: This means it won't clog your pores and is a good option for acne-prone skin!
Hydrating: Having an SPF that also hydrates helps keep your skin moisturized and glowing!
Fragrance-free: Especially important if for sensitive skin types/dry skin types to avoid skin irritation!
Broad-spectrum SPF value: This is key to ensure both potentially harmful UV rays, UVA and UVB, are blocked!
According to clinical research done by The American Academy of Dermatology , Dr. Joshua Zeichner- Mount Sinai Hospital-New York City, New York, and EWG (EWG.org – Environmental Working Group) there are a number of ingredients that are found in both cosmetics and sunscreens that are deemed to be safe including:
Octocrylene
Caprylyl glycol
Triethoxycaprylylsilane
Cetyl peg/PPG-10/dimethicone
C12-15 alkyl benzoate
Stearic acid
Acrylates copolymer
Aluminum hydroxide
Polyhydroxystearic acid
Octocrylene
Glycerin
Squalane
Silica
Chlorphenesin
Also, for those of you who like shea butter, it can be safely applied over your sunscreen as a moisturizer for dry skin. Of course, all of these ingredients are for external use only.
Things to avoid in sunscreens
Now let's chat about keywords to avoid when searching for your next daily sunscreen.
Comedogenic: You mean it can potentially clog pores and cause inflammation? Yikes! No thank you.
Fragrance: There is no need for your daily SPF to have potentially irritating natural/synthetic fragrances or chemical ingredients, so next, please!
Irritants: Notice any common irritants on the ingredient list such as styrene or phenoxyethanol? Time to move on to the next option.
It's always a good idea to take a peak at the ingredients in your skincare products before purchasing, and that goes for your daily sunscreen too!
See something that has irritated you in the past? Be sure to avoid that choice and opt for something else to avoid any unwanted reactions!
All in all
Other than applying on top of your skin and keep out of reach of children, the most important thing for you to remember is the best sunscreen with a broad spectrum SPF value for you is the one you will actually use!
Take your skin vitamins! Apply your sunscreen!
We know that you are cautious about adding in new skin care products, especially if you are acne-prone, but adding a daily sunscreen to your routine is typically a great choice and investment for your skin's health even if you have a dark complexion/darker skin tone.
Remember, look for non-comedogenic, hydrating, broad spectrum, fragrance-free sunscreen, that is free of any ingredients that you know may irritate you.
These sunscreens can be found at U.S.-based companies like Sephora and other outlets that specialize in skincare.
Also, outlets like Dermstore, Shiseido, and Supergoop have some attractive products worth considering if you are partial to their brands.
There are SO many SPF options, including spray options, and we know it can be a tad overwhelming, but we hope you feel more empowered to find the best way that works for you and your acne-prone skin!
And remember, on those sunny days at the beach, reapplication is a must…yep rinse and repeat! Trust us, it'll be worth the investment!
"Neutrogena Clear Face Oil-Free Sunscreen SPF 30." ULTA Beauty, www.ulta.com/clear-face-oil-free-sunscreen-spf-30?productId=xlsImpprod4150023.
"AM Facial Moisturizing Lotion with Sunscreen." CeraVe, www.cerave.com/skincare/moisturizers/am-facial-moisturizing-lotion-with-sunscreen.
"Umbra Tinte™ Physical Daily Defense SPF 30." Drunk Elephant, www.drunkelephant.com/collections/sun-protection/products/umbra-tinte-physical-daily-defense-spf-30-new?gclid=Cj0KCQiAj9iBBhCJARIsAE9qRtAy0a5deGxJs8ikdMkP8yH56k1X2QtCb63AZDBvRlLMv-6lOP7i8owaAiDPEALw_wcB.
Shasha, et al. "Oxybenzone-Free Face Sunscreen Lotion, SPF 60." AVEENO®, 25 Feb. 2021, www.aveeno.com/products/protect-hydrate-face-lotion-sunscreen-spf-60.
AdornThemes. "EltaMD UV Clear Broad-Spectrum SPF 46." EltaMD, eltamd.com/products/uv-clear-broad-spectrum-spf-46.
Sarah5, et al. "Anthelios Mineral Zinc Oxide Sunscreen: La Roche-Posay." La Roche-Posay United States, 24 Feb. 2021, www.laroche-posay.us/sunscreen/sunscreen-product-type/face-sunscreen/anthelios-mineral-zinc-oxide-sunscreen-spf-50-883140000907.html.
"Clear Zinc Sunscreen – Unscented SPF30: Badger Balm." W.S. Badger Company, Inc, www.badgerbalm.com/p-954-clear-zinc-sunscreen-spf-30.aspx.