Every Ingredient In This Turmeric Collagen Smoothie Fights Inflammation & Boosts Brain Health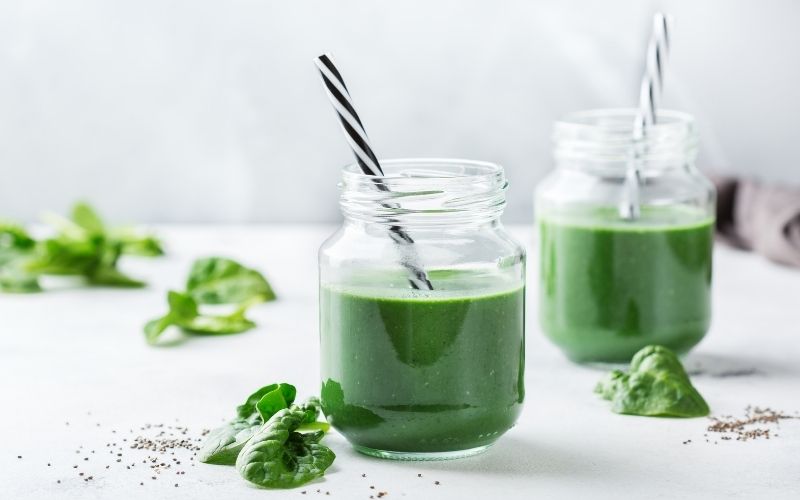 Name a better duo than a tropical smoothie on a hot summer day — we'll wait.
Smoothies can be a great way to add a boost of nutritional goodness to your body to feel and look your best!
They're much healthier than processed vitamin drinks with artificial fruit juices and added sugar.
Also, they can keep your sugar cravings at bay so you don't splurge on ice cream or frozen yogurt which can cause acne.
Especially as you age, it becomes more and more important to be sure that you're giving your body the vitamins and nutrients it needs to function optimally.
While you can always fight the signs of aging through using special skincare ingredients externally, you can pair this with the right nutrition to help your body thrive internally as well.
Whether you drink this to kickstart your morning or as an after school snack, it'll be perfect for any occasion.
Tropical green smoothie to stop aging in it's tracks
Let's address the ugly truth: Our bodies don't produce collagen as efficiently as we grow older compared to our younger days.
Sigh.
But here's the bright side: We can use nutrition to boost collagen production to keep the signs of aging from creeping up on us quicker than we'd like.
Collagen is the most abundant protein in our bodies which occur mainly in the function of our skin, bones, and connective tissue.
These collagen molecules work together to act as supporting cells of each other.
This gives our skin strength and elasticity — a.k.a look youthful.
This smoothie recipe aims to boost collagen production by nourishing your body with collagen powder and a plethora of vitamin C which is known to have collagen-promoting properties.
Sounds good, ya?
Orange juice isn't the only thing that has vitamin C.
For this island green smoothie, the vitamin C content comes from the pineapple, mango, and kiwi tropical fruit which gives it some seriously delish fruit flavor.
On top of that, we'll be adding some healthy fats to this fruit smoothie to fight off inflammation and soothe redness.
The avocado and chia seeds provide a solid amount of omega-3 fatty acids which our bodies can't get enough of — not to mention the beautiful creamy texture that this will give the smoothie.
Our recipe includes coconut water for hydration and potassium which is a very important part to your overall health.
Coconut water gives a subtle sweetness and coconutty flavor without the fat that comes with typical coconut milk.

Adding a bit of kale, spinach, or whatever leafy green you can find at your local grocery store, will add the finishing touches to this smoothie masterpiece.
Tropical smoothie recipe
10 ounces coconut water or almond milk
1 tsp turmeric powder
1 handful of kale or spinach
2 cups frozen pineapple and mango chunks (fresh or frozen fruit works)
1/2 ripe avocado
1 scoop collagen powder
1/2 kiwifruit (optional)
Instructions
Combine these ingredients and different fruits together in a blender and blend them together until it's a liquid consistency. And there you have it — your own healthy tropical smoothie recipe is complete!
Overall
This healthy tropical smoothie will become your favorite smoothie right away.
Not only does it taste amazing, but it provides you with nutrients that'll keep your skin, hair, and body looking it's best!
These delicious tropical fruits pack the perfect punch to take your mind away from the day to day and into some beach vacation vibes.