Tips For Taking Care Of Your Combination Skin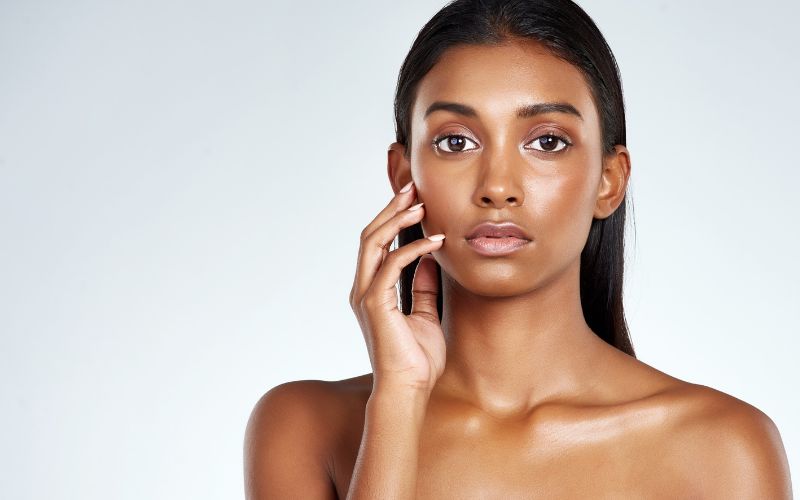 It is really a challenging task to handle combination skin because it tends to be dry in some areas and oily in other areas. Most people with combination skin types feel they need help finding skincare products suitable for both these different areas.
If you have combination skin, you may need different skincare products, experience sudden skin sensitivity, and find difficulty in choosing makeup products. To solve all these issues, here we have gathered some essential information.
It can help you choose products for combination skin and customize an effective skincare routine to meet the specific needs of this skin type.
Table Of Contents
Common Characteristics Of Combination Skin
Combination skin exhibits the properties of both dry and oily skin types. One of the common characteristics of combination skin is dry and flaky patches on the cheeks. You may notice an oily T-zone that includes your forehead, nose, and chin. The shine on these parts will be more than others.
Next is a strawberry-like skin structure with large pores. These large pores will be more visible in your T-zone. This portion is also abundant with blackheads and whiteheads. Sensitive skin or skin sensitivity is the next sign. You may witness frequent irritation, redness, and dryness.
These signs and characteristics may vary from person to person. If you need clarification, you can consult a dermatologist to confirm it.
Problems Of Combination Skin
Usually, people with combination skin experience different skincare issues as they have dry and oily areas on their faces. Frequent breakouts due to excess sebum are one of the issues in the T-zone. This excess sebum forms this frequent acne issue. It will get clogged inside the pores and form blackheads and whiteheads in this T-zone.
In the dry portion of the cheeks, you may experience frequent irritations, flakiness, itching, patches, and skin tightness. The sudden skin sensitivity forces your skin to react to even small triggers and form redness, irritation, and skin dryness.
Another problem faced by combination skin people is confusion in finding the ingredients, product type, and brands that are suitable for both areas of their face. You can solve these issues only by wisely choosing your skincare products and following a perfect skincare routine.
Skin Care Tips For Combination Skin
To maintain the combination skin well, you have to choose a mild, gentle, and oil-free cleanser for you. The condition is, it should not strip away the natural oils and moisture from your skin. Using a lightweight and oil-free moisturizer is essential for your oily areas because it should not clog the open pores and create breakouts.
The moisturizer for the dry areas should be an emollient. Using a toner will also be helpful for your combination skin to balance the pH. You can also use it to remove the remaining traces of makeup, dirt, and oil and prevent the formation of clogged pores.
You can use an exfoliator on your combination skin but avoid overusing it. The over-exfoliation may dry out the dry areas of combination skin more. Using a clay mask at least once or twice will be helpful to maintain the combination skin.
If you have combination skin, stay away from over-cleansing because it may remove the essential natural oils that are key factors in healthy skin. Wearing broad-spectrum sunscreen can also help you in the beauty game by protecting your skin from the dangerous effects of UV radiation.
If you need clarification about choosing products or customizing a tailored skincare routine, get suggestions from your dermatologist. They can help you better with this.
Natural Ways For Rejuvenating Combination Skin
Here are some natural ways to convince both dry and oily areas of your skin.
Use the combination of egg white and olive oil to reduce the pore size, eliminate frequent breakouts, moisturize your dry skin, and repair skin damage. You can prepare this face mask by combining egg white and two tbsp of olive oil. Apply this egg face pack to your face and wash it off when it dries.
Use the combination of honey and lemon juice as a cleanser for your combination skin to moisturize and exfoliate it gently. You can prepare this cleanser by combining 1 tbsp of honey and a few drops of lemon extract. Gently massage your skin with this cleanser for a few minutes and wash it with warm water.
Use a combination of avocado oil, hazelnut oil, and sesame oil to moisturize your skin, prevent it from sun damage, and shrink and tighten the pores. For this, combine 1 tbsp of these three ingredients and use the product to massage your skin gently. You can wash it off after 15 to 20 minutes of gentle massage.
Use a combination of hibiscus extract (water in which the hibiscus boiled for some time), witch hazel, aloe vera, glycerin, and rose water as a toner to control excess oil, alleviates dry and itchy patches, and increase the moisture level of dry skin.
Balance Your Combination Skin
Treating the oil and dry parts simultaneously is really a complicated process. But you can achieve it easily with a set of rules and guidelines. There are two choices to look for while picking up a product for this skin type. One is, choosing one designed for combination skin, second is selecting two different products for oily and dry skin.
FAQs
Q: Can you use AHAs or BHAs on combination skin?
A: Yes, you can use both. But use BHA only on oily and AHA on dry facial areas.
Q: Can you use coconut oil on combination skin?
A: Yes, you can use it as a spot treatment. Apply this skin-soothing oil to moisturize the drier portion of your facial skin.
References