10 Ways to Get Rid of Cheek Wrinkles Naturally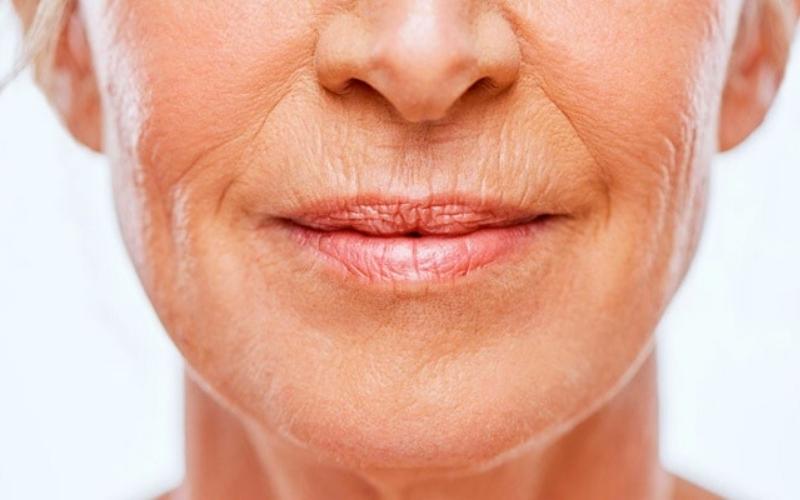 Our facial lines may reflect our lives, and some may even take pride in them. Though some of us avoid using harsh chemicals and intrusive aesthetic procedures, others would prefer to have a face that is as smooth and line-free as possible.
Although everyone has facial lines, the most common wrinkle problems vary from person to person. For some of us, cheek wrinkles are the most obvious of all the lines on our faces. For others, wrinkles on forehead, eye area, lip and chin area, or between the eyebrows can sometimes be more evident.
If so, continue reading to learn how to naturally minimize and smooth out wrinkles on our cheeks.
Why Do Cheek Wrinkles Occur?
Cheek wrinkles occur due to the natural volume loss in the face with age. Seven fat pads in our cheek compartment descend and move with time. The cheek wrinkles become more prominent because these fat pads shift and move.
Although wrinkles are a necessary and natural aspect of aging, it is stipulated that some lifestyle choices can exacerbate them – for instance, sun damage, certain repeated facial expressions, sudden drastic weight loss, or diet.
You can treat cheek wrinkles based on depth and severity.
The Different Forms And Shapes Of Cheek Wrinkles
Cheek wrinkles or creases appear on the cheeks and run from the temples to the chin and from the ears to the mouth as fine thin vertical lines. The ongoing aging process can extend cheek wrinkles to larger skin areas.
Cheek wrinkles acquire different forms and shapes along with different characteristics such as depth and size. Additionally, the causes for their formation play an important role in distinguishing them from each other and finding the most appropriate treatments.
1. Temporary Cheek Wrinkles
Temporary cheek wrinkles occur as a result of a wrong sleeping posture. If you tend to sleep on your stomach or your sides, you may put pressure on your face, especially your cheeks. Such ill practices may break down the skin's collagen and elastin fibers, leading to creases.
These temporary cheek wrinkles may gradually disappear with the increasing erection of the skin.
2. Permanent Cheek Wrinkles
The crinkles that can only be seen with certain facial expressions become more pronounced with time. These crinkles become visible even when you're not expressing yourself.
Skin becomes thinner and produces less collagen and elastin as it continues to age and loses its elasticity, volume, and firmness. Thus, the process of wrinkle formation accelerates. Due to the natural mimic and other external influences, wrinkles and laughter lines also pierce the skin more deeply over time.
3. Deep And Pronounced Cheek Wrinkles
You can see deep and pronounced cheek wrinkles in the areas where the skin is very thin. They appear as pronounced deep furrows on the cheeks and are visible regardless of your facial expressions. These are also sometimes cited as static wrinkles.
This cheek wrinkle usually requires hyaluronic acid injection to rebuild the lost volume and smoothen the skin.
4. Vertical Cheek Wrinkles
These wrinkles run from the temples right down to the mouth. These vertical cheek wrinkles eventually become permanently visible static wrinkles regardless of facial expression.
You may treat the vertical cheek wrinkles with the insertion of tightening Meso threads, with hyaluronic acid or Botulinum toxin injection, or with a laser treatment.
5. Lateral Cheek Wrinkles
The fine lines appear vertically on the cheeks and then extend to larger skin areas. With time, these creases become more pronounced and take the shape of a chessboard pattern.
The lateral cheek wrinkles can be dealt with Meso threads, hyaluronic acid or Botulinum toxin injections, or laser treatments to regain tighter facial contours.
How To Eliminate Cheek Wrinkles Naturally?
Even though synthetic agents can fight wrinkles and fine lines, the better approach would be to try natural ways to eliminate your cheek wrinkles.
1. Moisturizer
A bedtime moisturizer will best erase smile lines if you like utilizing a creamy treatment to smooth away your wrinkles. You have eight hours to let overnight moisturizers do their thing, and they are often a little heavier. Look for moisturizers that contain natural anti-aging components like vitamin E, collagen, antioxidants, and nut oils.
2. Oils
It seems natural that a little grease will do the work to cover your wrinkles since you need to loosen yourself to enjoy a good laugh. Your skin may be moisturized and kept looking fresh by applying almost any kind of oil to it.
Olive, grape seed, kukui nut, coconut, Tamanu oils are a few of the most often used oils. Just apply a small amount to your fingertips and gently massage it in the area around your lips and cheek lines. Leaving it on all night will yield much better results.
3. Water
Drink more water – you would have heard this advice a thousand times. It's no secret that water is wonderful for your skin, and being hydrated keeps your skin cells supple and young. Drink one or two glasses between moisturizing, masking, and face exercises. You may also drink fruit juices throughout the day for more hydrating benefits. Your grin lines will become less prominent.
4. Egg Whites
Egg whites are the magic ingredient for smoothing wrinkles and tightening the skin. For the majority of home remedies, you should directly apply egg whites to the skin near your mouth and eyes and then wait 30 minutes for them to dry. You can see your grin lines disappear by washing them off with warm water.
5. Aloe Vera Supplements
Aside from treating your skin's surface, aloe vera has other healing properties. According to a study, dietary aloe vera gel supplements significantly reduce wrinkles and increase facial suppleness. It has been proven that aloe vera supplements significantly increase collagen levels and shrink facial wrinkles.
6. Fruit Juice
Although putting fruit on your skin helps exfoliate and tighten, eating fruit is excellent for your health. During breakfast, dab some lemon or pineapple juice on your wrinkles to reduce the appearance of cheek wrinkles. The antioxidants combat free radicals, and the acid helps tighten slack skin. Consuming carrot juice is also advised to maintain wrinkle-free, youthful-looking skin.
7. Spices
Using a cinnamon or turmeric face mask may spice up your anti-aging regimen. Apply a face mask that contains one tablespoon of spice powder and three teaspoons of honey. It should be left on for 20 minutes or overnight before being removed with warm water. Using masks like these, you can lessen the appearance of cheek lines around the mouth and eyes.
8. Facial Exercises
Strengthening the muscles on your face helps to avoid drooping and wrinkles. A simple practice is to spread your lips apart while placing your palms on your cheekbones and then smiling as broadly as you can. Hold this posture for 5 to 10 seconds, then release, then repeat. Aim for 30 reps each day. Give it a month and see the results for yourself.
9. Facial Patches
All kinds of wrinkles, including cheek wrinkles around the lips and eyes, can be treated with facial patches. You put the patch on your face and let it stay there all night to flatten and retrain your skin cells. There are numerous brands available, so try a couple of them to choose the best one for you.
10. Plant-Based Ingredients
You may also try some of these natural plant-based ingredients to help your skin reverse the signs of aging more effectively without any adverse effects.
French Flaxseed: Flaxseeds with lignans and antioxidants help prevent fine lines and wrinkles on your cheek. Also, the fatty acids in the flaxseeds keep the skin moisturized and smooth. The inherent quality of flaxseeds helps with skin tightening and reduces skin sagging.
Hibiscus: The hibiscus extract is an amazing alternative to retinol and invasive treatments. It has been clinically proven to smooth cheek wrinkles and fine lines and prevent aging.
Seaweed Extract: This ingredient is great for skin conditioning. It offers many benefits, including calming, toning, hydrating, and skin protection.
Shea Butter: Shea butter's abundant antioxidants help prevent fine lines and wrinkles on cheeks caused by pesky free radicals. The vitamins A, E, and F boost circulation and encourage a faster regeneration of healthy skin cells.
Squalane: It helps improve the appearance of fine lines, wrinkles, elasticity, and skin radiance. It gives your cheeks a silky, smooth, and clear texture without an oily or greasy sense.
Vitamin C: Vitamin C, a powerful ingredient, can reduce the appearance of wrinkles and lines on your cheeks. It can also reduce premature aging by protecting the skin from skin wrinkles from sun exposure.
Pomegranate: The high antioxidant content accelerates cell renewal and provides a natural glow to your skin by smoothening the skin – contributing to a healthy glowing complexion.
Grapeseed: Grapeseed oil contains polyphenols and fatty acids that help fight against premature aging. Polyphenols can slow down the aging process and reverse signs of aging on your cheeks, like sun spots, fine lines, and wrinkles.
Fruit Stem Cells: The splendid anti-aging properties of fruit stem cells stimulate fibroblasts to synthesize collagen, stimulating skin cell regeneration.
Coconut Water: Coconut water, rich in Vitamin C, helps build skin collagen that gives your skin elasticity. It can also promote cell renewal.
Licorice Root: Licorice works as a potent antioxidant that tightens the cheek skin and improves its firmness by preventing skin aging.
Adding some of these measures to your daily routines may help eliminate cheek wrinkles and leave your skin smooth and radiant.
Alleviate Your Cheek Wrinkles With Facial Exercises
Facial exercises can help strengthen cheek muscles and help eliminate premature lines and wrinkles. Incorporate these facial exercises to boost your cheek muscles and tone up your face.
Exercise 1: Strengthen Cheek Muscles
To strengthen your cheek muscles and reduce laugh lines, gently apply pressure to the wrinkles around the mouth and cheeks using the tips of your index fingers.
Now, smile as wide as you can, keeping your lips separated.
Hold in the same position for about 5-10 seconds, relax, and repeat.
Aim for 15-30 reps.
Exercise 2: The Cheek Lifter
First, open your mouth to form an O shape.
Position your upper lip over the teeth and smile to lift cheek muscles.
Then, place your index fingers lightly on top of the cheek muscles, directly under the eyes.
Now, release cheek muscles to lower them and smile again, thinking about pushing the muscles up toward your eyes.
Repeat this by lowering and lifting the cheeks ten times.
Hold your muscles up as high as possible and hold it for 20 seconds when doing it for the 10th time.
At least three times, go through the entire procedure.
Exercise 3: Happy Cheeks Sculpting
Try to smile without showing your teeth and roll your lips out.
Now, try to smile with the corners of your mouth. Here, you may feel a slight sting near the corners of your mouth.
With your index fingers, press into the corners of your mouth and slide the fingers up to your cheekbones.
Lift the muscle to the cheekbones with your finger toward the corners of your eye area.
Once you reach the top of the cheekbones, hold it for 20 seconds.
You can feel your cheek muscles tightening.
Continue smiling with the corners of your mouth while doing this step.
Repeat the entire procedure at least three times.
Prevent Additional Cheek Wrinkles Through Lifestyle Changes
Although most of the skin changes that lead to wrinkles cannot be prevented, some lifestyle choices, such as smoking, unprotected sun exposure, eating a diet high in fat and sugar, and dehydration, can all hasten the development of wrinkles.
Avoid sun damage. UV exposure is the cause of 80% of skin aging. Stay out of the sun, and wear clothing, caps, and sunglasses to protect your skin. Always use a high-quality natural sunscreen that offers UVA and UVB protection.
Consuming hydrated and nutritious meals for the skin is another crucial lifestyle component to prevent cheek wrinkles and other lines. Stay hydrated and use omega fatty acids to help skin cells grow. These are the healthy fats that are present in nuts and avocados, as well as other meals.
Consuming various fruits and vegetables gives skin an antioxidant boost, significantly slowing aging. A wide range of fruits and vegetables is also good for general health.
The greatest natural skin care products provide skin with nutrition and protection, helping to restore previous skin damage and shield skin from problems associated with aging in the future.
A healthy lifestyle that includes exercise and rest is crucial for a face free of wrinkles. Yoga is ideal because it tones and stretches the body without being too strenuous and risking injury. Running, cycling, skipping, swimming, Pilates, and walking are all excellent forms of exercise to glow up physically and mentally.
Taking preventative measures when you're young is a superior strategy for dealing with cheek wrinkles and other aging symptoms. Your general level of health will determine how well you can prevent wrinkles and other aging symptoms.
FAQs
Q: Can cheek wrinkles be treated with fillers?
A: Yes, you can try dermal fillers such as hyaluronic acid to treat cheek wrinkles. It can add volume to your cheeks and smooth out wrinkles.
Q: What are the side effects of laser treatments for cheek wrinkles?
A: Some common side effects include redness, swelling, and discomfort in the cheek area, which typically resolves within a few days.
References