3 Easy DIY Strawberry Face Masks For Silky Smooth Skin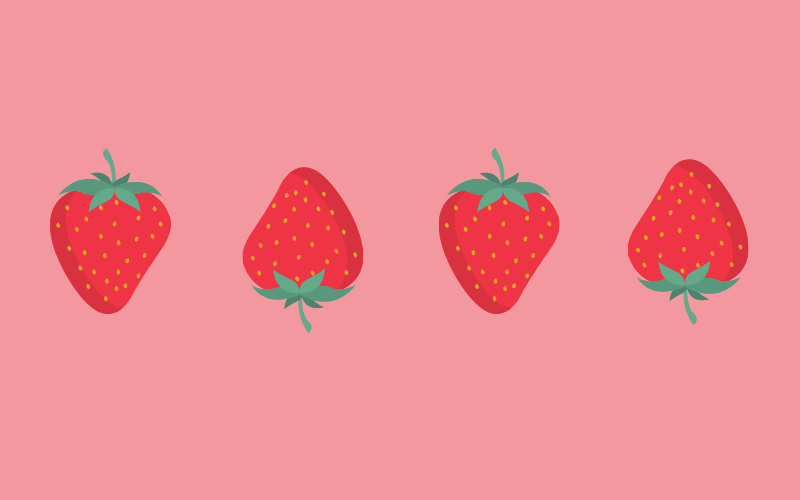 Oh yeah, we're talking about your favorite fruit here.
Nothing artificial, just a few natural face mask recipes that are sure to plump up your skin and leave you with an organic glow.
Strawberries are known to be one of the best natural skin ingredients due to:
Salicylic acid content which has acne-fighting properties.
Alpha hydroxyl acids (AHAs) which are water-soluble and help to clear away the very top layer of skin to promote skin cell regeneration.
Antioxidants to rid toxins.
Tons of vitamin C which leads to a decrease in inflammation and an increase in collagen promotion.
Now let's get to the good stuff.
Strawberry turmeric mask
This strawberry-turmeric mask is meant to aid acne-prone skin due to it's potent antioxidant profile and anti-inflammatory agents. The acne-fighting ingredients in strawberries will help to get rid of any active acne spots and the turmeric will work to calm any redness and brighten your overall skin tone.
Ingredients:
3-4 Strawberries
1 teaspoon of organic turmeric powder or 1/2 inch finely chopped fresh turmeric
1/2 teaspoon of water
In a bowl, mash up the strawberries until they are fully mushed and sprinkle in the turmeric and water. Stir until the ingredients are mixed together throughly.
Apply this mask evenly throughout your face and leave it on for 10-15 minutes before rinsing it off with warm water.
Strawberry green tea face mask
Name a better duo — we'll wait.
The anti-inflammatory and healing benefits from both of these natural ingredients makes this a superstar team when it comes to making your skin radiant.
Green tea has been used for thousands of years as an ant-inflammatory, healing agent. As it can be both ingested and used topically, green tea has proven to be a staple in natural wellness practices.
This mask is perfect for any skin type that is looking to soothe redness and give their skin a glow like no other.
Ingredients:
4-5 Strawberries
1/2 teaspoon of matcha powder or 2 tablespoons of freshly brewed green tea
1 teaspoon of agave (optional)
Blend or mash the strawberries and place them in a clean bowl. Add in the green tea and stir until the ingredients are combined well. Adding the agave can help with tightening pores and soothing your skin.
*Make sure the tea has fully cooled before applying it to your face.
Leave this mask on for 15-20 min, then rinse with warm water and apply moisturizer.
Strawberry oat milk mask
Last but CERTAINLY not least, we have the strawberry oat milk mask. Try saying that one five times fast.
Oat milk has been a craze lately and it hasn't been for no reason. Oat milk has plenty of anti-inflammatory properties as well as nourishing hydration characteristics which makes it perfect for dry, irritated skin.
Paired with strawberry, not only does this mask feel heavenly on your skin, but you'll probably be tempted to eat it once you're finished (and you rightfully can).
Ingredients:
3-4 Strawberries
1-2 Tablespoons of chilled oat milk
1 teaspoon of brown sugar (optional)
Mash or blend the strawberries and place them in a clean bowl. Mix in the oat milk and brown sugar until it is fully mixed.
Leave this mask on for 15-20 minutes before rinsing off with warm water.
Beware, this mask might give your skin some seriously amazing glow action.
Try one (or all) of these face masks and give your skin the DIY spa day it deserves!