7-Day Juicing For Clear Skin Plan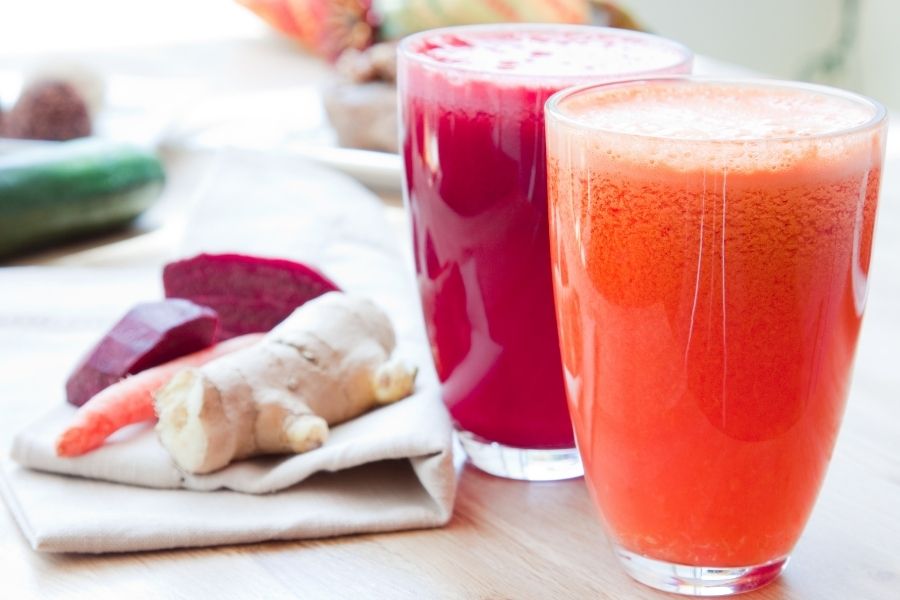 Juicing for clear skin
Is juicing for clear skin legit?
We've been told since we were teenagers that greasy food and dairy often translates to greasy — often pimply — skin for most of us (you are what you eat, right?).
For years we've raided the skincare aisles with no luck.
As much as we want to believe that we get what we pay for, a solid skincare routine is only one part of the journey to clear skin.
The most expensive beauty products like cleansers, exfoliants, and cucumber face packs don't work if high-fat, sugary foods are always in your diet.
But can a glass of low-fat, high-antioxidant, organic juice a day keep the zits and redness away?
Quick tips
A healthy, attractive glow should not mean dropping extra cash and raising blood pressure when a juice recipe you can make at home is waiting to save the day.

Adding more fruits and veggies in your diet can make a big difference when it comes to skin health as well as overall health.

Juicing is more widely used to detox the digestive system and promote weight loss, but it may just be your new tool on a journey to overall health and healthy skin.

This newsletter will explore the benefits of juicing for clear skin to promote hydration, reduce blemishes, and smoothen skin by working to cleanse the digestive system and remove toxins from the inside out — a healthy recipe for clear skin!
7-Day juice recipes for clear skin
You can't go wrong with a fresh juice to start your early morning and keep the health of your skin in check.
Variety is key to keeping the flavor interesting and getting better skin.
Making juices at home with your favorite fruit on hand is a breeze.
Below is a beginners-friendly detox week chock full of nutritionist-approved delicious juice recipes to help reduce cravings for greasy, processed foods and reveal healthier skin.
If your skin is sensitive to sugar, a green juice recipe typically contains low sugar volume, preventing blood sugar spikes and skin breakouts.
Whether you would like to satisfy your sweet tooth with a fruit juice or have a green drink healthy juice, the only thing is to be sure to properly rinse your favorite fruits and veggies before juicing.
Some of these recipes contain fresh herbs like mint and parsley, which can be blended into the juice or topped as decoration.
Any leftover juice can be stored in a sealed container (ex: mason jar) in the refrigerator to chill for 3-5 days.
One of these juice recipes for clear skin may just become your new favorite.
Day 1 — The Root of the Problem
2 small beets/beetroot, peeled, quartered, and boiled untli soft
1-2 large carrots, peeled and chopped
1/2 large pear, cored and quartered
1″ piece fresh ginger, peeled and chopped
0.5″ – 1″ piece fresh turmeric, peeled and chopped (optional)
Kicking off your juicing for clear skin journey with possibly the best juice to promote perfect skin.
Why might this be the best juice? Simple.
The juice ingredients in here are top-notch for reducing inflammation and fighting off toxins.
Not to mention the flavor bonanza that's going to take place on your tastebuds.
Pair this with a glass of chlorophyll and you'll be in the right direction for some seriously radiant skin.
Day 2 — Green With Envy
1 large handful of leafy greens of choice (spinach or kale leaves), remove stems
Half cucumber, peeled and chopped
1 whole apple, peeled and cored
1/2 orange, peeled and seeded
5-6 large strawberries, destemmed
2-3 fresh mint leaves, destemmed, optional
This green juice might as well be called the 'super skin glow juice.'
The fact that there's so much veggies juices inside provides your body with nutrients such as potassium that it needs to function optimally.
Aside from tasting superb, there is an exceptional refreshing aspect of this recipe that knocks it out of the park!
Day 3 — Watermelon Blush
1.5 – 2 cups cubed watermelon chunks, seeded
1/2 large cucumber, peeled and chopped
1/4 cup lemon juice or 1/2 lemon, peeled and seeded
splash of aloe vera juice, optional
2-3 fresh mint leaves, destemmed, optional
One of our personal favorites, watermelon blush is perfect for a hot summer day.
This is definitely one of the best juice combos for getting the perfect skin you deserve.
Jam-packed with vitamin C, antoxidants, and just straight up goodness, this juice will have you gleaming inside and out.
Day 4 — Glassful of Sunshine
1 orange, peeled and seeded
2-3 golden beets, peeled, quartered, and boiled until soft
1/4 cup lemon juice or 1/2 lemon, peeled and seeded (can replace with limes)
1/2 grapfruit or pomelo fruit, peeled and seeded
1 cup fresh pineapple, chopped
Okay, sunshine juice here should honestly be required as part of a healthy diet.
With ingredients such as beets, grapefruit, and lemons, your body will get a plethora of vitamins that your skin will love you for.
It's sweet and tasty and makes for the perfect kickstarter to your early morning routine.
Day 5 — Taste the Rainbow
5-6 large strawberries, stemmed
1/2 large carrot, peeled and shredded
1 cup fresh pineapple, chopped
1 cup fresh greens (kale or spinach)
1 cup berries (blueberry or raspberry)
1/2 cup pomegranate juice
This juice is not only a juice lovers dream, but it's also an amazing source of potassium, vitamin C, vitamin K, beta-carotene, and antioxidants.
It's both tart and sweet while providing the nutrients of veggies such as carrots and kale.
The greens also provide your body with manganese which promotes good skin health. You won't regret it!
Day 6 — Green Clean Skin Juice
2 cups fresh greens (kale and/or spinach)
1 green apple, cored and diced
3 large celery stalks
1 large cucumber
1/2 cup broccoli florets, stemmed and diced
2-3 fresh mint leaves, destemmed
1-2 fresh parsley leaves, destemmed
It's day 6 of your juice cleanse for clear skin — and we got a special one for you. This juice is the ultimate green juice detoxification drink. No joke.
With such a high antioxidant profile, your body will be saying bye-bye to any toxins trying to hang around because of the anti-inflammatory properties of this recipe.
With a unique flavor (in a good way), you'll be loving this juice as much as your body will.
A win-win.
Day 7 — Spicy Skin Glow
1 orange, peeled and seeded
1-2 organic apples, cored and diced
1/4 cup lemon juice or 1/2 lemon, peeled and seeded (can replace with limes)
1/2 grapefruit, peeled and seeded
0.5″ piece fresh ginger, peeled and chopped
0.5″ piece fresh turmeric, peeled and chopped
Wrapping up your juice cleanse with some of the most potent antioxiative ingredients to send you on your way to perfect skin.
Ginger and turmeric are known for their rare healing abilities.
Many people add it to their healthy diet as it will help their body rid toxins and protect the function of their kidneys.
Oranges are known for their immune system boosting properties which makes it a perfect pair with the other ingredients such as apples which contain beta-carotene.
How juicing can clear your skin
Naturally vegan and gluten-free, fresh juices are one of the best elixirs to get your five-a-day without all the cutting, slicing, and chewing that goes with whole foods.
A lot of inflammatory conditions, like psoriasis, eczema, even classic acne breakouts, are caused by not meeting vitamin and mineral needs in your diet.
A lot of our healthy diet juice recipes include ingredients that are very beneficial for skin health.
Colorful fruits and vegetables not only contain skin-healthy minerals but also phytonutrients, special antixodants that help prevent compounds called free radicals from promoting inflammation and disrupting normal cell function.
Choosing organic fruits and vegetables reduces your pesticide intake, as well.
Below summarizes the health benefits of vital skin nutrients found in a variety of juice ingredients.
Vitamin C
Both a vitamin and an antioxidant (3), vitamin C not only helps the immune system but also acts as an essential part of a clear skin diet.
As a vitamin, it is an enzyme that produces collagen, a protein that increases skin elasticity and strength.
This gives the face a natural lift and a healthy glow, reducing the appearance of wrinkles, fine lines, and dark spots.
As a powerful antioxidant, vitamin C can help protect the skin from sun damage by activating vitamin E (another antioxidant), decreasing free radical damage.
You can find this beyond just oranges — strawberries, celery, papaya, pineapple, beetroot, and broccoli are all delicious juice ingredients that are rich in vitamin C.
Vitamin A
Vitamin A acts a lot like vitamin C, reducing cell and tissue damage from free radicals by producing retinol, which promotes collagen production (1).
Beta-carotene is the form found in plants, especially in carrots, spinach, and apricots.
These are all an excellent source of vitamin A.
Vitamin K
Essential for blood clotting and wound healing, vitamin K also aids in smoothing skin imperfections, such as acne scars, age spots, and dark circles under the eyes (7).
It can be found in dark leafy greens, like kale, spinach, romaine lettuce, cabbage, and broccoli.
B vitamins
The B vitamins class includes folic acid (folate in its "natural" form), B12, thiamine, riboflavin, and niacin, that help nutrients like folate improve DNA structure and function.
By doing this, they improve skin hydration, reduce oil formation (niacin – B3) (5), and enhance skin cell metabolism.
One study found (1) that B-vitamins and antixodants improved skin lesions from drinking contaminated water. Another study found that B vitamins increased production of skin cells (4).
Lycopene
Found in watermelons and tomatoes, lycopene is another antioxidant that reduces skin sensitivity and inflammation while promoting supple skin.
It also acts as a natural sunscreen by protecting the skin (2) from the sun's dangerous UV rays.
A refreshing watermelon juice (see our Watermelon Blush recipe) goes well with a day of rest and relaxation in the sun, sunscreen included, of course.
Magnesium
A mineral found in dark leafy greens, sweet potatoes, nuts, seeds, and legumes, magnesium improves skin complexion by preventing oil buildup and reducing stress hormones like cortisol in your body — less stress equals less breakouts.
Adding kale to your daily juice is an easy way to get magnesium to calm nerves, hormones, and skin.
Zinc
Zinc is another mineral that promotes skin health by maintaining skin integrity and proper wound healing.
Not getting enough of it in the diet can irritate skin and cause inflammation, headaches, fatigue, and hair loss.
Animal products, including oysters, meat, eggs, and dairy, are the best sources for zinc, but a green juice full of spinach or broccoli is a vegan-friendly alternative.
Silica
Silica is an important mineral that's found in hair and skin connective tissues and is required for the skin to produce collagen and keep our skin firm/strong.
Let's make this clear: silica is an important trace-mineral that we definitely need in our diets.
This mineral can be found in leafy greens.
Who juicing is perfect for
While juice is plentiful in vitamins, minerals, and antioxidants, it lacks the fiber found in whole fruits and vegetables which helps with digestion.
Juicing helps with digestion
Keeping the pulp in your juice increases the fiber content, though the juice texture will be thicker.
Your body digests fiber, but only with the help of healthy gut bacteria.
This is how fiber is a good filler that keeps our stomachs satisfied and weight loss a lot easier.
Too much fiber in the diet can cause water retention and bloat, increasing the need for an unnecessary diuretic (water pills).
This means that juicing may be beneficial for those with digestion issues, including constipation and diarrhea, to help them include 5 or more servings of fruit and vegetables in their diets without causing the abdominal discomfort undigested fiber can create.

When you juice, you can also strengthen your immune system, who doesn't want that?
Juicing helps deficiencies

Juicing is also beneficial if you deal with a vitamin deficiency because it is an easy way to ensure a wide variety of vitamins and nutrients.
A deficiency can often show itself through improper bodily functions and some of those symtoms can be acne, dry skin, and premature aging if the deficiency lies in vitamins that promote skin function.
Do I need a juicer to enjoy fresh juice?
A lot of the popular juice brands contain added sugars and some of them barely contain juice (looking at you, Sunny D), and premade bottled juices can take up a hefty chunk of your food budget.
You don't need to spend a lot of money at a juice bar or have a good juicer to have fresh juice at home.
Blenders are for more than just smoothies.
A high speed blender can work just as well as the best juicer on the market, making fruit and vegetable prep a breeze as long as they're destemmed, seeded, and chopped.
It's not considered "cheating" to add a pre-made juice base to your favorite recipe, especially if you don't want your blender to break.
Adding a bit of water or mildly sweet fruit juices like apple juice, cucumber juice, carrot juice, orange juice, or lemon juice will help everything blend more easily.
A vegetable juice base can even offset the tart taste of a sweet fruit juice.
The blended mixture might be thick with pulp, which gives your juice an added fiber boost. If you prefer your juices thick to feel full, adding a banana to your juice increases the texture, too.
To thin the texture, remove excess pulp by simply pouring the juice through a nut milk bag, cheesecloth, or mesh strainer into a glass. You can keep your juice recipes simple like beet juice or celery juice, or drink a whole rainbow of fruits and veggies.
A healthy juice recipe is a recipe that's easily doable, no need for fancy centrifugal juicers or subtle slow juicers for glowing skin!
Final thoughts on juicing for clear skin
When paired with a diet rich in whole, unprocessed foods, juicing is a great way to consume nutrients that reduce skin inflammation, irritaiton, and redness.
Juices are helpful for getting fresh fruit and vegetables in your diet that improve skin tone and cell functioning, as well as stopping the aging process in it's tracks.
You'll realize how simple and fun juicing is the first time you try it, the flavor combination possibilities are endless.
Juice is better in color, too — plants with rich, deep colors often signal a gold mine of antioxidants that help repair cell damage and reduce skin irritation and inflammation, including bouts of eczema and psoriasis.
Whether a meal replacement or an afternoon snack, a tall glass of juice is the first thing to include on your way to total skin detoxification, as part of a healthy lifestyle.
Add it to your early morning routine and tell us what you think!
Pair this with some products from Cerave or Cetaphil and you're on your way to picture-perfect skin.
Sources:
1. Dattola, A., Silvestri, M., Bennardo, L. et al. Role of Vitamins in Skin Health: a Systematic Review. Curr Nutr Rep 9, 226–235 (2020). https://doi-org.ez-proxy.brooklyn.cuny.edu/10.1007/s13668-020-00322-4
2. Fazekas, Zsuzsanna, et al. "Protective effects of lycopene against ultraviolet B-induced photodamage." Nutrition and cancer 47.2 (2003): 181-187.
3. Pullar, Juliet M et al. "The Roles of Vitamin C in Skin Health." Nutrientsvol. 9,8 866. 12 Aug. 2017, doi:10.3390/nu9080866
4. Rembe, Julian-Dario, Carolin Fromm-Dornieden, and Ewa Klara Stuermer. "Effects of vitamin B complex and vitamin C on human skin cells: is the perceived effect measurable?." Advances in skin & wound care31.5 (2018): 225-233.
5. Zablotska, Lydia B., et al. "Protective effects of B vitamins and antioxidants on the risk of arsenic-related skin lesions in Bangladesh." Environmental health perspectives 116.8 (2008): 1056-1062.
6. Cherney, Kristeen. "How Does Retinol Work On The Skin?" Healthline, 28 May 2020, www.healthline.com/health/beauty-skin-care/how-does-retinol-work#how-it-works.
7. Bowman, Joe. "The 4 Best Vitamins For Your Skin." Healthline, 30 July 2020, www.healthline.com/health/4-best-vitamins-for-skin#vitamin-k.