I Took Ice Cold Showers For 7 Days Straight And Felt These Shocking Side Effects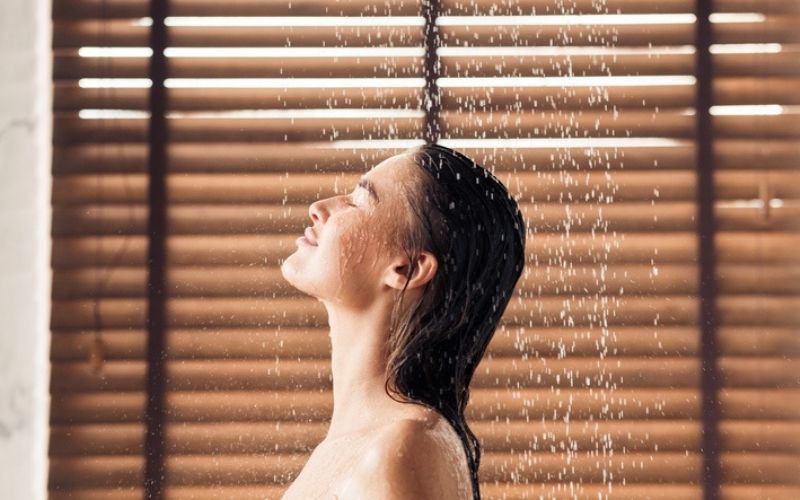 Nothing is a better wake-up call than a cold shower. Well, maybe also starting your day with warm lemon water.
The idea of stepping under a cold stream of water might make you want to shiver, but it can be the shock that your system needs.
Whether you want to incorporate it into your routine every day or every week, the benefits of cold showers can help to kickstart your wellness routine and rejuvenate your body and mind.
The potential of cold showers to change your overall wellness comes from their ability to kickstart your metabolism.
When you step under that cold water, the low temperature forces your cardiovascular system to start working overtime to warm your body up to stop you from shivering.
Your body enters a process known as non-shivering thermogenesis – which means that you're burning calories just by swapping a hot shower for a cold one.
We're looking at the benefits of having regular cold showers and how they could be the secret to achieving clear skin and improving your mental and physical wellness.
The benefits of cold showers for weight loss
When you have a cold shower, it acts as a booster for your metabolism.
If you're not a fan of cold water, you can keep the hot water on for most of your shower before rinsing with colder water.
The supposed weight-loss benefits of cold showers come from the fact that the water activates the healthy fat in your body, which helps to tackle and eliminate adipose, the white harmful fat.
It's worth noting that there's no evidence of cold showers causing serious weight loss, but it could be an ideal way to get the most out of your workout routine by finishing up with a cold shower.
If you are going on a fitness journey, cold showers are a must-have at the end of intense workouts – especially at the beginning of your journey as your muscles start to develop.
Cold showers have regenerative properties, helping to reduce soreness in your muscles, repairing the muscles while relaxing your body to relieve tension.
Cold showers and their impact on your overall health
If you're someone who struggles to wake up in the morning, you can take a cold shower as your morning wake-up call.
Trust us. It's more effective than any amount of caffeine in your coffee.
The shock of the cold water against your skin will boost your heart rate and oxygen intake, improving your alertness to get rid of the last remnants of sleep.
The next time you're feeling stressed, go and take a cold shower.
Most of us would probably consider lounging in a warm bath, but a cold shower can help lower your stress levels as it creates an antioxidative reaction from your nervous system. Your body's antioxidant glutathione rises, causing your stress levels to drop.
Incorporating cold showers regularly into your routine can help to drain your lymphatic system, naturally detoxifying your body and cells to help prevent infections.
If you're concerned about your cardiovascular health, having a cold shower can boost your blood circulation as your body works overtime to maintain your body temperature.
How cold water triggers the circulatory system means that it can help reduce inflammation and lower your risk of cardiovascular disease.
For men, cold showers can have a positive benefit for your testosterone.
While you probably enjoy having a long hot shower, that can lower the protein in your testes, leading to a decrease in sperm.
Swapping out to cold showers every week can help to boost your sperm and improve your fertility.
The effect of cold showers on your skin and hair
While a hot shower might be the perfect tonic for a cold day, it can exasperate pre-existing skin conditions related to dryness and sensitivity.
If you suffer from eczema, rosacea, or psoriasis, you want to stick to cold showers.
This rule also applies to anyone with acne-prone skin, as hot water can clog your pores and lead to breakouts.
If you have one of these skin concerns, cold water can help relieve irritated and itchy skin while soothing inflammation. A cold shower may be just what you need to stop yourself from scratching your skin.
The benefit of cold showers for your skin comes from the way it stimulates your blood flow, which plays a vital role in keeping your skin healthy.
It's worth pointing out the haircare benefits of cold water.
Rinsing your hair with cold water can help to strengthen and close the hair cuticle to prevent breakage.
Hot water dries the sebum layer of your hair, which acts as a protective barrier. When you switch to cold showers, you can keep your hair healthy and protected while maintaining and restoring its natural shine.
The benefits of cold showers for your mental health
Occasionally, we need a little time alone for our mental health. If you're looking for some time alone, treat yourself to a cold shower.
The cold water can work as a natural anti-depressive as it sends electrical impulses from your peripheral nerve to your brain, helping to relieve anxiety and depressive feelings.
Research is ongoing as to whether adapted cold showers could be used as a potential treatment for depression.
If you want to start your day off on the right foot, a cold shower can act as a natural mood booster to improve your outlook on the day.
Having a touring of cold showers can help improve the quality of your life and boost productivity at work.
A recent case study found that having cold showers could statistically reduce the number of self-reported sickness absences.
Who knew that something as simple as cold showers could change your outlook on life?
Improving your mental and physical wellness doesn't have to involve changing your life entirely.
It's all about taking small steps.
The benefits of cold showers show that it can be something as simple as changing hot water to cold water that can transform your skin, boost your mood, and even lower your risk of infections.
While you might crave the warmth of a hot shower, it's time to turn the tap and embrace the benefits of cold showers.
7 days of cold showers: Overall thoughts
After taking cold showers for a week straight, I definitely noticed a few things.
Increased alertness
This was a big one.
Typically my mornings feel quite sluggish to say the least.
I won't lie, getting in the cold shower was a HUGE ask. But once I got in, my morning energy transformed.
I instantly felt more awake and alert — totally ready to take on the day.
This was really helpful to get my mind ready for work and carry on through the day with some momentum.
Improved mood
Not only was I more alert, but I also noticed an improvement in my morning mood.
Rather than dreading the day, I felt very motivated to work hard. I also felt a lot happier!
Morning's were a lot less of a drag and this made me more enthusiastic to work during the day time.
Clearer skin
I noticed a much clearer complexion while doing these cold showers.
Not only did I notice fewer breakouts on my body, but also a slight glow to my skin after getting out of the shower.
I think avoiding my typical hot showers were causing my skin to be much less irritated and more soothed from the cold water.