How To Glow Up Physically & Mentally: 15 Glow Up Tips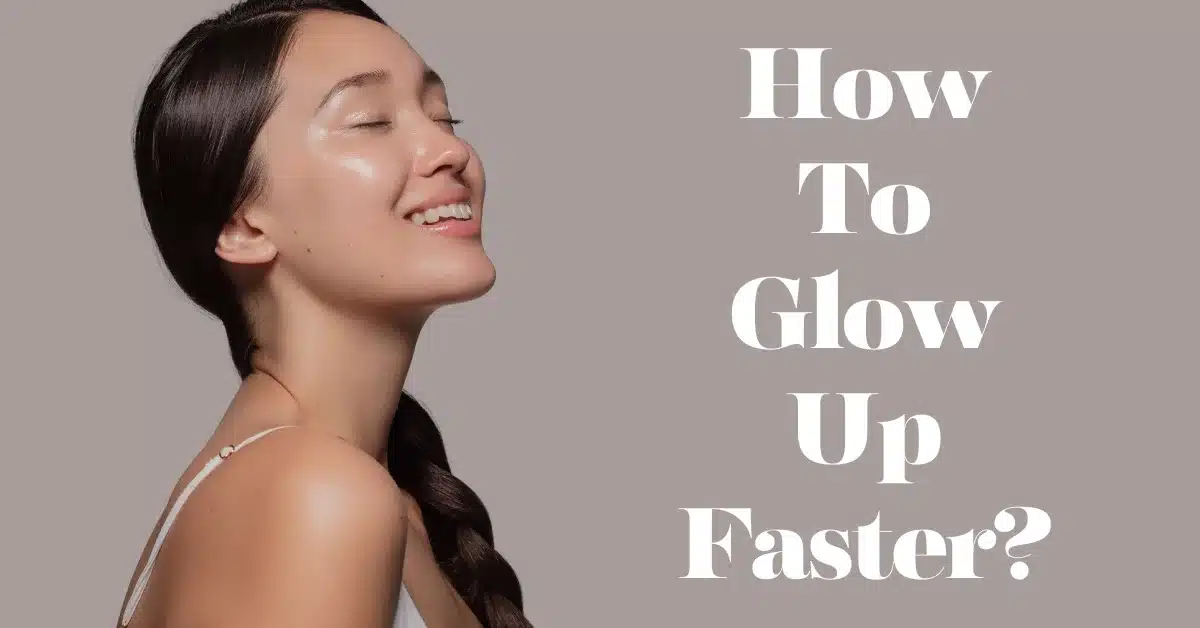 Curious about how to kickstart your glow up journey?
Well, it all begins with an inkling to boost your confidence and to shine brighter in all your interactions. Maybe you're keen on feeling more at ease with yourself but aren't sure where to start. Don't worry, we're here to help!
Welcome to our comprehensive guide to blooming into the beautiful woman you've always wanted to be, waking up each day radiating authenticity.
From nailing down your skincare regime to exploring the fashion world's myriad styles, we'll guide you through everything you need to transition from being a hidden gem to a dazzling butterfly.
So, without more ado, let's dive into our glow-up guide in all its detail.
What Is A Glow Up?
A physical and mental glow up is a transformative process that involves improving both your physical appearance and mental well-being. It's about taking proactive steps to enhance your overall health, confidence, and happiness.
While physical glow up focuses on aspects such as fitness, diet, and skincare, mental glow up delves into self-care, personal development, and building healthy relationships. By combining these two elements, you can achieve a well-rounded transformation that will leave you feeling radiant from the inside out.
The journey of glowing up can be physical, spanning months or even years, while for some, it might be as simple as a genetic gift that manifests during puberty.
How To Have A Glow Up?
So, having a glow up is all about leveling up in every aspect of your life to become a better, more confident version of yourself. It's like a total makeover but not just on the outside, you know?
You start by looking inwards and figuring out what you want to improve and where you want to grow. Then, you have to take care of your body by eating right, staying hydrated, and getting some exercise.
Skincare is a must, too, to keep that glow shining! But it's not just about looks; you have to work on your confidence and communication skills to connect better with people. Learning new stuff and accepting yourself, including your imperfections, are crucial parts of the journey.
And don't forget to set some boundaries and take time for self-care and self-love! It's all about embracing the process and becoming the best version of yourself, inside and out. So, let's begin with something most of us are concerned with – healthy skin.
How To Glow Up Physically?
This is *exactly* how to glow up physically.
How To Glow Up #1: Adopt A Solid Skincare Routine
Skin loves routine in order to glow. This is even more important for sensitive skin and/or acne-prone skin. Granted, appearance isn't everything. But when we feel good about what we see in the mirror, it typically shows in how we act outside.
The first step to building a good beauty routine is determining your skin type. When it comes to skin types, the basic categories are dry, sensitive, oily, combination, and normal. Once you dive deeper into the skincare world, you'll find that you might have normal-to-dry skin or another combo.
Establishing a skincare routine that suits your skin type and concerns is essential. Cleanse, exfoliate, moisturize, and protect your skin from sun damage. Invest in quality skincare products and consider consulting a dermatologist if you have specific skin concerns.
Additionally, pay attention to your grooming habits. Take care of your hair, nails, and overall hygiene. Indulge in self-care rituals such as face masks, massages, and regular visits to the salon to enhance your physical appearance and boost your confidence.
Skincare Essentials
If you're just starting out with products, here are some specific tips you'll need to partition into the Elite Trio: Cleanser, Moisturizer, and Sunscreen.
Cleansers from Cerave or Cetaphil are the best thing to clean all the grime off your face and pores from a long day. They also have moisturizers that keep your skin elastic rather than dry and drab.
Note that broad protection sunscreen with at least 30 SPF is best for all skin types. It protects you from both types of UV rays (UVA and UVB). Sunscreen not only prevents early symptoms of aging like wrinkles/fine lines, but more harmful UV ray effects like skin cancer. Furthermore, wearing hats and other headgear can help you show less skin and in turn, reduce sun damage.
Next, you can gradually introduce more personalized products like toners, serums, creams, or oils – whatever tickles your skin's fancy! Plus, as you get more comfortable, incorporating treatments like exfoliating and oil cleansing can elevate your skincare game to a whole new level. Exciting, isn't it?
But what if you have sensitive skin?
Most skincare gurus recommend waiting two to three weeks between adding new products in your routine. This gives you the chance to figure out if any ingredients irritate your skin. It's all about finding what makes your skin happiest!
How do you know what's worth purchasing?
Many companies and brands offer product samples, which is a great way to test out creams, cleansers, and oils on small patches of your skin before committing to a whole container. You might get a beauty routine pat down on your first try, or you might need to shop around for different brands for a while.
Hang in there — the resulting glow on your skin will be worth it!
How To Glow Up #2: Drink More Water
While drinking enough water is a typical sign of good health, it can also help you reach your skin goals.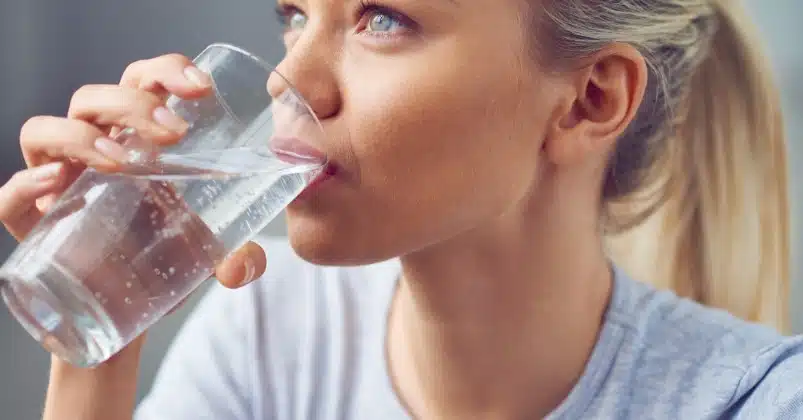 According to Harvard Health Publishing, most of us need at least four cups and up to six cups of water a day. This number might seem low considering most people swear by eight cups a day. But the truth is, your body also extracts water from other things you drink and eat.
Caffeinated drinks like coffee and tea are also decent sources of fluid, but experts recommend drinking these in moderation. Moreover, your body will function best if you drink extra cold water on hot days or when you work out. Upping your water intake is a good habit that can even combat skin related issues including acne. It's no secret that water is life.
Water sure has a lot to do! It helps kick out waste and bacteria, ensures our organs (including our skin) are working their best, and keeps our energy levels in tip-top shape.
Overall, drinking more water means you'll feel better and have more energy, i.e., on track to a full-time natural glow.
So, grab a glass of cold water and keep reading!
How To Glow Up #3: Make Time For Yourself
Have you ever found yourself overwhelmed by life, whether it's from studying nonstop for finals, working overtime to meet a deadline, or just getting your room tidied up?
To really glow, you must practice self-care habits that help you become a better person. While outward appearances influence self-image, a complete glow up also happens from the inside out. Millennials and Zoomers know all too well the importance of self-care activities, and its benefits are definitely rooted in fact.
Bottom line is, quiet time to yourself helps you reset, which keeps your stress levels down and your internal glow high. This happens in multiple ways. Making time for yourself frees you up to mind-nurturing activities. These include practicing meditation, booking a salon, reflecting on your emotions, revisiting your life goals, and reciting affirmations.
Making time for yourself isn't about avoiding other people or responsibilities. It's about being more self-aware. Taking a moment to breathe and think helps you become more mindful of your thoughts, feelings, and reactions.
And of course, making time for beauty sleep.
Being in tune with your inner self helps you model positive behaviors for others, too. Because, let's face it, when your friends are with you on this glow up journey, you'll feel more motivated to keep going.
So, throw on a face mask and some nose strips and keep on reading.
How To Glow Up #4: Exercise!
Another great way to speed up your glow journey – Regular Exercise!
We know that starting a workout program can feel intimidating, especially if you feel particularly self-conscious in gyms or fitness classes. But get this – there are lots of workout challenges online in the form of videos or write-ups that can spark a big change. Moreover, there are workout programs like 30-day challenges or 365-day muscle building challenges which will have a stronger effect on keeping you motivated.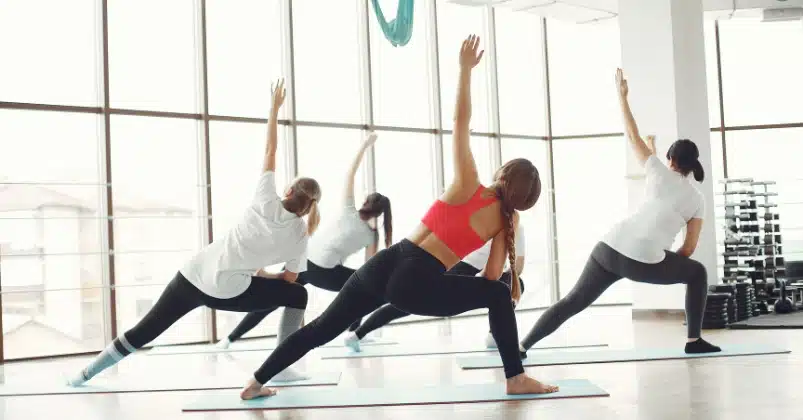 The best way to choose one is to set a goal like "run a mile under 15 minutes" or "build leg muscles." Then, determine the appropriate workout routine for this goal.
A study by Sharma et al. found that regular exercise improves mood by hyping up our confidence and boosting brain function. For folks with anxiety, negative mood episodes, or depression, exercising for three days a week for 30 minutes each can help spark a healthy change in hormones.
What's more, you don't have to complete the 30 minutes all at once! You might take a 10-minute walk in the morning, follow a 10-minute, medium-intensity YouTube workout video in the afternoon, then take another quick, 10-minute walk at night.
Set aside time every day (or at least three days a week) for exercise, and try to follow this schedule. This regularity might be the best way to help you stick to a routine on your way to improving your body shape.
Before you know it, you'll glow before your very eyes.
Healthy Diet
The other huge impact on your glow up will be to include more healthy food into your diet. Try picking up a healthy cookbook for some inspiration or a meal delivery service that ships a consignment of meals to your doorstep.
Additionally, don't forget to snack on some energy-packed snacks like avocado shakes or protein bars and avoid trigger foods. Add olive oil to your meals for some healthy fats, double down on the veggies such as broccoli and portobello mushroom, and stay away from the junk food (so long, burgers). These boost your exercise performance, so you can get more out of every workout.
Be sure to include enough healthy fats and avoid trans/saturated fats. Healthy fats include monounsaturated and polyunsaturated fat which can be found in olive oil, avocado, chia seeds, flax seeds, etc. While its obvious junk food includes more saturated or trans fats, beware of other sources that can sound seemingly healthy such as coconut oil or coconut milk.
Having these in moderation can be fine, but too much coconut oil can lead to too much saturated fat intake… so stick to the avocados.
Also be sure to get enough B vitamins as these are essential to our health in many different ways. This can typically be found in meats or nutritional yeast for you plant-based eaters out there.
How To Glow Up #5: Smile More
When you're having a less than great day, smiling might be the last thing on your mind. However, this simple action can lead you to feeling better — and boosting your physical appearance, too! In fact, there is scientific proof that smiling makes you more attractive.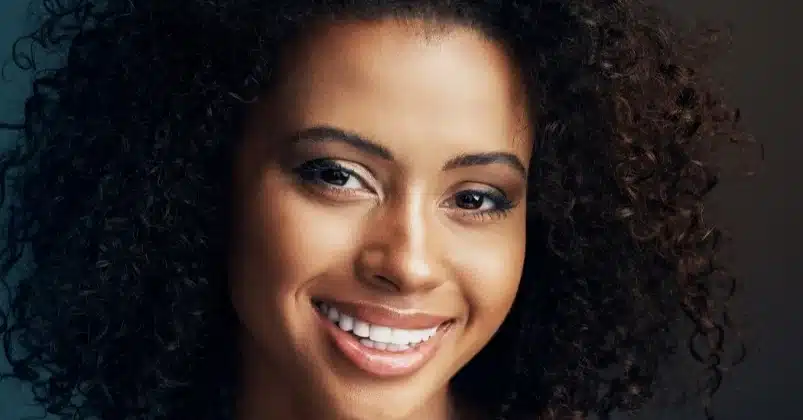 In other words, a good lasting impression on others is a beaming smile. So, no matter how you feel on the inside during a particular moment, smile and carry on. Beyond appearances, smiling makes you and others around you feel good.
Wellness Hack: Even if you just force yourself to crack a smile when you feel sad, you might instantly feel happier. That's because the brain releases chemicals and peptides that lift our moods when we smile. Similarly, when others see us smiling, their brains also inform them of these pleasant feelings. Consequently, they instinctively feel the need to smile back. It's like a positive cycle that only ends in good vibes.
The best part about smiling? It's free!
So smiles all around for a quick, instant glow!
How To Glow Up #6: Up Your Fashion Style
Once you've got skincare, me-time, exercise, and the infectious, happy grin mastered, you might start tinkering with your clothes. After all, fashion is just another form of expression that impacts our sense of self.
Your clothes say many things about you even before you open your mouth in front of strangers. We aren't saying you have to break the piggy bank and buy some designer clothes. Just finding some quality clothes and styles that fit your personality and individual style will go a long way.
Spending a few extra dollars on quality clothes is typically worth it so that the material lasts longer. You can even mix and match your own clothes with new pieces to create entire new looks!
But what if you feel like you don't have a fashion sense?
To that, we say, nonsense!
Fashion is a form of art, so there's never really a wrong way to dress. Just be sure to partition different looks for different occasions.
Wardrobe Glow Up
However, you can elevate your looks by figuring out what matches with what and by keeping up-to-date on clothing trends. Finding clothes that fit properly can drastically improve your overall aesthetic, for starters.
Moreover, you might learn the basics of style like how to mix patterns correctly, what colors clash with each other, and what silhouettes work for you.
To kick things off, look for ideas in fashion icons and current events. No matter your choice of social media platform (Instagram, TikTok, Pinterest, Facebook, Twitter, Reddit, etc.) you can find groups, influencers, or forums to draw inspiration from.
Next, you can pick out staples like a casual jean, a semi-casual blazer, and a type of boot. Before you know it, you'll have a whole wardrobe of carefully chosen quality clothes that embody your sense of fashion.
One last tip! don't be afraid to experiment! There are endless supposed "dos" and "don'ts" in fashion, but these rules are ever-changing. One thing to remember is that you wear the clothes, not the other way around. Moreover, a respectable posture with your back straight and shoulders back is an affirmation to yourself that says, "I look good, and I feel good."
Stay true to your vision, and you're one step closer to a fully realized you.
How To Glow Up #7: Find The Perfect Natural Makeup Look
If you're someone who loves a bit of color and creativity on your face to kick start your day, having a go-to makeup routine can be a real lifesaver.
Why, you might ask?
Well, being clear on what works for you and what doesn't can save you from those 'oops' moments when you've splurged on a new beauty product on a whim (don't sweat it, we've all been there!).
Lucky for us, there are awesome makeup dupes out there that are easy on our wallets.
And guess what else?
If you're juggling a hectic schedule, having a streamlined makeup routine can shave off precious minutes from your getting-ready time.
Feel like treating yourself? Why not book an appointment at your favorite salon to get your eyebrows and cuticles looking perfect!
But the real cherry on top?
Having a solid makeup routine means one less thing to worry about. No more stressing over which eyeshadow to pick or debating between cream foundation or mineral powder. That means more headspace for remembering important dates or focusing on your big projects. Sounds good, right?"
Specific Tips For A New Makeup Routine
Most makeup brands have face palettes that include all the essentials you need to doll up! These gems come packed with face primer, blush, bronzer, and eyeshadow. You might even find sets with goodies like white eyeliner or highlighters in various shades. Who can resist a dewy highlighter that makes you shimmer in the sunshine?
Looking for a little extra? Some palettes also offer lightweight mattifying powders and extra eyeshadow pigments. But remember, your makeup kit isn't complete without the essentials like concealer, lip gloss, mascara, and eyebrow pencil.
But the real MVP of all makeup products? A trusty makeup remover to keep your skin looking fresh and clear.
Pro Tip: Treat yourself to a face mask once a week! And when removing makeup, opt for a gentle microfiber cloth or towel instead of harsh makeup removers.
Is this your first rodeo with makeup and you're not sure where to start?
No worries! There are plenty of helpful YouTube videos that guide you in picking the right colors and shades for your skin tone and type. A YouTuber we love is Denitslava makeup – she's got great content to get you started on your makeup journey!
Why not try something new, like a different fragrance or self-tanner products such as Giovanni? You can enjoy a sun-kissed glow without any skin damage.
Remember, makeup, like clothing, is a way to express yourself, so don't be afraid to experiment. You might find that you love the natural, no-makeup look, or maybe a bold lip and dark eye bring out your best features.
The only way to find out is to give it a go! So, grab some makeup samples and start your artistry. Have fun!
How To Glow Up #8: New Hair, New You
It's about time we shower our scalps with the TLC they deserve! Let's not put off dealing with those pesky split ends and frizzy hair till the next season.
Let's dive right in and start with a fresh haircut – a perfect way to reveal the new fabulous you.
A good hair care routine isn't just about having fun with hair dyes and trying out new hairstyles. It's about using top-notch shampoos and conditioners, and really pampering your scalp. How about mixing in a DIY hair mask or leave-in conditioner once a week? It's a fantastic way to fortify your locks and boost your hair growth.
Fancy a change? Schedule an appointment with your hair stylist and experiment with a new length.
And remember, ladies: taking care of any facial hair with a razor is just as important! So, let's begin this exciting hair care journey together, shall we?
Mental Glow Up Of Your Life
Glowing up externally is indeed an important thing when it comes to to getting your glow on. But it's only half the equation.
Leveling up your mental and emotional health will put you ahead of the pack when it comes to maturity and overall personal growth.
How To Glow Up #9: Daily Affirmations
A perfect way to ease into a permanent change for your mindset is to start with daily affirmations. Starting off the day with these positive affirmations can put your mind into positive thoughts which will carry out throughout the day.
Finding time throughout the day or before bed to repeat these affirmations will give your subconscious positive reinforcement that will build up over time and transform your current self-beliefs.
Here are some of our favorite daily affirmations:
You are fully capable of doing anything you set your mind to.
You are enough.
You are loved.
You are an intelligent, beautiful, and strong human being.
How To Glow Up #10: Take A Break From Social Media
Even though social media has consumed so many people, it doesn't need to consume you too.
While influencers and peers are out there trying to showcase how glamorous their lives are, it can seriously harm your emotional health — especially if you're in the process of getting your ish together.
While the first few days of your social media detox might be excruciatingly tempting to click that Instagram button, it will get easier as time goes on. Plus, this cleanse will make it that much easier to stay focused on your work and yourself — which is an essential part of your glow up.
While you might get a lil' case of FOMO when you're away, just think about how improved you'll come out on the other side of it — and that should be enough motivation for you to give it a try.
A social media cleanse every so often on a regular basis is a healthy habit that can easily become an important part of your glow up journey!
How To Glow Up #11: Practice Gratitude
No matter the ups and downs you're facing, it's so important to take a moment to appreciate all the good stuff in your life.
In our fast-paced world, it's all too easy to take things for granted and maybe even fall into the "entitled millennial" trap. But let's be honest, that doesn't do us any good. It only darkens our perspective because we forget to be grateful for the positive people and opportunities we're blessed with!
So, let's keep our gratitude game strong.
Here's a quick exercise to practice every day before bed:
Dim the lights
Get in a comfortable position and take deep breaths (in through your nose and out through your mouth)
After each breath, name one thing you are grateful for
Repeat these steps every night to practice gratitude and remind yourself what you have!
Although this may seem simple, you'd be surprised at the huge impact this whole process will make on your emotional health.
How To Glow Up #12: Surround Yourself With The Right People
Healthy relationships are a cornerstone of a mental glow up. Surrounding yourself with positive, supportive, and uplifting individuals is essential for your overall well-being.
Evaluate your relationships and let go of toxic connections that drain your energy. Cultivate meaningful friendships and nurture your existing relationships. Practice effective communication and active listening to foster strong connections. Seek out mentors who can guide you on your journey.
Building healthy relationships will not only contribute to your mental well-being but also provide a support system as you navigate your physical and mental glow up.
How To Glow Up #13: Manifestation
We know, we know.
Manifestation might sound like some far-out, law of attraction hocus-pocus. But we're not talking about magic tricks here.
Manifestation is all about bringing your inner world into reality and creating your own luck. Sure, it can be a bit scary. Putting yourself out there opens you up to the possibility of rejection and failure. But guess what? It also unlocks the doors to opportunities and success.
Think about it: every great athlete, business leader, political figure, or any other successful person didn't reach their peak without experiencing failure. And that's perfectly okay. In fact, it's more than okay!
You know why?
Because failure is an invaluable teacher. It toughens you up and makes you wiser.
So, when you're ready to manifest your dreams, embrace the idea that failure might be part of the journey.
But don't let that scare you away. Don't start with a mindset of "Oh no, I'm going to fail." Instead, think about the thrilling opportunities that lie ahead!
Got a business idea? Share it with the world. Dreaming of becoming an influencer? Start creating and sharing content. Fancy writing a blog? Get those articles flowing.
No matter what your dream is, even if it's something quirky like owning a house with a palm tree one day, envision it and believe in it every day.
Manifestation springs from action, so why not kickstart your journey today as part of your amazing glow-up?
How To Glow Up #14: Set Goals
Setting new goals is super important. I mean, really, really important. It keeps you accountable and gives you a clear roadmap of the steps to take to reach your big dreams.
Ever heard of decision fatigue? You're not alone.
It's that exhaustion you feel from making too many decisions daily. That's why it's a brilliant idea to establish daily, weekly, monthly, and even yearly goals. It might seem a bit daunting to think that far ahead, but those lofty future goals are usually just the sum of accomplishing your everyday objectives.
Start by using a planner to note down the tasks for the next day and aim to complete them. Then gradually, extend your goal setting to the end of the week, month, and year. One of the best things about ticking off these goals one by one is the momentum and self-belief you'll build. There's a unique satisfaction in promising to do something and then fulfilling it, which, in turn, boosts your self-belief.
With that, you're well on your way to making significant strides. Go you!
How To Glow Up #15: Be Curious
To continually nurture your inner world, being curious is a must.
Keep in mind that there's always something new to learn, even in areas you're already an expert in. This attitude will unlock doors to fresh knowledge, helping you to grow and become even more enlightened. One way to further enhance your mental growth is by setting aside some time each day to immerse yourself in books.
Why not kick off with some top-notch personal development books like "Atomic Habits" and "How to Win Friends and Influence People"?
But here's a friendly reminder: posting the book cover on your Instagram story doesn't mean you've actually read it. Make sure to truly absorb and comprehend the information, so you can apply the principles to your own life. After all, the true power of knowledge lies in its application!
All In All
A glow up is a process (and it can be a long process!) that turns you into a newer and better version of yourself. Both your inner world and outer appearance. And it doesn't need to take a long time. In truth, you might already be in the throes of growing into a new person.
Nevertheless, you can start today with some tips for a glow up:
Taking care of your skin with a consistent skincare routine.
Eating a healthy, balanced diet and staying hydrated.
Regularly exercising.
Getting enough sleep.
Investing in personal development activities, such as reading or learning new skills.
Prioritizing mental wellness through mindfulness practices or maintaining positive relationships.
Today's the day to start revealing your inner glow goddess, not next season. But remember, there's no need to rush and do everything all at once.
A notable point in our guide to glowing up is finding a hairstyle that complements your look, wardrobe, and personality. Plus, using the right shampoo and conditioner is key to taking good care of your scalp. Incorporating healthy foods into your diet, like veggies, avocados and lean protein, is another important step. Remember, glowing up is a journey, not a destination.
You might even surprise yourself by looking back after a few months and marveling at how much you've changed. And as you build these good habits, you'll likely find yourself evolving every few years.
So why wait until next season? Start your glow-up journey today!
FAQs
Q: What does it mean to 'glow up' physically and mentally?
A: A 'glow up' refers to an individual's transformation for the better, both physically and mentally. It often involves improving personal appearance, wellbeing, and mindset to feel more confident and happy.
Q: What are some effective ways to improve my physical appearance for a glow up?
A: Improving your physical appearance can be achieved through a consistent skincare routine, healthy diet, regular exercise, maintaining a good posture, getting adequate sleep, and dressing in a way that makes you feel confident.
Q: How can I enhance my mental state as part of my glow up journey?
A: Enhancing your mental state involves cultivating a positive mindset, setting and achieving goals, maintaining good relationships, practicing mindfulness, pursuing hobbies or activities you love, and seeking professional help if necessary.
Q: What are some recommended habits for a successful physical and mental glow up?
A: Some recommended habits include regular physical activity, eating a balanced diet, practicing good sleep hygiene, regular self-care, engaging in activities that boost your mood and reduce stress, and continually learning and growing.
Q: Can a change in diet contribute to my physical and mental glow up?
A: Absolutely! A balanced diet rich in fruits, vegetables, lean proteins, and whole grains can improve your physical health and appearance. Certain foods like those rich in omega-3 fatty acids and antioxidants can also boost your mental health.
Q: How does exercise contribute to a physical and mental glow up?
A: Regular exercise can enhance your physical appearance by promoting a healthy weight and toned muscles. Additionally, it helps to release endorphins – the 'feel-good' hormones, which can boost your mood and overall mental wellbeing.
Q: Can reading and learning new skills help with my mental glow up?
A: Yes, definitely! Reading broadens your perspectives and can be a source of inspiration. Learning new skills can boost your confidence, make you feel accomplished, and promote mental growth.
Q: What is the importance of goal setting in a physical and mental glow up?
A: Setting goals provides a roadmap to where you want to be. It keeps you motivated and focused, and achieving these goals can significantly enhance your self-esteem and confidence, leading to a successful glow up.
Q: How can a positive mindset impact my glow up journey?
A: A positive mindset plays a vital role in your glow up journey. It helps you to view challenges as opportunities, appreciate your achievements, and ultimately feel happier and more satisfied with your life.
Q: Can skincare routines contribute to a physical glow up?
A: Yes, a consistent skincare routine can significantly improve your skin's health and appearance, leading to a radiant complexion and contributing to a physical glow up.
Q: What are some things I can do to have a glow up?
A: A few steps towards a glow up could include improving your skincare routine, maintaining a balanced diet, engaging in regular exercise, enhancing your wardrobe, practicing good sleep habits, and investing in personal development like learning new skills or hobbies. Don't forget about mental health – maintaining a positive attitude, setting and achieving goals, and investing time in relationships can also contribute significantly to your glow up journey.
Q: How can I glow up faster?
A: Speeding up a glow up depends on consistency and making a variety of changes simultaneously. This can include revamping your diet, embarking on a new fitness regimen, improving your skincare routine, and prioritizing mental wellness. Also, keep in mind that everyone's body and mind respond differently to changes, so it's important to be patient and appreciate every progress you make.
Q: Do glow ups happen naturally?
A: Glow ups can happen naturally as a part of growing up and maturing, both physically and emotionally. However, intentional efforts towards personal improvement like maintaining a healthy lifestyle and investing in self-care can significantly enhance this process.
Q: How can I glow up mentally?
A: A mental glow up can involve cultivating a positive mindset, setting and achieving personal goals, and developing good emotional health habits like practicing mindfulness or meditation. It can also include investing in personal development activities, learning new skills, and maintaining healthy relationships. Don't hesitate to seek professional help if needed; therapists and counselors can provide valuable support and tools to improve mental health.
Sources
Brolley, Brittany. "Why We Find Smiles So Attractive." TheList.com, The List, 4 Jan. 2019, https://www.thelist.com/142010/why-we-find-smiles-so-attractive/.
"Fight Fatigue with Fluids." Harvard Health, 17 June 2020, www.health.harvard.edu/healthbeat/fight-fatigue-with-fluids.
Sharma, Ashish, et al. "Exercise for Mental Health." Primary Care Companion to the Journal of Clinical Psychiatry, Physicians Postgraduate Press, Inc., 2006, www.ncbi.nlm.nih.gov/pmc/articles/PMC1470658/.